SALE!

Letter Tracing Worksheets for Kids | PRINTABLE | Activity Pack
Letter Tracing Worksheets for Kids
26 Pages
A-Z Letter Formation Tasks with Dotted Lines
Also Includes Cool Drawing Challenge
Description
This awesome Letter Tracing Worksheets activity pack is a great printable for kids that at the preschool or kindergarten level.
Watch this video as this 5-year old practices her writing skills by using the worksheet from this kit.
You can also download each page for FREE by visiting each individual post for every letter. Like this letter P Tracing Worksheet page, or this Letter X Tracing Worksheet (links coming soon, if not hyperlinked).
Tracing Builds Letter Recognition
When children practice their alphabet letters, it helps them form the basis of their reading comprehension.
Once a child can recognize a letter, and sound it out, the next step is for them to begin practicing their letter formation skills.
Make Tracing Letters a fun activity by using these worksheets that also have a cool drawing activity to go along with it!

Printable A-Z Letter Formation
This activity is ideal for developing the typical preschool skills young children will need before entering as Kindergarten students.
Use these worksheets for preschoolers that need to practice a proper pencil grip and proper letter formation.
Students can follow the dotted letters for each letter worksheet. This a complete A-Z letter tracing package.

Practice Writing Upper Case Letters
Capitalization is helps us differentiate words, like nouns.
Children will learn how to writer their capital A, B, C's in the worksheet alongside an image that is represented by that letter.
You can use this exercise to explain what type of title case the word would use.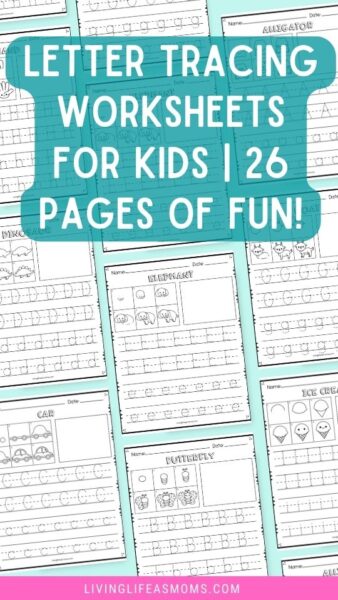 Practice Writing Lowercase Letters
Your children will also be able to practice their lowercase letters, and recognize the formation of the letters.
These printable letter tracing worksheets will come in handy for all kinds of occasions.
Whether you are a homeschooling mom, a teacher, an educator, or looking to supplement your childrens' education at home – this printable pack is the perfect letter tracing activity.
Simply print out all 26 pages, and keep them handy at home to practice tracing letters as a daily homeschool activity. Each page also includes an image of an object, or animal that compliments the letter tracing activity.