You're tired of the mess, you have no energy to clean up once dinner is over and everyone is in bed. You leave dishes in the sink and clothe piled high on the couch because you are exhausted.
Kids chore charts? Come on, do those really work?
You know your kids should help but you don't have the energy to micromanage everyone. You get impatient then you end up doing it all alone.
Your family lives here too, you don't have to do this alone. But how many times do you have to ask for help doing chores and nobody does a thing?
The good news? There is hope of having help around the house. Get your family on board with chores, if they want to be able to roll their cars on the floors and find space to play on then your kids need to help you.
Easier said than done right?
Well, we all have to start somewhere. Today is your day.
Create a system that will work with your family.
Do you need bribes? Maybe, that's up to you. You can choose to use screentime as a reward for having their chores completed. When it comes to rewarding for work, each household will have to make their own judgment call on that one. 
Do you want to see more printables like this? Make sure to check this list of Chore Charts for Kids!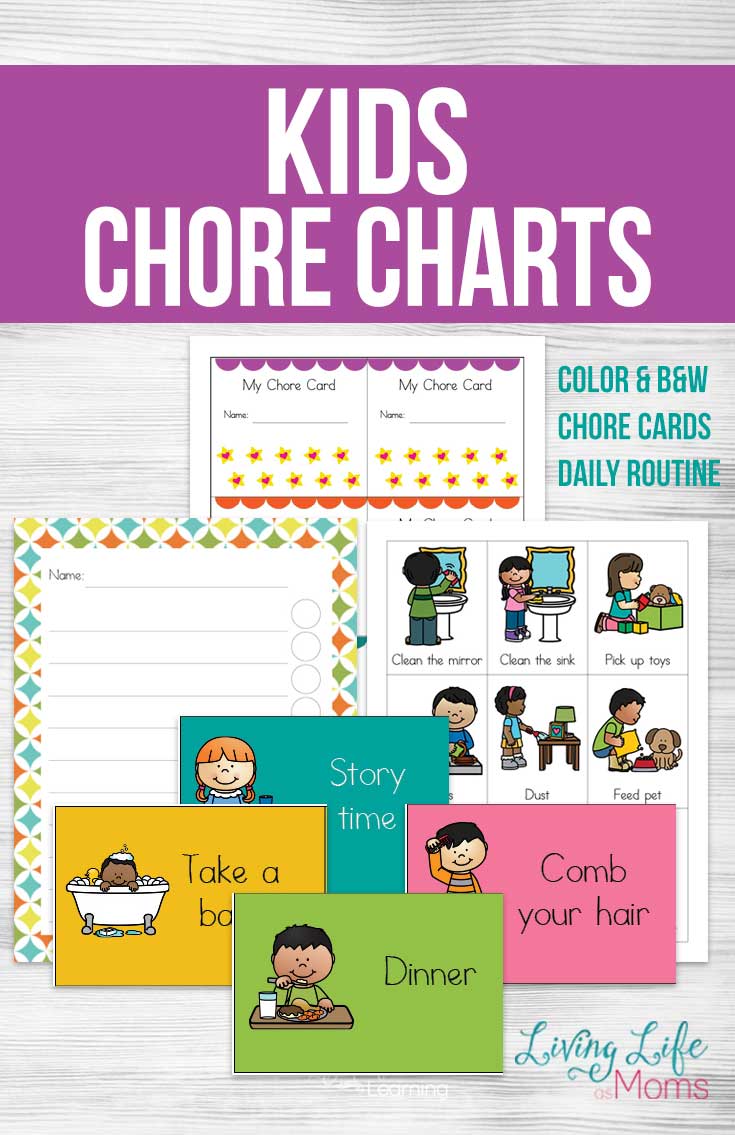 Kids Chore Charts
Come up with a system that works for your family. This is the key to implementing chore charts that will actually work.
And the most important part.
Stick to it. If you're not consistent, the kids won't be either. They won't bother to do it if they know they can get away with not doing it.
Trust me, I've been there. I can't tell you how many times I've let them skip the chores because of "something" else happening. But every time I let the chores slide, I end up regretting it later.
I know that chores aren't necessarily fun, but I do think that they're an important part of teaching the kids responsibility and a sense of pride in the home.
And in all reality, you're not the only one making a mess so why are you the only one cleaning it up? Part of our jobs as parents is to prepare our kids for the future, right? Well, part of their future is being able to clean up after themselves.
You got this!
Don't do it alone. You got a bunch of tiny helpers, use them. You'll be amazed at how willing and eager they are to help clean up the house if you just ask and follow through with writing it down.
Recommended Chore Charts
Don't want to make your own chore chart? Grab one of these home chore systems so that your kids will complete their chores on their own – one can dream.
I find that having a visual reminder for the kids is one of the best motivators there is. When they wake up, they know that they have to get so many things done before they're able to have any sort of screen time, play with their friends, or anything else fun that they're wanting to do.
These visual chore charts just might be what your family needs.
Learn & Climb Kids Chore Chart – 63 Behavioral Chores as Potty Train, Behavior & More. "Thick Magnetic" Reward Chart Board/Tasks-for Multiple Kids

Melissa & Doug Magnetic Responsibility and Chore Chart, Developmental Toys, Encourages Good Behavior, 90 Pieces, 15.75" H x 11.75" W x 0.5" L

Extra Large Magnetic Chore Responsibility Chart with 8 Pack Marker Set (Responsibility Chore Chart Marker Combo Pack)

Roscoe Learning Responsibility Star Chart | Customize for 1-3 Kids | Magnetic Chore Reward System

Monitor if your pet is fed, walked, and played with on a regular basis with this Puppy Chore Chart. Your furry friends will be so happy to receive the love and care they need.
More chore printables
Here are some other great kids chore chart printables as well as a family chore chart printable as well!