Erin Condren Life Planner Review, By a BUSY Mom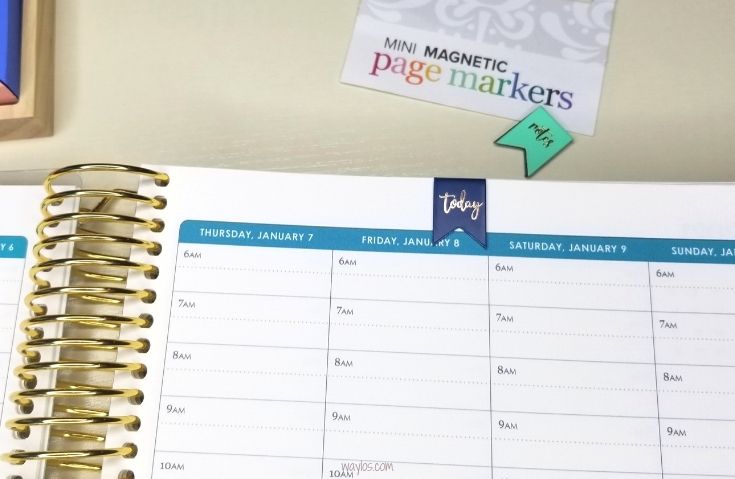 This is a VERY THOROUGH Erin Condren Life Planner review of the coiled Erin Condren LifePlanner, as someone who has used 2021 & 2022 & 2023 LifePlanners.
I have to say The Erin Condren LifePlanner is a terrific planner choice for working moms/work at home moms like me. The LifePlanner's notes pages and spacious weekly & monthly spreads make it easy to keep everything in one place, and on track.
I have a lot on my plate, and deal with a LOT of categories all at once. It's very important to have enough space to fit your life into, and this planner does just that!
2023-2024 Erin Condren LifePlanners are Now Available!!
The Erin Condren 2023-2024 Planners are now available on their website!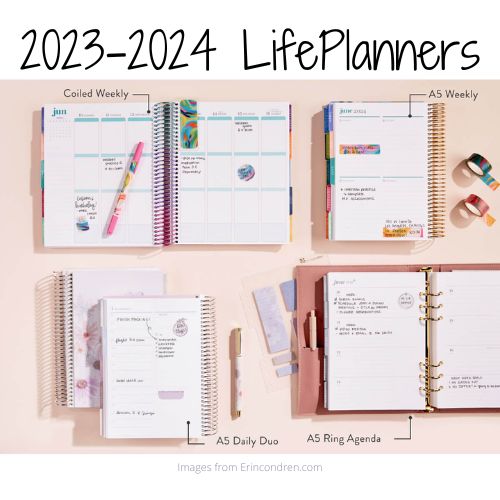 The LifePlanner's Available Designs & Options:
Cover Options:
Erin Condren has 24 planner covers to choose from, plus if you scroll down to the bottom you'll see "Shop More Designs" and there are 28 more styles in the 7×9 Coiled planner option.
Plus, they have fun & beautiful collaborations throughout the year with different artists and companies.
There are TWO cover material options (both are removable & interchangeable):
Laminated (perfect for wet-erase markers), and
Vegan Leather, which is soft but still sturdy
You can scroll through the LifePlanner section on the Erin Condren website to pick the cover that comes with your planner. (The planner price itself starts at $60.50, and the metallic/foil-stamped covers increase the overall planner price by $5).
Then, the best part is the LifePlanner covers are removable and interchangeable. You can buy any cover you want separately, under "accessories > interchangeable covers." The prices range from only $8.50 to $13.50, plus you get an extra 15% off if you buy 4 or more accessories.
There are tons of cover themes, including:
Metallic
Vegan Leather
Spring
Fall
Abstract
Watercolor
Star Wars
Hello Kitty, and so many more
I have a bunch of covers, but my FAVORITES are the ones from the EttaVee collection (that's the butterfly one in the photo):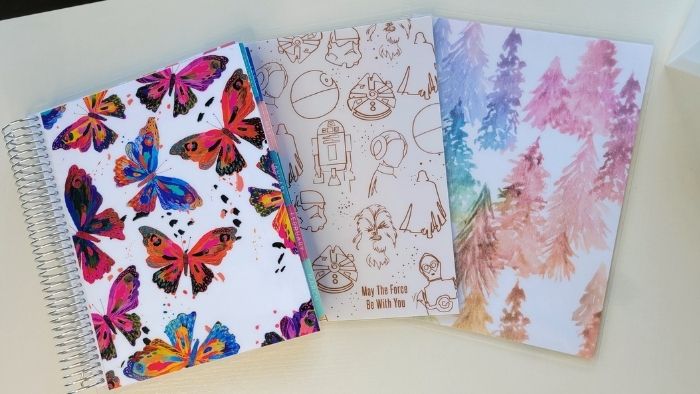 Here is a picture of my Vegan Leather cover, from their Star Wars collection, it's a soft blush-pink with Princess Leia on the front:
Month Options
Right now, the coiled LifePlanner is available in FIVE month options:
12 Month: July 2023 through June 2024
12-Month: Aug 2023 through July 2024
12-Month: Jan 2024 through Dec 2024
18-Month: July 2023 through Dec 2024 (+$5.00)
Throughout the year they release more options.
Does Erin Condren Have 18 Month Planners?
YES they do! Right now, Erin Condren LifePlanner has one 18-month start date option, July 2023 through Dec 2024.
They also have other new choices throughout the year, so if you want to know when other options pop up, I HIGHLY suggest you jump on their email list here, and while you are there click on "Enroll in EC Rewards" (it's free) so you get a $7 welcome coupon emailed to you: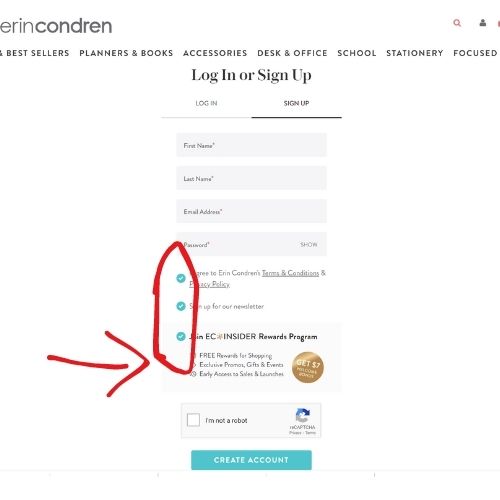 Two Size Options
Erin Condren coiled Life Planners now have TWO size options:
Original 7in x 9in, in Vertical, Horizontal & Hourly Layouts
NEW A5 (5.8in x 8.3in), in Horizontal & NEW Compact-Vertical Layouts
7in x 9in Three "Interior Layout" Options
No matter which cover you pick, you get to choose a layout. Your layout is what your weekly planner sheets look like:
Hourly Vertical (Lined),
3-Section Vertical (unlined and no time slots), or
Horizontal (Lined)
A5 *NEW* Compact Vertical Layout Option
This year, the A5 size option also has a new layout, the "Compact Vertical." This layout is perfect for you if you love making to do lists each day.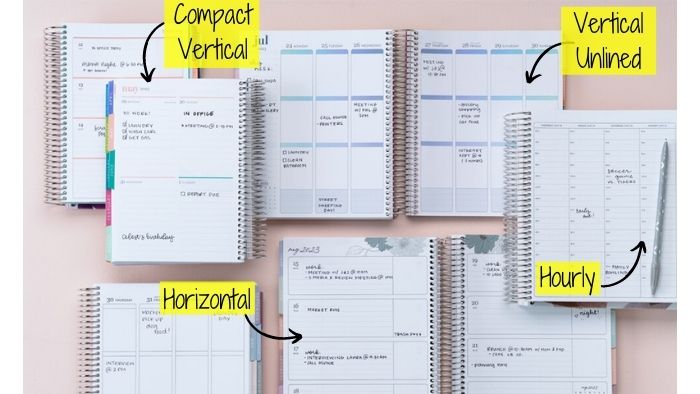 I used the horizontal layout for a year, and switched to the vertical hourly layout for 2021, and then the vertical unlined for 2022 & 2023 – more on that below.
Coil Color Options
If you ask me, after having the planner for a year I can tell you I pretty much never looked at the coil. I couldn't even remember what color coil I bought whenever someone asked me. It truly did not matter.
The platinum coil color is included in your Planner's price. However, I can totally relate to having a cohesive aesthetic for all of the items in your space. For $10 more, you can upgrade to gold, rose gold or multicolor (the multi is for 7×9 size only):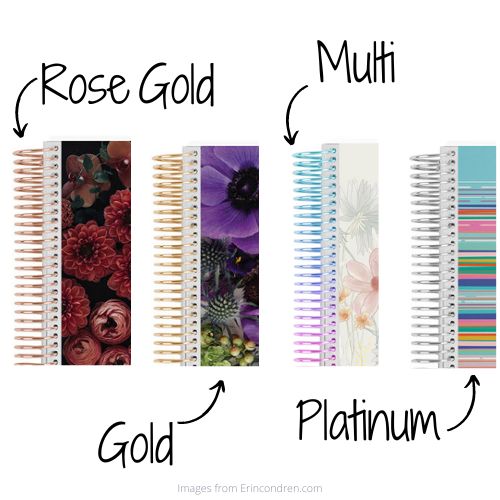 Three NEW Interior Design Options
The Erin Condren LifePlanner has three new beautiful design options, which are pretty much the design of the borders and highlight colors on the planner pages:
Inspire
Wildflowers
Canvas
Whether you like the inside of your planners to be colorful, or choose to decorate them yourself, there are options for you.
The "Inspire" interior option is the most colorful. "Canvas" is minimal and colorless in the month & weekly layouts. That is the best choice if you love to use stickers to decorate your planner.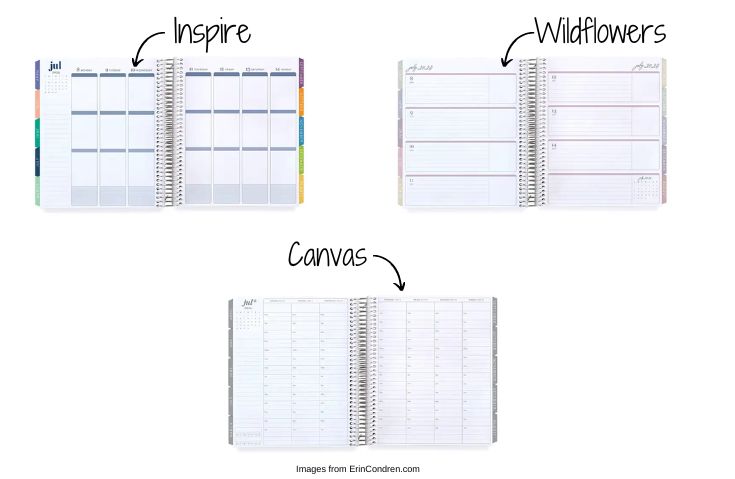 Customization Options
Adding Text to the Cover
When you click on the planner you love, click on "personalization" and you'll have the option to personalize the cover with your name, the date, or two lines of any text you wish.
"Colorway" Customization
Also, you can pick the actual colors on some of the planner covers. You'll be able to see which planners can be color-customized by checking for this symbol under the planner: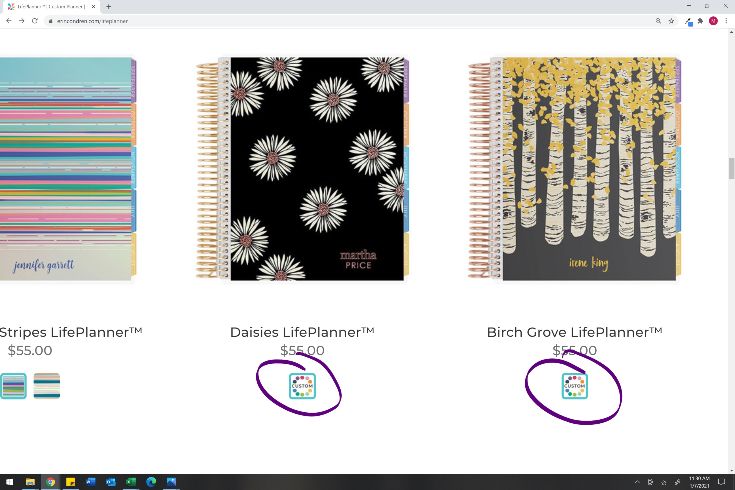 These planners will have an extra option under personalization to pick your own color scheme, called "colorway":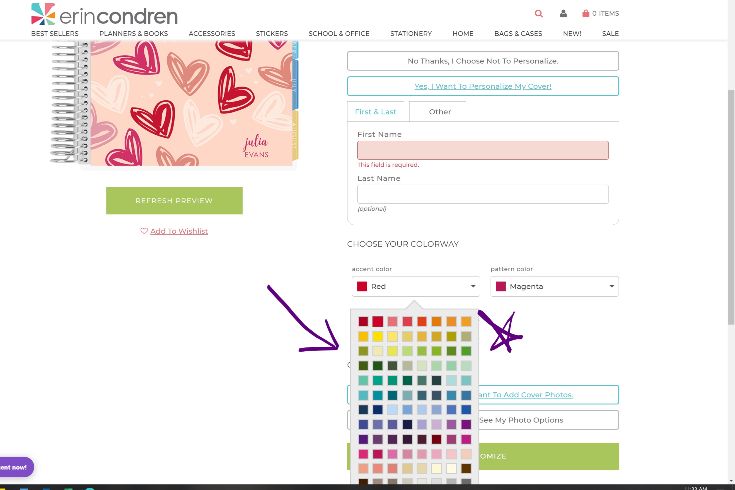 How thick is the Erin Condren Life Planner?
The 12-month LifePlanner is interesting because the coil is markedly thicker than the planner (NOT a bad thing – in fact it's great because there is plenty of room to add pages, dashboards & clips without making the planner look bulky).
The coil itself is about 1 ⅜" in diameter, and the planner is 1" thick: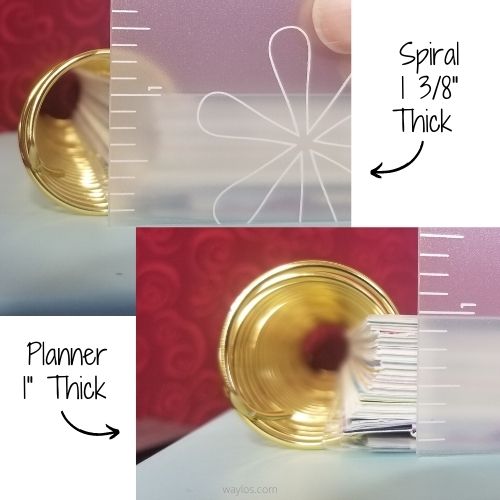 As to the rest of the dimensions:
The website says this planner is 7" x 9" BUT the cover is more like 7 ¼" x 9 ¼".
From coil to tab, the LifePlanner is about 8 ⅜" wide.
The pages themselves are about 8 ⅝ " x 6 ¾" (not counting the part of the page that is coiled).
What comes with Erin Condren Life Planner?
When you first open your first box from Erin Condren, it's actually surprising to see the little thoughtful things that are included:
Storage Box
Clip-On Ruler
Two 20% Off Coupons, for yourself or to give to friends & family
Three Mini Compliment Cards
Four Pages of Stickers
Two Big Gift Labels
One Small Circle Label for your storage box
Inner Two-Sided Folder
Separate Perpetual calendar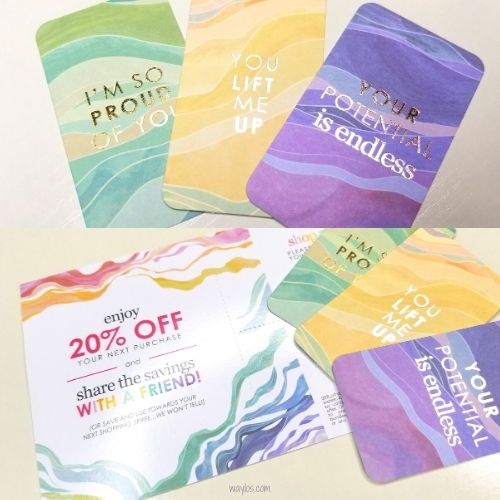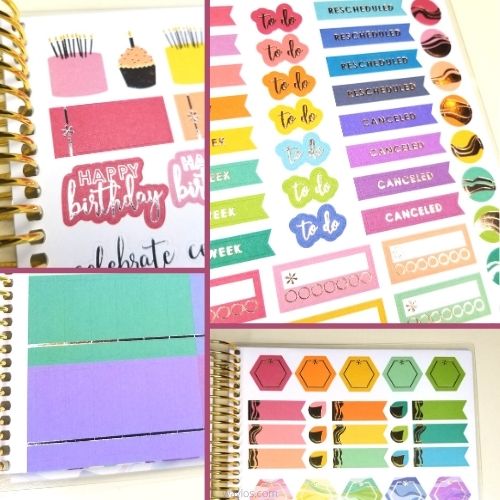 My favorite gift is the perpetual calendar. Since it is so thin and small, it can be used for tracking pretty much anything, since it can go pretty much anywhere with you.
Inside the LifePlanner: Overview of Each Page
The 2023-2024 LifePlanner has just as much quality and care as previous years. The pages are Mohawk 80# text weight, and have just that tiny bit of texture to them, that gives a luxurious and professional feel.
The Functional Pages at the Beginning of the LifePlanner
When you first open the planner there is a cloth paper cover, and you see the inside cover. If you opt for a regular cover, it's laminated, lined and ready for wet-erase markers or sticky pad notes…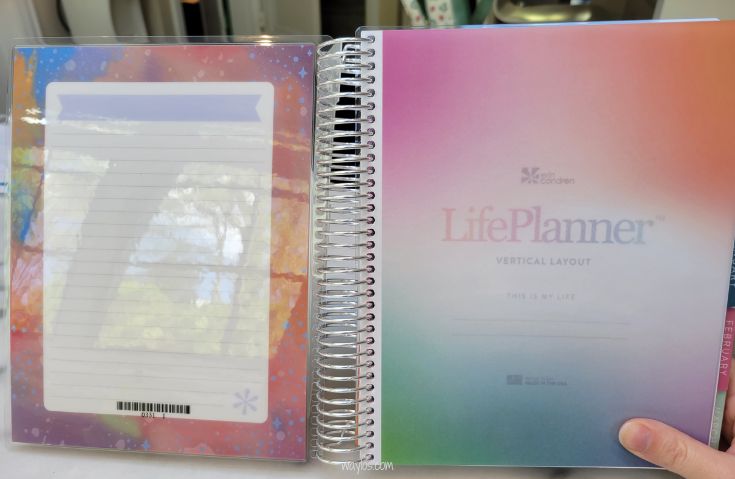 If you got a vegan leather cover, you can't write on the inside cover but I usually use sticky pads anyway so I don't miss it.
The next two pages have an affirmation, which you'll find a dozen or so affirmations and quotes on each tabbed page of the planner…….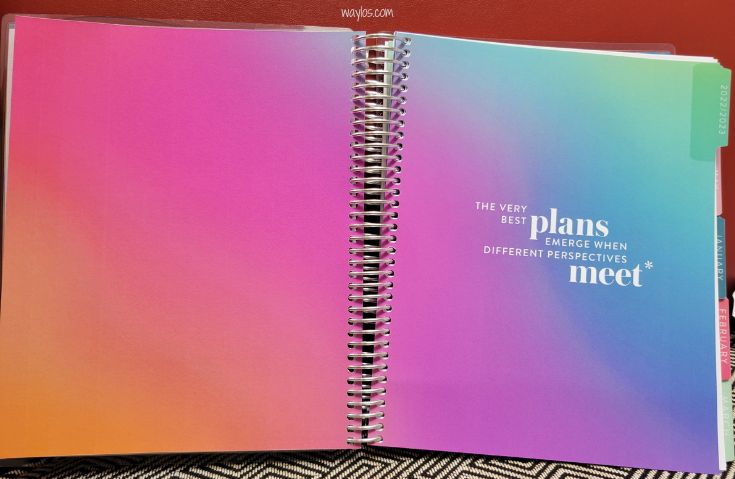 Then the year-at-a-glance (the very last pages of the planner also have 2024 year-at-a-glance pages)…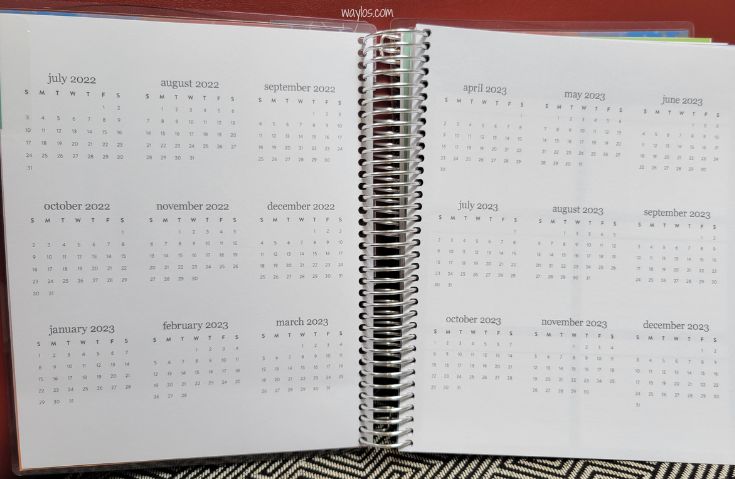 Next, 12 lined boxes that you can categorize by month, or by project or goal…..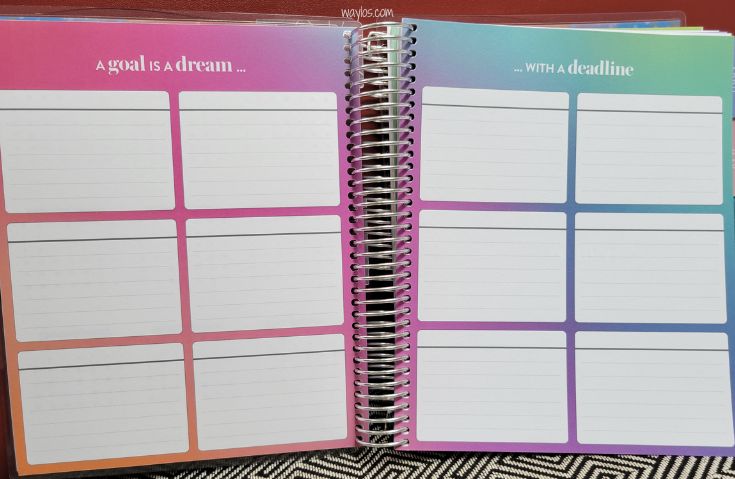 Then one blank note page, and the start of your first month. Each month starts with an affirmation or quote……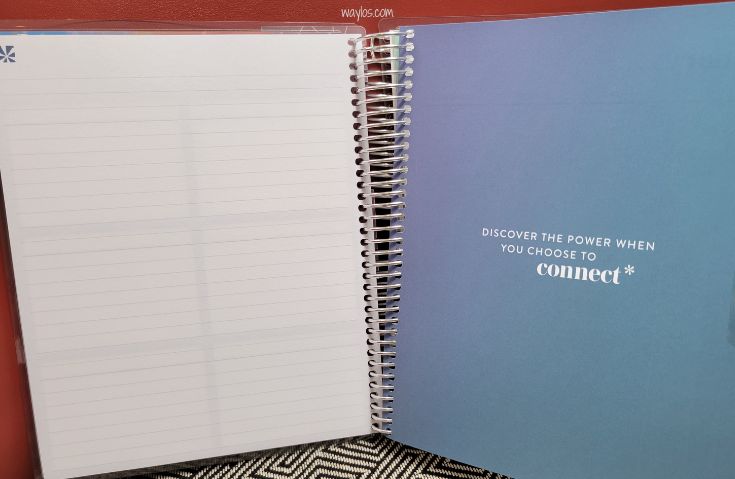 Pages Inside Inside Each Monthly Tab
Between the tabs of each month are your:
Month Layout,
Dashboard,
Weekly Spread, and
Notes Page
The Month Layout
The squares of each month are a pretty spacious 1⅝" wide by 1⅜" tall. I can fit most functional stickers into the squares (there are SO MANY on Etsy), and have had plenty of room for appointments and events.
I also appreciate that the page is white, so I can easily white-out or (jelly-roll out) any changes or mistakes, if I'm using a pen that is not erasable.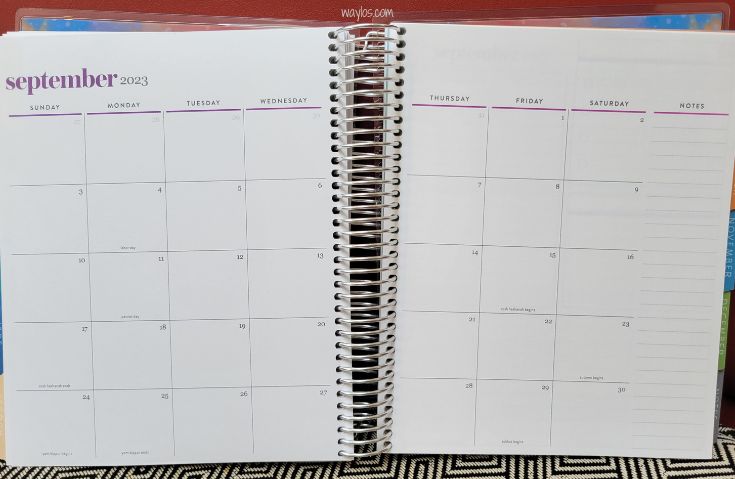 The Month Dashboard
The Month Dashboard includes a lined area, a dotted area, a to-do list type area, and a blank area, all in one. This is my favorite place to put a checklist of monthly. quarterly and annual home maintenance tasks for the month.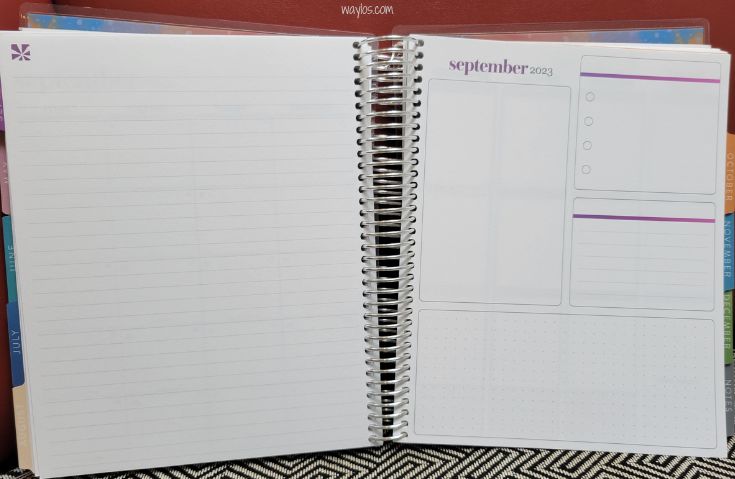 The Weekly Spread
All of the weekly spread options have three great additions:
A small month-at-a-glance of the current month,
A sidebar with extra space for notes (the Horizontal layout has that space on the bottom right page of each week), and
One extra lined note page at the end of each month, right before the next month's tab.
My 2023 LifePlanner is a Vertical Sectional spread.  There are three spaces each day, plus an extra lined space at the bottom (perfect for meal planning).
There is also that sidebar for extra notes, and the month-at-a-glance. It is very roomy: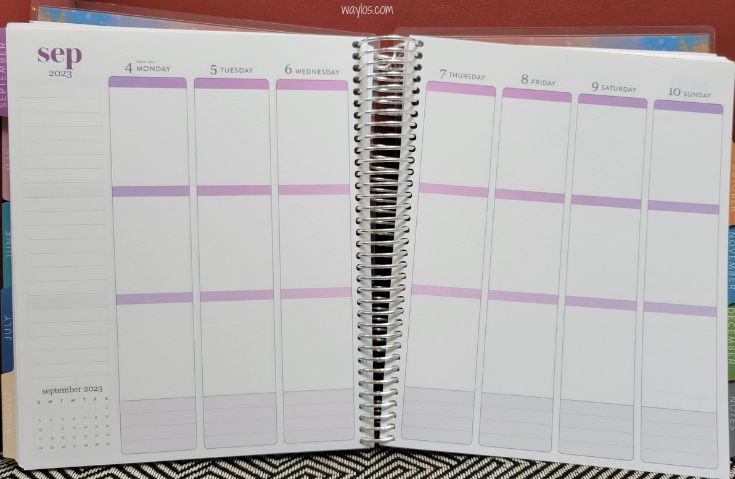 The last part of the weekly section of this planner is the Notes page at the end of each month: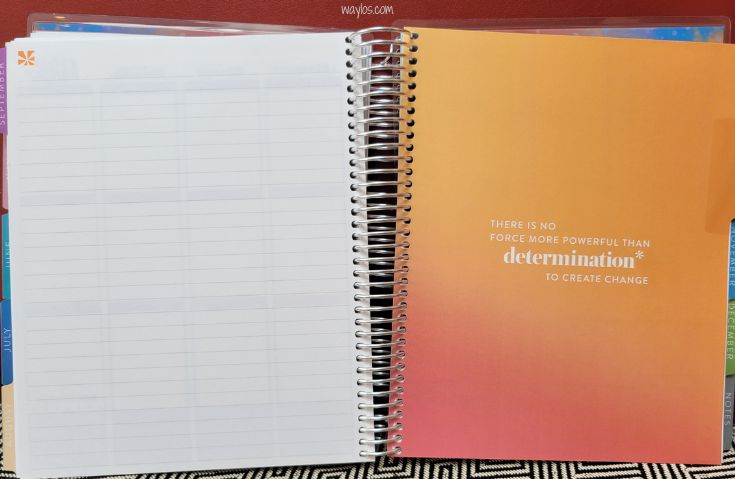 The Back of The Planner
At the back of the planner, there are four lined notes pages…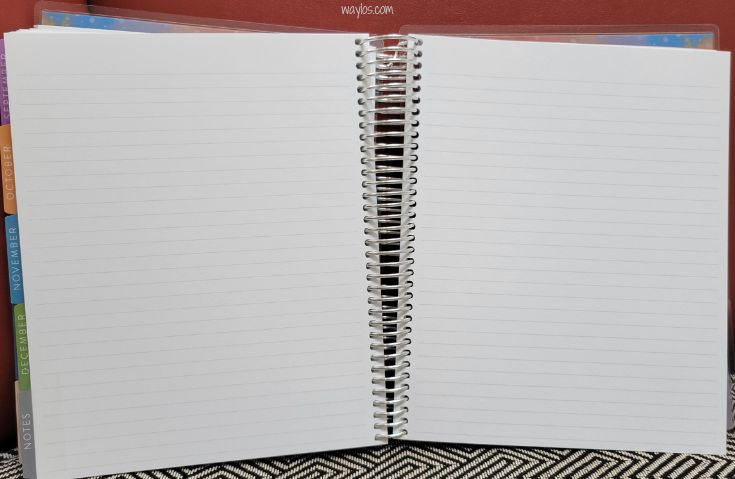 a "Contacts" page…
The following year's "Year-at-a-Glance" page (which has space under each month for notes, I LOVE that)…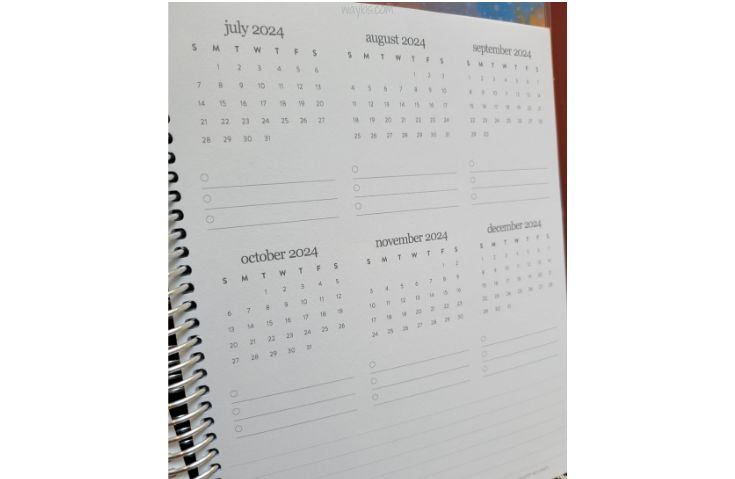 and finally, the back cover, along with a two-sided folder page, which is very sturdy and strong…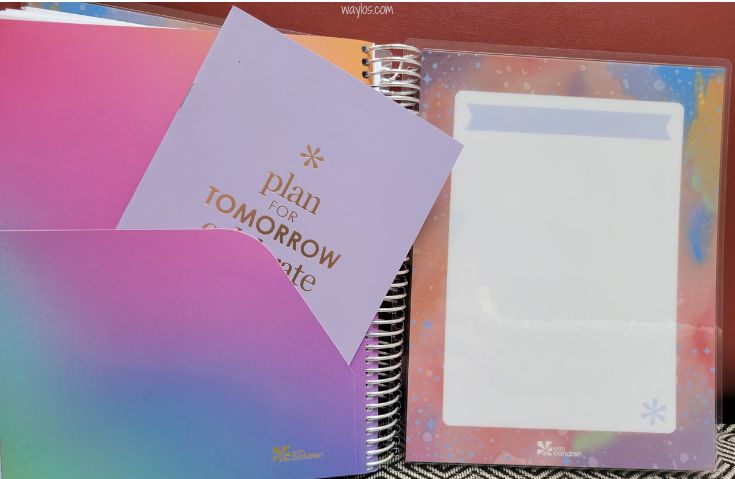 Changes to the 2023 Erin Condren LifePlanner (2022 vs. 2023)
Nearly everything about the planner layout is exactly the same in 2023 as in 2022.
The month layout, dashboard layout, notes & contacts section & stickers are all the same.
The only difference is that instead of giving you a sticker sheet for you to pick which holidays you want on the planner, there is now a list of holidays at the back of the planner: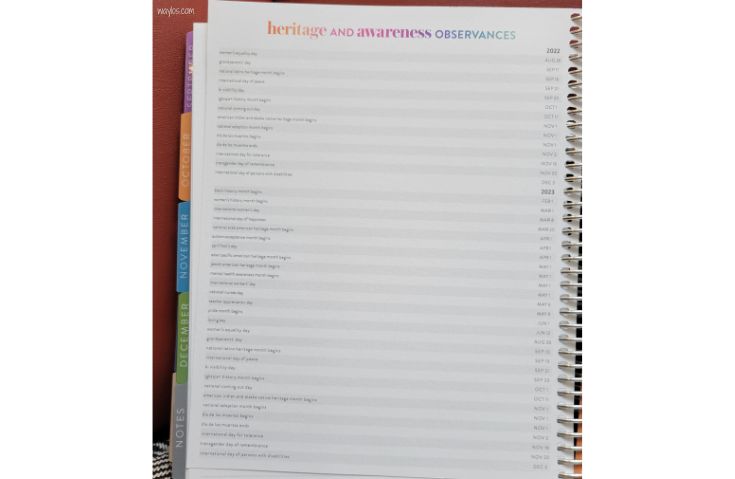 Erin Condren Stickers and Accessories
Here are some of my favorite accessories from Erin Condren. If you buy 4 or more, you get 15% off!
Stickers
Yes, Erin Condren has a bunch of both functional and decorative stickers, in all kinds of shapes and sizes. But did you know this…
You can make your own photo stickers on the Erin Condren website. The site lets you upload images from your computer or social media accounts, to turn into stickers. Very, very easy to make. They can be all the same image, or all different images, totally up to you.
There are two options for the stickers, both at $5.50 per sheet: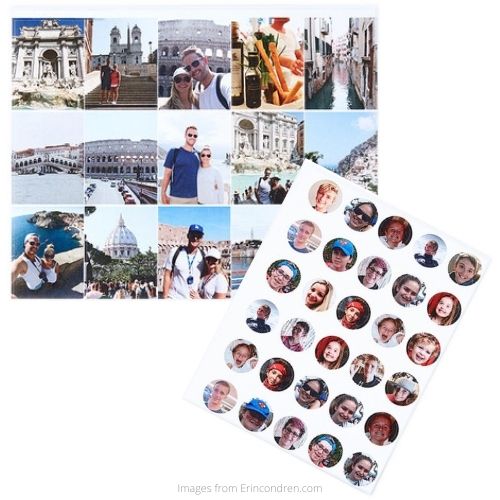 Now, as far as their collection of more standard type stickers, they are right up there in quality and function with the rest of the big brands.  My favorites are the Daily Dots for color coding, and any of their two-page sticker packs.  I grabbed the Gratitude Journal pack with rose gold metallic accents: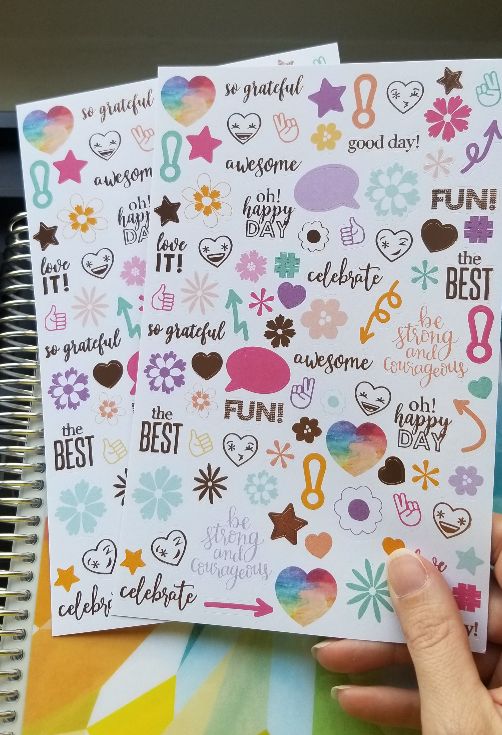 (2nd Edition of these stickers here)
I also grabbed some fun Star Wars themed stickers: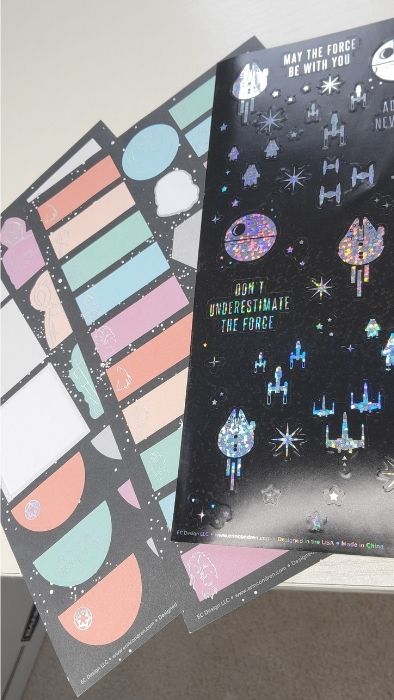 Metal Bookmarks
These metal bookmarks are SO fun, even they aren't the most practical size. I use mine as an actual bookmark because I love seeing it every day.
It's a great, inexpensive add-on to a gift, or to add to your home-office shelf decor: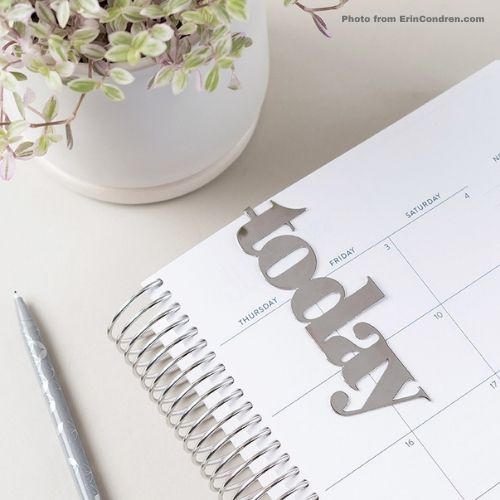 This one is mine, in "believe," it isn't sold anymore but this style comes in "plan:"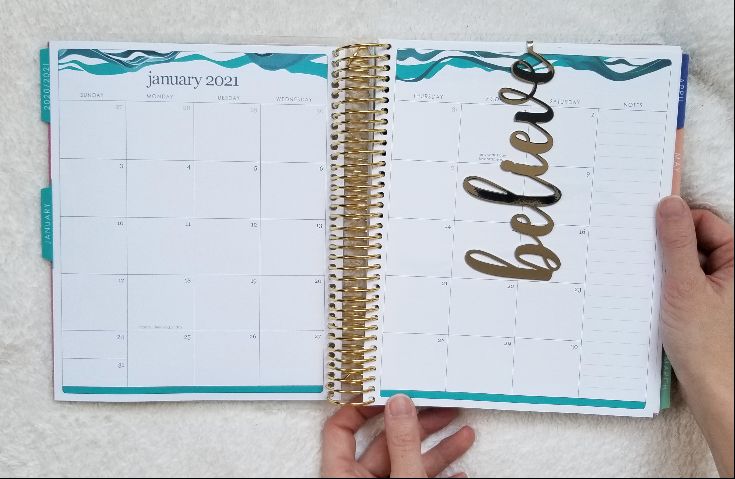 Bookmark Alternative: Page Markers. I used to use paperclips everywhere until I bought the Erin Condren page markers. These do NOT hold bunches of pages together (the magnet is not strong enough), but for marking like today's page, or the page that has your habit trackers, they work perfectly.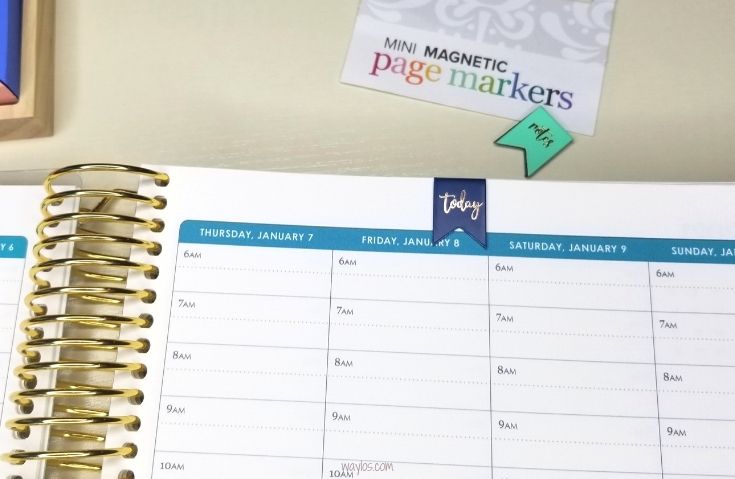 You can see their big assortment here.
Washi Tape
I am a planner-hack fanatic. Planners never worked for me, until I learned how to change and tweak them to suit my needs. Washi tape is one of those basic, easy ways to break up space, change a color scheme, or completely cover something up that you can't stand.
Erin Condren has a small collection of washi tape that matches the current year's design, and I'm here for it. It is not super-sticky and is able to be moved without ripping the page.
I actually used up my whole roll to make a dashboard, the colors are really beautiful:
Remember that you normally can't write on washi tape in general because it's glossy, and this one is no exception. But, you can layer matte stickers on top to create some fun design and texture, which you can then write on.
Snap-in "StylizedSticky" Notes
These small sticky pads are BEAUTIFUL and I got them for an insane 70% off during the Warehouse Sale.  They are less sticky than regular post-it notes, and they curled on me a lot, so if you will be moving your sticky notes around regularly, I would pass on these.  
But, if you are using them for decorative purposes and they will be staying on one page, they won't curl since they will be pressed flat, and should be fine.
(Similar here.)
Wet-Erase Markers
For using any plastic or laminated parts of your planner, I can't recommend wet-erase markers enough. They only wipe off when you use liquid (like water), so they will not transfer onto your paper pages.
The Erin Condren wet-erase marker sets are a drop higher in price than ones you get in office supply stores, but honestly it's a small price difference, and these markers are nicer to look at (they don't look like huge permanent markers):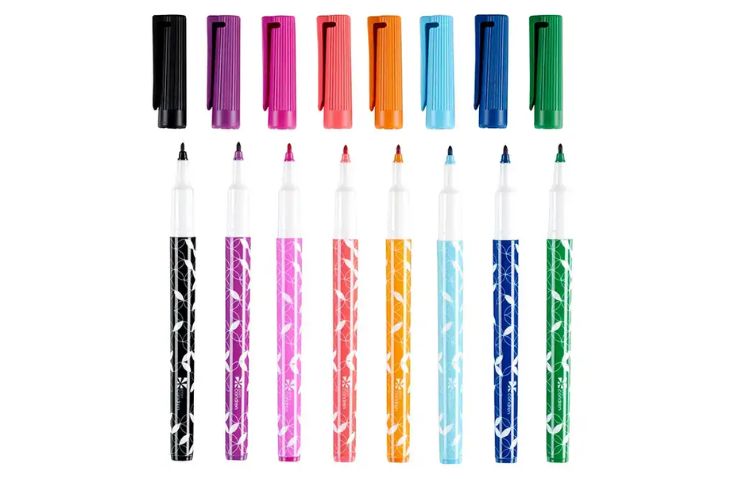 Planner Folio
Buying this Neoprene planner folio is seriously the best $25 I have ever spent (they're $27.50 now).  It holds my planner, pens, sticky notes, another notebook and more, wherever I bring my planner with me.  
Even when I move from room to room, it's great because I'm not dropping a handful of things. It looks so small, but BELIEVE ME it holds so much, I'm so happy I bought it!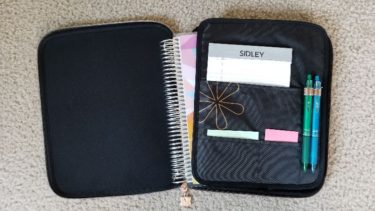 Erin Condren LifePlanner Pros & Cons
Pros of the LifePlanner
The laminated front and back covers are very helpful for using wet erase markers or even just post-it notes. It's more usable space, and when you're planning your life, it's needed.
The covers keep this planner very lightweight, instead of using heavier cardboard stock or leather.
Spiralized Planners are better for customizing. For anyone who likes to decorate or color-coordinate their planners with stickers, washi tape or extra inserts, do NOT get a hardbound planner! Spiralized planners are for YOU!!
Here's why……..
Hardbound planners are already filled to their width capacity. Meaning, they are already full and can close evenly and fully. If you start adding stickers & tape & extra papers, you are increasing the width of the planner papers little by little.
Eventually the planner won't close correctly. It will start to bulge and look sloppy.
By the end of the year you're going to be sick of looking at it, because messy = more stress. The LifePlanner definitely has room to grow!
It's made in the USA. This is not as common as you may think! A lot of planners are made in China and distributed in America. It's not a quality issue of course, but if you prefer to purchase American-made products, this planner is made here.
Cons of the LifePlanner
Standard shipping time is a long wait. With standard shipping, my planner took around ten business days to get to me. However, I separately ordered a bunch of accessories during a major sale, and I received my package in only four days!
I believe it's because the planner takes time to put together, and it's clear there is a lot of care and thought put into the presentation when you open the box. I will splurge for faster shipping next time I purchase.
I wish the year-at-a-glance pages had more room to write under the months like the ones in the back. I like to jot down big events/weddings/travel under each month, so I can see a big picture of the whole year.
Why The Erin Condren LifePlanner is a Great Choice for Busy and Working Moms
I have experience with both the Horizontal layout, the Vertical Hourly layout and the Vertical Sectional layout. All of the layouts have a lot of room for writing, and are very easy to customize to suit your specific work and home needs….
The Horizontal Layout
With the horizontal layout, I experimented with cutting the day slots into three sections, Home, Work and Business. I was able to fit up to 6 lines of writing space for each category, plus I used the extra square space on the right side to keep meal planning.
Also, on weeks off or when there was not much to do, I easily covered up the date and used the space to keep home projects, habit tracking, and more.
The dashboard and notes page had plenty of space for me to use for meal planning ideas, keeping track of business stats, or just jotting down ideas and notes.
The "Notes" section toward the back of the planner was an easy place to stick my budgeting printable sheets, debt tracking, passwords and other printables or templates I like to use.
I was able to successfully keep my life inside this one planner.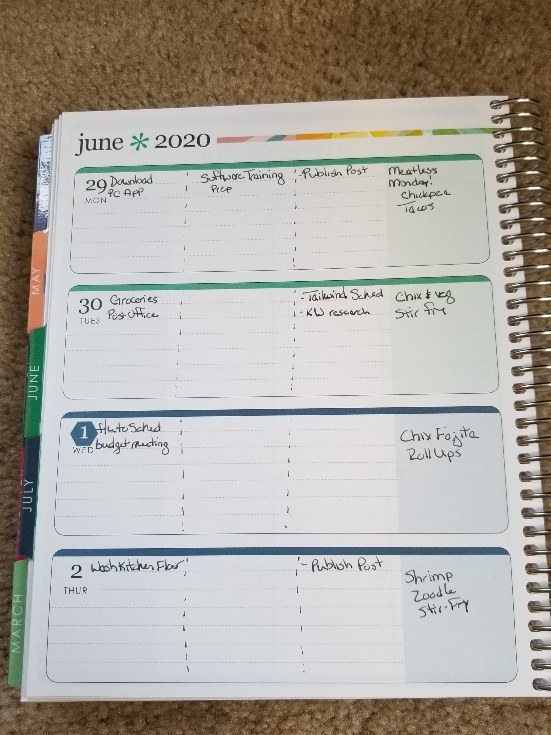 The Vertical Hourly layout
I experimented with keeping one separate planner for each "life" category. and used the Erin Condren vertical hourly layout for my job.
Now, I only work from like 9am-3pm, and the planner's hours go from 6am through 7pm. So, I hacked up the space after 3pm to use for to-do lists and note taking.
Here is a picture of my first week, I used different stickers for each day so I can figure out which way I like best moving forward:
If I were to use this specific planner to keep track of my whole life, I can easily use this newfound extra space for home things, and keep the work hours for work time.
I can even take out the early morning time slots and use them for each day's meal planning, or for checking off any bills that need to be paid that day (if you use your planner for keeping track of your bills).
However you slice it, there is enough room in this planner to keep the different parts of your life moving, especially with the added notes pages this year (for keeping checklists and other printables).
The Vertical Sectional Layout
In 2022 & 2023 I'm back to keeping everything in one planner, and the Vertical Sectional layout has PLENTY of room!
I use one block for appointments, one block for to-do's, and one block for any important notes for that day. I also use the extra block at the bottom for meal planning.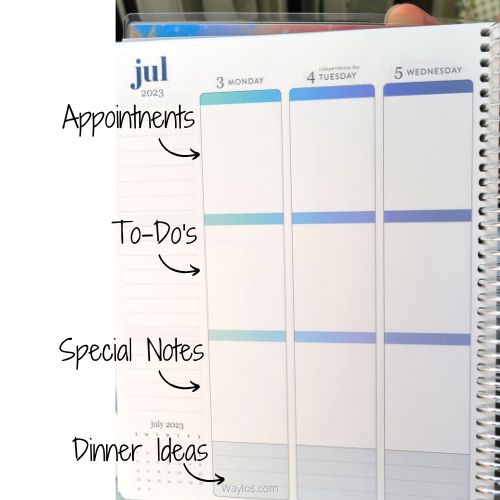 Here are some of my posts about how I use my Erin Condren planner to help keep me organized:
How to Get Discounts On Your Erin Condren Purchase
Sign up for their newsletter. This is the best way to get discounts, for two reasons:
In addition to getting alerts for all of their regular sales, you will get notified of their (in my opinion) best sales of the year, their Warehouse sales. Last year's sale was 70% off perfectly good and usable end-of-season accessories, plus I still got the 15% off for buying four accessories! I bought like eight things for $15 total at the last sale.
When you

sign up for their newsletter here

, you can click on the "enroll in EC Rewards" prompt, to get a $7 coupon emailed to you, plus you start racking up rewards points, to use for discounts on future purchases.
Other Planner Options From Erin Condren
The LifePlanner isn't the only type of planner from Erin Condren. They have lots of different types and sizes, including:
The LifePlanner itself comes in more than just the coiled option, and they are all beautiful:
Erin Condren Life Planner Review 2023
I hope you love this planner as much as I do!
Don't forget to sign up for the Erin Condren newsletter (and click on "enroll in EC Rewards" for your $7 coupon), so you don't miss any sales!
XO,
-Mina