Real-Life Declutter Before and After Pics That Will Make You Sprint To Your Closet STAT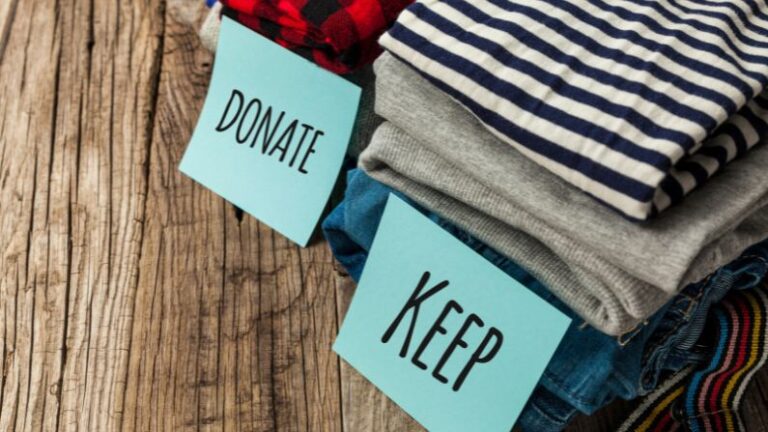 Decluttering can seem very overwhelming, especially when you are thinking of decluttering an entire room or home.

These declutter before and after pictures are from real-life homes, with lots of decluttering tips for families. No fancy, unrealistic magazine decluttering images here.
Click through each picture to see how these families decluttered their space, and get some inspiration to organize one of those sore spots in your house!
---
Husband's Closet Declutter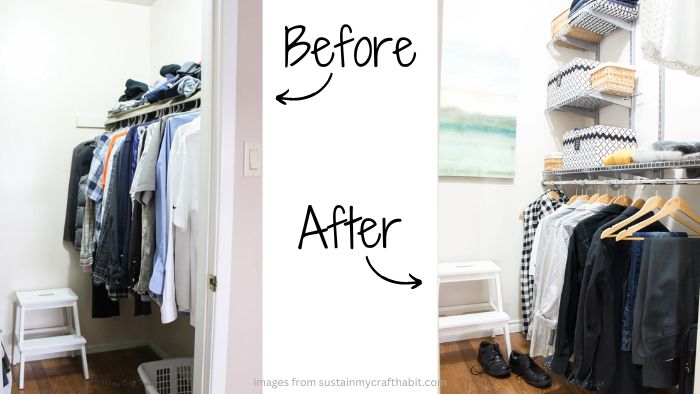 This husband's closet basically doubled it's storage size by lowering the hanger rod to make room for more shelving. Now, there's enough space to properly store the items that were cluttering the single shelf before.
---
Basement Declutter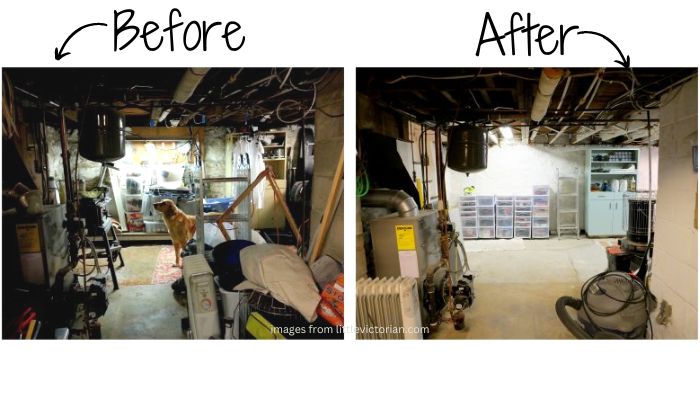 This basement declutter project got rid of the random boxes and used similarly sized storage containers to line the wall. Definitely click through to this blog post, the way Christina describes this makeover is so relatable.
---
Craft Closet Organization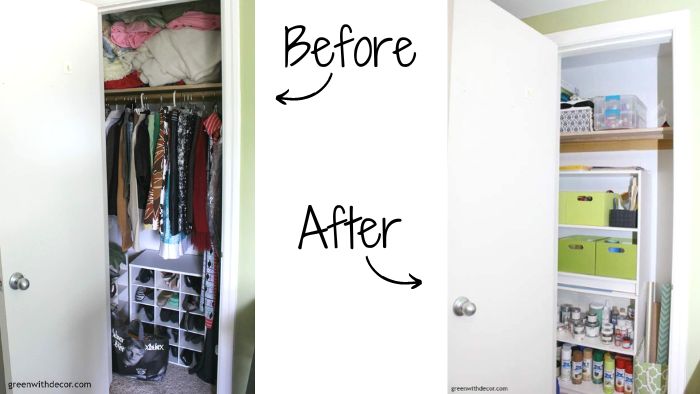 This declutter before and after project actually helped declutter a bunch of spaces in Meg's house, since her crafting supplies were scattered in different areas of her home. It's also a great example of a budget declutter using items you already have.
---
Spice Drawer Declutter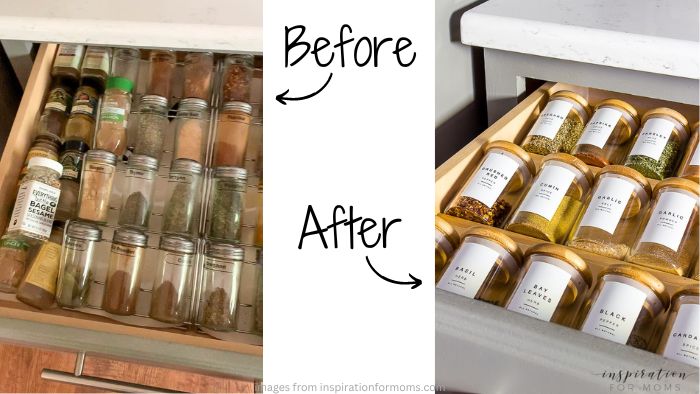 Decluttering and organizing your spice drawer with uniform containers makes it so much easier to find your spices. Plus, now you can buy spices in bulk to save money, since you'll be using reusable containers.
---
Lazy Susan Cabinet Declutter
Organizing a lazy susan corner cabinet is next to impossible, but Laura found these baskets that fit perfectly and keep everything together.
---
Junk Closet Easy DIY Shelving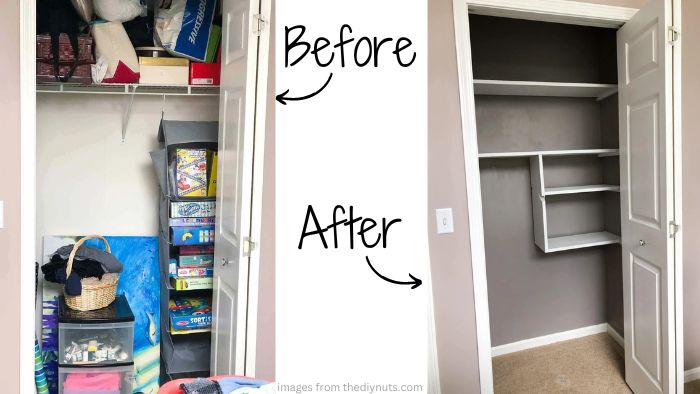 The stuff in this junk closet was basically piled on top of each other, before Erin & Eric show you how to easily put up wood shelves for a sleek & useable junk closet space.
---
Master Closet Declutter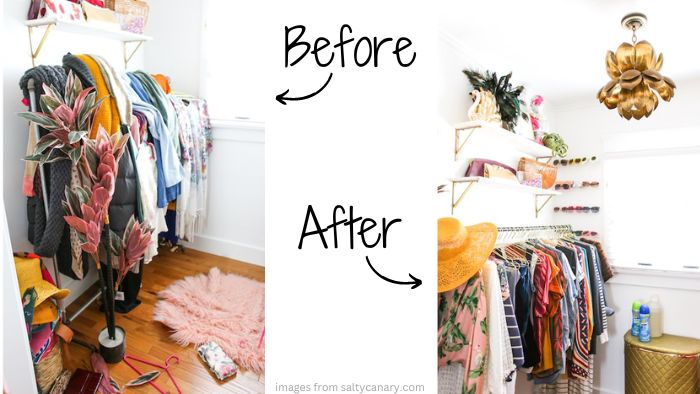 Andrea shows us how to declutter and organize your master closet and make it feel chic by adding a few fancy decor touches.
---
Kitchen Cabinet Organization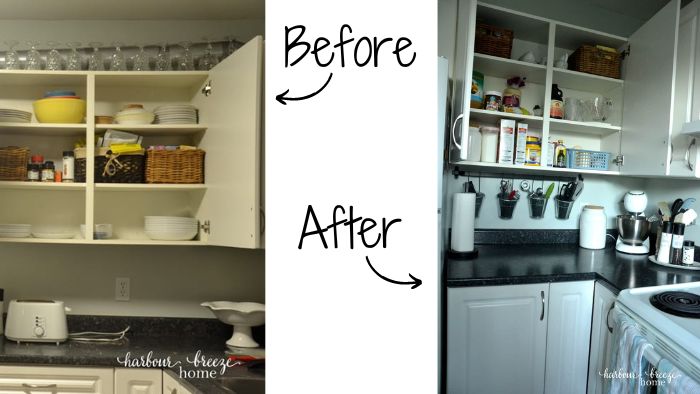 I love Rita's real-life kitchen cabinet declutter technique – she rearranges the items in her kitchen cabinets by how and when she uses them, so that for each part of her day, the things she needs are in one place.
---
Tween Bedroom Declutter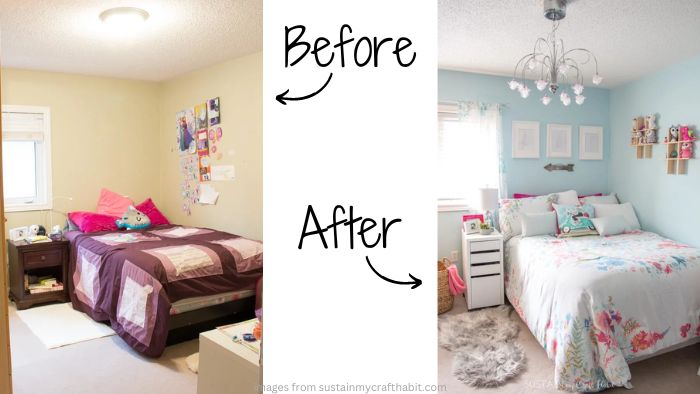 This tween bedroom was pretty lifeless and didn't have much storage space by the bed, until Sonja & Jane added drawers, a basket and open shelving to keep clutter off of the surfaces in the room.
---
Under Stairs Pantry Declutter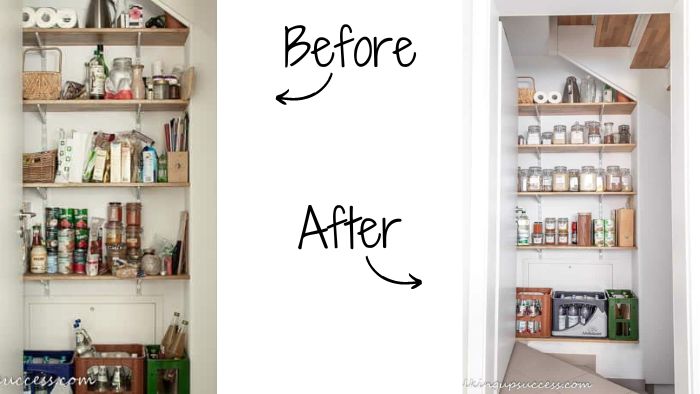 Jayne decluttered her fully-loaded under stairs pantry that started getting used as a junk drawer, by using containers to make everything look more uniform (and make everything easier to find).
---
Homeschool Room Declutter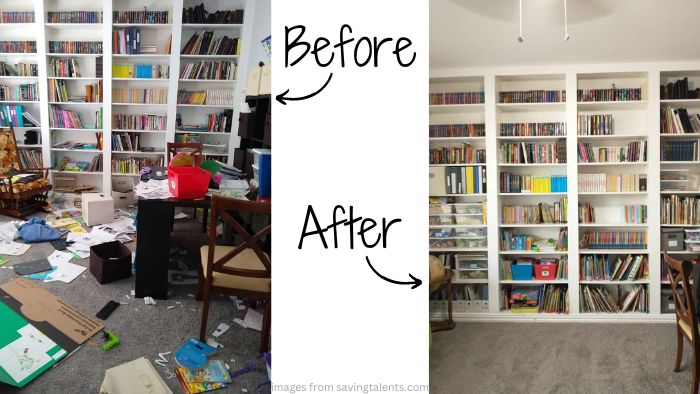 Using bins and clear containers on Tiffany's bookshelf makes it easy to find and grab supplies for this busy homeschool room.
---
Small Craft Closet Organization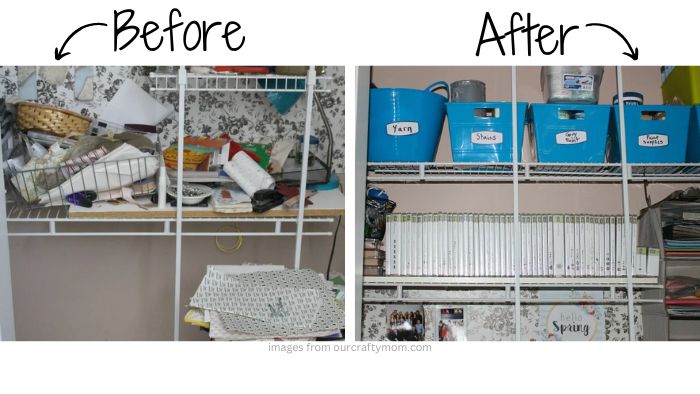 Labeled buckets make keeping like items together a breeze for Michelle, especially to corral crafting supplies in this small craft closet.
---
More Kitchen Cabinet Organization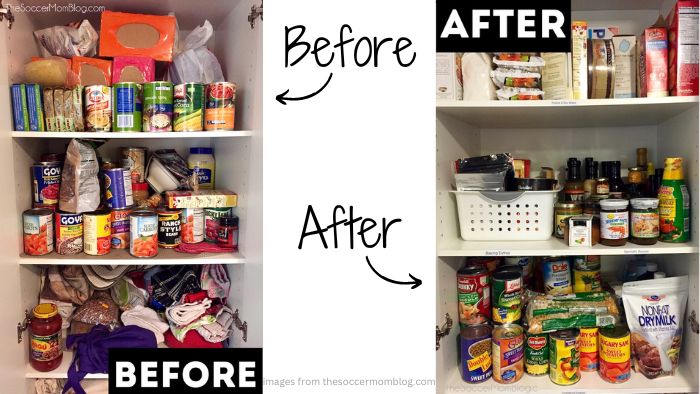 For this transformation, Stacey uses the power of labels to make sure kitchen cabinet items are always put away in their proper places.
---
Freezer Declutter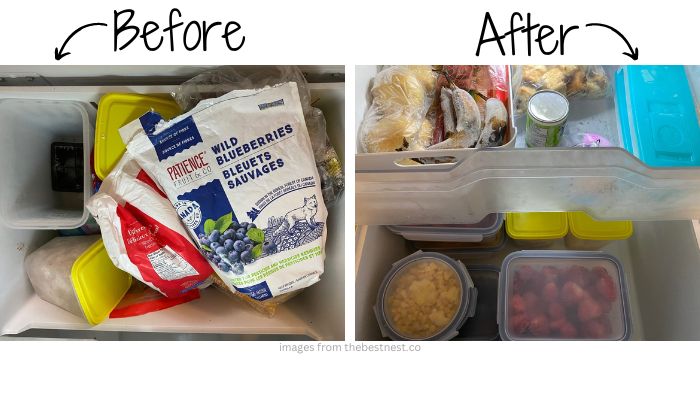 Everett uses food containers to organize the food in his freezer in a more uniform way. A major plus is that it keeps the food from getting freezer burned in their bags.
---
Home Office Organization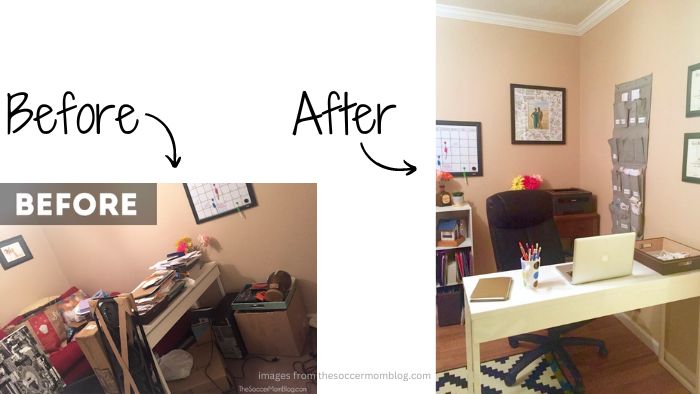 Adding small shelving from Dollar General and a hanging shoe organizer to the wall of this home office helps keep papers off of the desk, clearing the way for productive work.
---
Glass Front Cabinet Declutter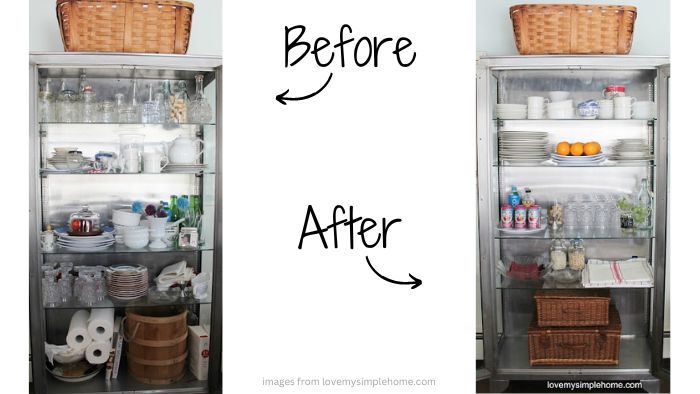 Julie declutters her glass front cabinet and turns some of the shelves into a bar. I love how it looks so beautiful and clean!
---
Under Kitchen Sink Declutter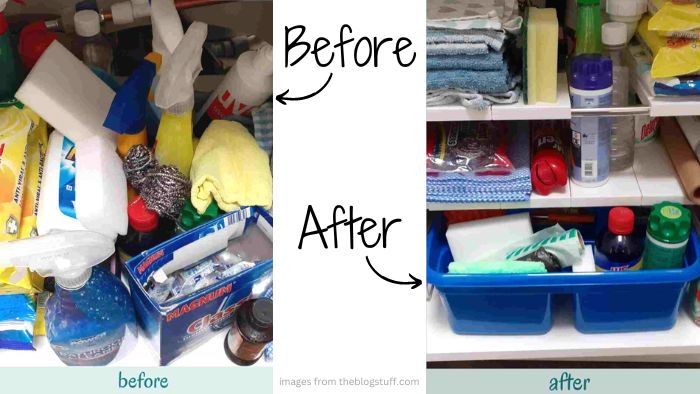 It's easy to declutter and organize under the kitchen sink using extendable organizers (an amazon find!). There are usually chemicals down there, and it's a good idea to make it easy to see all of them in case something spills.
---
Simple Clothes Closet Organization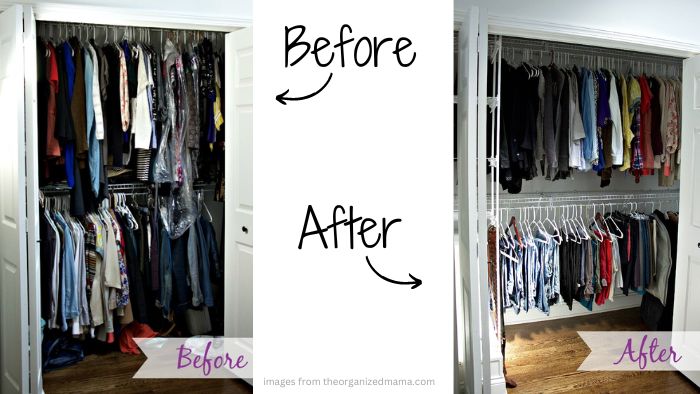 Here is a simple declutter and organization of your clothes closet – tops on top, bottoms on the bottom!
---
What is the FIRST thing to do when decluttering?
The very first place to start when you want to declutter any space in your home is to grab a nice big cardboard box and a garbage bag.
The cardboard box is for putting any items that are able to be donated.
The garbage bag is for trash, and also for any items that you don't want anymore but that are in bad shape and can't be donated. Remember, if you wouldn't take & use it yourself, you shouldn't donate it to someone else.
If you don't have a box, just use some more garbage bags instead! Start with what you have.
How do you declutter your home when you are overwhelmed?
It's not always easy to get started decluttering. It can be so overwhelming, you just don't know which space to go after first.
The best advice I ever got was to just take one thing each day, and throw it away. Start with your junk drawer, where you know there are plenty of things you don't need.
You'll see how easy it is to keep going once you toss that one thing. You will be amazed how many things you can declutter from a space in just 5 minutes!
If you are having trouble letting go of things, try asking yourself these questions:
Do I use this?
Do I like this?
Is this in good condition?
Does this have sentimental value?
How many of this do I have?
I have a post that will help you declutter any room in 30 minutes or less. There's even some special tips for decluttering your kitchen or bathroom!
Here are some more Decluttering Blog Posts you'll love:
Please PIN this & save it for later!