10 Fun and Easy Painting Ideas for Kids Activities 🎨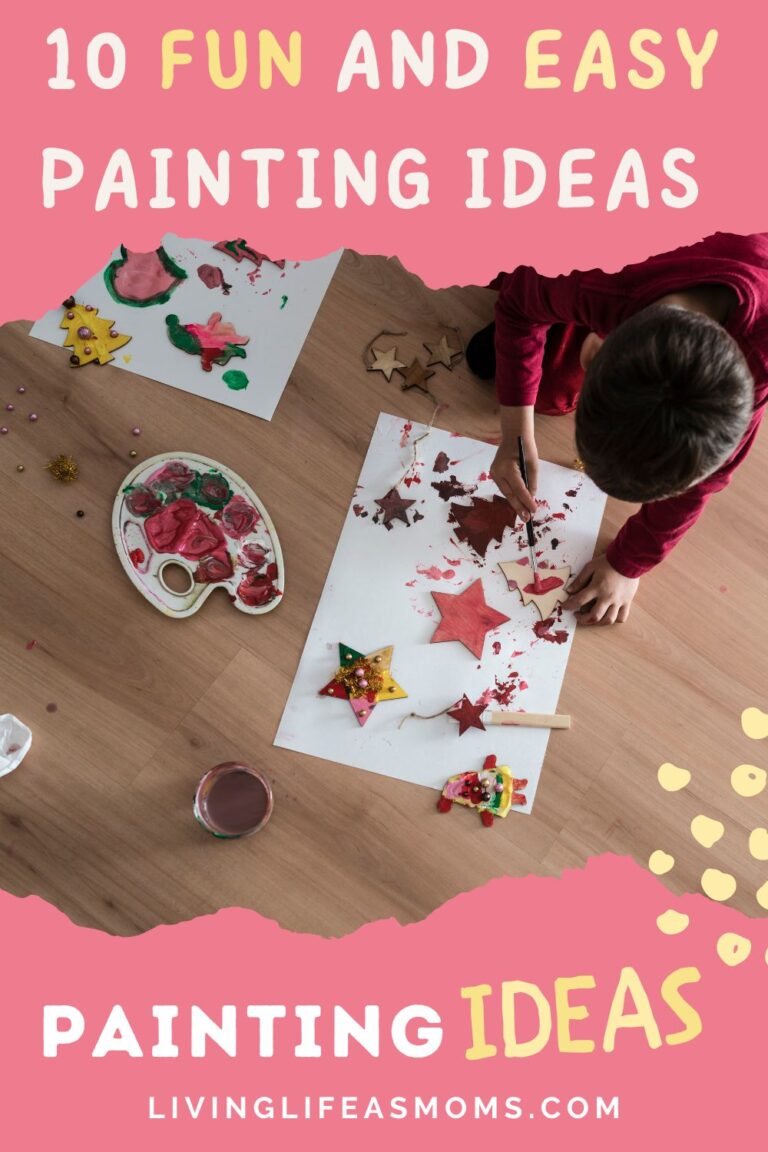 For fun and easy painting ideas for kids try: Rock painting, paint pouring, landscape painting, watercolor painting, and palette knife painting. Kids can also have a lot of fun painting easy abstract portraits that provide tons of creative freedom. 
Are you looking for a cool painting idea? Well then, look no further! All you need for this kind of activity is a medium like a piece of paper or canvas and some paint colors! Following these easy painting ideas- accented with your personal touch will create your next masterpiece! These easy painting ideas are fun and easy to follow.
Simply, gather up your favorite painting tools, some material to paint, and the following inspiration and you'll be set! The kids will love tackling any painting project from this list – and adding bright colors to make them stand out and pop!
The really fun part about painting projects is that they're adaptable to your child's creativity. If they want to make a painting with just white paint and black paint, encourage that thought process and see what they come up with!
There are so many color schemes and fun ways to add a pop of color that even their beginner paintings will look like classic works of art.
List of Painting Ideas 🎨
If you need a fun painting idea or two, use this list below! They're perfect for learning various painting techniques and for having the kids put their creativity and ideas onto canvas. Even experienced artists will agree that painting something new and unique is fun!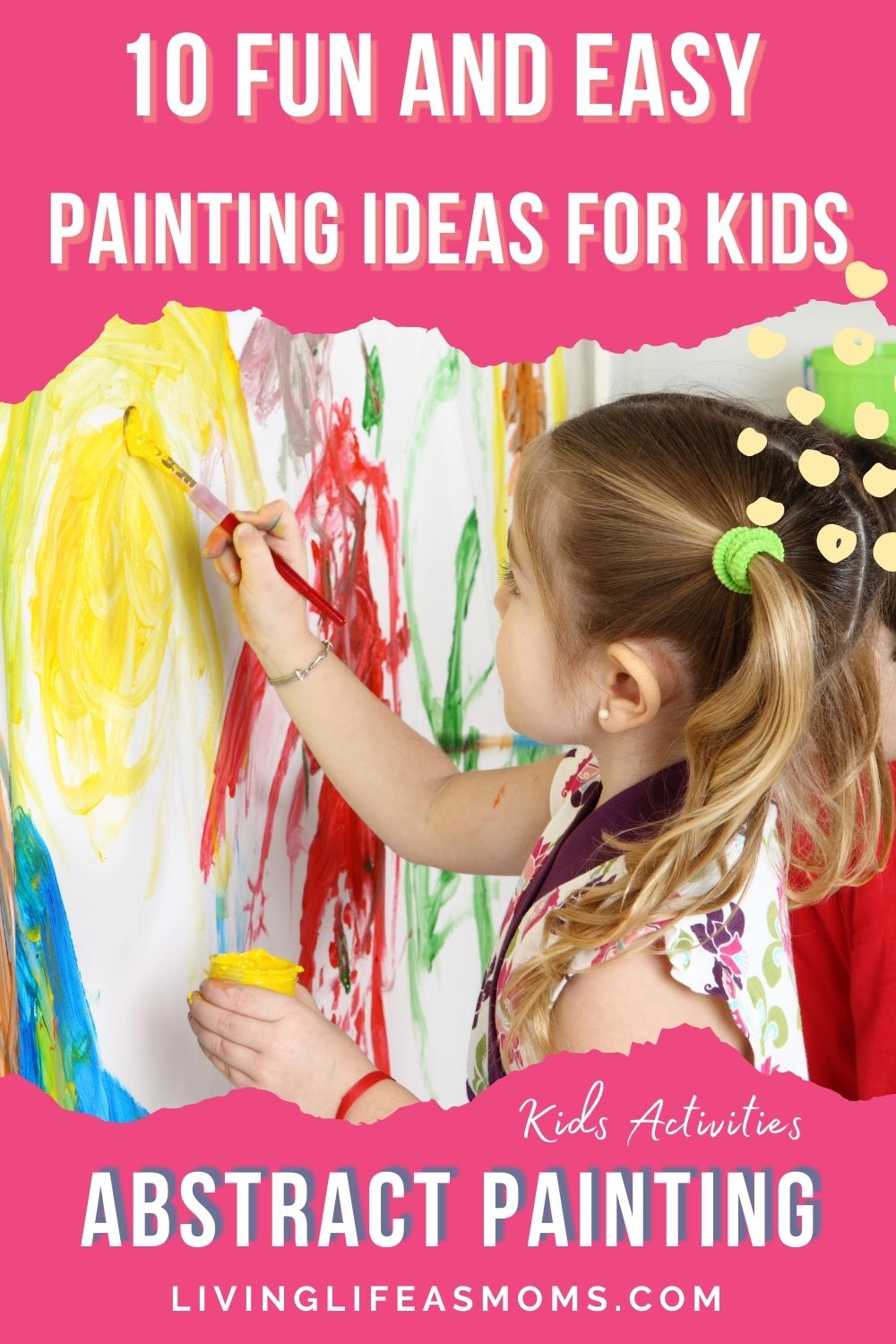 Abstract Painting for Beginners
For easy painting ideas, try abstract painting! Abstract painting happens to be the easiest style of painting for all, since it doesn't follow any rules.
Abstract means that the composition and colors have many variations and can be completely random and unique. We all know what an abstract painting looks like, and that it can range from splashes of paint to a piece of mixed media.
All they need is a blank canvas and some paint, and who knows what will come out of their brain! Abstract is how they see it, so see what type of abstract accent art pieces they'll come up with. Abstract butterflies sound pretty cool, and anything painted with vibrant colors is always a good idea!
What you will need:
Canvas (large or small)
Any Paint Types – Acrylic is a great option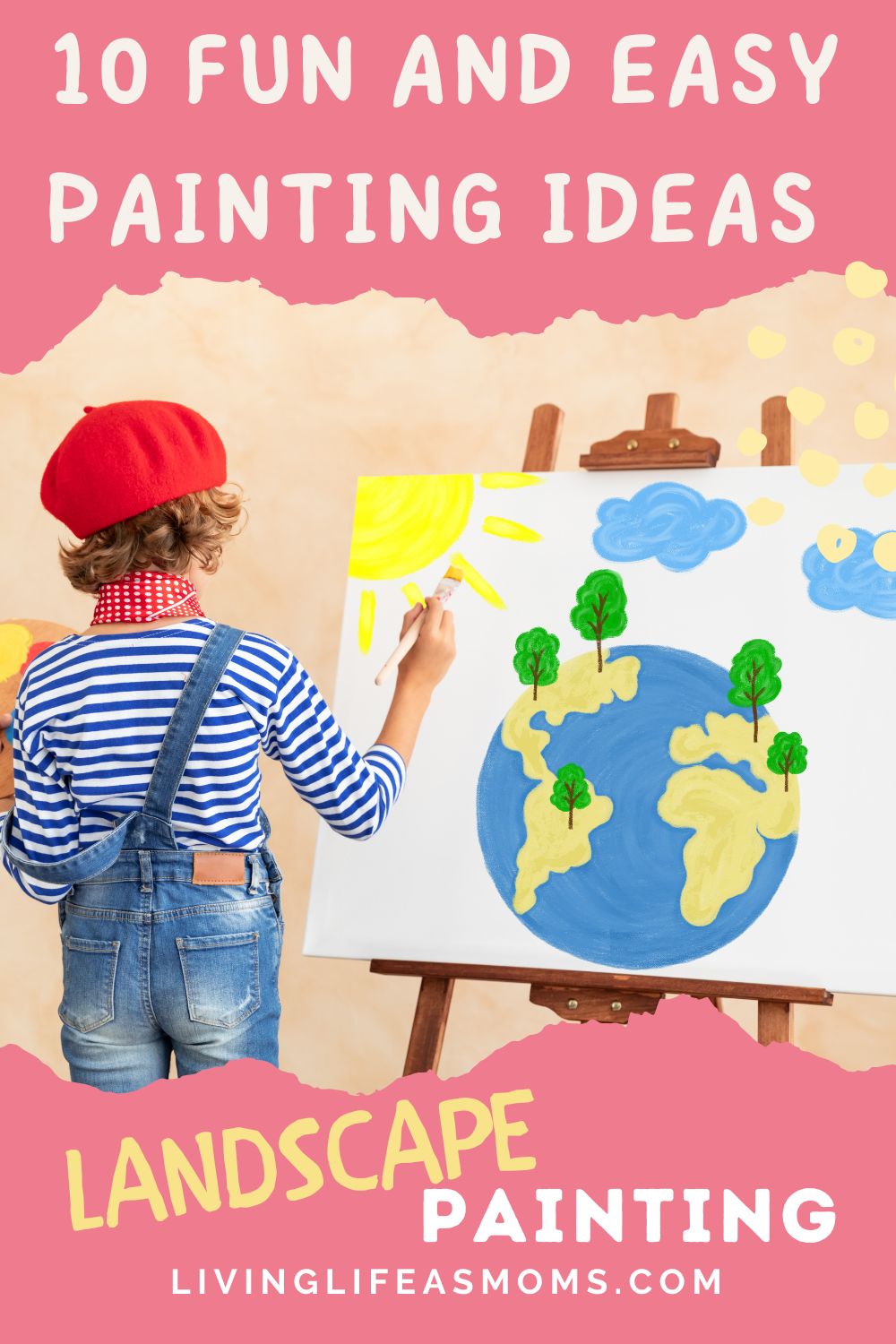 Landscape Painting
Most painting tutorials will start with a landscape painting of some kind. Have the kids grab their favorite colors and paint the sunset, a meadow, or the mountains. You really don't even need a step by step painting tutorial for this activity – just let them be one with nature and go for it!
For some added inspiration – host a weekend Bob Ross binge – this is not only somewhat educations but Bob Ross was very cool, calm, and collective – so it can be very relaxing to watch him paint marvelous sceneries while speaking in a very low voice and calm demeanor. Your kids will learn all about "happy clouds" and how landscape painting can be a fun and relaxing activity.
What you can use:
Water Color Paper
Watercolor Paints
Watercolor Brush Pens (Optional)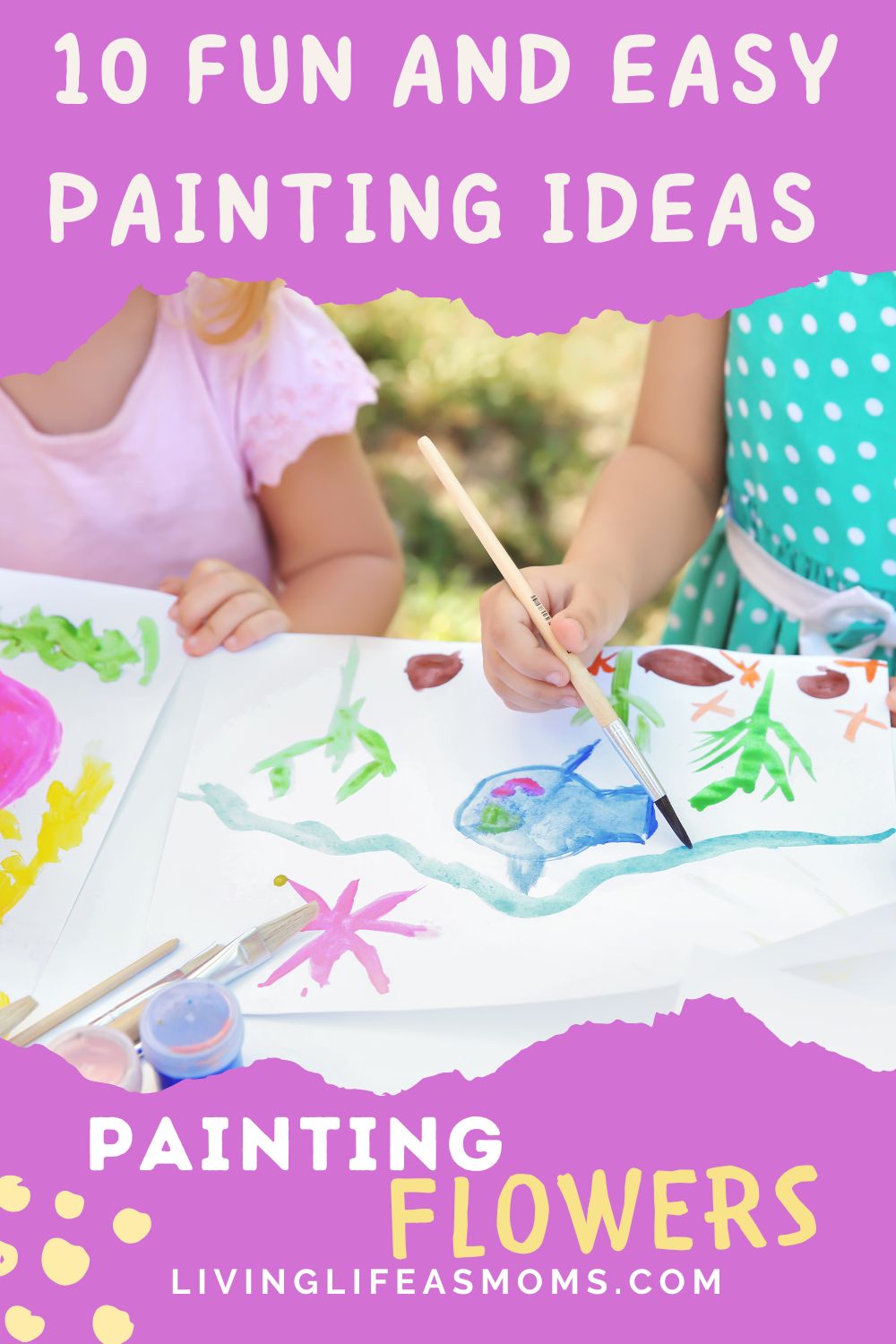 Flower Painting
The fun thing about painting flowers is that you can use all types of paints with fun and bold colors. Like any of the options above, you can use any type of paint from watercolors, to acrylic or oil paint. For children – using watercolors can be a great and easy clean up option. Acrylic paints tend to produce a much more solid color, but can be a little more difficult to wash off.
Whatever your paint choice, go ahead and encourage your children to paint any kind of flower. Show your kids pictures of the Sunflower, Rose, Tulip, and Daffodils flowers, or purchase a small bouquet for inspiration. It's a good excuse to buy yourself some flowers!
They can even make a leafy tree, or a beautiful cherry blossom tree full of their favorite blooms! Paint flowers on anything – a cool idea is having them paint craft colored gift bags.
Optional Supplies for Flower Painting:
– Small bouquet of flowers
– Big Sheets of Papers, or Gift Bags
– Oil Paint, or Acrylic Paint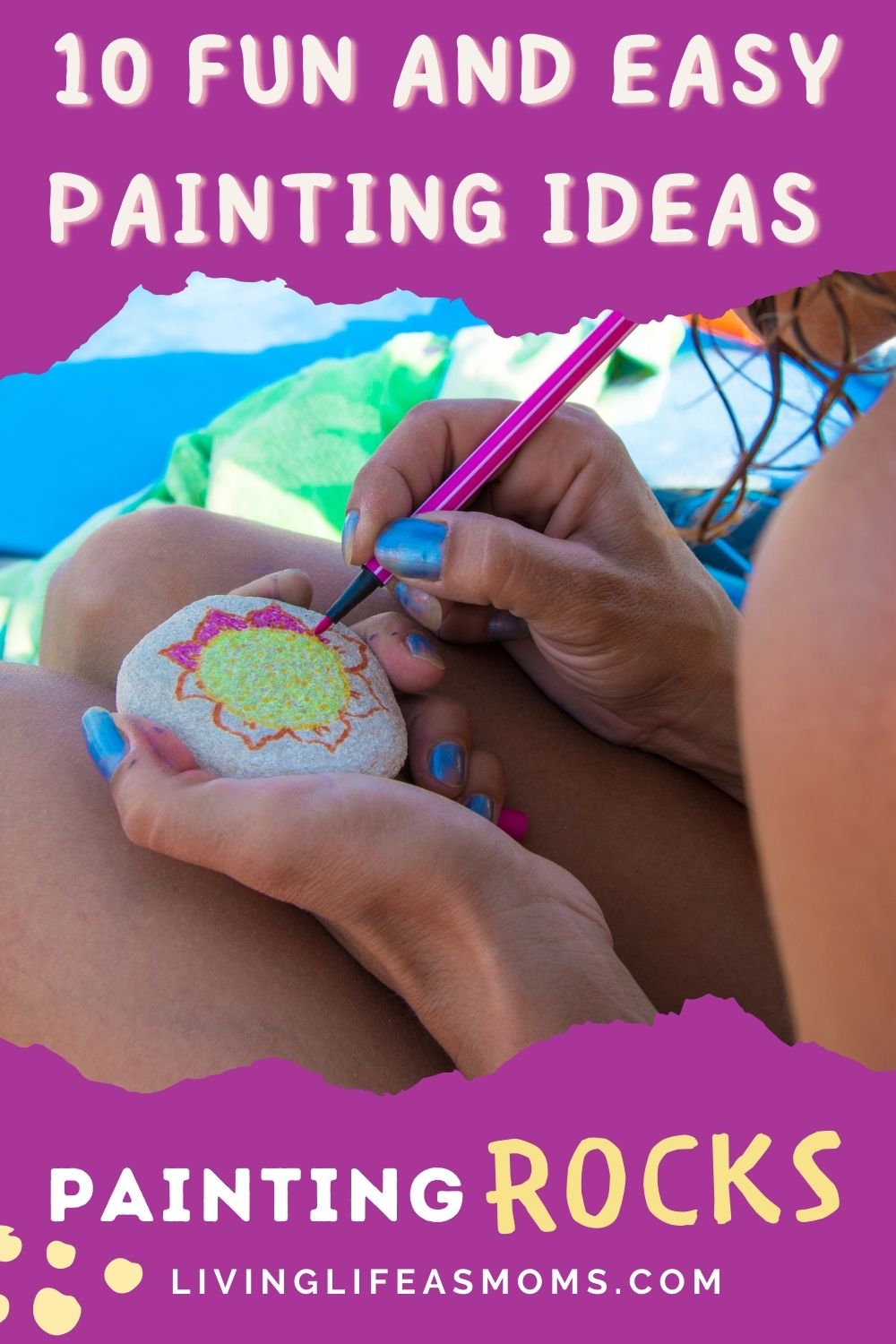 Rock Painting
Holy moly, rock painting is one of our favorites to do! Not only are rocks super fun to paint, but they're great to gift to others and as a nice treat you could even hide them around town. For this activity, all you need are some basic acrylic paints, any brand will do the trick. Make sure to try out different paint tricks to make the process even more engaging.
Rocks can be painted in polka dots, dipped in dazzling metallics paint, or turned into anything that your kids can imagine. Who would've thought such a simple idea could bring so much joy! Kids can literally paint the entire surface as well. If you are wondering where to get the rocks, its pretty hard to find soft beveled river rocks just anywhere, so here's a short list from Amazon for you.
What you will need:
River Rocks (like these 2″ to 3″ River Rocks for Painting – Pack of 25)
Acrylic Paints
Also, make sure to get some acrylic paint markers to add finer details like lettering. If you like this idea, you will probably enjoy these unique rock painting ideas.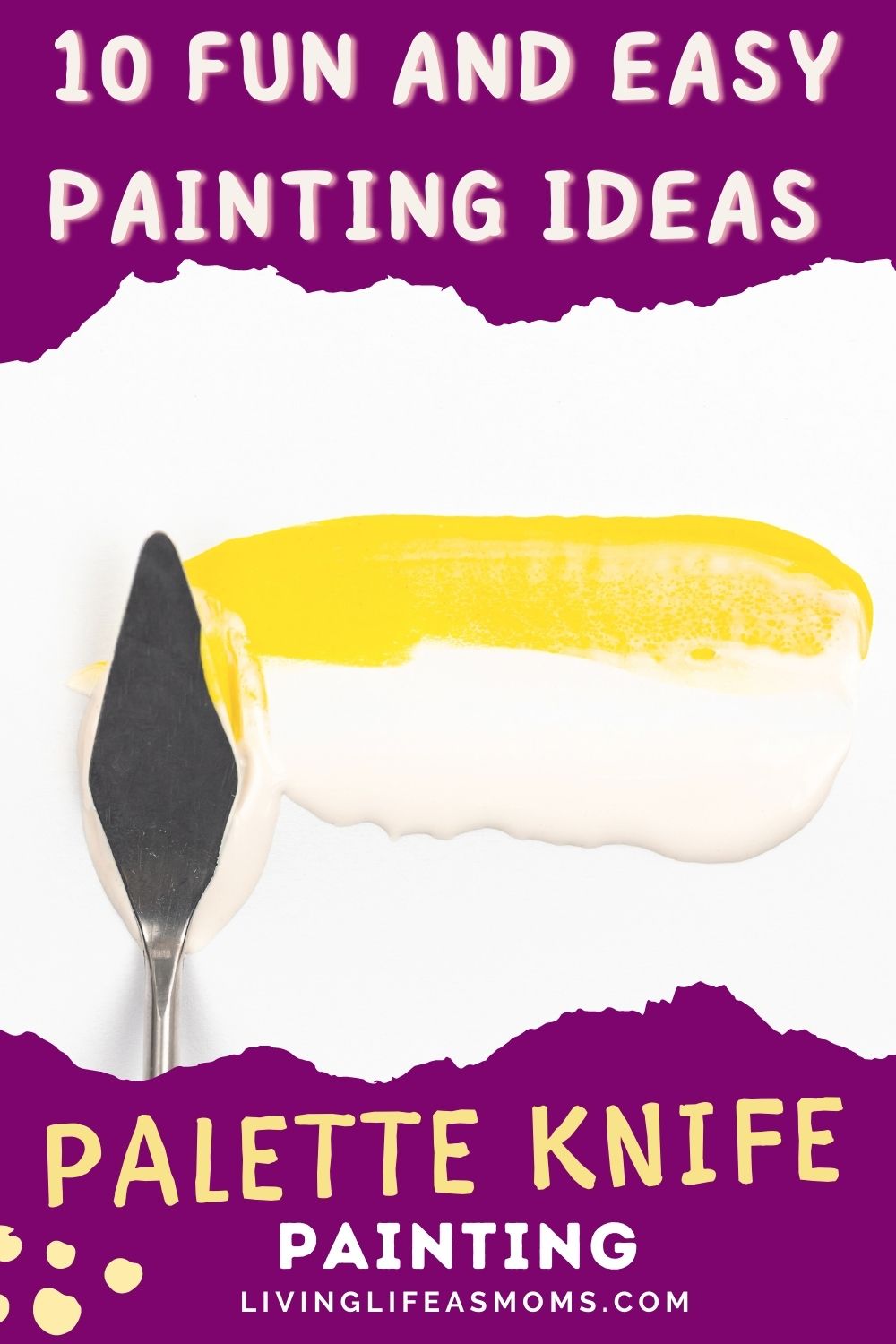 Palette Knife Painting
A palette knife painting is using a flat edge tool that can help spread very smooth sections of paint over paper or canvas. It's a fun way to manage thicker paints like Oil, and Acrylic paints. Palette knife paintings tend to have more texture than brush painted mediums. Technically, you can use any types of paint with palette knifes, but we recommend using oil paints.
Kids will have a lot of fun trying this technique of painting because they can use a stick as a tool, and we all know kids love sticks! There are some great options that are safe for children and can get the palette technique done correctly, check out these high quality silicone palette knives and or this plastic palette knife kit.
Because you will be painting with globs of paint, make sure to use thick and large paper, or canvas – and to cover your floors. If you need some tips on this one, look up some videos by artists and see what they do. There are so many great ways to use special techniques like this one to create some really cool art.
Tools for Palette Painting:
Painting with Objects
Did you know that you can use different objects to make painting strokes? Using leaves, twigs, or even crumpled tissue paper dipped in paint is a really cool way to paint! It shows the kids that creativity doesn't have to be done in any one certain way.
One popular and easy method for painting with objects is to use Q-tips. You can use Q-tips to make small dots all over your paper, and to draw anything from a beautiful garden, to rainbows and abstract dots.
Objects for Objects Painting:
Q-tips, Textured fabric, cookie cutters, plastic forks
Painting a Map, Destination, or Special Location
Do you have a special place that you and the family like to travel or have hopes to travel? Have the kids create that location, from their viewpoint. You can participate in this activity, as you can draw what you imagine your next dream vacation will look like – haha!
It's fun to see how they'd draw it, color it, and make it look so that you can see things in their painting that are important to them that you maybe didn't realize.
Ideas for Painting a Destination:
Paint a Treasure Map for their treasure seeking adventures* This is a favorite!
Paint earth in space surround by other planets and stars
Paint a map of your neighborhood!
Pouring Paint
Have you ever tried pouring paint for a painting activity? It's as simple as pouring on the paint and then seeing how it looks. The kids can spin the canvas while it's being poured to give it a cool visual look and effect, and poured paint will always end up looking really really awesome.
Make sure to use smaller containers that will let out only a certain volume of paint at a time, for more control. You want to give them an experience that will last a little while longer than 5 minutes of careful pouring. When they get skilled at pouring then adding more volume of paint can be arranged.
Supplies for Paint Pouring:
Small containers with small exit holes
Acrylic paint (easier to pour)
Large canvases
Painting Pumpkins
This is a typical holiday activity that many children do in school and at holiday events. You can make the cutest pumpkins by painting them! This works with a faux pumpkin, mini pumpkins, or giant pumpkins as well!
You just need some paint options, a flat brush and foam brush, and creativity! Talk about some great pumpkin painting ideas and then get to work.
Cool Pumpkin Ideas:
Black Cat Pumpkin
Marbled Pumpkins (can be done by pouring paint)
Watercolor Painting
Finally, the best and easiest method of all – watercolor paints can create a vibrant painting that is beautiful to hang up on the fridge! You can use pastel colors as well for a lighter look.
Since watercolors are affordable and come in an easy to access container – consider practicing color theory with your children. Experiment with painting only in earthy tones, or blue tones. Start with a specific background color and build up from there. There are tons of different activities that can be done with using water colors. 
Easy Painting Ideas Summary
If you are looking for cool ideas for your children to do while painting, the projects mentioned above are a great option. You can always do a search online for more easy painting ideas when you try the ones above. The more practice your children get, the better their artistry and creative skills will be.
What are some painting ideas for kids?
In lieu of the ideas above, you can also do symmetry painting, blow painting, and splatter painting for fun and creative ways of painting for kids. Use any of the painting ideas above to create epic paint night ideas. You can also buy some non-toxic squeeze paint and let the kids fingerprint as well, this is a high sensory activity.
What Can 3 year old's paint?
Three year old's can paint with watercolors as a safe activity to prevent any paint from spilling over. Watercolor painting is great because the pigment is settled into its container and only water can bring it out. Younger kids will love watercolor painting! Just be sure that they're old enough to know not to put the paint in their mouths.
Also, have a conversation with them about keeping the paint on the paper, so that it doesn't end up on the walls, etc – You may want your walls painted, but probably not with your Childs hands!
What are some cool painting ideas?
Some cool painting ideas include using an item to paint in Gold. Gold is a metallic yellow color that is beautiful and alluring, the kids will learn about the precious metals color and you will get a lovely faux gold item in return. Painting anything in gold is loads of fun! We recommend taking small pumpkins to paint in gold.
Rock painting ideas are also pretty epic amongst mom groups and for kids' activities. You can work on a rock, and create several different rocks to spread around your garden or around the neighborhood. Paint big motivating words on each rock to spread positivity, hope, and cheer.
The fun thing about painting is that there are endless animals, objects, people, and landscapes to paint. There is no limit to your creativity.
Creating beautiful floral accents, making a monarch butterfly, or just painting any and all of the creative ideas on canvas is what using art creativity is all about.
Once the brush strokes start, it's really hard to stop – and that's a good thing! Who says that your household shouldn't be full of one-of-a-kind art that is created by your family?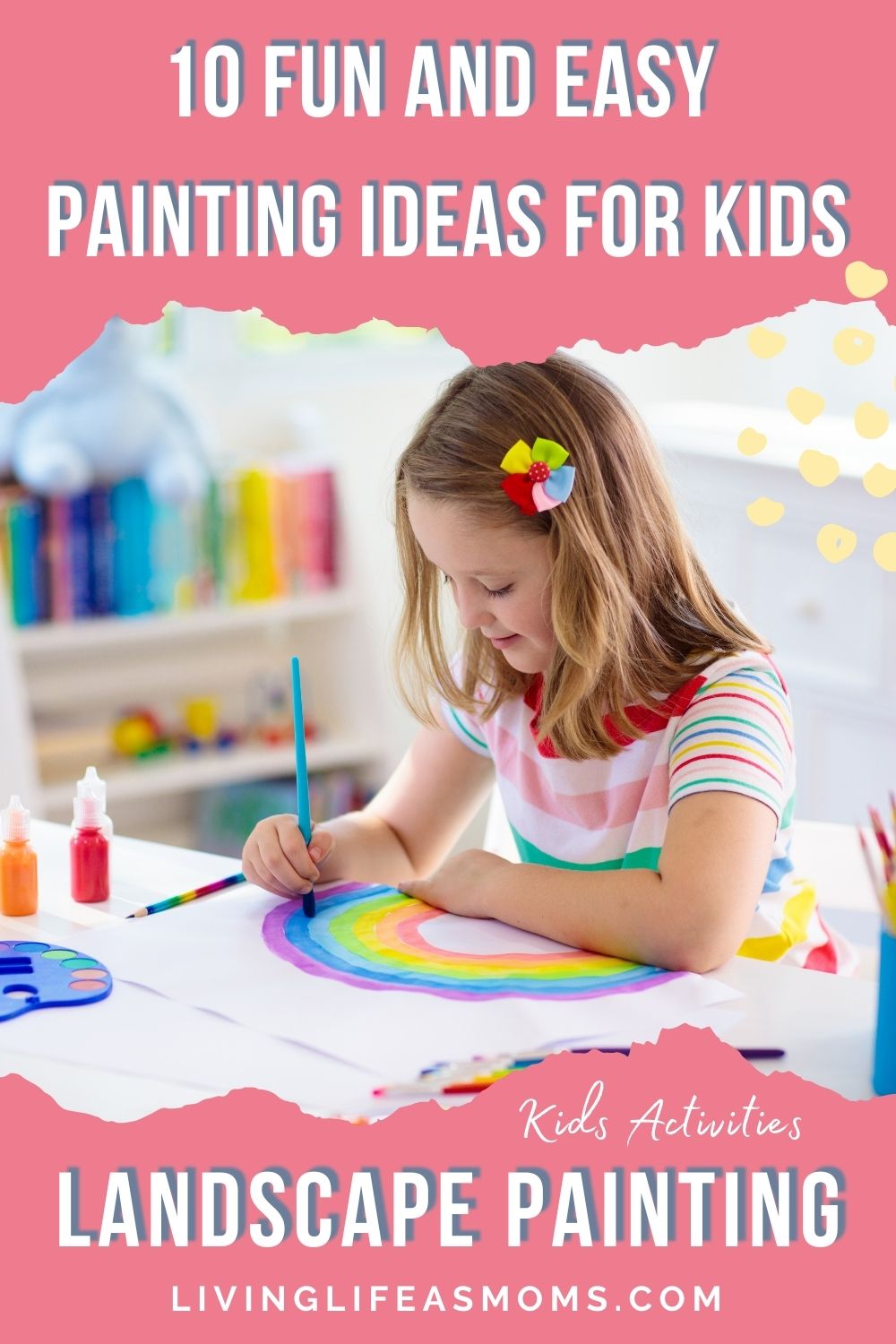 How do kids make painting fun?
The key to making painting fun, is to have fun doing it. Sometimes directions are needed, and sometimes they're not.
Kids love the creative freedom to design, draw, and paint their own creation in any way that they want. This means that they can start and finish their picture, all on their own.
The end result is showing you – and then seeing it displayed around the house for everyone to love and enjoy.
Kids will continue to have fun with art because they can make something new and unique every single time! These easy painting ideas are great for kids of all ages.
More Easy Painting Ideas for Kids