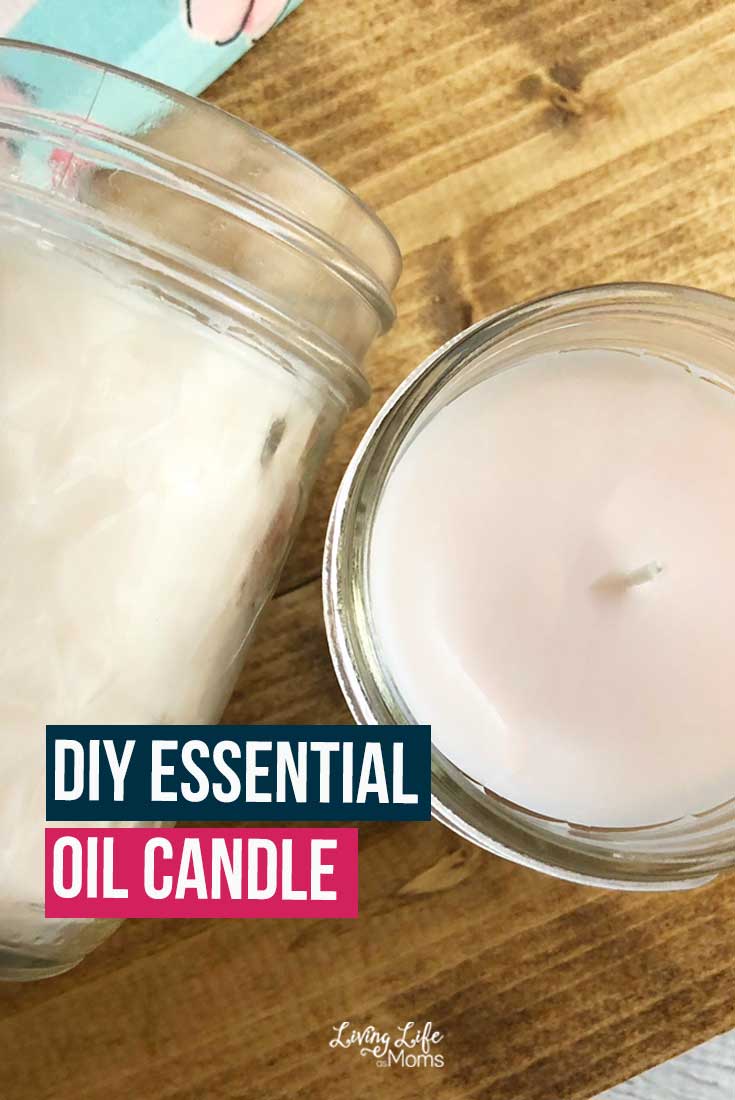 Do you use essential oils in your home? Ever made your own DIY essential oil candle? We have been for some time now and I get so giddy when I learn about a new way to use them. We have first hand seen the benefits of them and can't see our lives without them.
We have used them to increase energy, relieve stress, enhance concentration and even manage pain. There are some people who are able to discontinue over the counter medication altogether.
Whatever you use them for, whichever you use, you should try a DIY Essential Oil Candle! They are beyond fantastic. I love that you can customize the scent to fit your desires or needs and they are healthier than the fake scents that you would buy in the store.
There may even be health benefits to having essential oils in candles. This post I am using Orange and Lemon essential oils, but you can basically use whichever ones you would like.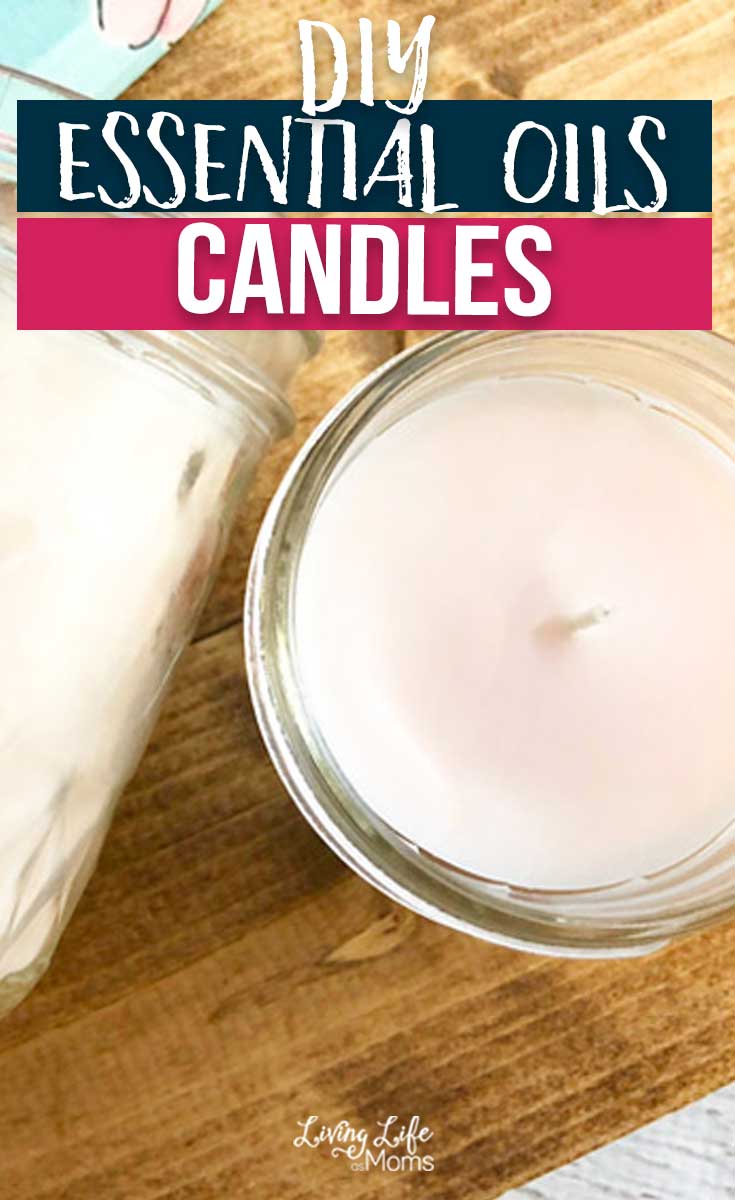 As you can tell, there are a lot of great benefits to having essential oil candles in the house. Not only do they smell great, but I love knowing that I've made the candles myself and the scent is natural and not harmful to all the noses that are breathing it in.
We also love to make these essential oil candles for others as well. They're great for gifts or to just let someone know that you're thinking of them. And since most people aren't familiar with how to make their own candles, they're going to love that you did this DIY just for them!
This simple essential oil candle recipe allows you to make something wonderful for your own home as well as give the gift to others, too.
Don't forget to wrap it up with some nice paper and ribbon to really present quite the lovely homemade gift!
Recommended Candle Making Supplies
Do you have what you need to make your own candles? Do you know they have candle making kits? That way you have everything you need in one kit which
Complete DIY Candle Making Kit Supplies by CraftZee – Create Large Scented Soy Candles – Full Beginners Set Including 2 LB Wax, Rich Scents, Dyes, Wicks, Melting Pitcher, Tins & More

DINGPAI Candle Making Kit, DIY Candles Craft Tools,1pc Candle Make Pouring Pot,50pcs Candle Wicks, 50pcs Candle Wicks Sticker and 2pcs 3-Hole Candle Wicks Holder …

Modera Candle Making Kit | DIY Spa Candle Craft Set w/Supplies to Make [4] Stunning Soy Candles | Includes 8oz Tins, Wicks, Clips, Pouring Pitcher, Thermometer, Oil Fragrances, Color Dye Chips & More

Oraganix Natural Soy Wax for DIY Candle Making Supplies-10lb Bag with 150ct 6" Pre-Waxed Candle Wicks

12 Pcs Candle Tin Jars DIY Candle Making kit Holder Storage case for Dry Storage Spices, Camping, Party Favors, and Sweets Gifts …

Candle Making Kit – Wax and Accessory DIY Set for The Making of Scented Candles – Easy to Make Colored Candle Soy Wax Kit

Essential Oil Candle Supplies
Are you ready to make this candle for your own home? Here is the list of supplies that you'll need to get started.
8oz and 4oz Mason jars
Orange and lemon essential oils
Glass measuring jar
Scissors
The Candlemaker's Store 05417002641 Natural Soy Wax, 10 lb. Bag, White EricX Light 100 Piece Natural Candle Wick, Low Smoke 6 P&J Trading Spice Set of 6 Premium Grade Fragrance Oils – Cinnamon, Harvest Spice, Apple Cider, Coffee Cake, Gingerbread, Pumpkin Pie – 10ml Pyrex Measuring Cups, 3-Piece, Clear
Once you have all the supplies listed above, the rest is simple and easy! I have a certain type of mason jar that I love, but this can be flexible depending on your wants.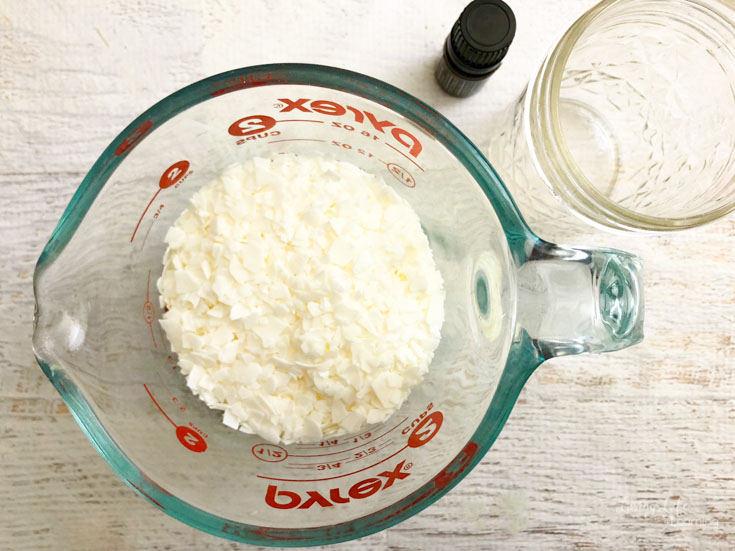 Make certain that you're accurately measuring out all your ingredients. This is a lot like baking in the fact that you want things to be as accurate as possible so it sets up correctly.

Adding essential oils is always my favorite part. I just love how they smell and it's just a great scent.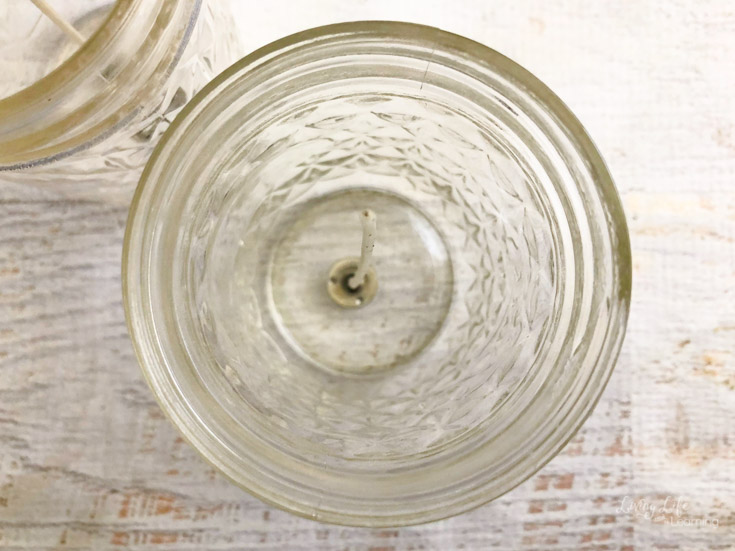 If you're worried that the wick isn't going to stay in place, don't. It will be just fine and stay right where it needs to be. If for some reason it doesn't, just realign it.

Your wick is going to be longer than your mason jar so just trim it to whatever height works best.
Be sure to always supervise a candle while it is burning.
And just like that, you made your very own DIY candle at home! See how simple and easy it was?!
Rather than spend $20 on one candle, try these DIY essential oil candles and you can create any scent combination you want.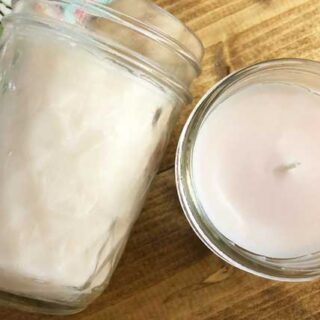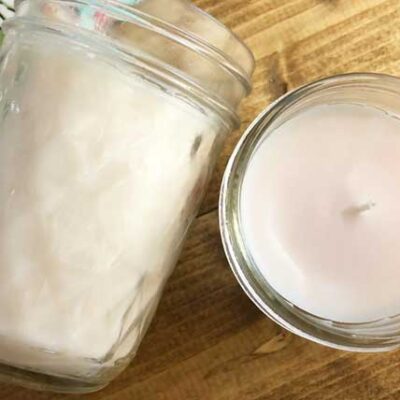 DIY Essential Oil Candle
Check out this DIY Essential Oil Candle recipe.
Materials
Soy Wax Flakes
Essential Oil, Any Smell
Mason Jar
Wicks
Instructions
Add 2 cups of soy wax flakes to your glass measuring cup and heat in the microwave for 2-3 minutes, stirring every 30 seconds.
Stir your wax until melted.
Mix in 2-3 drops of each essential oil and mix.
Dip the bottom of the wick into your melted wax and set in in the bottom center of your Mason jar.
Carefully pour your melted wax into the Mason jar filling it about 3/4 way up and place in the fridge for a couple hours.
Trim your wick and display
Notes
Be sure to always supervise a candle while it is burning.
Recommended Products
As an Amazon Associate and member of other affiliate programs, I earn from qualifying purchases.
Other Essential Oils Ideas