Aromatherapy Stress Balls
Do you or your child have anxiety or frequent stress? I know that being a mom alone can cause stress and children can suffer stress or anxiety from things such as homework or going to the doctor. This is just to name a few. These are common and 100% natural!
There are many ways that we can help ourselves and help our kids reduce stress, control anxiety in the moment, and come back to calm. One of these ways is with aromatherapy stress balls.
Aromatherapy can help trigger calmness in our brains, especially when using calming essential oils.
Stress balls can help keep our hands busy in a productive way that can bring a frantic mind back to center and help with overall stress and anxiety.
These Aromatherapy Stress Balls are not only helpful but incredibly easy to make and super cute as well. These are a must for any family but especially ones where anxiety and stress are prevalent.
I think we can all agree that making stress balls at home sounds like a great way to, well…relieve stress. And with how wild and crazy the world can get at times, it just makes sense to do what you can to relax.
What I love about this simple stress ball activity is that it's good for adults and kids, both! I like to make them to have on hand for those days when I just feel a bit frustrated and the kids like to make them because they feel really cool! So, this activity is a great way that we can all sit down together and make them at the table.
While these are typically used for stress, they're also good for sensory skills as well.
Making these up and have your child feel and squeeze is a fun way to talk to them about how interesting and different certain things can feel. Plus, this is such a simple craft that they can easily jump in and make them as well.
Just be certain to provide supervision while they're making them so that you're there to help in case anything comes up.
Ready to learn how to make these Aromatherapy Stress Balls? Get the full how-to below!
Aromatherapy Stress Balls Supplies
Luckily, you need very few supplies to get started!
Bag of Balloons – 72 ct. Assorted Color Latex Balloons
Argo Corn Starch, 35 oz.
Norpro Stainless Steel Funnels, Set of 3
As you can see, you don't need very few ingredients or supplies at all.
Just make certain to get the mixture mixed well so that it gives that fun texture.
The essential oil really gives it a lovely scent and makes this stress ball recipe one of my favorites.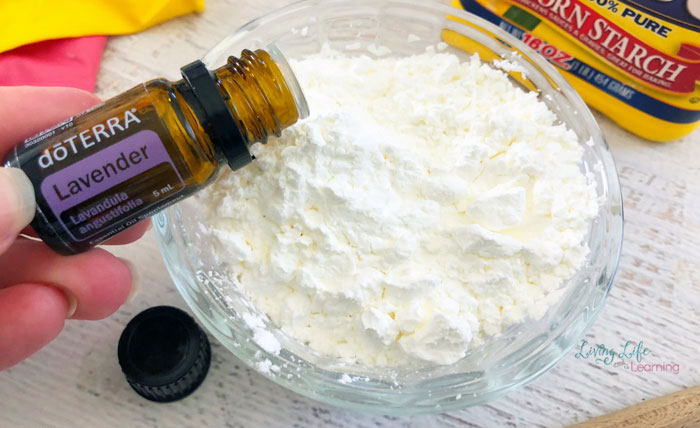 The "hardest" part of this activity is going to be adding the mixture into the balloon. Don't stress, you can do it. It just takes a little bit of time to make it happen.
And if you're feeling stressed out doing it, just think that you're doing it for the greater good. Once you get these stress balls made, you can squeeze away that stress once and for all!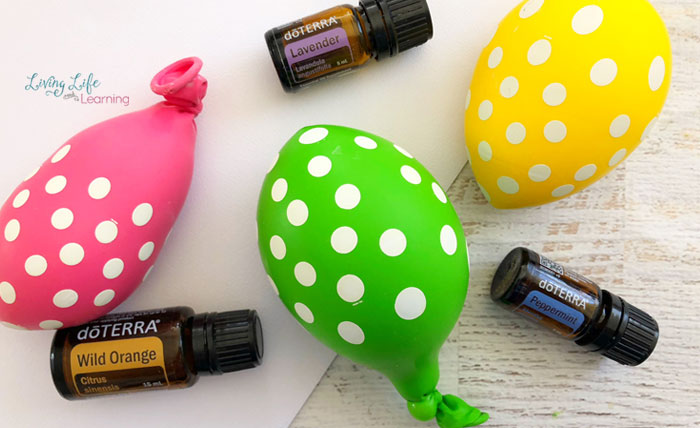 This mixture is fun to play within the balloon as it goes from a solid to liquid form and back.
*not for small children, always supervise while using.
Benefits Of Aromatherapy Stress Balls
If a child is accustomed to rocking, spinning or using repetitive words or phrases, stress balls can help prevent this.
Squeezing a stress ball is an excellent way to strengthen fine motor skills for occupational therapy or for young children.
Stress balls can help control fidgeting and in turn help control concentration.
Help with nervousness, stress or anxiety.
The essential oils used in the stress balls can help with many things. Depending on which essential oil you choose these can help with sleeping, anxiety, increase happiness, etc.
They are FUN and EASY to make.
Did you love these essential oil stress balls? I hope you'll get some great use out of them!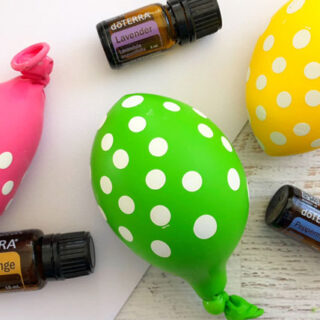 Aromatherapy Stress Balls
Check out these easy Aromatherapy Stress Balls.
Materials
cornstarch
water
therapeutic grade lavender essential oil
balloons (not water balloons)
funnel
Instructions
Place the opening of your balloon around the bottom of a funnel.
Add about 3 drops of lavender essential oil to 1/4 cup cornstarch in a larger bowl and mix together with your fingers.
Scoop the 1/4 cup of cornstarch into the funnel and use a lollipop stick to keep pressing the cornstarch into the balloon.
Add a few tablespoons of water down your funnel and carefully squeeze the balloon to mix the cornstarch and water.
Keep adding cornstarch and water in smaller amounts, until your balloon is the size of a lemon.
Carefully remove your balloon and tie off the top.
Notes
This mixture is fun to play within the balloon as it goes from a solid to liquid form and back.
This is not for small children, always supervise while using.
Recommended Products
As an Amazon Associate and member of other affiliate programs, I earn from qualifying purchases.
If you want another DIY project to relieve your stress, try this DIY Lavender Candle.
More DIY Projects