Cute Marshmallow Snowman Cupcakes
Looking for a fun and unique holiday treat? These cute marshmallow snowman cupcakes are easy and delicious!
Every year, once the first sign of snowfall hits, the kids and I get anxious to start baking. I don't know what it is about the weather, but we love to create together and fill our home with delicious smells.
One of my favorite treats that we make is these adorable marshmallow Snowman cupcakes. Not only are they crazy simple, but you just can't deny how adorable they are as well!
I tend to think that they are "almost" too cute to eat, but my little ones disagree and gobble them up happily. What do you think? Too cute or just right?
This holiday season, start off your baking adventures with a fun treat like this one. It's impossible to not get excited about the chilly weather when making these smiling snowmen!
>> Related: Cute Snowman Treats for the Family
Marshmallow Snowman Cupcakes
I literally look forward to making these every single year. There's just something so cute and edible about them…that I can't seem to break away from making this our annual holiday baking treat.
And I think that the children must agree because they're always willing and wanting to join in on the fun!
Wouldn't you want to as well with the delicious ingredients listed down below? From marshmallows to frosting (and M&M's!), it's a sweet treat and worth every single bite.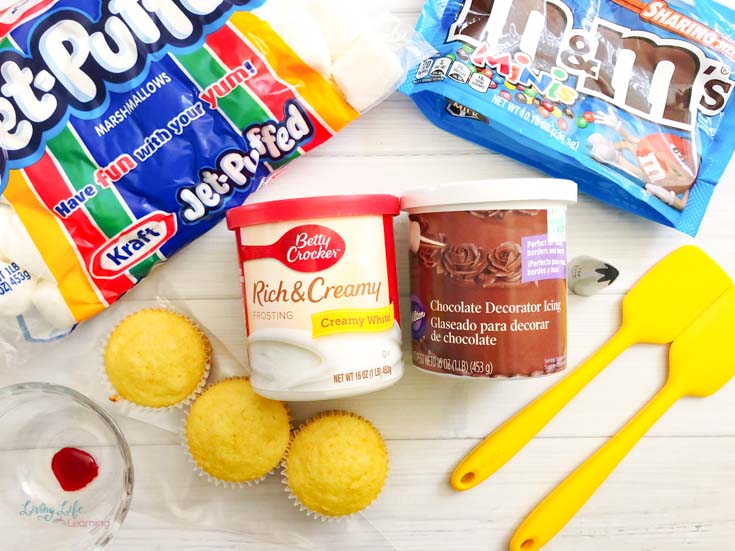 Cute Marshmallow Snowman Cupcakes Ingredients
There aren't a lot of ingredients for this simple cupcake recipe which is a very good thing as well!
Cake mix (calls for oil, eggs, and water)
Miniature M&Ms
Chocolate and vanilla frosting
Marshmallows
Orange food coloring
How To Make Cute Marshmallow Snowman
For this recipe to work well with our family, we take shifts on what each of us can do. I really like to add on the frosting, so that is something that I tend to handle. (the higher the mound, the better!)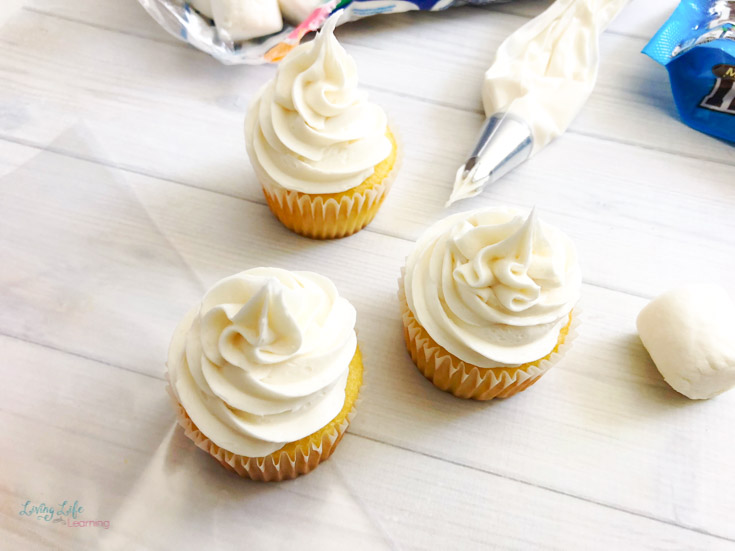 The children love to add on the marshmallows and make the little faces on them. And then as we're eating our way through the bag of M&M's, we'll all add on the "buttons" as well.
The best part about making these homemade cupcakes? Your little ones can help decorate them however they would like! No two snowflakes falling from the sky are alike, which means that no two snowmen are every alike, either.
This means that the more varied the decorations, the better! Go crazy and get creative with these adorable snowmen cupcakes! They are seriously the perfect holiday treat!
Once you make them once, you're going to have created a fun family tradition just like we have!
These are perfect for a fun weekend treat or great for a Halloween classroom party, too. You can also cut out a step and just purchase premade cupcakes as well. This makes it turn into more of a decorating party than a baking party and everyone always loves that!
Don't forget to let the kids add their own fun toppings to these snowmen as well. You can add shredded coconut for the look of snow, or even have mini marshmallows for the look of snowballs, too!
There are so many fun ways that you can decorate these adorable snowman cupcakes! The kids are certain to have a blast and won't have any problem making them and enjoying every single bite!
Marshmallow Snowman Cupcakes
These Marshmallow Snowman Cupcakes are so simple and easy to make!
Ingredients
Cake mix (calls for oil, eggs, and water)
Miniature M&Ms
Chocolate and vanilla frosting
12 Marshmallows
Orange food coloring
Instructions
1. Preheat your oven to 350° and line a cupcake pan with cupcake liners.
2. In a large mixing bowl, combine your cake mix, oil, eggs and water and mix using a hand or stand mixer.
3. Fill your cupcake liners up 3/4 the way full with cake batter and bake for 15 minutes.
4. Let your cupcakes cool, place a large star decorating tip in a decorating bag and fill up with vanilla frosting.
5. Frost each cupcake starting in the center and working your way to the outside and back up to the center.
6. Mix one cup of vanilla frosting with orange food coloring and scoop into a decorating bag and scoop one cup of chocolate frosting into another decorating bag.
7. Draw a snowman face on the marshmallows with your frosting and set the marshmallow on the cupcake.
8. Set two M&M's below the marshmallow for buttons and use the chocolate frosting to draw arms on the sides of the snowman.
More Snowman Recipes for you to Consider
If you like this simple snowman cupcake recipe, there are even more delicious and fun options that you can make, too!