Cute Snowman Treats for the Family
It's a yum-yummy world in the winter, and these cute snowman treats for the family will let you bring winter fun right inside. Enjoy!
"It's a marshmallow world in the winter!" And what better way to celebrate snow than with some cute snowman treats for the family? Over the years, my children and I have made some fantastic yummy snowman treats, and I put them all here in one post for you.
You'll find everything from hot chocolate to donuts, right here. Ready to enjoy? Let's dig in!
I love easy-to-make treats, especially in the winter. And when they're adorable, that's even better! My kids and I make many of these sweet snacks together as part of our family traditions every winter. And many of these recipes make great take-along desserts for fun holiday parties, get-togethers and family dinners.
Recommended Dessert Recipe Books
Do you want more dessert ideas? Grab these recipe books and start making your tasty desserts.
Dessert Boards: 50 Beautifully Sweet Platters and Boards for Family, Friends, Holidays, and Any Occasion
Le Cordon Bleu Pastry School: 101 Step-by-Step Recipes
Tasty Dessert: All the Sweet You Can Eat (An Official Tasty Cookbook)
Dessert Person: Recipes and Guidance for Baking with Confidence: A Baking Book
How to Cook That: Crazy Sweet Creations (Chocolate Baking, Pie Baking, Confectionary Desserts, and More)
FitWaffle's Baking It Easy: All My Best 3-Ingredient Recipes and Most-Loved Sweets and Desserts
Recommended Baking Tools
This baking mat turns the ordinary baking sheet into a reusable non-stick and easy-to-clean baking surface.
Grab this cute silicone spatula for personal use or as a gift for your closest baking buddy.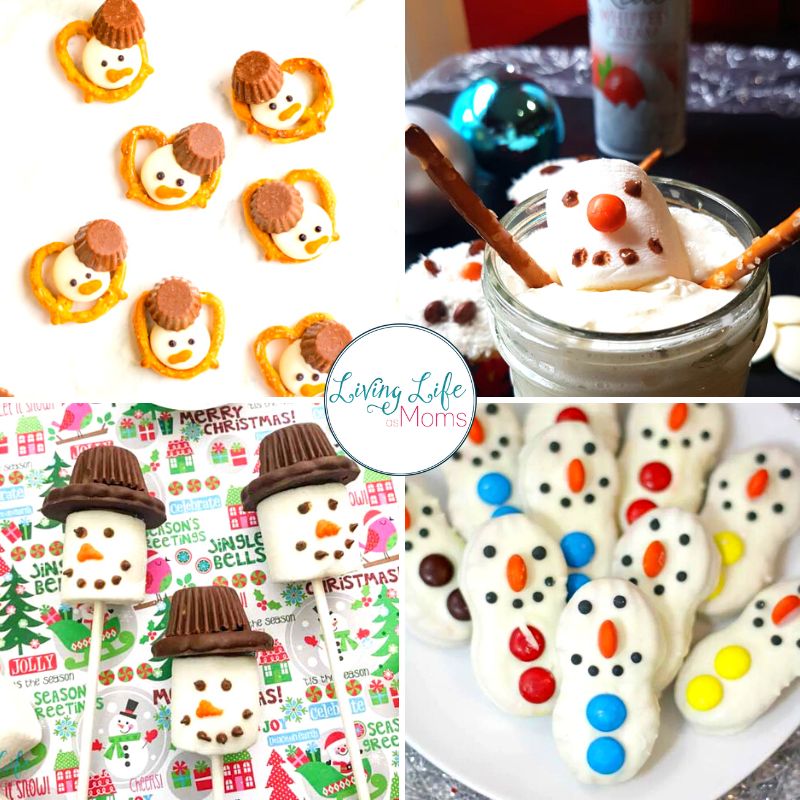 Snowman Cupcakes
First up are some cupcakes. These recipes are incredibly easy but they turn out delicious too! You can use your favorite base cupcake for these, and just decorate them according to the decorations. They're perfect for that after-sledding or skating neighbourhood party.
This Marshmallow Snowman Cupcakes Recipe will require a steady hand to decorate the snowman's face. But even the youngest can help stick on candy buttons. In our family, we make these "assembly line" fashion, with each person doing their part. And we make these every year as a family tradition.
And there are more Snowman Cupcake Decorating Ideas in this post. We've used coconut flakes, crushed candy canes, and other fun edible decorations to make unique cupcake snowmen. This could double as both a party treat and an edible party activity for your little ones!
Snowman Treats
If you make or give away treats for the holidays, you'll want to include these cute snowmen pops. With donuts, marshmallows, candy and frosting, you can make these charming goodies to share. Or maybe just to keep for yourself!
These Snowman Donut Pops are a sweet, sugary special surprise. Make a whole family of snowman donut pops and wrap them up for a teacher gift or bake sale offering. They're easy to make and look great too.
And these Snowman Marshmallow Pops are something out of Candyland. Your kids will have a blast helping you put them together. While they can take a bit to make, as they need some time between steps to "set", they're well worth the effort. Don't forget the hats!
Breakfast has never looked so good! This Melting Snowman Cinnamon Roll recipe would make a winter morning extra sweet. With marshmallows and chocolate added to those frosted cinnamon buns, you can enjoy winter fun without having to get cold. What a way to wake up!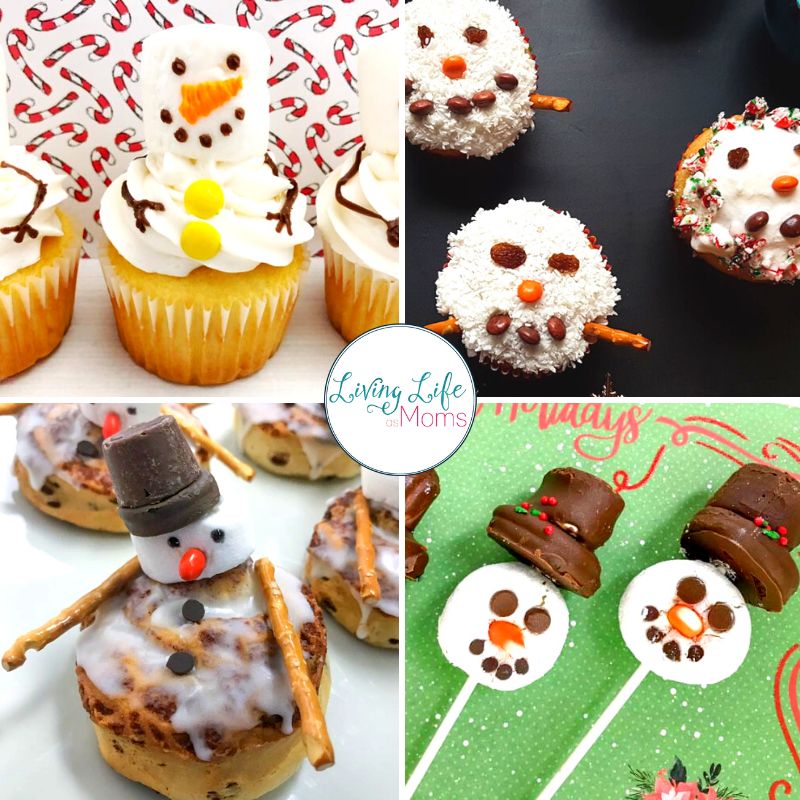 Snowman Drinks
Finish your day or winter party with this Snowman White Hot Chocolate Recipe. Whether you're warming up after an afternoon spent outdoors in the snow, or winding down with a warm drink before bed, this hot chocolate recipe is the perfect ending to perfect days. Tip: make sure you have lots and lots of whipped topping on hand for this one!
It's a yum-yummy world in the winter, and these cute snowman treats for the family will let you bring winter fun right inside. Enjoy!
Want a simple snowman treat with tons of flavor? Try this yummy snowman pretzel bite. Super easy to put together and looks adorable.
More Snowman Treats You'll Love
Melted Snowman Dip by Raising Little Superheroes
The perfect sweet dip to turn any snack into a treat. Who would love this snowman dessert, perfect with fruit or graham crackers.
Nutter Butter Snowman Cookies by Simplistically Living
Do you want to build a snowman? Try using nutter butter cookies, you can't go wrong.
More Christmas Recipes
Gingerbread Rice Krispies Treats Recipe
Christmas Tree Gingerbread Cookies Recipe
Christmas Peppermint Popcorn Recipe
Christmas Wreath Rice Krispies Treats
Christmas Cookies! by Recipe Tin Eats