Christmas Tree Rice Krispies Treats
Just wait until you see how cute these Christmas Tree Rice Krispies Treats are! They're festive and fun and perfect for the holiday season.
Once the holiday season hits, our household is all about making anything and everything edible. We literally spend hours baking, creating, and talking and it's one of our favorite times of the year.
But sometimes, it's nice to be able to create a fun and festive treat that doesn't take a long time and a ton of manpower to make. This is where this Christmas Tree dessert is probably going to become one of your favorites during this time of year like it is ours.
Related: Fun Rice Krispies Treats
Christmas Tree Rice Krispies Treats
As you can see, they're just adorable but not too cute to eat. What we love about making these together as a family is that we know within a few moments of time, we'll be able to be snacking away.
We love making these fun holiday treats before Christmas and having them to enjoy. This is one of those festive treats that everyone will love to eat. I love it because it's fast and simple to make and the kids love them because they literally look like Christmas trees.
All you need to do to get started is to gather up the simple list of ingredients found below. This just might be the easiest holiday recipe you'll make!
Once you have all of that, you can easily get rock and rolling on creating them. This is a fun recipe for the entire family to get in the kitchen together and create as well.
Don't forget to let little hands join in on all the fun. Will it be a bit messy? Of course. Is that part of the fun? Absolutely.
So many times we focus on the "don't play with your food" aspect that we forget that baking and cooking together is actually supposed to be a bit messy and chaotic at times.
Just have everyone wash their hands really well, and then dive in to get started!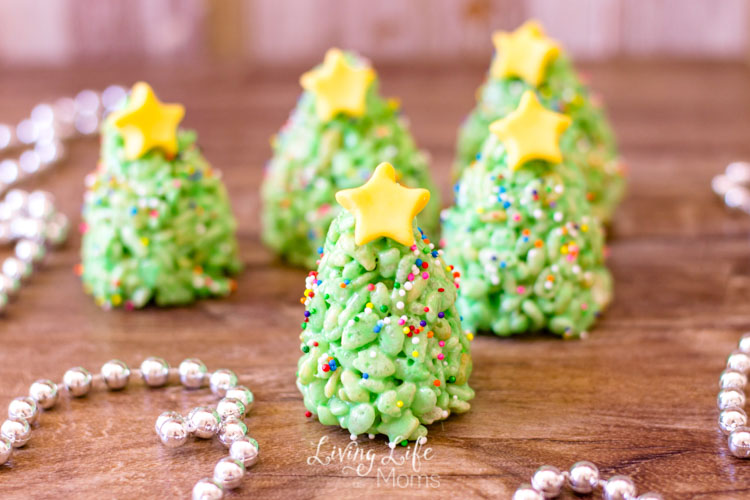 I think one of the coolest parts of this recipe is watching all the Rice Krispies turn green. (and I bet the kids will think so too!)
Make that be their "job" during this process and they're certain to stay engaged and active during the entire creation.
As you're starting to make the trees, make certain that you've let the cereal mixture cool down enough that it's not going to burn any hands. This isn't typical but it can happen if you're trying to do it too quickly.
Let the children have fun adding on the sprinkles and creating the stars. They really do add so much to these Christmas Tree treats!
Ways to Vary These Christmas Tree Treats
While these treats are pretty good as they are, you can totally change them up as you want. Adding in different colored sprinkles is always fun.
You could also add M&M's or other fun ingredients to look like ornaments on the outside. There are so many things that you can do!
Let the kids brainstorm this as well and see what they can come up with.
Tips for Making Rice Krispie Treats
Even though this is a super simple recipe to make, there are a few tips that you're going to want to keep in mind.
It's going to be sticky on your hands so adding a little bit of butter can go a long way.
Make sure that when you're storing them, you're putting them in an airtight container. They don't have to be kept in the fridge but they do need to be kept out of the air. If the air does get to them, it's going to take away the crunch and make them stale.
This isn't a dessert that you should freeze. As long as you keep them in an airtight container, they should last for several days, giving you time to eat and enjoy them all.
These also make great edible gifts as well. You can easily put them in a container or a cute box and deliver them to your family and friends. This is a simple way to bring a smile to someone's face!
Top Reasons to Bake and Cook Together as a Family
I'm all about the kids having a fun time cooking in the kitchen. I think it's really important to do this often as a family. As long as you're choosing recipes that are safe for the kids, there's no reason that they can't join in on the fun and help out cooking.
Cooking can be a great way to teach kids the importance of paying attention to directions. It's so important when creating food that you follow all the steps. This will help them learn how to read, and then use that knowledge to help create delicious treats, too.
This can also help with measuring ingredients as well as reading the steps out loud to you.
Getting the kids in the kitchen is a great way to teach them the importance of cooking. This is one life skill that they're going to use for their entire life.
Have fun making these sweet treats! They're so simple to do and are a great recipe for Christmas! You just might find yourself making them over and over again! And with a recipe that is this simple to do, you can absolutely do that without issues!
Now is the time to get started on this easy holiday recipe so have fun and get creating! There's time to make them right this moment!
Christmas Tree Rice Krispies Treats
Additional Time:
10 minutes
Don't miss out on these cute Christmas Tree Rice Krispies Treats!
Ingredients
3-4 Tablespoons butter
6 Cups of mini marshmallows
Kelly green gel food coloring
5 Cups of​ rice cereal
Colorful nonpareils and sprinkles
2-3 Ounces yellow rolling fondant
Instructions
Start by taking a baking sheet and lining it with wax paper. Set it aside as you'll be coming back to it shortly.

Grab a large pan and start to melt the butter over medium heat. Once done, pour in the marshmallows.

Start stirring the marshmallows the whole time with a wooden spoon until they are melted completely.


Once melted, take the pan off the heat and add in 2 drops of the green gel food coloring. Mix until it's all green.

Add your Rice Krispies to the pan and begin folding until it's all covered.


Now is the time to start creating the trees. Grab some of the cereal and make a 3-inch sphere and mold it into a cone. (make certain that it's cooled down before you touch it!)

For the flat base, press it down on the baking sheet.


Add sprinkles to the trees while they are still a bit sticky.

Use your yellow fondant to make stars. Roll out a small sphere about 1/2 inch in diameter. Press down slightly on it and flatten it then pinch out 5 corners to make it look like a star.

Put a star on top and allow to set. Enjoy!



More Christmas recipes to try
If you're a fan of holiday recipes, you're in the right place! We love making fun and sweet treats as well and below are just a few more of our favorites! Let me know what you think after you make them! They're so good!
Double Chocolate M&M Christmas Cookies