When you're looking for a fun and easy holiday dessert, try one of these fun Rice Krispies treats. They can be decorated for any holiday or theme.
Rice Krispies are such an easy treat to make on their own. Any child would love this dessert.
The fun thing is that you can adapt them to any holiday or theme by decorating them with different candy melts or dipping them completely in chocolate.
They're so versatile but can be as simple or complex as you'd like it.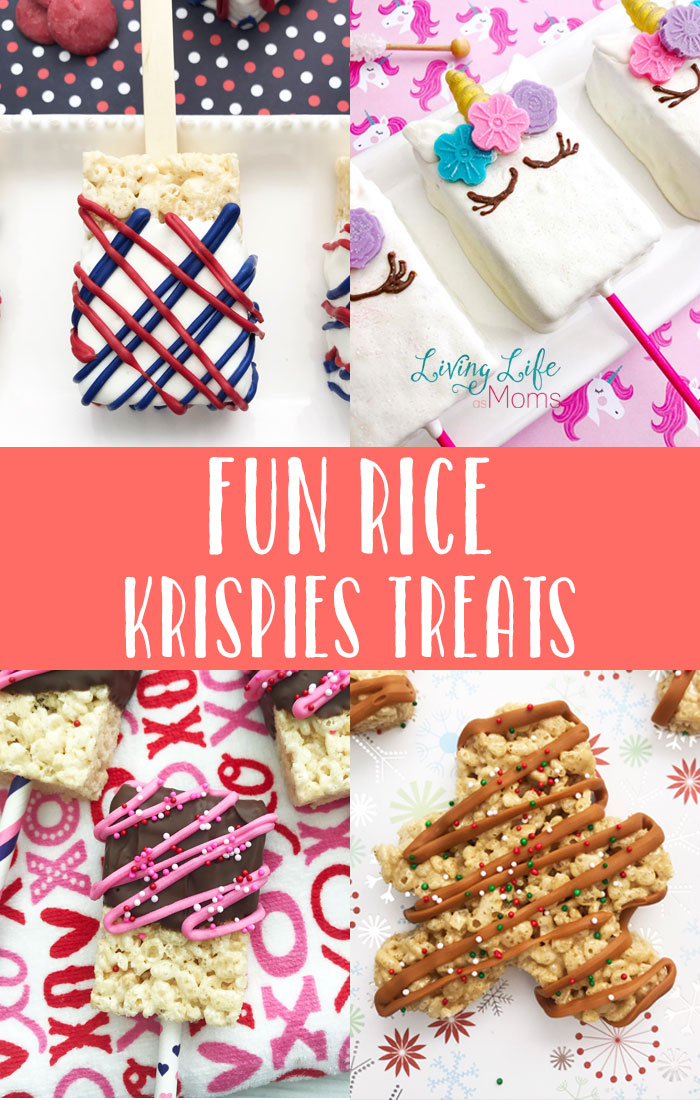 Adorable Pumpkin Rice Krispies Treats
Shape your Rice Krispies treats into these adorable pumpkin shapes, the perfect fall snack.
Red White and Blue Rice Krispies Treats
Want to make a patriotic or celebration dessert? Try this colorful splash of red white and blue to honor your country for any celebration.
If you have a unicorn lover or unicorn birthday party to prepare for, you have to have these adorable unicorn Rice krispies treats too.
Simple Unicorn Rice Krispies Treats
Want unicorns without the hassle? Try unicorn cookie cutters to create these colorful Rice Krispies treats in half the time.
Valentine's Day Rice Krispies Treats
Create the perfect gift for your loved one, decorate these Rice Krispies treats with love and give them to your favorite person. They'll love it.
Gingerbread Man Rice Krispies Treats
Christmas can't go on without something with the taste of gingerbread at your table. The perfect treat to bring out your holiday spirit.
Gingerbread Rice Krispies Treats
Add the spirit of the holidays to your desserts with these simple gingerbread Rice krispies treats. So easy, it will take you no time to create these for your whole family.
White Chocolate Peppermint Rice Krispies Bars
You can't go wrong with white chocolate and peppermint, hello! This is the perfect taste combination to rock your favorite Rice Krispies treats.
Christmas Tree Rice Krispies Treats
Get festive with this super adorable holiday treat that you can make with the whole family.
Pretty Frozen Rice Krispies Treats
Do you have kids who love the movie Frozen? Create this magic treat to share while you watch the movie or for birthday party themes.
Dragon Feet Rice Krispies Treats
Because no Halloween or birthday party is not complete without these dragon feet treats that your kids will love.
Recommended Rice Krispies Supplies
Cookie Cutters for Every Season Set – 11 piece – Ann Clark – US Tin Plated Steel

Basic Cookie Cutters Set Cake Cutter Cookie Cutter Set Round Biscuit Bread Fondant Cutters Biscuit Cutter Set Multi-size Sandwich Fondant Cake Fruit Vegetable Shapes Cutter Set of 40 Piece – Stars Hea

Wilton Light Cocoa and Bright White Candy Melts Candy Set, Vanilla & Chocolate Candy Melts

Wilton White 6-Inch Lollipop Sticks, 100-Count

Other Rice Krispies Treats
Peanut Butter Cup Rice Crispy Treats from 3 Boys and a Dog
You can't go wrong with peanut butter and chocolate, these are a must try recipe.
Skeleton Rice Krispies from Gym Craft Laundry
Want a cool treat for Halloween? You need this!
Rice Krispies Nests from Crafty Morning
Want to bring in spring with a blast? Try these cute nests, a perfect spring time dessert.
Reindeer Rice Krispies from Crafty Morning
The perfect table decoration for your dinner table this holiday season.
Whether you want a fun character theme or holiday gift, try one of these fun Rice Krispies treats to satisfy your family's cravings.
You can choose from fun shapes, to dipped or not. You can never go wrong with this versatile dessert recipe.
Get Weekly Updates
Taming the chaos of motherhood -
Subscribe and get a daily schedule printable