White Chocolate Peppermint Rice Krispie Bars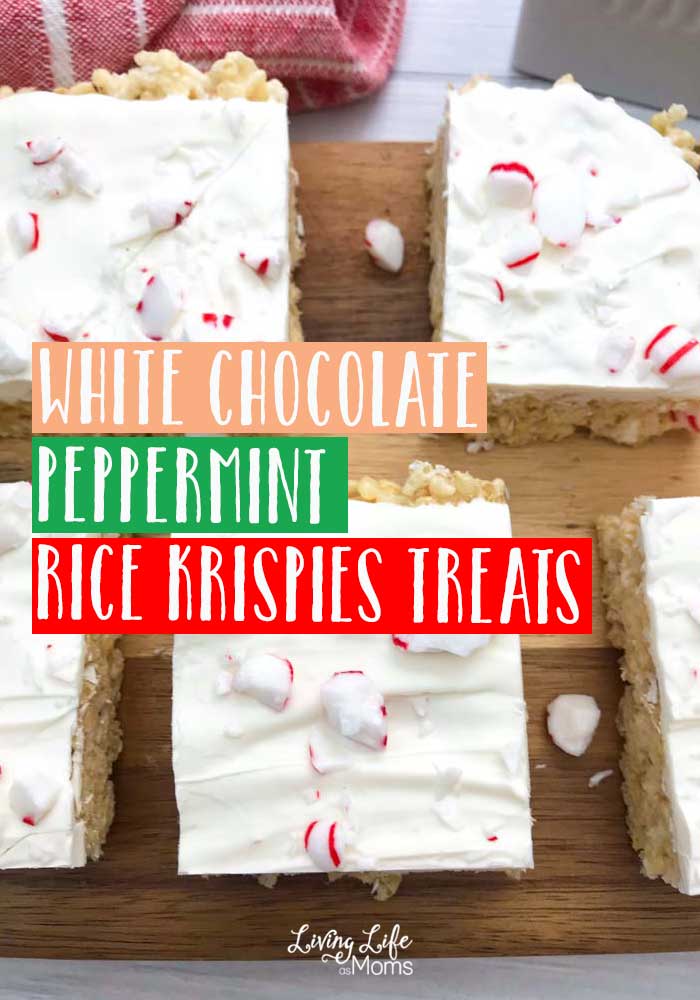 If you're looking for the perfect holiday flavor combination, these White Chocolate Peppermint Rice Krispie Bars are just what your taste buds need!
I can't deny my love of peppermint. There's just something about the minty flavor that keeps me coming back for me. When I discovered this homemade dessert recipe, I knew that this was going to be an instant hit in my home.
Not only does it have that "crunch" that I love, but it's also topped with that irresistible peppermint flavor. Plus, it's a hit with my kiddos as well!
Any time that I can create a dessert that is simple, and delicious, I am 100% down for that to happen. Each and every time that we've made this in our house, it seriously lasts mere minutes before it's gone. I know, I know…all sweets in moderation, but this treat is just one that you can't say "no" to!
If you are looking for a truly delicious flavor and taste, you won't want to miss out on these White Chocolate Peppermint Rice Krispie Bars!
White Chocolate Peppermint Rice Krispie Bars
These just scream winter, right? What I really love about them is that the base of them is Rice Krispies. It adds such a fun texture and crunch that I literally can never stop at one.
And while some might view that as a bad thing – I don't. This is because they're my "once a year" peppermint treat and I think that when something tastes this good, it's really okay to splurge!
This is a recipe that I do let the kids help with, but since there are heating and melting involved, I'm really careful about it as well.
They like to mix in the Rice Krispies and peppermint bits so that tends to be something that I let them do. (I really think that they like to eat the goodness off the spoon afterward the most, but I'll take all the help I can get!)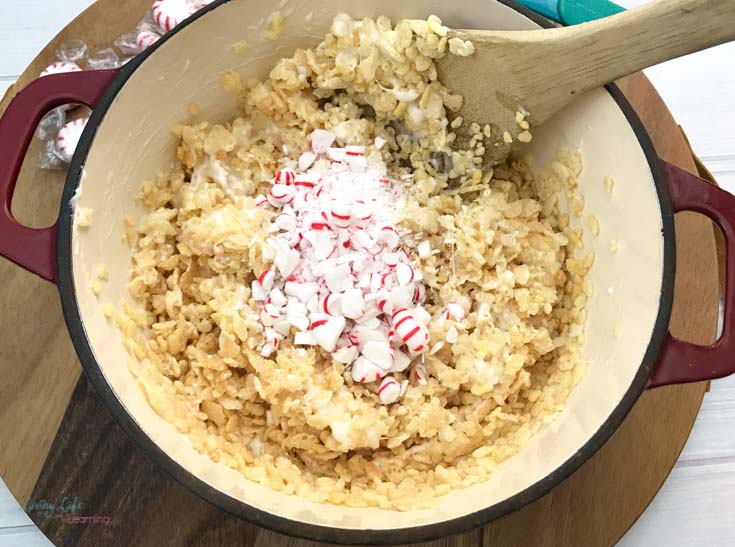 The great part about this recipe is that it takes no time at all to whip up. I've made this up for dinner parties or even as a fun playdate snack to share with all our friends.
Stay close to help the kids with the stirring as it'll get a bit harder to stir once everything is mixing all up. You'll find that making certain that everything is mixed together well is the key.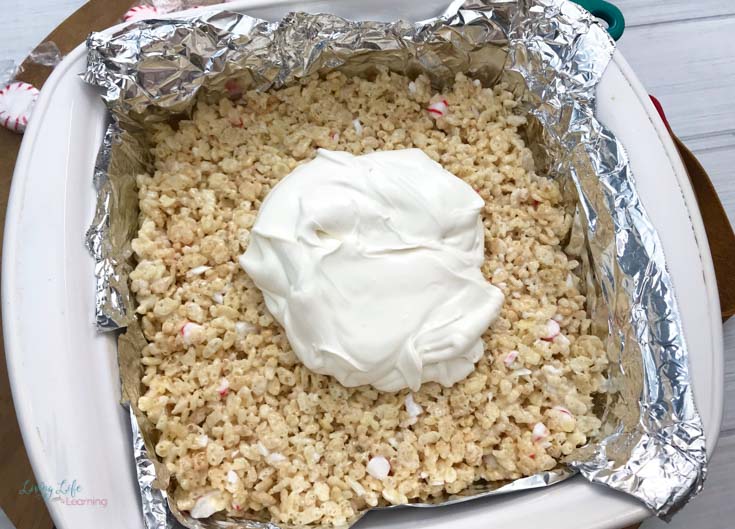 If you have any leftover peppermint, you just sprinkle it all over the top at the very end! The kids love doing this part because they love to decorate anything that they know they're getting ready to chow down on.
I love them doing it as well because it means that they're there in the kitchen, helping me.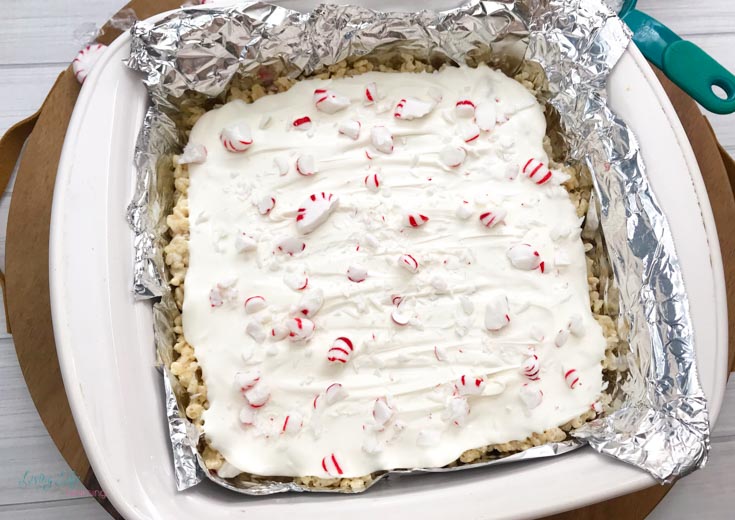 The end part of letting it harden up is probably the hardest part but it's totally worth the wait! You'll just have to have a little bit of patience to let it all firm up but once it does, you're going to love chowing down and taking a bite.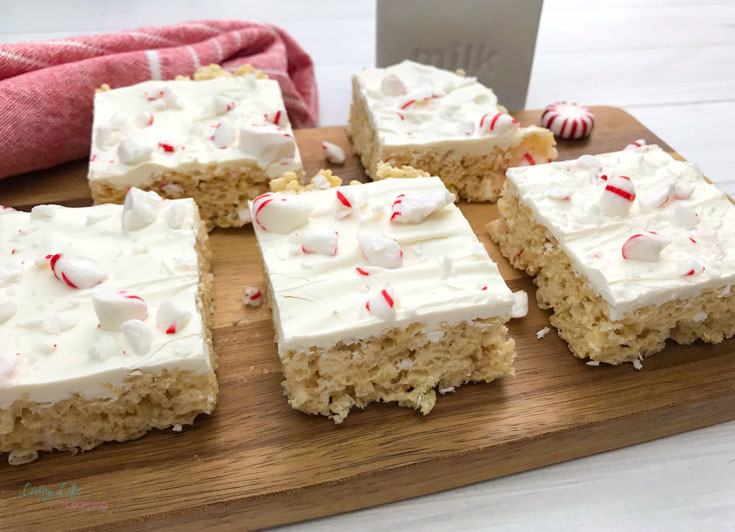 You'll love the ease of this perfect holiday treat! Bet you can't eat just one piece! In our family, we know for a fact that we can't have just one piece.
This is why I often plan ahead and make a double batch of this tasty treat. Not only is it delicious but it's refreshing, too and a really great dessert to end a nice hearty meal with during the holiday months. I have a feeling you're going to love it as well!
White Chocolate Peppermint Rice Krispie Treats
Inactive Time:
30 minutes
Don't miss out on the flavor and taste of these White Chocolate Peppermint Rice Krispie Treats!
Ingredients
3 Cups Rice Krispies Cereal (or off brand if you prefer)
5 Ounces mini marshmallows (1/2 of a 10 oz package)
2 Tbsp butter
1/4 Cup crushed candy canes or starlight peppermints + extra to sprinkle on top
12 Ounce package of Wilton bright white candy melts
Instructions
Line an 8x8 baking dish with wax paper or foil (if using foil for easy cleanup, make sure to spray with nonstick cooking spray)
Add the butter and mini marshmallows to a medium-size saucepan. Heat on low-medium heat, stirring occasionally.
Once the marshmallows melt about 3/4 of the way, add in the Rice Krispies and fold into the marshmallow mixture.
Add in the 1/4 cup of crushed peppermints and stir to combine.
Pour the mixture into the prepared baking dish and press down using the back of the spoon.
Pour 4 oz of the white candy melts into a microwave-safe dish. Heat in the microwave in 30-second increments, stirring occasionally until melted.
Remove from the microwave and let cool a few minutes.
Pour the melted chocolate over the top of the Rice Krispie Treats and use the back of a spoon or spatula to evenly spread over the top of the treats.
Sprinkle extra crushed peppermints on top of the melted chocolate.
Place the Rice Krispie Treats in the fridge for 20 minutes to let the chocolate set.
Cut into 9 squares and enjoy.
More Rice Krispies Recipes for you to Consider
Gingerbread Man Rice Krispie Bars