Christmas Chocolate Reindeer Bark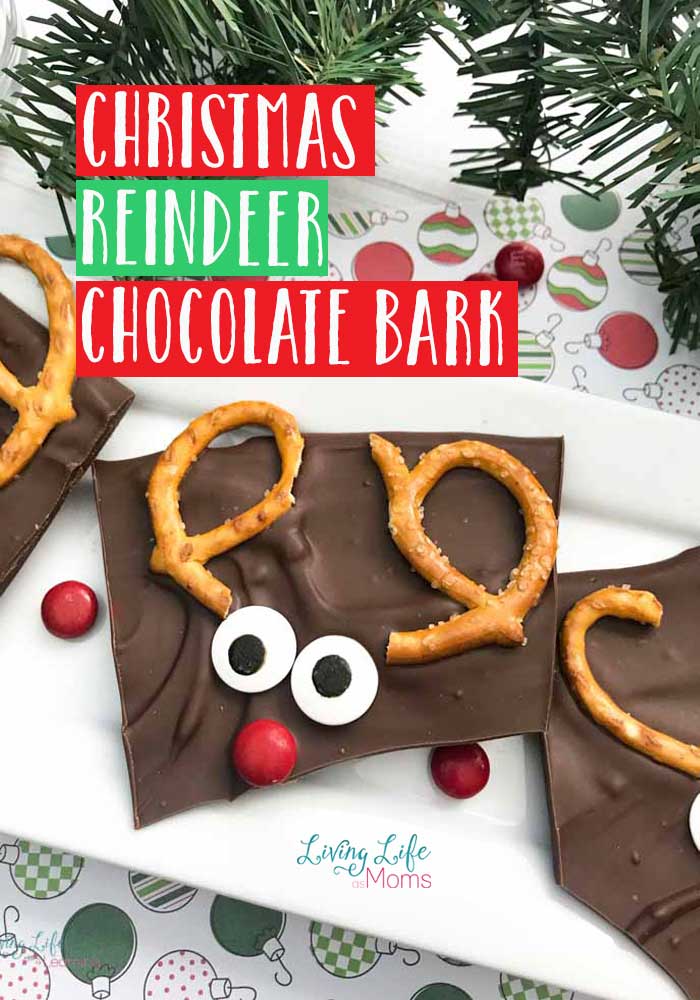 If you love reindeer, you won't want to miss out on this Christmas Chocolate Reindeer Bark!
I can't stress to you how much I love holiday baking! Anytime that I can find a great recipe that I KNOW will be a hit for me and my kiddos, I'm 100% on board to give it a go!
This is why I love this Christmas Chocolate Reindeer Bark. It's literally 4 ingredients (yes, just four!) and it takes minimal time and effort to create something amazing that looks as though it took hours. Not only is this Christmas bark great for having around the house to snack on (in moderation, of course), but it's also fun for holiday parties or just as a fun treat to gift your family and friends. Seriously…try looking at this edible holiday snack and not smile…it's not possible!
Holidays are a time of family, friendship, and memories and working together with your kiddos creating this delicious Reindeer bark is one holiday tradition that is definitely worth starting.
And don't forget to check out more pretzel snacks you have to try!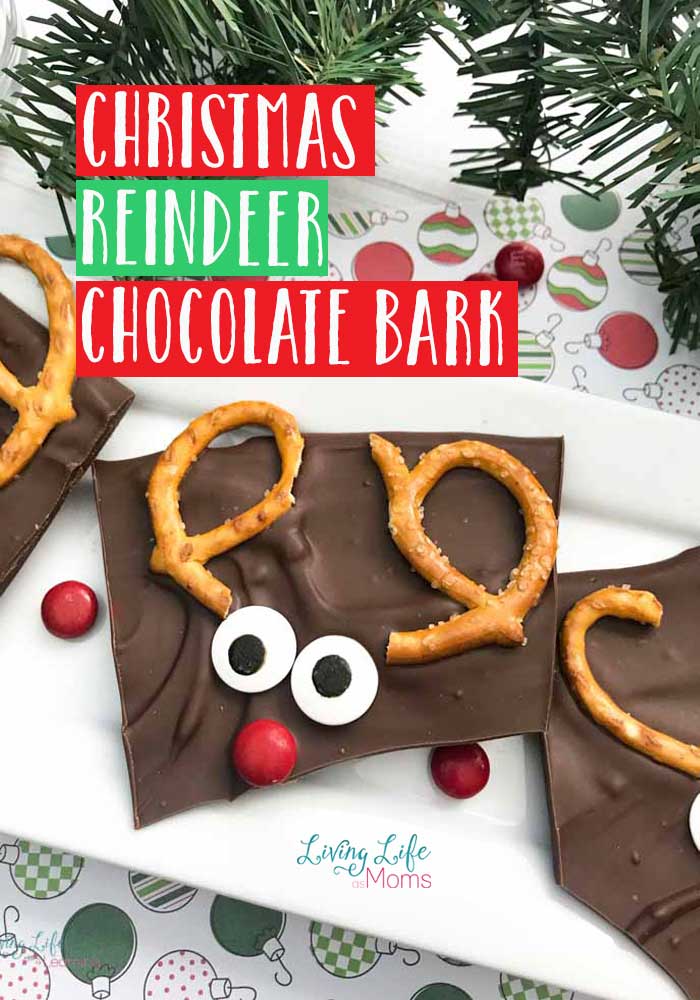 Christmas Chocolate Reindeer Bark
Looking for a fun holiday treat? It doesn't get much better than this simple Christmas dessert. And since all you need are four easy ingredients, you'll be chowing down on it in no time at all.
The next time that you're craving something sweet, you're going to want to make up this simple dessert. It's easy, it's fun, and it's one that the kids can jump in and do.
Keep in mind that each piece is going to be a different size and this is helpful when you're making it, too.
Reindeer Chocolate Bark Ingredients
Gather up the super short list of ingredients below to get started.
Directions
There's just something so satisfying about seeing a big giant melty puddle of chocolate. As you can see from the picture below, it's going to take a lot of patience to not dive in and eat this recipe before it's ready.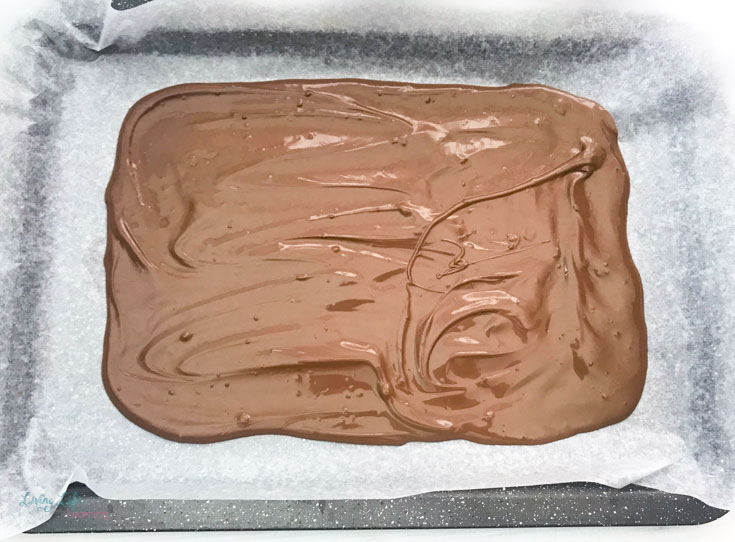 Adding on the reindeer faces is the job of the kids! They'll love being able to create these fun creatures just by adding on a few ingredients.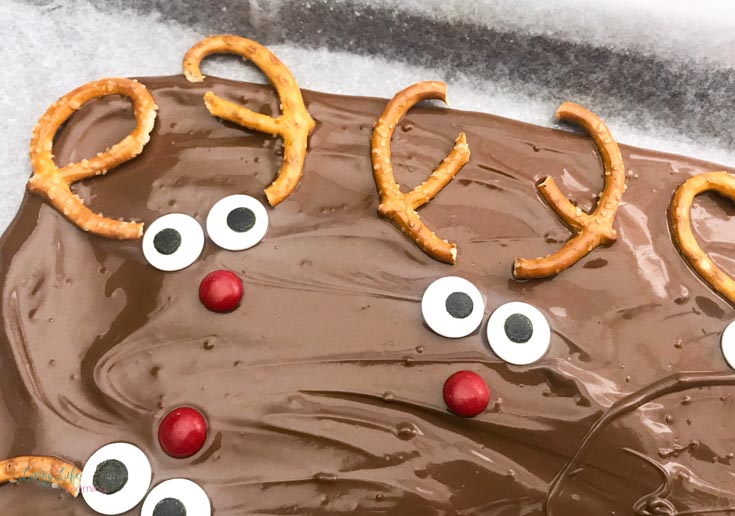 Once it dries, you'll be able to break it up and just like that, you have your very own reindeer bark!
Just be certain to keep it in a cool place after you make it because no one wants to see their reindeer get melted away. That's the job of the snowman, not the reindeer.
And speaking of keeping it cool, you can easily store this chocolate bark recipe in your fridge until you're ready to enjoy it next. One piece is a great treat for your belly but you're going to want more later.
When it was time for the "breaking" of the bark, my kiddos thought that this was one of the most fun parts! Let them have fun as every piece of bark should look a little bit different. As long as they can have the eyes, nose, and antlers somewhere on the broken piece, the rest is no big deal!
While I'm a big advocate of finding balance with sugar in our home, making these during the holidays is a tradition that I look forward to. If you feel that the portion size is too big for your family to consume and are worried about having too much sugar, gift a few fun holidays treat bags to your neighbors and friends! They'll be more than happy to "help" you consume these delicious holiday treats!
Christmas Reindeer Chocolate Bark
Total Time:
1 hour
20 minutes
This easy Christmas Bark is a simple and fun recipe for the holidays.
Ingredients
Large pretzel twists
12 oz package of Wilton chocolate candy melts
Red M&M candies (or red Sixlet candies)
Large candy eyes
Instructions
Line a large baking sheet with wax paper.
Pour the 12 oz package of candy melts into a microwave-safe dish. Heat in the microwave in 30-second increments, stirring occasionally until melted.
Pour the melted chocolate out on the prepared baking sheet and use a large spoon or spatula to spray the chocolate to about 1/4" thick.
Once the chocolate is spread out, use the large candy eyes, red M&M and 2 pretzel twist halves to form 'reindeer' in the melted chocolate.
Allow the chocolate to fully set and then gently break apart the reindeer.
More Christmas Recipes for you to Consider
Gingerbread Man Rice Krispies Bars
Christmas Wreath Rice Krispies Treats
Christmas Bark Recipe with M&M