Funfetti Cookie Sandwiches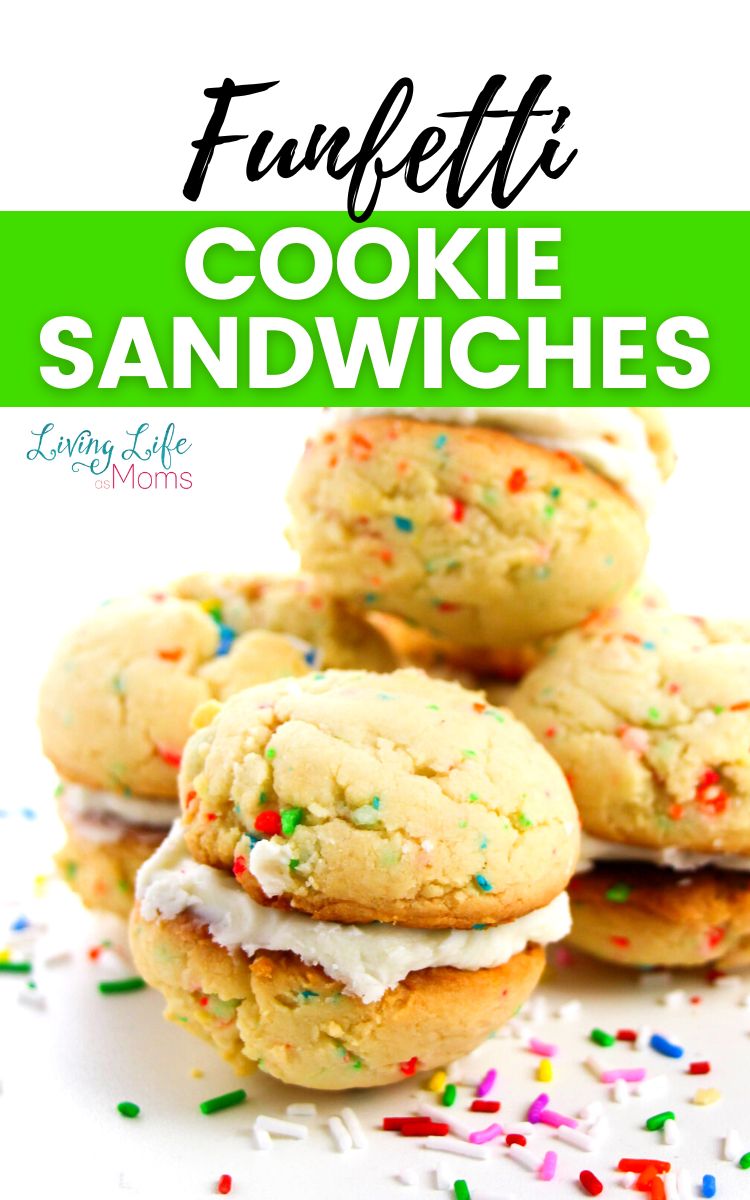 Cookie lovers rejoice! Funfetti Cookie Sandwiches are here. These aren't your average cookies – they're made with love and sprinkles.
The best part is that you can have them as a sandwich cookie, which means twice the funfetti deliciousness. You'll love how soft and fluffy these cookies are – they're like little bites of heaven. And the best part is that they're easy to make. Everyone in the family can jump in and make these little sweet treats – and they'll love doing so!
Just follow our simple recipe and whip up a batch of Funfetti Cookie Sandwiches today! This is sure to be a favorite with the kids for any holiday or birthday fun.
Be sure to check out my Birthday Cake Cookies for another super fun and sweet treat.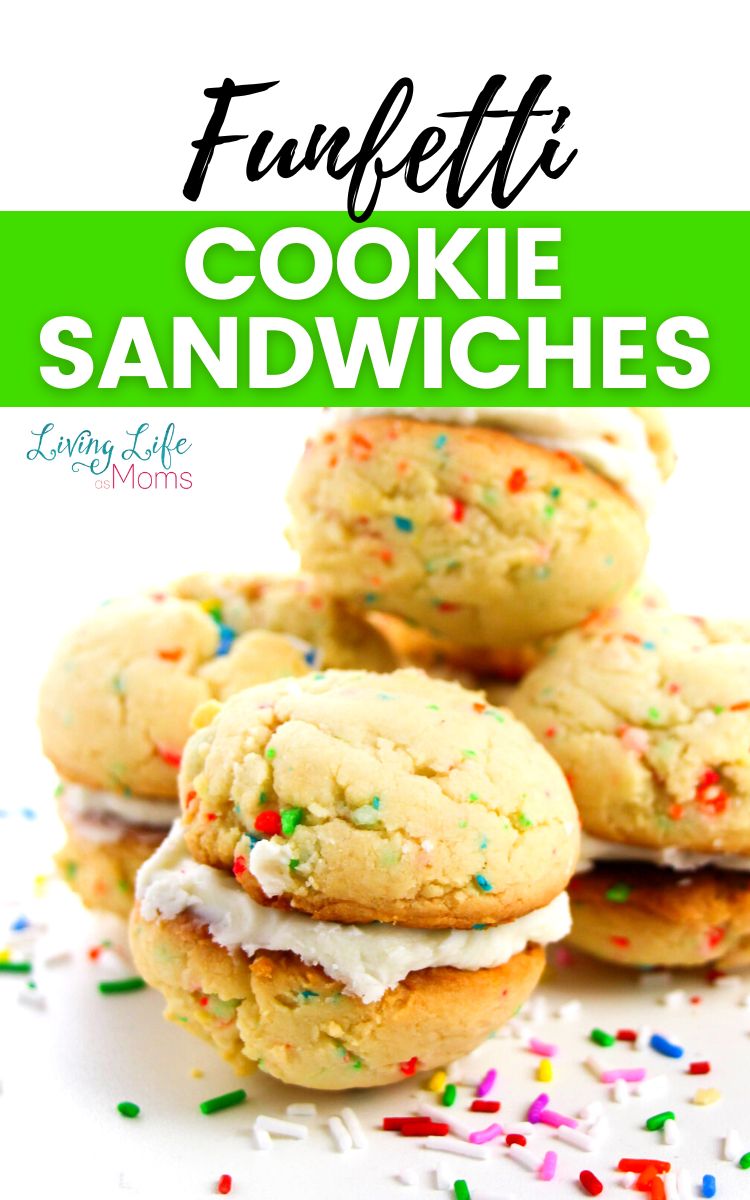 Funfetti Cookie Sandwich Recipe
Looking for an easy and delicious recipe to make with the kids? Any mom knows that getting the kids to help with baking can be a bit of a challenge. But this funfetti cookie sandwich recipe is so easy, even the littlest ones can help! Plus, it's delicious, so everyone will be happy in the end. They're perfect for a rainy day activity or a fun weekend treat.
Best of all, they only require a few simple ingredients that you probably already have in your pantry. So what are you waiting for? Get baking!
Recommended Dessert Recipe Books
Do you want more dessert ideas? Grab these recipe books and start making your tasty desserts.
I always keep a few on hand that I know I'm going to use. There are just some cookbooks out there that bring me all the warm and fuzzies, and they're my go-to for certain recipes.
I literally have the pages marked and starred so that I can easily flip to the recipe that I want and get started on it right away because we all know that when we find a great recipe, we have all the want and desire to make it over and over again.
Dessert Boards: 50 Beautifully Sweet Platters and Boards for Family, Friends, Holidays, and Any Occasion
Le Cordon Bleu Pastry School: 101 Step-by-Step Recipes
Tasty Dessert: All the Sweet You Can Eat (An Official Tasty Cookbook)
Dessert Person: Recipes and Guidance for Baking with Confidence: A Baking Book
How to Cook That: Crazy Sweet Creations (Chocolate Baking, Pie Baking, Confectionary Desserts, and More)
FitWaffle's Baking It Easy: All My Best 3-Ingredient Recipes and Most-Loved Sweets and Desserts
Recommended Baking Tools
Do you like baking for the family? If your answer is yes, then you'll totally love these baking tools!
Get the Silicone Baking Mat that turns the ordinary baking sheet into a reusable non-stick and easy-to-clean baking surface. Grab the Personalized Silicone Spatula, too, for personal use or as a gift for your closest baking buddy.
I think that these are also super fun gift ideas as well. Everyone cooks something in their kitchen at some point in time so giving the gift of a kitchen tool is a great way to keep them baking and cooking in style.
Ingredients:
All you need tom ake these simple cookies are listed below. Being able to use a cake mix makes it a total breeze!
Pillsbury Funfetti Cake Mix (Pack of 2)
WESSON Pure Vegetable Oil, 0 g Trans Fat, Cholesterol Free, 24 oz.
Wholesome Sweeteners, Organic Powdered Sugar, 1 lb
Directions:
Preheat the oven to 350F. Line two baking sheets with parchment paper, or you can also use silicone baking mats. You just don't want the cookies to stick.
2. Beat together the cake mix, eggs, and vegetable oil until smooth in a large mixing bowl. This will probably take about 2 minutes or so.
3. Use a small cookie scoop to scoop out the cookie batter and roll it into balls.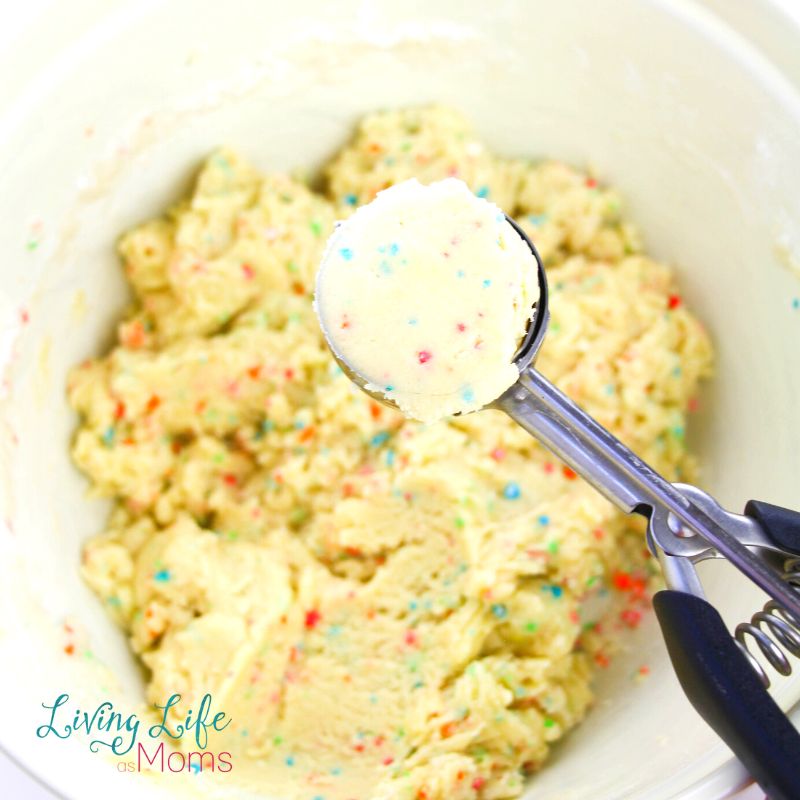 4. Place them at least 3″ apart on the lined cookie sheets.
5. Put them in the oven and bake for 10-12 minutes. They will spread slightly.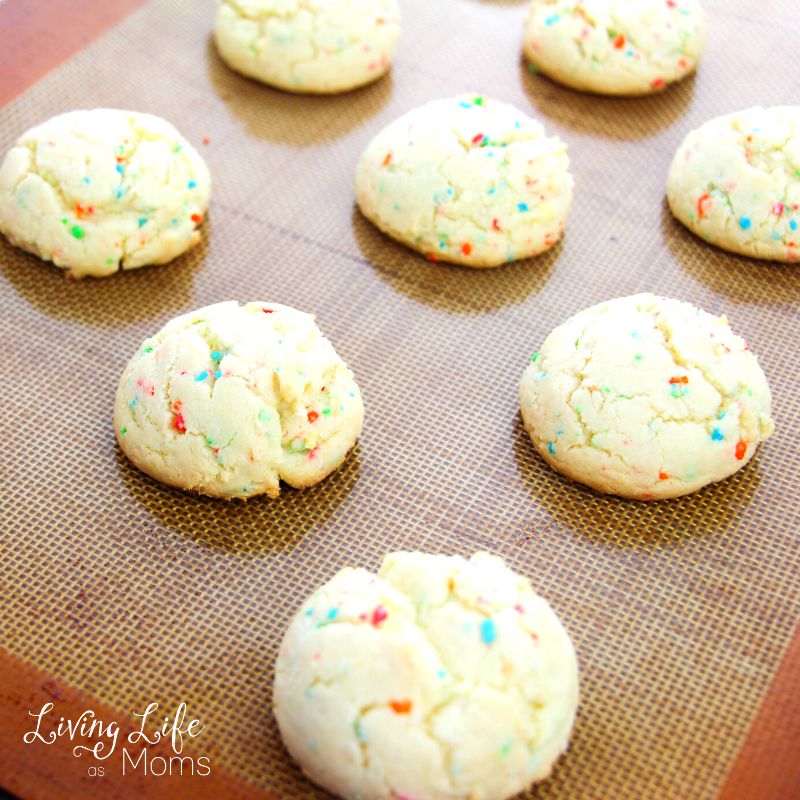 6. Be sure that you let the cookies cool down all the way before adding the frosting.
7. To make the frosting, beat together the butter, cream, vanilla extract, and powdered sugar for about 2 minutes. You can add more cream or sugar as needed. (If you'd like to add sprinkles, wait until the frosting is how you want it, then add at the end.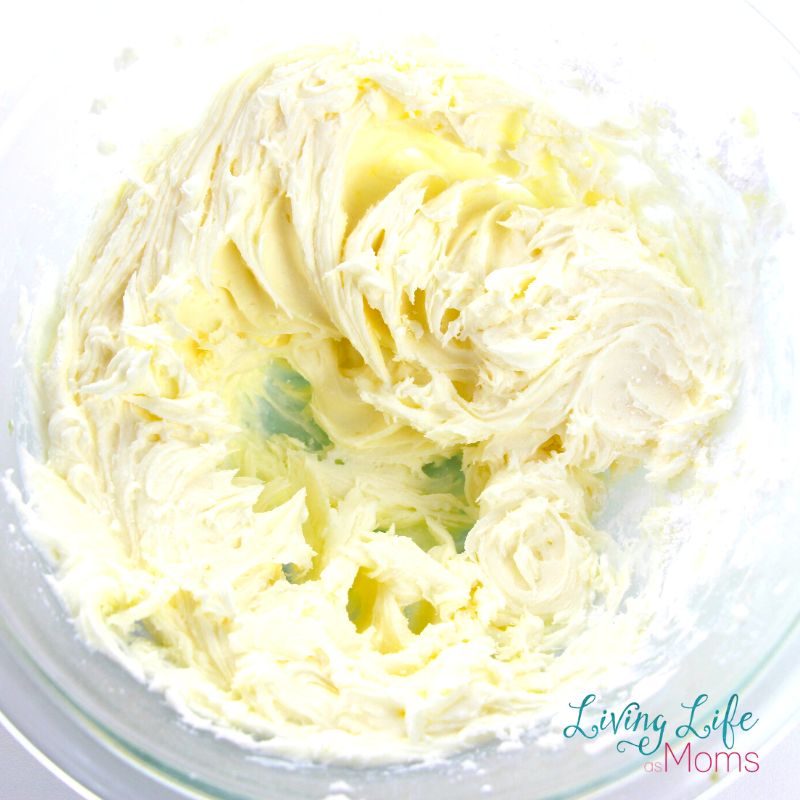 8. Apply about 2 Tablespoons of frosting to one cooled cookie and place another cookie on top. Repeat with the rest.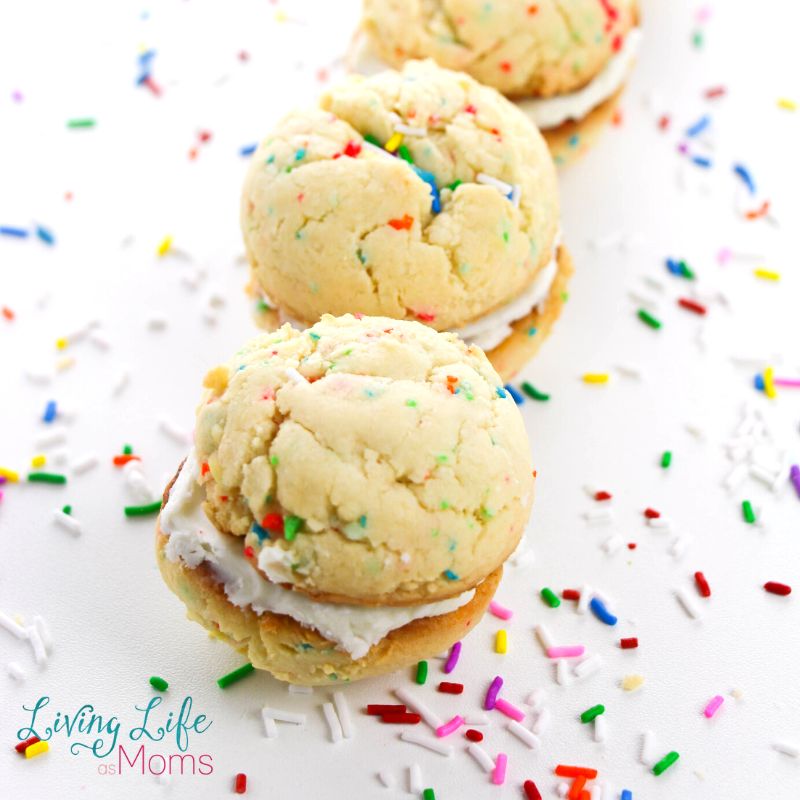 Makes approximately 20 sandwich cookies.
How do I store leftover cookies?
To keep the cookies as fresh as possible, store them in an airtight container. I would store them without any frosting adding, and then add that fresh when you're ready to eat them.
Can I freeze these cookies?
Yes, I think that it would be a super yummy idea to put these cookies in the freezer! Then you can take them out and add frosting, OR you could actually freeze them with the frosting added, and they'd be like an ice cream sandwich "almost." (I mean, not with ice cream added to them but with the texture!)
Funfetti Cookie Sandwiches
Try these delicious cookie sandwiches with your family. Just follow this simple recipe to create an awesome snack!
Ingredients
1 box Funfetti Cake Mix
2 Eggs
1/3 cup Vegetable Oil
1/2 cup Butter, softened
2 Tablespoons Milk or Cream
1 teaspoon Vanilla Extract
2-3 cups Powdered Icing Sugar, as needed
Sprinkles (optional)
Instructions
Preheat oven to 350F.
Line two baking sheets with parchment paper or silicone baking mats. Set aside.
Beat together the cake mix, eggs, and vegetable oil until smooth in a large bowl. This will take about 2 minutes or so.
Use a small cookie scoop to portion out the cookie batter and roll it into balls.
Place the cookie dough balls at least 3″ apart on the prepared cookie sheets.
Bake for 10-12 minutes. The tops shouldn't have a glossy look to them.
Let the cookies cool before adding frosting.
To make the frosting, beat together the butter, cream, vanilla extract, and powdered sugar for 2 minutes. If you're going to add sprinkles, do so at the end and stir them in.
Put about 2 T of the frosting on one side of the cookie, and then add another cookie on the bottom underneath. Repeat for all cookies.
Notes
Makes approximately 20 sandwich cookies.
Recommended Products
As an Amazon Associate and member of other affiliate programs, I earn from qualifying purchases.
See how inviting this snack is? I told you that it was so simple to make! With just a simple recipe, you can make these Funfetti Cookie Sandwiches that are perfect for any occasion!
More Cookie Recipes
I hope that you're a cooking fan like I am! Here are some other great recipes for cookies that I think you'll love, too. It's always a good idea to have multiple cookie recipes on hand so that when that craving hits, you're ready to enjoy!
Now is the time to start prepping and planning for your upcoming holiday snacks. These are some really great ones to get started with right away. Enjoy and work your way down the list!
Fun Sprinkle Chocolate Wafer Cookies
Peanut Butter and Jelly Thumbprint Cookies
Banana Chocolate Chip Cookies Recipe