Fun Sprinkle Chocolate Wafer Cookies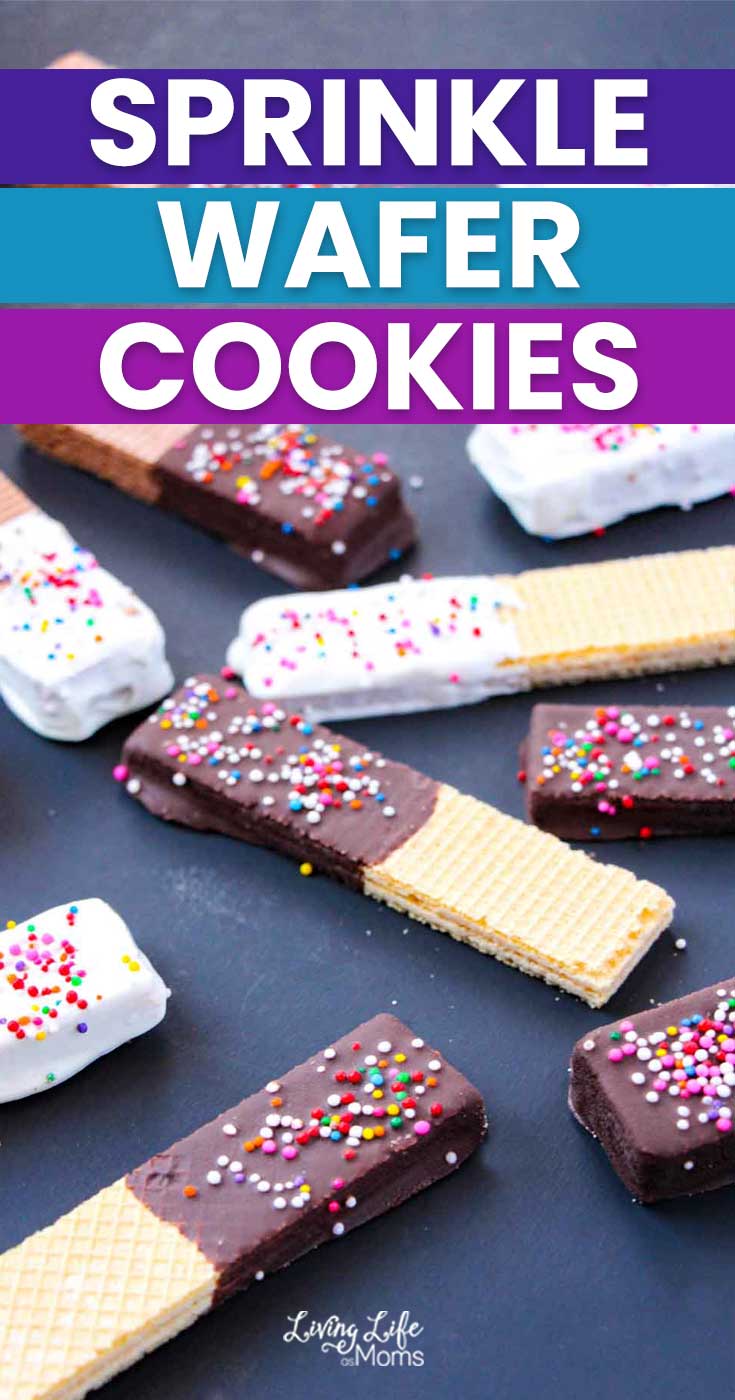 These Fun Sprinkle Chocolate Wafer Cookies are a simple and easy treat! It's time to make a delicious dessert in an easy and efficient way! Find out how to create this cookie with just a few easy ingredients.
We're all about easy desserts in our house and this simple wafer cookie recipe is one of our favorites. It's fast, simple, and an easy way to get the kids in the kitchen to help.
We tend to make this all year long but it's really fun to do during the holiday season. It's a fun cookie that looks great at parties and is quick and easy to grab and eat on the go.
Make sure to check out my Chocolate Unicorn Cookies for another super fun and delicious dessert.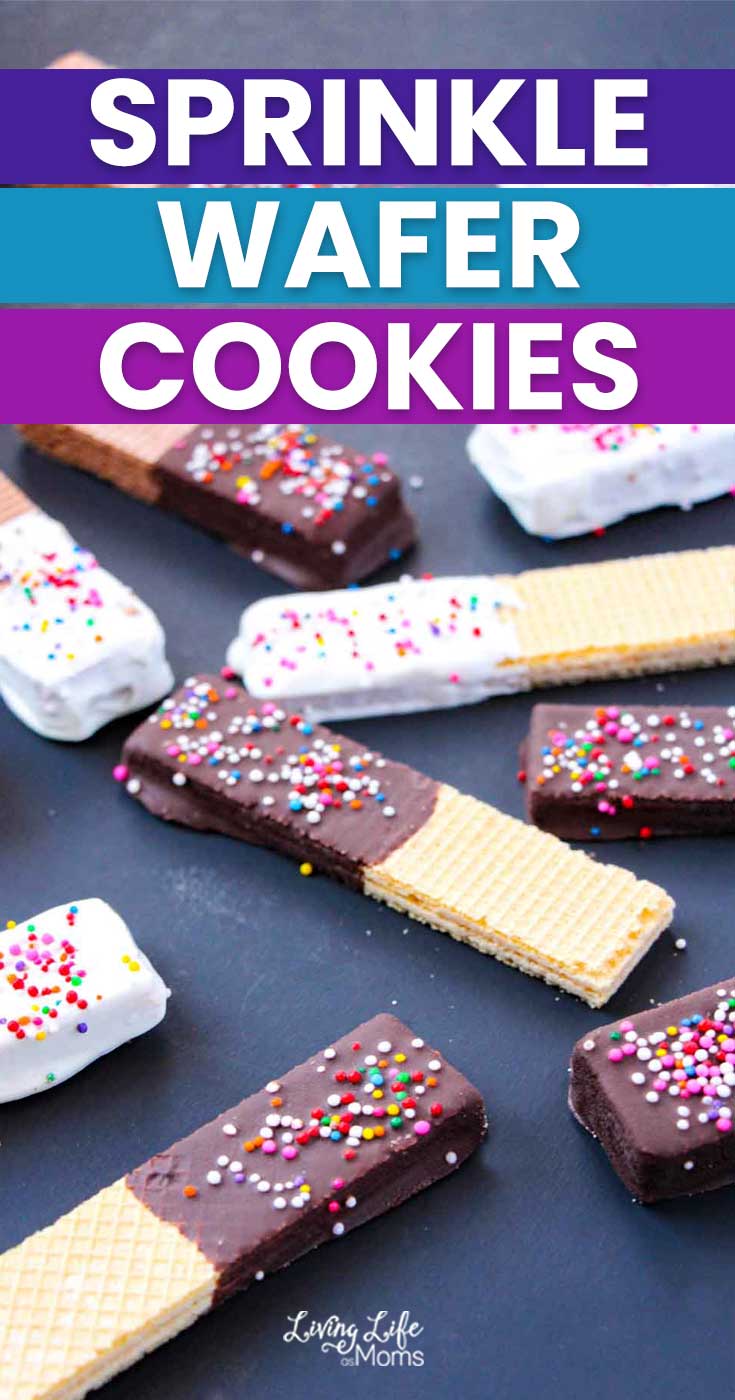 Fun Sprinkle Chocolate Wafer Cookies
Since you actually don't even have to bake these cookies, they're typically at the top of my list. When the kids are wanting and asking for something sweet, I have no problem whipping this up and having it as a treat.
Because let's be honest, wafer cookies are delicious as are but when you can add chocolate and sprinkles, you'll take it straight over the top!
The kids can really have fun helping with this recipe because this is one that they can do on their very own. You'll see their confidence in cooking in the kitchen soar with this easy recipe!
Ingredients Needed To Make Sprinkle Chocolate Wafer Cookies
chocolate wafer cookies
vanilla wafer cookies
white candy melts
chocolate chips or squares
shortening or coconut oil
Sprinkles of choice
How To Make Wafer Cookies Dipped in Chocolate
The great part about making these cookies is that there aren't a ton of steps. Make sure you scroll down for the printable recipe with the exact measurements and ingredients.
You'll need to melt the chocolate wafers in short spurts so that they're creamy and melted. You can follow the directions on the bag to make sure that you're doing it well.
Make sure that you're stirring in-between times so that all of the chocolate melts are melted and creamy.
I use a mixture of chocolate melts and white chocolate melts but you can easily change it up and use what you want.
Once the chocolate is melted, dip the wafers halfway into the chocolate and then set them on a baking sheet lined with parchment paper.
While the chocolate is still wet, add on the sprinkles, if you're adding them.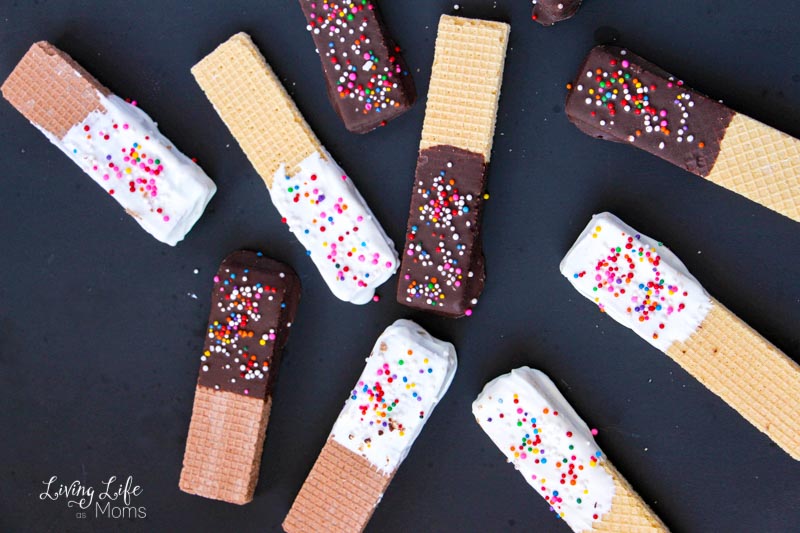 Variations & Substitutions
While this recipe is super easy as it is, you can totally change it up a bit each time that you make them.
I like to use vanilla wafers and chocolate chips but don't forget that there are strawberry wafers that you can use, too. This would be a fun way to make Valentine's Day look with the color pink!
Toppings can also be changed up during this process. Sprinkles are great but so are mini chocolate chips, edible glitter, or even a bit of crushed-up graham crackers as well. You can easily set up bowls of topping options and let the kids have fun changing out the options!
Tips For Making Chocolate Wafer Cookies
These cookies are not hard to do at all. They're fun and simple and literally turn out great every single time. But even though it's easy, there are tips to keep in mind.
I've found that using the chocolate chips over chocolate wafers adds more of that chocolate taste that I'm looking for. If you want to use chocolate melts, you totally can.
Adding the sprinkles or toppings while the chocolate is still wet is key. If you don't, none of the toppings are going to stick.
Make sure that you store these cookies in an airtight container once you've eaten all that you want. This will keep them fresh and delicious for several days. You don't have to store them in the fridge.
If you want to freeze these cookies, go for it. You can easily add them to a freezer-safe bag and save them for later.
Fun Ways To Share These Cookies with Others
Even though you might have a hard time getting the kids to want to share these yummy cookies, they're a great cookie to share!
If you love giving food items to people during the holiday seasons, why not give them these chocolate wafer cookies They're a great taste, a fun crunch, and full of so much flavor.
I highly recommend making these in various colors and toppings and share with your family and friends. They'll love getting a gift that they can eat and enjoy without having to do any of the work. Let the kids create a box of cookies for family members as well. You just might be surprised at how creative they'll get with their topping choices! So many ways to make each cookie look unique and fun!
Keep in mind that you just need a really cute gift box or storage container and you've got the perfect gift! Anyone who would receive this edible gift is going to be so happy to get it. I would give them a few in each box so that they can enjoy more than just one! The more, the better!
I can't wait to hear what you think about the ease of this recipe. It's fun to make and so good to eat! Let me know what you choose as your toppings!
If you love cookies, make sure to try these delicious Birthday Cake Cookies!
Fun Sprinkled Chocolate Wafer Cookies
You're going to love making these easy cookies!
Ingredients
12 chocolate wafer cookies
12 vanilla wafer cookies
1 cup of white candy melts
1 cup of chocolate chips or squares
1 Tablespoon shortening or coconut oil
Sprinkles or toppings of choice
Instructions
Melt the candy melts according to the directions on the package.
Add parchment paper to the baking sheet.
Once the chocolate is melted, dip the wafer cookies in halfway and then set them on the parchment paper.
While the chocolate is still wet, add the sprinkles.

While the candy melts are in the microwave, line a baking sheet with parchment paper or a silicone baking mat.
More Cookie Recipes
Once you get started making cookies, you're not going to want to stop. And who says that you have to? I love baking and making cookies and tend to get on a roll once I start.
This Strawberry Crunch Cookie recipe is a must-try!
If you're part of holiday cookie exchanges, you need to have plenty of good recipes on hand. Here are just some of my favorites that I think you might love and enjoy as well.
This tasty snack is a special treat for your next get-together, these Lemon Thumbprint Cookies are sure to please.
Are you a cookie lover? These easy-to-prepare funfetti cookie sandwiches will satisfy your cravings! A perfect treat for the whole family.
Peanut Butter and Jelly Sandwich Cookies
If you love peanut butter and jelly, you must try these yummy Peanut Butter and Jelly Sandwich Cookies!
Peanut Butter and Jelly Thumbprint Cookies