Chocolate Unicorn Cookies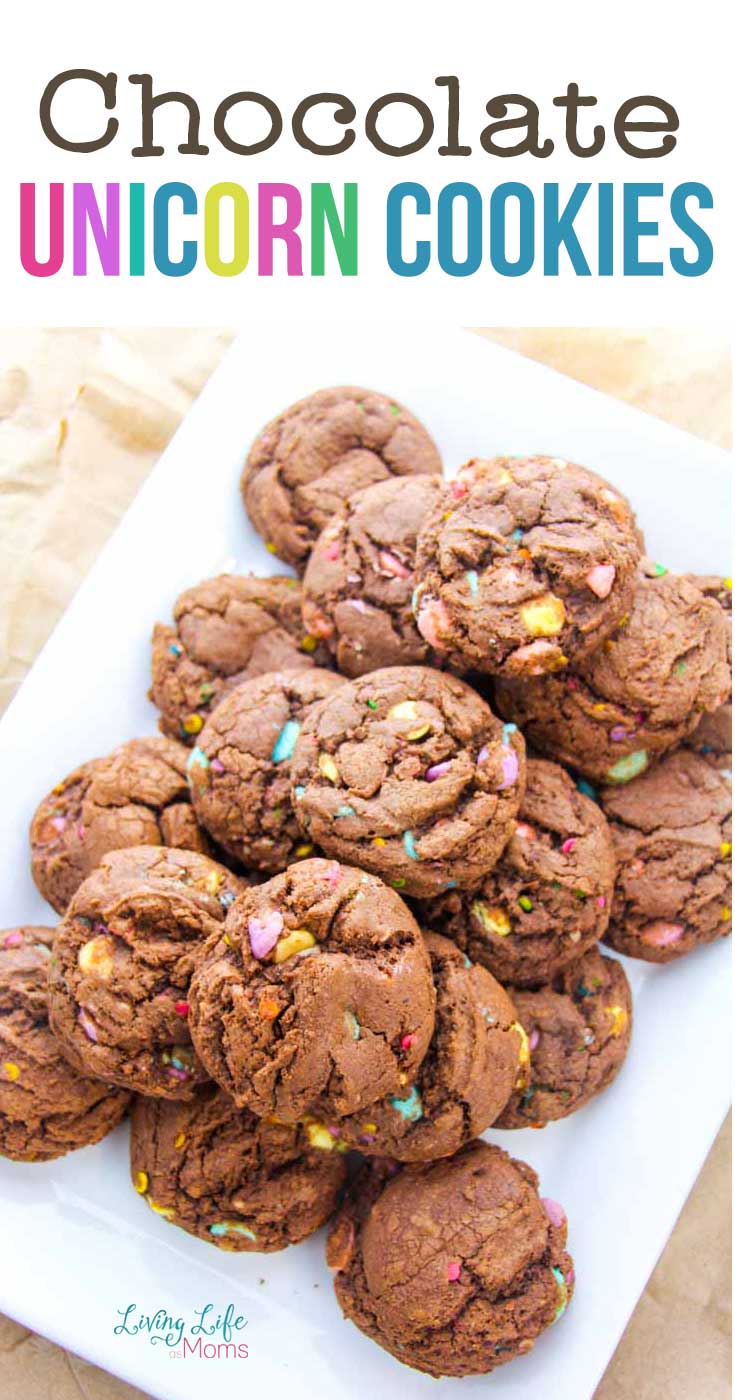 Just wait until you take a bite of these Chocolate Unicorn Cookies! They're literally the perfect flavor and packed full of fun and bright colors. The next time that you're craving something sweet, don't miss out on these tasty treats!
The kids love hopping in the kitchen and baking up these cookies as well. And can you blame them? Look how fun they are?! There's one thing to have chocolate cookies to eat and enjoy but there's another whole other part to it to have tasty chocolate chips and sprinkles!
While these homemade cookies are simple and fun, they're a really great addition to a unicorn themed birthday party or even a fun rainbow party, too!
Make certain to check out our Magic Unicorn Pudding recipe, too.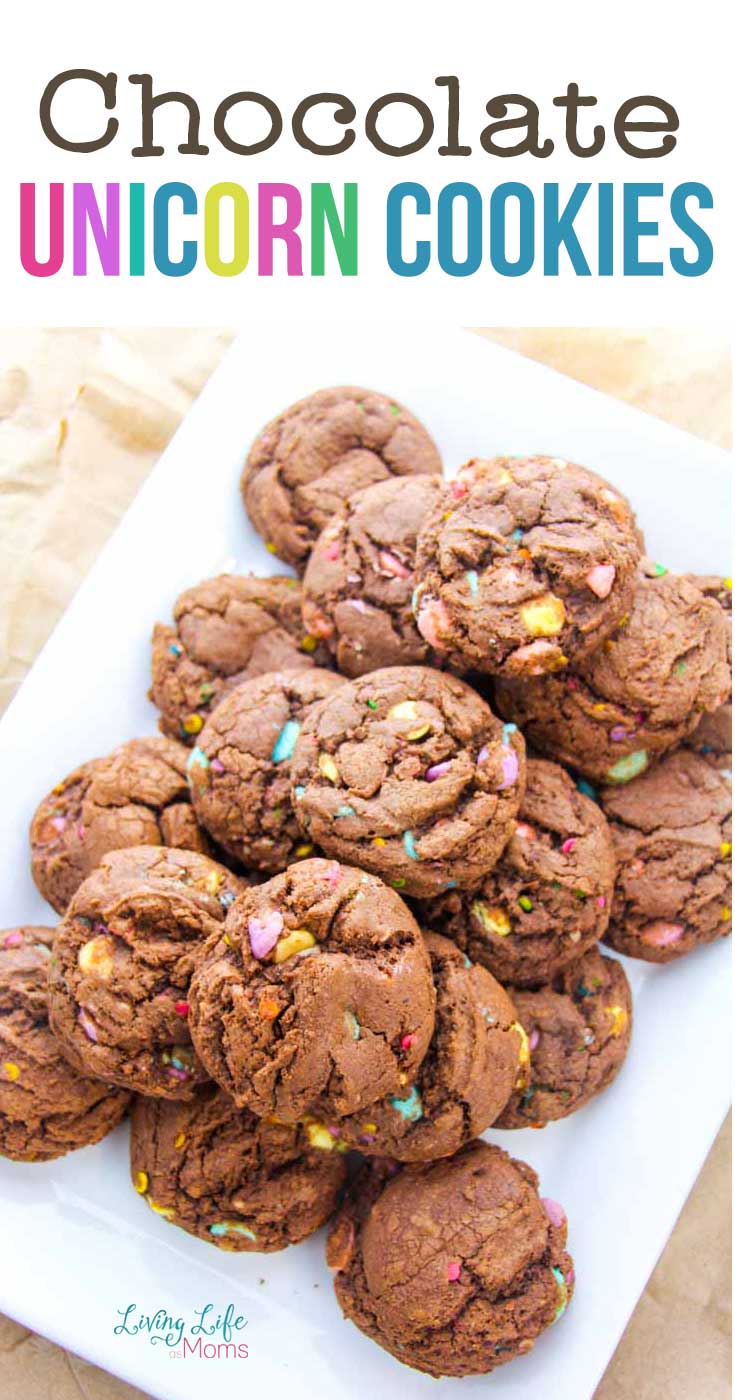 Chocolate Unicorn Cookies
When it comes down to it, there really is something quite magical about these cookies. Maybe it's the fun chocolate chips or maybe it's the way that the pastel colors really stand out against the dark coloring of the cookies but whatever is the case, the kids love making and eating these unicorn treats.
And I honestly love them, too. There are so many fun flavors that you don't have to really worry about anyone in the family not liking them!
You can easily alter the color of the chocolate chips, too. We like to use the pastel-colored because it does remind us of unicorns but you can use any colored chocolate chips that you want. You can even change them out and make them the most festive for the holidays as well.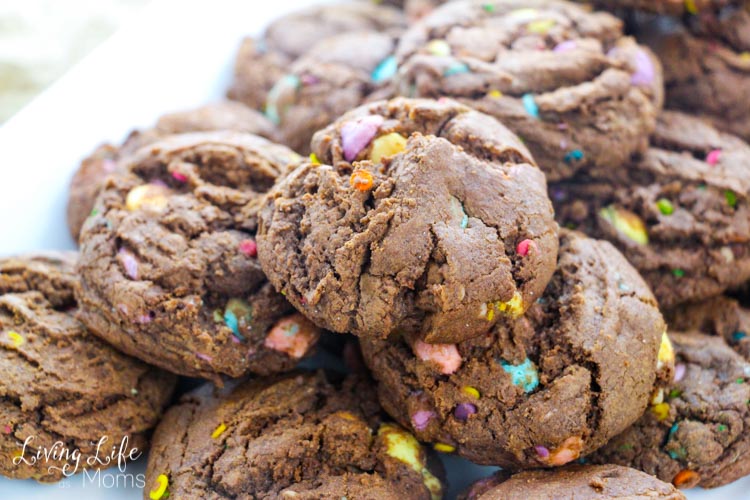 Ingredients needed for these Chocolate Chip Cookies
For the full list of ingredients and recipes, make certain to scroll to the bottom of the post. This is just a shortened version to make certain you have all the items on hand before getting started. You don't want to start a homemade cookie recipe when you don't have all the ingredients!
Butter
Brown sugar
White sugar
Eggs
Vanilla extract
Molasses
Flour
Cocoa powder
Baking soda
Cream of tartar
Pastel-colored chocolate chips
Pastel-colored sprinkles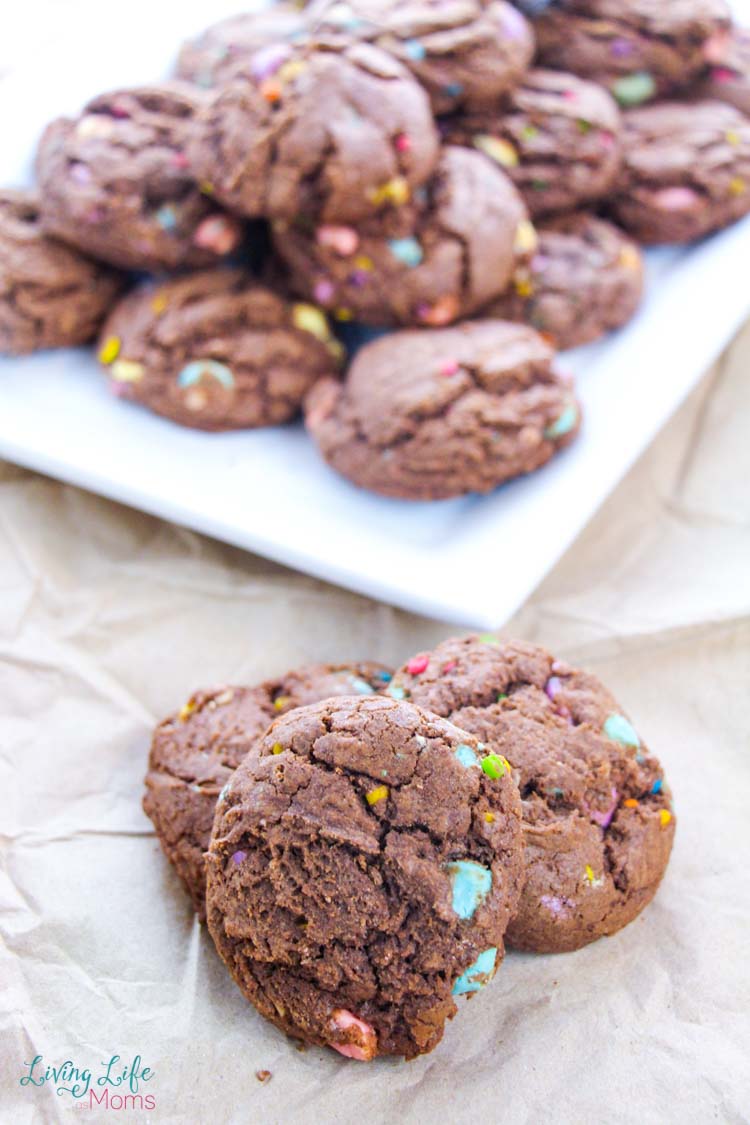 How to Make Chocolate Unicorn Cookies
The best part about this simple cookie recipe is that they're so easy to make! The kids will love adding in the ingredients and stirring in the pastel-colored chocolate chips, too.
These are also the perfect colors for Easter cookies as well so keep that in mind for your future baking needs.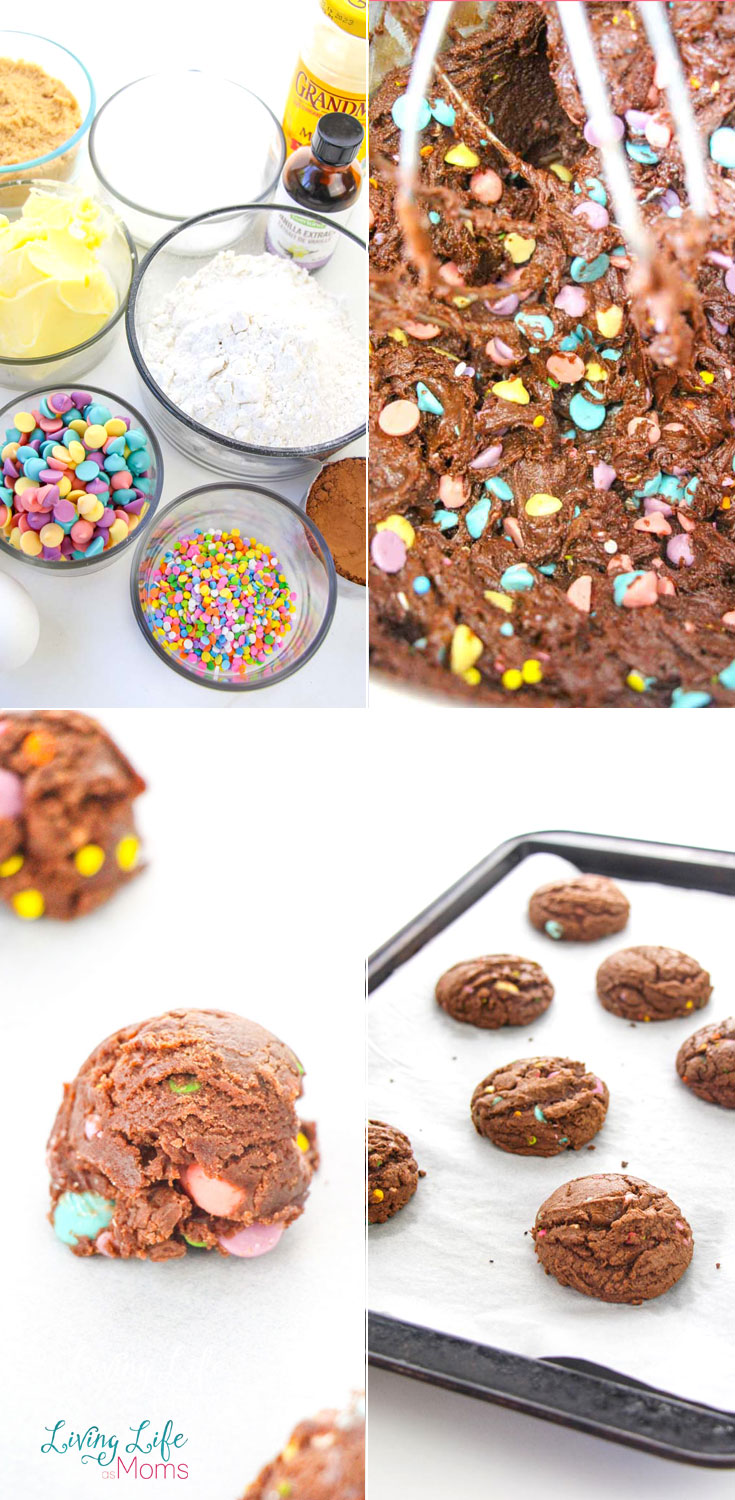 This recipe makes about 40 medium sized cookies so it's enough to feed a crowd. Just be certain that you use a cookie scoop or a spoon so that you get them all about the same size.
Once the oven is preheated, these cookies are ready to be popped in and baked. In just a short amount of time, they'll be ready to eat and enjoy.
If you love peanut butter and jelly, you must try these yummy Peanut Butter and Jelly Sandwich Cookies!
How to store these cookies
The best way to store these cookies is to keep them in a container with a lid. This also means that you'll be cutting out the air and they'll stay fresh for a much longer period of time.
You can easily freeze these cookies for later, too. All you need is a freezer-safe container to keep them from getting freezer burnt.
When you're ready to eat and enjoy the cookies, it's as simple as just taking out one cookie at a time and letting it thaw. That way, you don't have to unthaw the entire batch just to get the taste of one!
Do you want a tasty snack for your next get-together? These Lemon Thumbprint Cookies are sure to please.
Chocolate Unicorn Cookies
These Chocolate Unicorn Cookies are a great way to enjoy the day!
Ingredients
3/4 cup butter, melted
1 cup of brown sugar
2 eggs
1/2 cup of white sugar
2 teaspoons of vanilla extract
1 teaspoon of molasses
1 3/4 cups of flour
1/2 cup of cocoa powder
1 teaspoon of baking soda
1 teaspoon cream of tartar
1/2 cups of pastel-colored chocolate chips
1/4 cup of pastel-colored sprinkles
Instructions
Grab a large bowl and beat together the butter and sugars using an electric mixer.


Once that is done, add in the vanilla extract, eggs, and molasses and combine until smooth.


In another bowl, stir in the flour, cocoa powder, baking soda, and cream of tartar.


Take and beat together half of the flour mixture and half on the butter mixture together, then do the same for the second half.


Next, add and mix in the chocolate stips and sprinkles until mixed well.
Pop the cookie dough in the fridge for at least 1 hour.


Preheat your oven to 325 degrees.


Grab two cookie sheets and line them with parchment paper.


Scoop out the cookie onto the sheets using a cookie scoop or spoon.


Pop in the oven and bake them for 12-15 minutes or until the tops crack and edges are set.
See how simple and easy this recipe is? The kids will love helping you make them!
If you love cookies, make sure to try these delicious Birthday Cake Cookies or these easy-to-prepare funfetti cookie sandwiches that will surely satisfy your cravings! A perfect treat for the whole family.
More Unicorn Dessert Recipes