Magic Unicorn Pudding Recipe
This Magic Unicorn Pudding recipe is one that everyone in your house is going to love. Not only is it fun to look at, but that taste and flavor are out of this world!
If you're looking for a super simple way to create a delicious snack, this pudding recipe needs to be on your radar. Not only is it super simple to make but you're going to love the variance of colors.
Who doesn't love the combination of pink and fun colored sprinkles? The best part about this unicorn pudding recipe is that the end result can vary for every single person.
Have fun with this pudding recipe. It's certain to become one of your household favorites!
>> More Unicorn snacks to make
Recommended Unicorn Party Favors
You can't have fun with unicorns without adding some fun unicorn party favors for your special event.
96 Pack Unicorn Party Favors for Kids, Unicorn Party Supplies Birthday Decorations with Unicorn headband, Bracelets, Rings, Stickers, Hairpin, Bonus Goodie Bags, Perfect Unicorn Gifts for Girls
CXWILL Unicorn Party Favors Bags 14 Pcs Drawstring Gifts Bags for Kids Party Decoration
24 Pcs Unicorn Multi Point Pencils
48 Mini Unicorn Notepad for Unicorn Party Favors Bulk for Girls Kids Toddlers Birthday Favor Spiral Notepads Notebooks
9 Pieces Colorful Unicorn Bracelet Girls Unicorn Bracelets Rainbow Unicorn Beaded Bracelet for Birthday Party Favors (Bead Style)
LPFEZRS 36 Packs Unicorn Galaxy Slime,Galaxy Slime, Party Favor for Kids Girls & Boys, Adults, Non Sticky, Stress & Anxiety Relief, Wet, Super Soft Sludge Toy
Recommended Baking Tools
This baking mat turns the ordinary baking sheet into a reusable non-stick and easy-to-clean baking surface.
Grab this cute silicone spatula for personal use or as a gift for your closest baking buddy.
Magic Unicorn Pudding Recipe
We've made this pudding recipe at all various times of the year. It's fun for a unique after-dinner treat or a great way to have something fun and ready for the kids as an after-school snack.
And if you happen to have unicorn fans in your house, this treat will be right up their alley. Magical Unicorn Pudding is certain to be a fun treat for all!
All you need are a few simple ingredients to get started.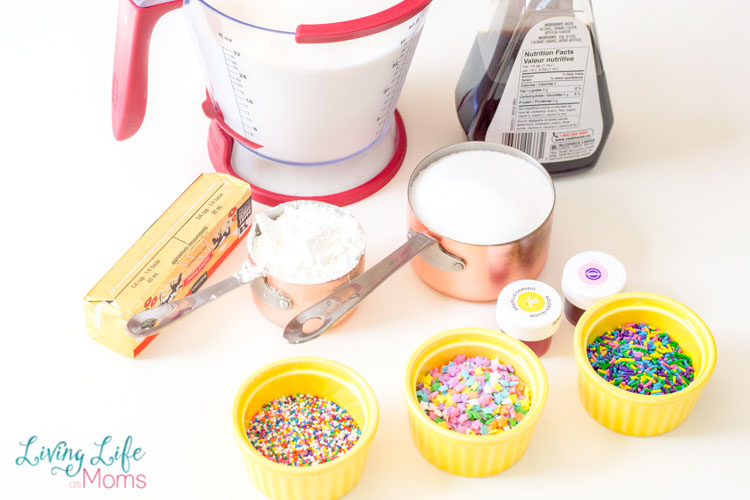 Clabber Girl Corn Starch, 16 Ounce (Pack of 12)
Watkins All Natural Original Gourmet Baking Vanilla with Pure Extract, 8 fl. oz. Bottle, 1-Pack
Chef's Quality Rainbow Sprinkles, 7 lb
While this recipe isn't hard to make, you do need to make certain that you add the ingredients according to directions.
One of the coolest part of this recipe being able to turn that pudding mixture pink. We all know that unicorns are pink, sparkly and beautiful, right? That vision comes to life with this adorable recipe.
Just make certain that when you're following along with the steps, you don't let the mixture bubble and boil on the stove. This isn't good with the added milk so you need to stay close and pay attention to this process.
This recipe is always a hit with the kids. If you have a unicorn-themed party coming up, this is a great way to let the children create and make their own Unicorn Magic.
Not only will they love adding the layers, but give them the option to add unlimited sprinkles on top. In our house, the more sprinkles the better!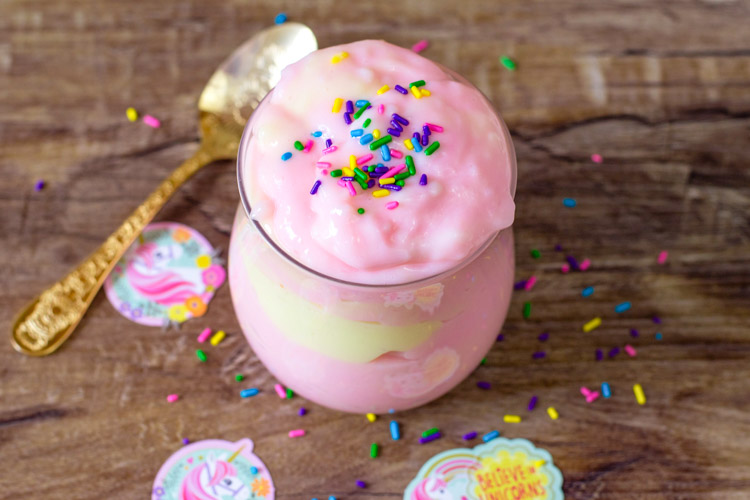 As you can tell, it's quite a visual beauty! The pink and yellow and sprinkles make it a sight to see! (and a taste to love!)
Have fun digging into this Magic Unicorn Pudding recipe. It's one dessert that is totally worth the wait!
Magic Unicorn Pudding
Total Time:
1 hour
23 minutes
This Magic Unicorn Pudding is fun, beautiful and delicious!
Ingredients
4 Cups of milk
1 Cup granulated sugar
½ Cup cornstarch
Pinch of salt
2 Teaspoons of vanilla extract
2 Tablespoon butter, cut into small pieces
Yellow gel food coloring
Pink gel food coloring
Sprinkles of your choice, for garnishing
Instructions
Using a bowl, sift the cornstarch, salt and sugar together.
Measure out and pour the milk into a large pan until it starts to bubble.
Next, add in the dry ingredients into the milk. Add in one third at a time and make certain that you're whisking constantly to make smooth.
You're not wanting the mixture to boil so keep a close eye on it as you're stirring.
Once it starts to thicken, remove from the heat of the stove.
Pour in the vanilla and the butter and stir until completely smooth.
Once stirred, put in the fridge for at least an hour. Make certain you cover with plastic wrap before.
After an hour has passed, remove from fridge and pour half of the mixture into a small bowl.
It's time to add the gel food coloring to each bowl of pudding. Make one bowl pink and the other bowl yellow.
Take one bowl of colored pudding and pour it into the other and fold. You want to make certain that the colors don't mix but rather create a swirled or "marbled" effect.
Scoop out and serve in individual bowls or cups and add sprinkles on top!
Recommended Products
As an Amazon Associate and member of other affiliate programs, I earn from qualifying purchases.
More Unicorn Recipes
Sally the rainbow unicorn cake by Taste