Must-Have Unicorn Cookies Recipe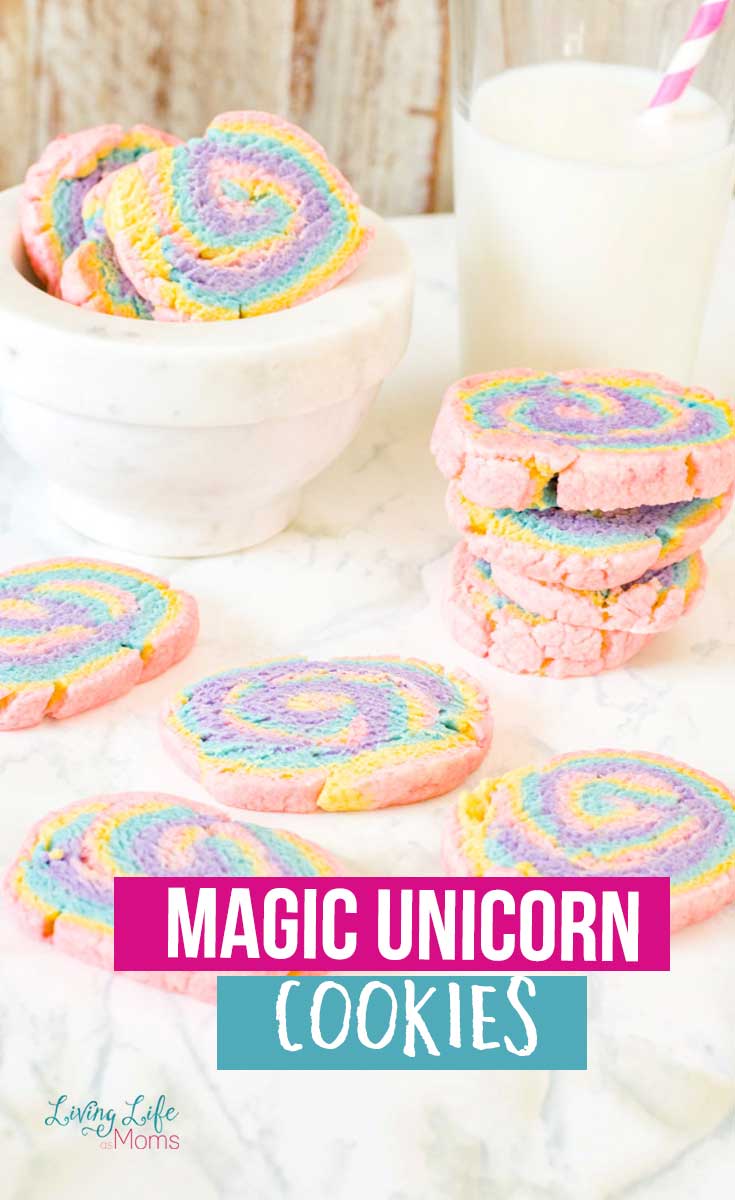 This Unicorn Cookies recipe is one that you'll love to make. Not only do the rainbow bright colors bring a smile to your face but the taste and texture is pure perfection as well.
Have a unicorn-themed party coming up that you're needing and wanting to prepare for? Rest easy knowing that this delicious cookie recipe will give you the perfect dessert you need.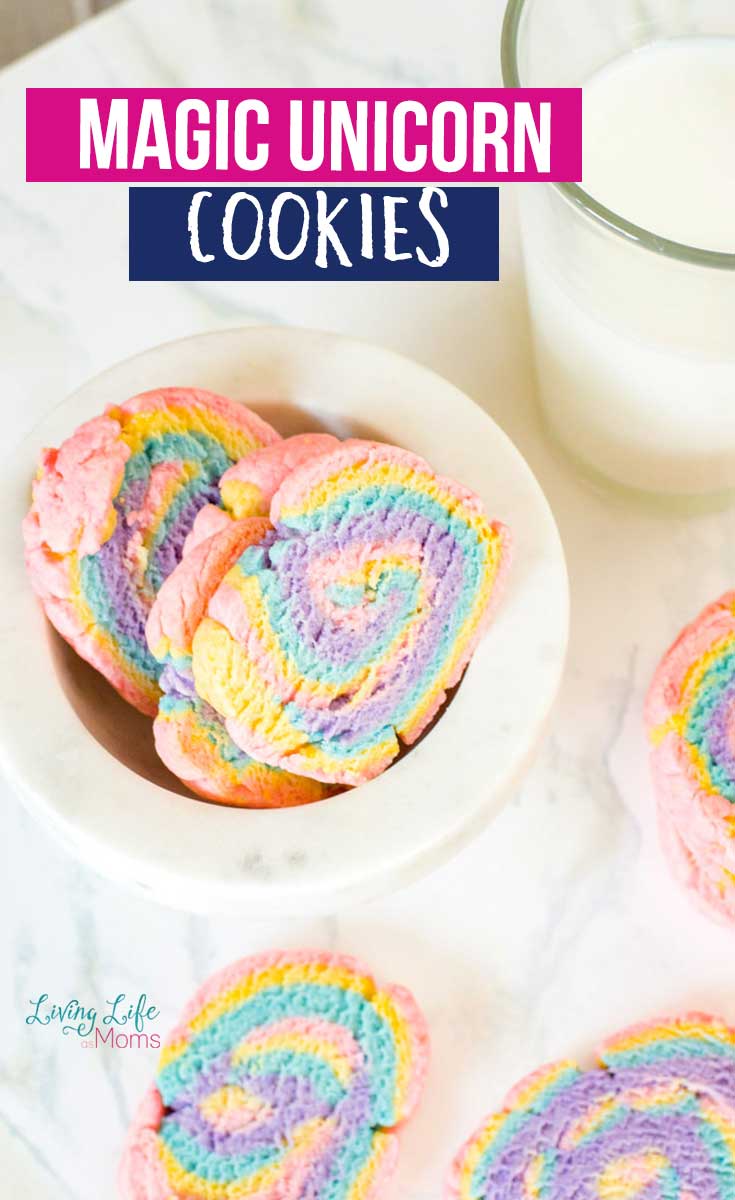 Recommended Unicorn Party Favors
Throwing your child a unicorn party? You'll love these unicorn party favors to add more magic to your celebration.
Brave Hours Unicorn Slime Kit Supplies,48 Packs Galaxy Slime, Party Favor for Kids Girls & Boys,Stress Relief Toys for Birthday Gift,Classroom Prize,Goodie Bag
Unicorn Theme Party Favor For Kids-96Pcs Unicorn Tatoo-24Pcs Unicorn Stamper-27 Pcs Unicorn Rings Necklace Keychain-Unicorn Birthday Party Supplies
FANKUTOYS 12 Pack Unicorn Headbands Hair Hoop Girls Party Decoration Headdress Birthday Party Favors Unicorn Photo Props
30 Pieces Magical Unicorn Silicone Wristbands Unicorn Parties Wristbands Vibrant Unicorn Wristbands for Magic Unicorn Themed Parties
Unicorn Candy Bracelet – Unicorn Party Favors – 12 Count
Unicorn Poop Candy – MADE IN THE USA – Unicorn Party Supplies – Unicorn Birthday Party Favors for Kids – Bulk Candy Packs for Classroom
Simply follow the simple steps below and you'll be snacking away on beautiful unicorn cookies in no time at all.
And the best part? They're just as much fun to make as they are to look at! This recipe really is a win-win!
Buying store-bought cookies is fine, but there's just something about the taste and the flavor of making them yourself.
Plus, when you name them "unicorn cookies" the fun and excitement really tend to build!
Make certain that you let little hands help in on creating these delicious cookies. It's a simple process to make them and an even better option to eat and enjoy them together.
Make certain that you gather up all your needed ingredients before you get started. There's nothing worse than starting on a recipe and not having everything that you need!
Once you've gathered them all, it's time to start coloring up that dough!
And this is where the messy fun can really begin! Just a few drops of gel food coloring go a long way to separate into sections and add in that color.
With colors like purple, blue, red and yellow you just can't go wrong. Make certain that you roll them out flat so that they cook and aren't too fluffy.
Plus, stacking them is so much fun! Don't worry about being perfect here…you're just wanting to get all the colors stacked on top of each other.
Cutting into a colorful cookie is simple and easy. Roll tight and cut. Don't forget to admire the colorful swirls in the cookie dough!
As you can tell, they really are quite beautiful. Pair up with a funky straw and a glass of super cold milk and you've got a treat that everyone is going to love!
Make certain to store any leftovers in an airtight container to keep them as fresh as possible. Let them cool completely before adding them to any container though.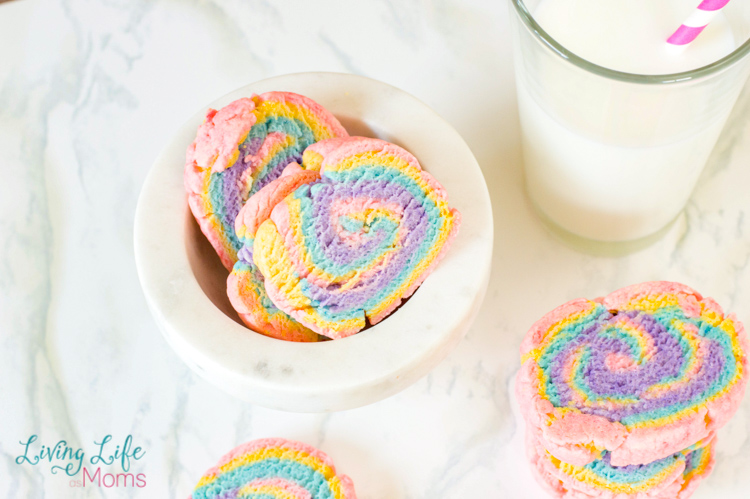 Recommended Unicorn Party Supplies
Do you need more supplies for your unicorn-themed party? Have a look at these awesome products from Etsy that you must have.
Get the Pastel Unicorn Sprinkle Mix and make your desserts extra special. Also, don't forget these cute Unicorn Plates for a complete magical party.
Enjoy these delicious cookies!! They can make wonderful party treats or gifts for friends and family. Wrap them up with your favorite party favors for a wonderful gift for any unicorn lover.
You don't have to wait for a party to enjoy these cookies, make them to add some sparkle to a boring afternoon after school or when your child is not having a great day.
If you want more cookie recipes, this Strawberry Crunch Cookie recipe is a must-try!
Unicorn Cookies
Inactive Time:
45 minutes
Total Time:
1 hour
25 minutes
These Unicorn Cookies are beautiful and delicious!
Ingredients
1 Cup of granulated sugar
1 Large egg
1 Stick unsalted butter, softened
3 Cups of all-purpose flour
2 Teaspoons of vanilla extract
1 Tablespoon of milk
Pinch of salt
1 teaspoon of baking powder
Red gel food coloring
Yellow gel food coloring
Purple gel food coloring
Blue gel food coloring
Instructions
In a large bowl, cream together the sugar, egg, butter, milk, and vanilla. There shouldn't be any lumps in the mixture.
Next, you're going to want to grab a different bowl and sift together the baking powder, salt, and flour.
Once you have that done, start to slowly mix the dry ingredients into the wet ingredients and mix until the dough forms together. This can get sticky at times, but keep going.
Once it's mixed together really well, you're going to want to divide out the cookie dough into 4 parts.
You should have different dough sections at this point in time. Add in the gel food coloring to the four different parts and mix. Once you do this, you're going to have This will a red, yellow, purple, and blue ball of cookie dough.
Add the color to each. Once done, wrap each ball in plastic and put it in the fridge for 30 minutes. Doing this allows the dough to cool and firm up just a bit.
After 30 minutes has passed, take the cookie dough out of the fridge. Grab a baking sheet and make certain that you have parchment paper on it as well.
Preheat the oven to 375 degrees F.
Choose a color to start with but red is the easiest to remember so start there. Take the red cookie dough and roll it flat or until it's like 1/4 inch in thickness. Set aside.
Next, roll out the yellow dough of the same thickness and size as the red dough. Place directly on top of the red dough.
Do the same steps for the blue and the purple dough. You should have four different dough colors that are all the same size and thickness at this point.
Next, you're going to roll up the entire layered dough unto a cylinder shape.
Once that is done. you're going to cut slices from the cookie dough cylinder that are about ½ an inch thick. (you're just going to be eyeballing these sizes)
Place each sliced cookie on the lined baking sheet and bake for 7-10 minutes.
Allow to cool for 5-10 minutes before giving them a try.
More Unicorn Recipes to Try
You'll love these other unicorn desserts if you're throwing a unicorn party.