Do your kids love unicorns? They seem to be the sensation with children, but more so lately. We have been having fun with it all! So now, we will share with you a fun and delicious Unicorn Popcorn Recipe!
Take a look! It's a great way to get kids in the kitchen, when they're making a delicious treat, they'll be more than happy to help. Once they see all the bright and beautiful colors, this just might be their new favorite treat!
The best part? It's super simple and easy to whip up! This is a great snack to have in your back pocket to surprise the kids or even a fun way to get them in the kitchen to cook up their very own!
If you like this recipe, you will certainly like these unicorn snacks to make at home !
Unicorn Popcorn Recipe
We love to make and enjoy popcorn at our house. It's something that we've done since the kids were little.
Some days, we've probably even considered our popcorn to be the main meal a time or two but those times are far and few in-between. The beautiful thing about popcorn is that it takes on flavors and tastes so easily. What was once salt can easily become sweet. And don't even tempt me with making it spicy!
Change up the recipe and add different types of sprinkles or try different colors to really have fun with. This is a wonderful treat for birthdays and parties. We've used this recipe as a fun substitute for cake and cupcakes and the kids have really loved it.
Plus, once you throw the word "unicorn" into the mix, you know it's going to be an instant hit!
For more popcorn recipes, check out these mouth-watering popcorn recipes you've got to try.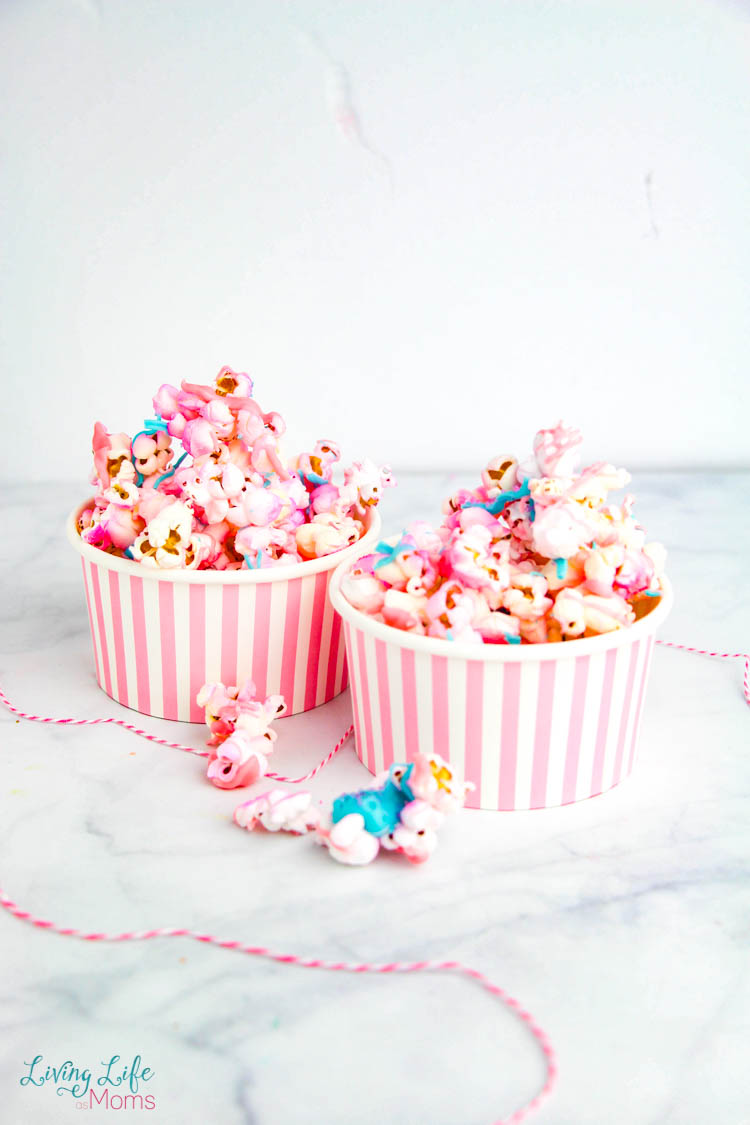 Recommended Unicorn Popcorn Ingredients
Add more sparkle with some fun colorful sprinkles and candies, you can turn this unicorn popcorn into a party favor or gift idea for your favorite person.
Wilton 710-4282 Sprinkles, Assorted
Wilton 710-5505 Food Decorative Color Mist, Pink
Wilton 1911-424 Candy Melts, 12-Ounce, Bright Pink
Look at how colorful it turns out, so pretty! Wouldn't you love to have this at your unicorn themed party? You can easily make it up ahead of time so that it's ready for all your guests when they arrive. Plan ahead and even have it ready to go in their own little bags with a cute printable attached so that you're limiting the germs and everyone has their own goodie bag.
Go crazy and try adding in pretzels, marshmallows or your favorite candy to turn it into something more special.
If you love Marshmallows, you'll love these Unicorn Marshmallow Cupcakes!
Serve this unicorn in individual cups or package them up and send them home as a party favor.
Recommended Unicorn Party Favors
I'm loving these unicorn popcorn snack boxes! Look at how cute they are, the perfect decor for unicorn happiness. You can't go wrong with any of these unicorn party decoration ideas.
Set of 12 JeVenis Magical Unicorn Party Favor Boxes Unicorn Party Popcorn Treat Boxes Candy Cookie Containers for Baby Shower or Birthday Party Favor Supplies Decorations
24 Pcs Unicorn Multi Point Pencils
KINIA 18 Rainbow Unicorn Horn Jumbo Sidewalk Chalk ~ Party Favors Goody Bag Pack ~ Birthdays, Easter, Christmas & More ~ Individually Wrapped ~ Washable ~ Beautiful Gift Box
CXWILL Unicorn Party Favors Bags 14 Pcs Drawstring Gifts Bags for Kids Party Decoration
18 Pack Unicorn Headbands Party Favors Supplies Cat Ear Headbands Girls Plastic Horn Hairbands for Cosplay Party Birthday Party Halloween Christmas(18 Pack)
24 Reusable Unicorn Drinking Plastic Straws + 6 Unicorn Temporary Tattoos for Girls | Unicorn Birthday Party Supplies – Rainbow Unicorn Party Favors Decorations with 2 Cleaning Brush
It provides the perfect unicorn experience for your unicorn lover.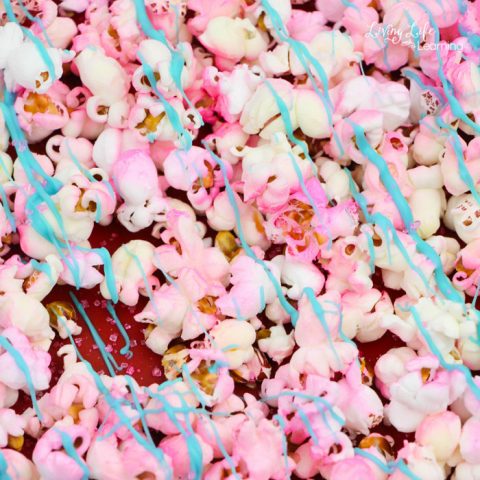 Unicorn Popcorn Recipe
Additional Time:
20 minutes
Make this colorful unicorn popcorn snack for any special event or a fun movie night that your family will enjoy.
Ingredients
6 cups air popped popcorn
1/2 cup pink candy melts (we used cotton candy flavored)
1/2 cup blue candy melts
1-2 tsp coconut oil or shortening
Pink and blue sprinkles
Instructions
Pop the popcorn with an air popper. (Or use plain bagged popcorn for ease – no butter popcorn.)
Lay the popcorn on two cookie sheets and spray lightly with the pink food spray. Turn over and coat the other side.
Let dry as you prep the candy melts.
Place the candy melts each in a small microwave-safe bowl. Heat for 25 seconds, stir, and reheat as needed. Add in 1/2 teaspoon or more of coconut oil to make the candy melts more loose and easily drizzled.
Drizzle half of the candy melts over the popcorn, add sprinkles, let dry.
Reheat the candy melts and toss the popcorn to coat the other side with the second drizzle.
Let the popcorn dry completely before serving or packaging.


Notes
* if this isn't available near you, you can add a couple drops of red food coloring to 3 tablespoons of melted coconut oil and toss the popcorn in a bag with the dye to get the same pink effect.
Thank you for visiting our Unicorn Popcorn Recipe post!
Time to give your Rice Krispies a new magical purpose with these unicorn rice Krispies ice cream cups!
More Unicorn Recipe Ideas
White Chocolate Unicorn Bark Recipe
How to Make Unicorn Fondant Cupcakes
Must-Have Unicorn Cookies Recipe
Simple Unicorn Rice Krispies Treat
Unicorn Rice Krispies Treats (Uniform in Style)
Awesome Unicorn DIY Activities
DIY Unicorn Bath Bomb Tutorial
Unicorn Printable Activities for Kids
Mini Unicorn Journal Printables (FREE)
Fun Unicorn Activity Sheets (FREE)
Magical Unicorn Treasure Hunt Printables (FREE)
Unicorn Gratitude Journal for Kids (FREE)
More Popcorn Recipes
Colorful Easter Popcorn Recipe You Have to Try
Flavored Popcorn Recipes by Food Network