Colorful Easter Popcorn Recipe You Have to Try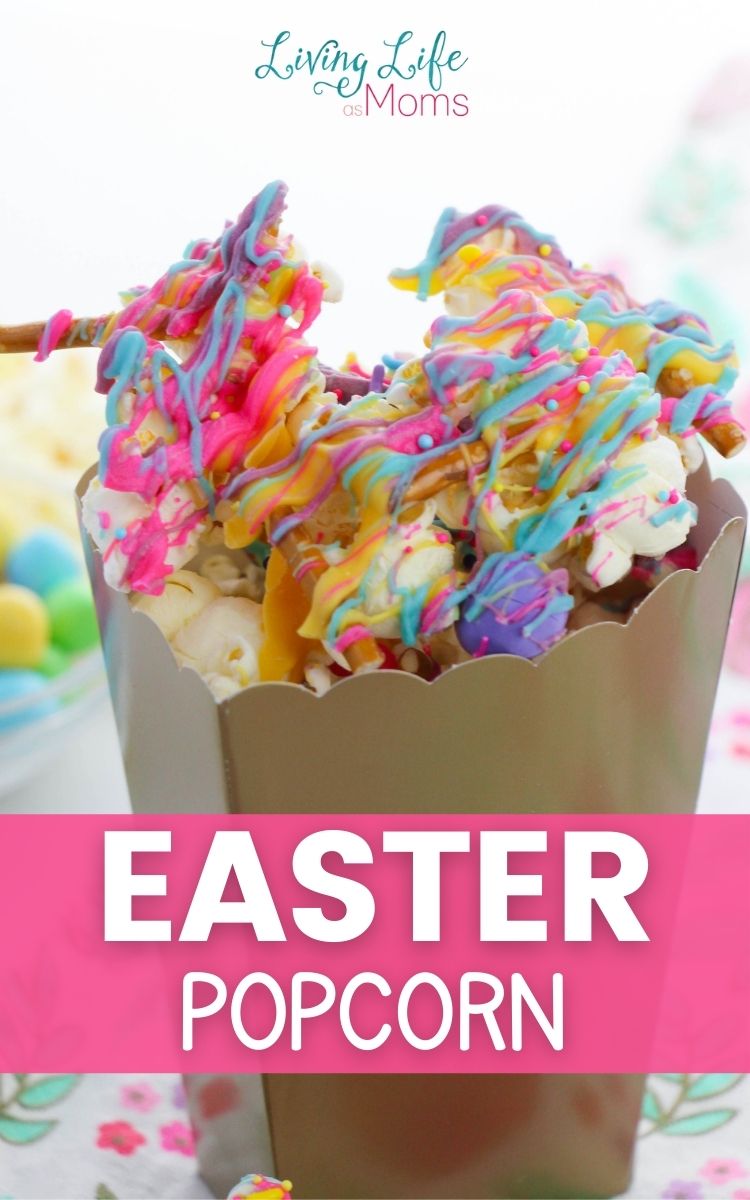 Love popcorn? If so, this Easter Popcorn recipe needs to be on your snacking radar. Not only is it delicious but it's fast and simple to make. Long gone are the house spent in the kitchen when you can make this simple popcorn recipe in a matter of minutes!
First off, let's just all agree that this popcorn looks so cool. I love the colors of the popcorn ALMOST as much as I love the taste and flavor. Every spring and Easter, this is our go-to popcorn recipe.
We've made this a fun tradition in the house to make this popcorn recipe together and enjoy. While it's fun to pair up with a movie or show, we'll gladly make it and eat it on its own!
Be sure to check out my Irresistible Chocolate Peanut Butter Popcorn Recipe as well!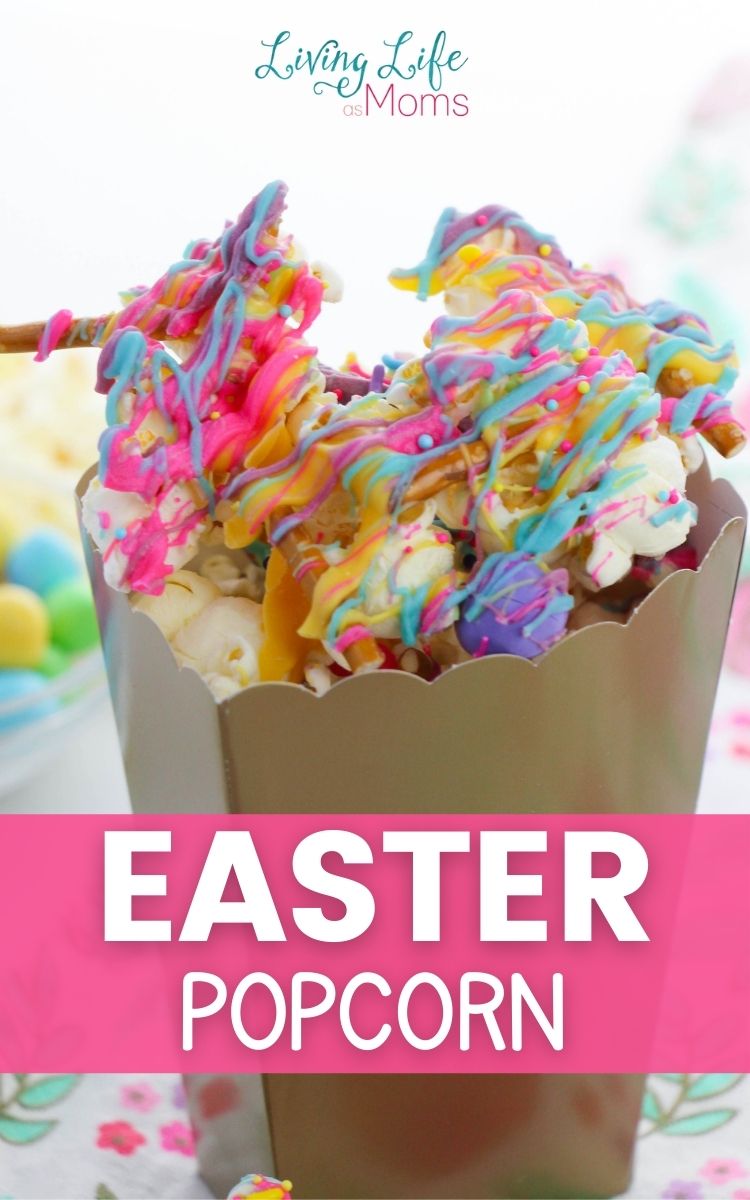 Recommended Popcorn Boxes and Cups
Compliment your delicious snack with these popcorn boxes and cups. Part of the fun of eating popcorn is that you can keep the entire bowl for yourself – or share with everyone else if you want.
We have a rule in our house that you have to be a part of making it if you want to enjoy it! Seems like a fair trade, right? But in all reality, having cute holders for your popcorn makes eating the popcorn that much more fun!
I also think that when we have containers, it helps with sharing, portion control, and more. But don't get me wrong – I could literally eat an entire bowl of this recipe in one simple setting. It's honestly that good!
Popcorn Cups Plastic – Movie Theater Popcorn Bucket Bowl – Popcorn Tube For Movie Night – Popcorn Tubes For Carnival – Popcorn Cups 7×4.5 Inches – Set of (6)
30 Popcorn Boxes 7.75 Inches Tall & Holds 46 Oz. Old Fashion Vintage Retro Design Red & White Colored Nostalgic Carnival Stripes like Popcorn Bags & Popcorn Tubs [various quantities] Salbree
Stock Your Home 32 Oz Kraft Popcorn Buckets (25 Count) – Greaseproof Vintage Style Popcorn Cups – Disposable Popcorn Containers for Movie Theaters, Amusement Parks, Concession Stands & Themed Parties
AimtoHome Black Popcorn Boxes Mini Paper Popcorn Box Cardboard Popcorn Container for Party, Pack of 24
Leakproof, Super Durable 32oz Popcorn Cups 200 Pack. Grease-Proof Disposable Pop Corn Tubs With Cool Design Are the Ultimate Movie Theater Accessory. Large Containers Great for Any Party or Event
60-Pack Mini Popcorn Boxes – 16oz Small Paper Popcorn and Candy Favor Boxes, Gold Foil Polka Dots, Stripes, Confetti Designs, Baby Shower, Wedding, Birthday Party Supplies, 3 x 4 x 2.8 Inches
Colorful Easter Popcorn Recipe
Ready to learn how to make Easter popcorn? You need a few simple popcorn ingredients to get started!
Ingredients to make Easter Popcorn:
Popped Popcorn
Candy Melts each in 5-6 different pastel colors
Easter Sprinkles
Orville Redenbacher's Gourmet Popcorn Kernels, Original Yellow, 8 Lb
M&M's Milk Chocolate Easter Candy Jar (62 Ounce .), 62 Ounce
Snyder's of Hanover Pretzel Sticks, 3.5 Ounce, 8 Count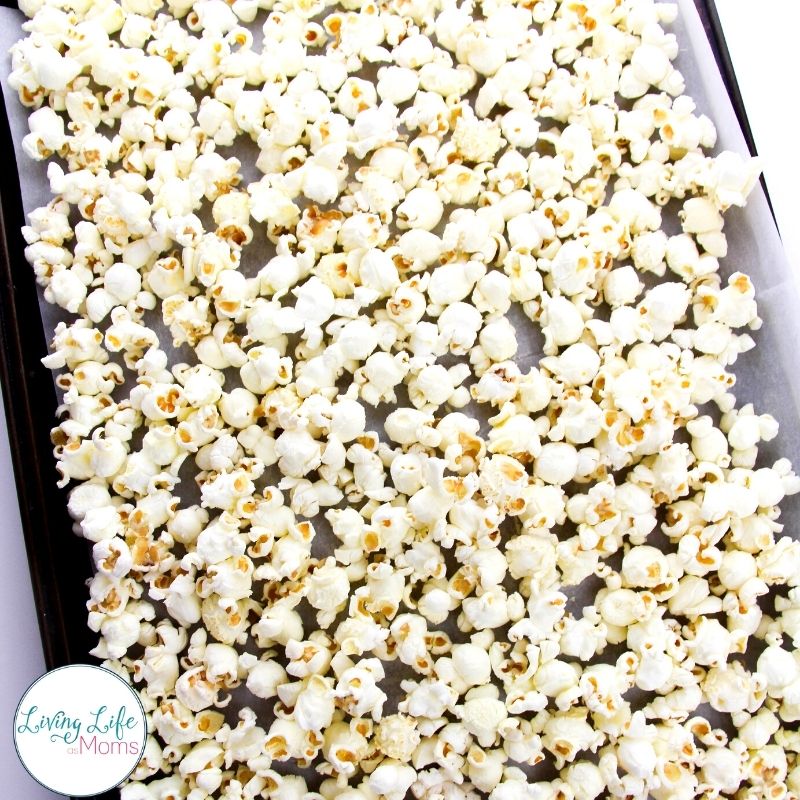 How To Make Easter Popcorn
The best part about this simple popcorn recipe is that it's not hard to do at all. Just gather up the ingredients and get started!
Once you've popped the popcorn, it's all about adding in the fun extras! This is a great way for the kids to hop in and help! They can add, mix, measure, and more.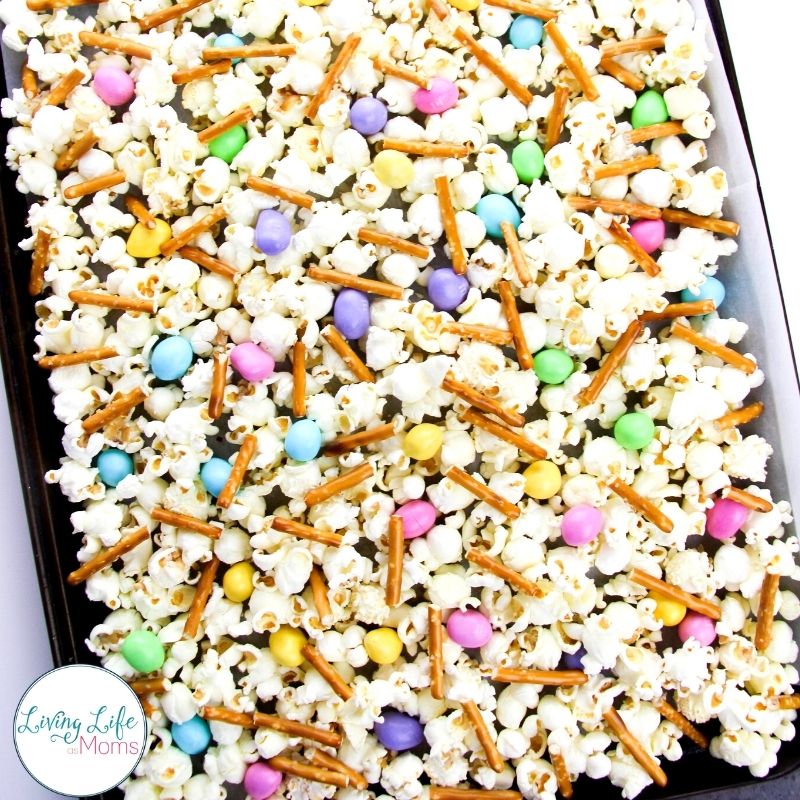 Adding the candy melts will need some parental supervision but that doesn't mean that the kids can't help. Just make sure that you talk to them about the importance of heating and following directions and then they can help out with drizzling it across the popcorn.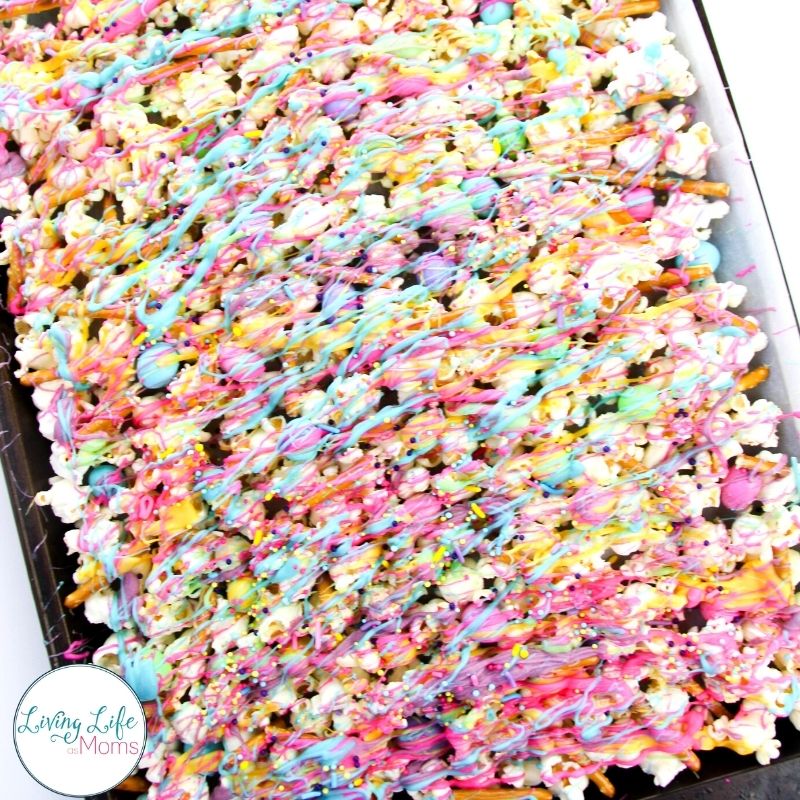 After a little bit of patience, the popcorn will have the candy melts harden on top and be ready to eat and enjoy.
This is such a fun popcorn recipe that brings in the colors of Easter! This would be great to make as an Easter snack or Easter dessert or really fun to whip up and have in the kid's Easter baskets as a sweet treat surprise, too.
However you want to enjoy this simple popcorn recipe is totally up to you!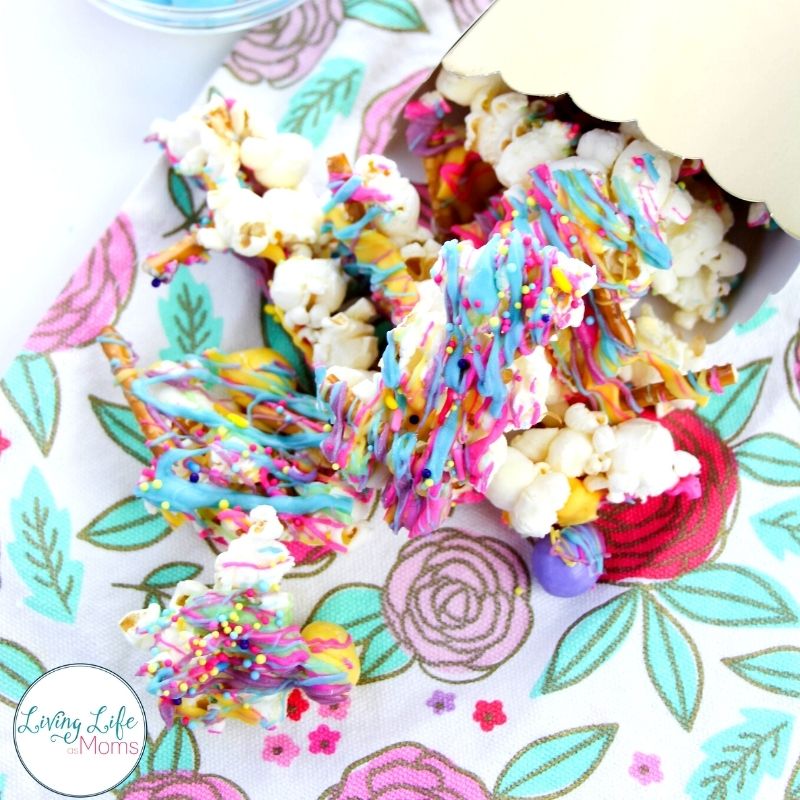 How to store popcorn
To keep the popcorn as fresh as possible for as long as possible, store the popcorn in an airtight container with a lid. You don't have to keep this in the fridge so on the counter or at room temperature is fine.
Although, I highly doubt that you'll have any leftovers – because you're going to want to eat it all!
Have fun making this treat – it's one of the best!
Easter Popcorn
Additional Time:
25 minutes
Have a colorful Easter with this delicious snack that the whole family will love to eat!
Ingredients
3-4 cups of Popped Popcorn
1/2 cup Easter-themed M&Ms
1/2 cup Pretzel Sticks
2 Tablespoons of Candy Melts each in 5-6 different pastel colors (total of 2/3 to 3/4 cup candy melts)
1 Tablespoon Easter Sprinkles
Instructions
Add parchment paper to a baking sheet.
Pop the popcorn kernels and then put that popped corn onto the baking sheet in a single layer.
Add the pretzel sticks and the M&Ms.
Melt the candy melts for 25 seconds, then stir. Repeat as needed to make it smooth and creamy. Drizzle it over the popcorn once melted.
Repeat with each candy color.
While the candy melts are still soft, add the sprinkles on top!
Let the popcorn mixture set for 25 minutes. Break up and enjoy!
Recommended Products
As an Amazon Associate and member of other affiliate programs, I earn from qualifying purchases.
More Popcorn Recipes
Not that I have your mouth watering for popcorn, don't forget to check out these other delicious popcorn recipes. In my mind, you can never have too many recipes for making popcorn on your treat radar! These are just a few of our other favorites!
Irresistible Chocolate Peanut Butter Popcorn Recipe
You had me and chocolate and peanut butter. Trust me when I say that this peanut butter and chocolate popcorn recipe is one of the best! You might as well make a double batch because you're going to need to have extras!
If you love the flavor of cinnamon, whip up this recipe! It's a great flavor and a fun treat for the kids. Perfect for a simple fall treat.
Calling all unicorn fans! This unicorn popcorn is great for a unicorn birthday party or a bright and fun weekend treat! If you have someone in the house that loves unicorns, this unicorn recipe is a great option to have!
Mouth-Watering Popcorn Recipes You Have to Try
Need even more treats? Check out this list of popcorn recipes. You can't go wrong with any of them and I can't wait to hear which ones you like best!
BEST Popcorn Recipes by GypsyPlate
Sharing is caring, right? Here are some other great popcorn recipes that will have everyone grabbing a handful or two. You'll love the variety of recipes for popcorn here from savory to sweet!