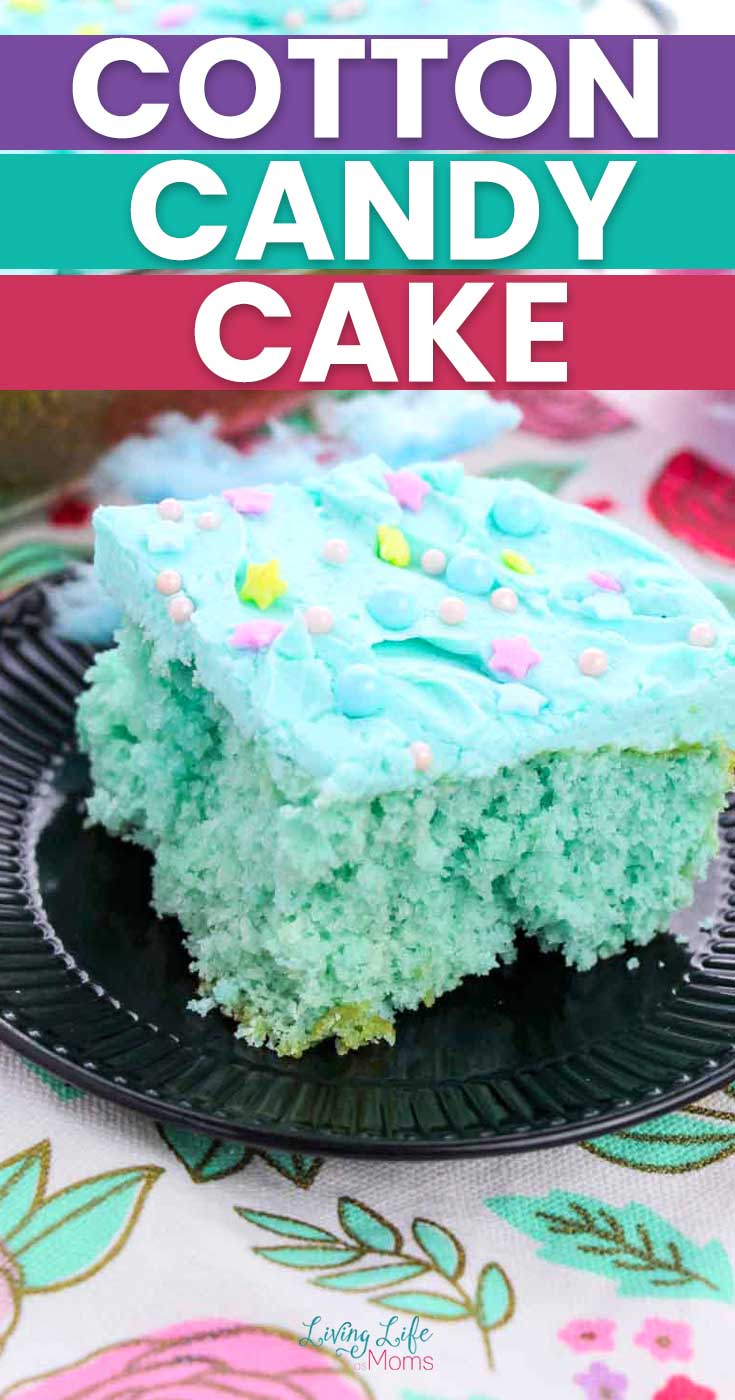 Are you ready for a truly amazing and simple cake recipe? This Magic Cotton Candy Cake is the BEST! You'll love the color, the flavor, and how easy it can be to make a delicious cake easily right at home.
The best part about this simple cake recipe? You just need three easy ingredients to make it! (You'll need a few more ingredients for the homemade frosting – but trust me, it's worth it!) Forget about spending hours in the kitchen and try this baking method instead. You'll still get a fluffy and moist cake that you'll love AND have plenty of time left over to put up your feet and enjoy.
Be sure and check out my Lucky Charms Cupcakes for another fun and delicious dessert! Cereal on cupcakes means that it qualifies for breakfast, right?!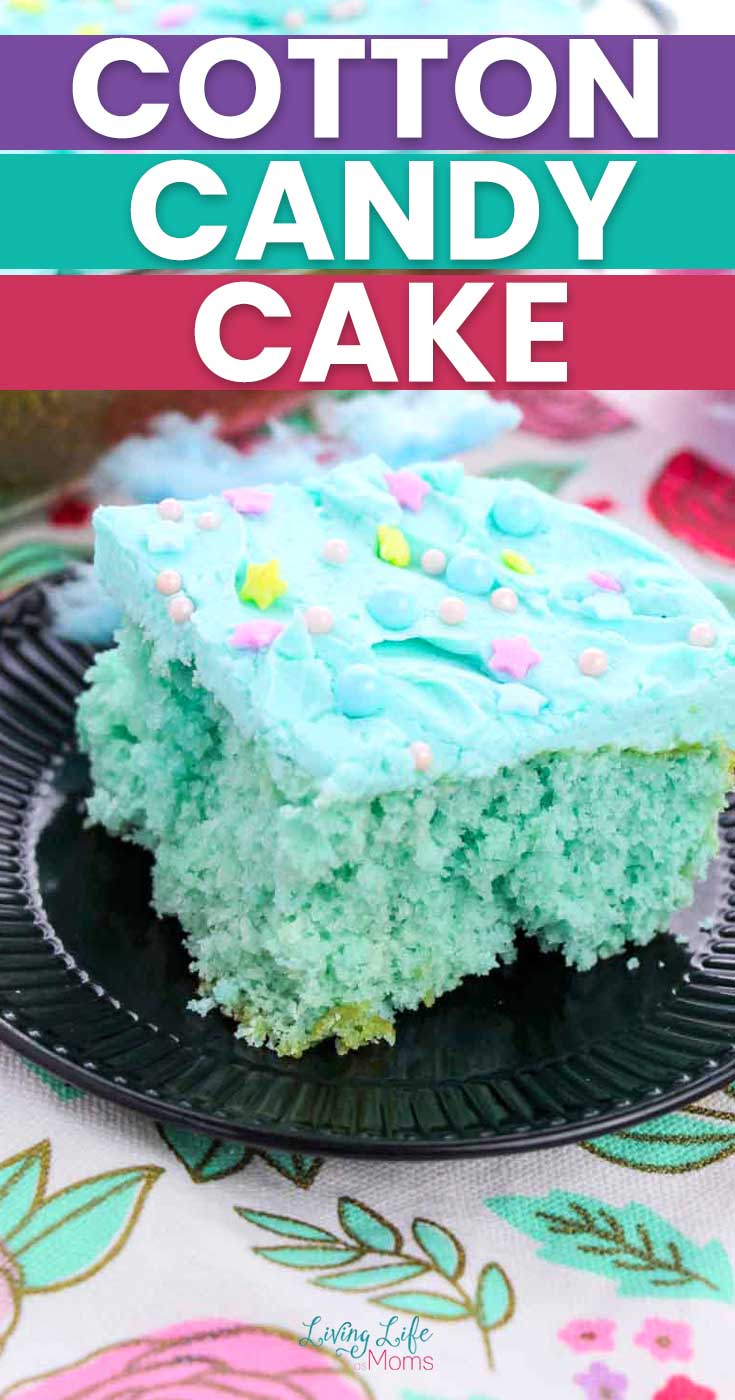 Magic Cotton Candy Cake
My kids LOVE when I make this cake because the flavor legit tastes like cotton candy. If you have cotton candy fans in the house, this cake recipe really is a MUST. Not only is it fun and flavorful, but the aroma that your house will get is insanely good, too.
Normally you'd be drooling over the cake baking in the oven but when you add in the scent of cotton candy, it's that much better.
We've made this cake recipe so many times, and it's always a favorite. It's great for birthday parties and has been requested to be the main birthday cake quite a few times!
Ingredients needed to make Cake Mix Cotton Candy Cake
Cake Ingredients:
Cotton Candy Soda
White Cake Mix
Light Blue Food Dye, optional
Frosting Ingredients:
Cotton Candy Soda (or use 1 teaspoon Cotton Candy flavor extract)
Butter
Powdered Icing Sugar
Milk
Light Blue Food Dye, optional
Pastel Sprinkles
Once you have all the ingredients on hand, it's time to get started baking and decorating the cake!
How to Make Cotton Candy Cake
Gather up your ingredients and get ready to fall in love with a simple cake mix cake! Topped with homemade frosting, too! Be sure to scroll down to the bottom of the post for the full detailed instructions listed on the recipe card.
Once you mix the ingredients together and make the cake batter, you'll be able to adjust the coloring of the cake. Some want it to be a darker blue, some a lighter blue – the choice is up to you.
Insert the cake into the oven and bake until done. Once the cake is completed baking, you need to let it cool completely before adding on the frosting.
Did someone say homemade frosting? You bet – it's the best way to top a cake. Making homemade frosting isn't hard but be sure that you follow the directions exactly so that you have the perfect frosting for your cake!
Then you can frost your cooled cake, top with sprinkles, and dig in!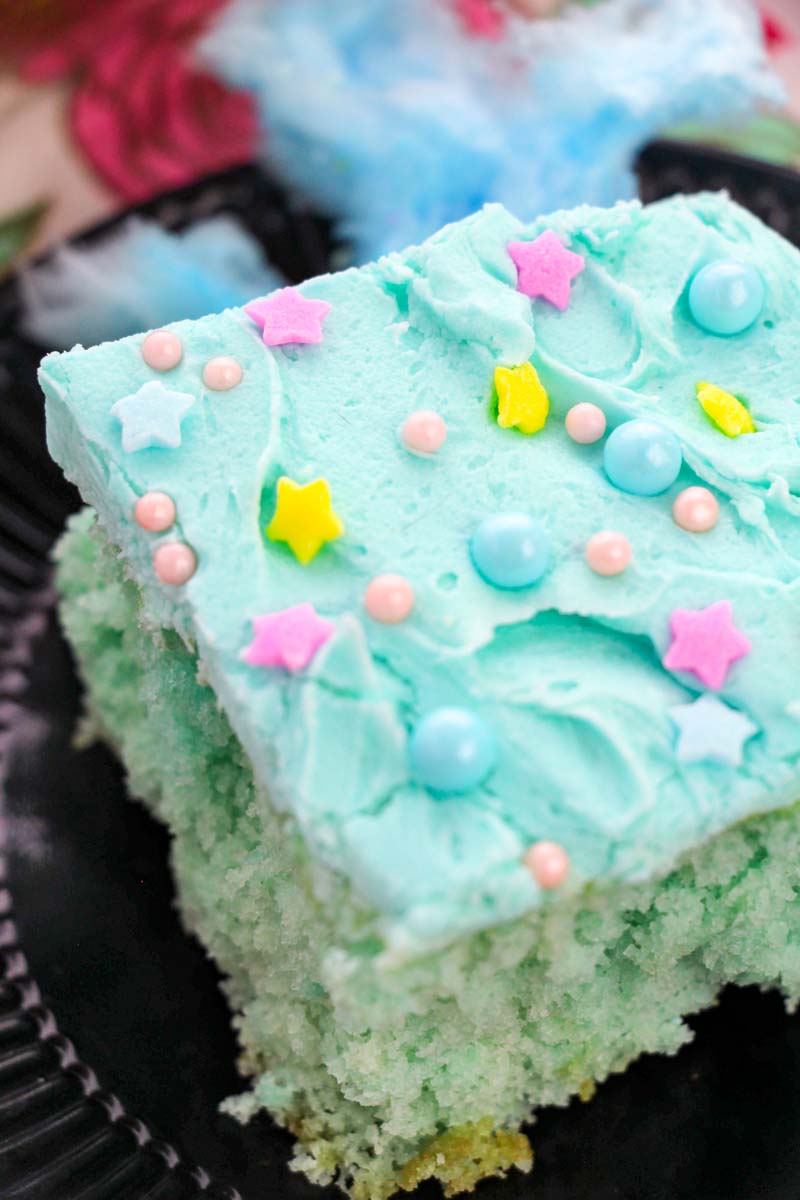 How do you know when a cake is done baking in the oven?
The easiest way to tell that a cake is done baking is to the toothpick test. This test is simple to do and painless. Just take a clean toothpick and insert it into the center of the cake.
If the toothpick comes out clean, the cake is baked all the way through and is ready to be taken out of the oven.
Why is it important to let cake cool before adding the frosting?
If the cake is too hot, the end result will be that the frosting is going to melt right off the cake. I've made my cakes and added the frosting too soon and it literally melts off and into the cake so quickly that after a few moments, it never even looked like I'd added any frosting at all.
Letting the cake cool is important so that the frosting holds and stays on the cake. It just takes a few minutes of time and makes a huge difference in the outcome of the flavor.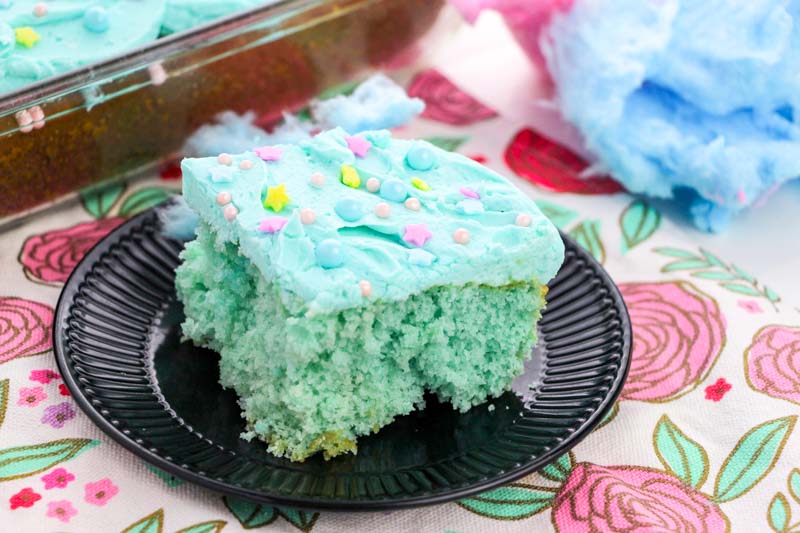 Can I add other toppings to this cake recipe?
Sprinkles are NEVER a bad idea but you can always add other toppings to your cake as well. Some great topping ideas are:
coconut flakes
chocolate chips
chopped nuts
And those are just a few! Ask the kids to help out with the decorating and they're sure to love adding in their thoughts and ideas.
Can you turn this cake recipe into cupcakes?
You bet. Just follow the directions on the box for cupcakes and then bake them accordingly. The same rule for cupcakes applies to let them cool down before adding the frosting. With cupcakes being smaller, they'll cool down really quickly!
How to store leftover cake
Make sure that you store any remaining cake in an airtight container. This is the best way to it them moist and delicious. Any cakes that are baked fresh should be eaten within 2-3 for the best results.
Can you freeze baked cake?
You can freeze the cake that has been baked! I actually freeze a portion of the cake BEFORE adding on frosting because I think that it just stores better that way.
Then, when you're ready to eat the cake, you can just move it to the fridge to unthaw and make the frosting fresh right then and there.
Adding fresh frosting to the cake is a great way to keep it tasting like it just came out of the oven even if it's been in the freezer for a short time.
Have fun making this cotton candy cake recipe! It's a fast and delicious way to make a really great tasting cake.
Magic Cotton Candy Cake
This cake mix cake recipe is fun and easy and tastes just like cotton candy!
Ingredients
Cake Ingredients:
355mL Cotton Candy Soda
1 Box of White Cake Mix
Light Blue Food Dye (this is optional)
Frosting Ingredients:
1 cup Cotton Candy Soda (you can also use 1 tsp of Cotton Candy flavor extract)
1/2 cup of softened butter
4 cups of Powdered Icing Sugar
1-2 T of Milk
Light Blue Food Dye (this is again optional)
Pastel Sprinkles
Instructions
Preheat your oven to 350 degrees. Grease a 9X11" dish.
Add the white cake mix and cotton candy soda to a bowl and beat together for 2 minutes. If you want a nice blue color, make the better darker blue because it will lighten as it's baking in the oven.

Bake for 25-30 minutes.
Let the cake cool before adding any frosting.
Put 1 cup of the cotton candy soda in a pot on the stove and heat over medium-high heat. Once it starts to boil, reduce it to medium-low heat and simmer. It should reduce to be about 2 ounces of soda remaining.
Let it cool entirely.
Grab a bowl and beat the powdered icing sugar and the butter for 2 minutes. Once done, add in the cooled soda. Mix and then add milk to make it spreadable. You can add more food dye if you'd like.
Spread the frosting on the cake evenly on top.
If you want to make it textured, use short strokes to add the icing.
Add sprinkles.
More Dessert Recipes
If you're a cake fan like me, you're going to want to have more cake recipes on hand! Here are some other delicious desserts to try.
Mini Strawberry Cheesecake Recipe
This mini treat is perfect for spring and summer fun. So easy and delicious to make!
Love the taste of cream soda? You're not going to want to miss out on these treats!