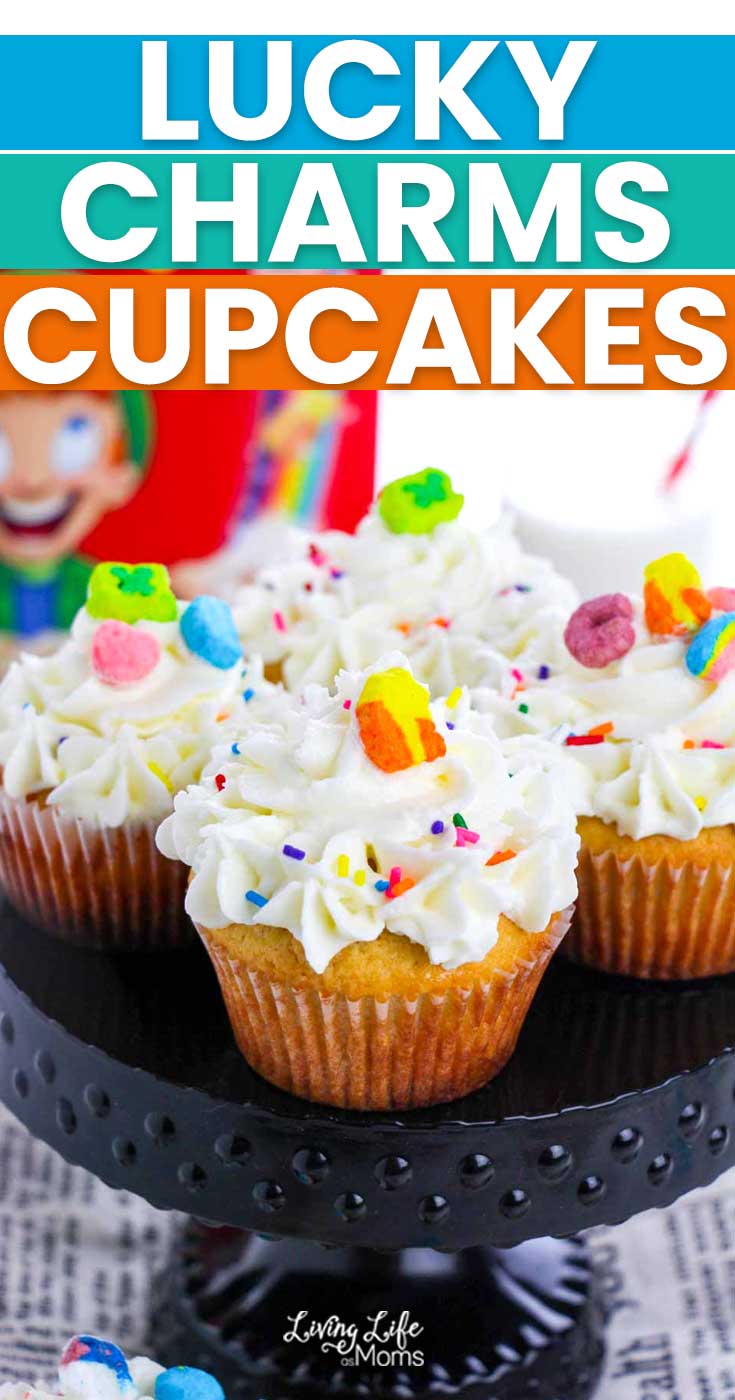 Lucky Charms Cupcakes are the best! Not only can you make homemade cupcakes but you'll be able to eat them with lucky charm marshmallows right on top! This is the best way to eat and enjoy cupcakes time and time again!
When it comes to making a homemade dessert, it's no secret that cupcakes are some of the best! They're fun to make, loaded with flavor, and who doesn't like to carry around their own desserts and eat them on the go?
If you're looking for a super fun treat, these cupcakes have to be it! They're easy, delicious, and perfect for St. Patrick's Day or any time of the year!
Make sure to check out my Lucky Charms Yogurt Parfait for another super fun treat!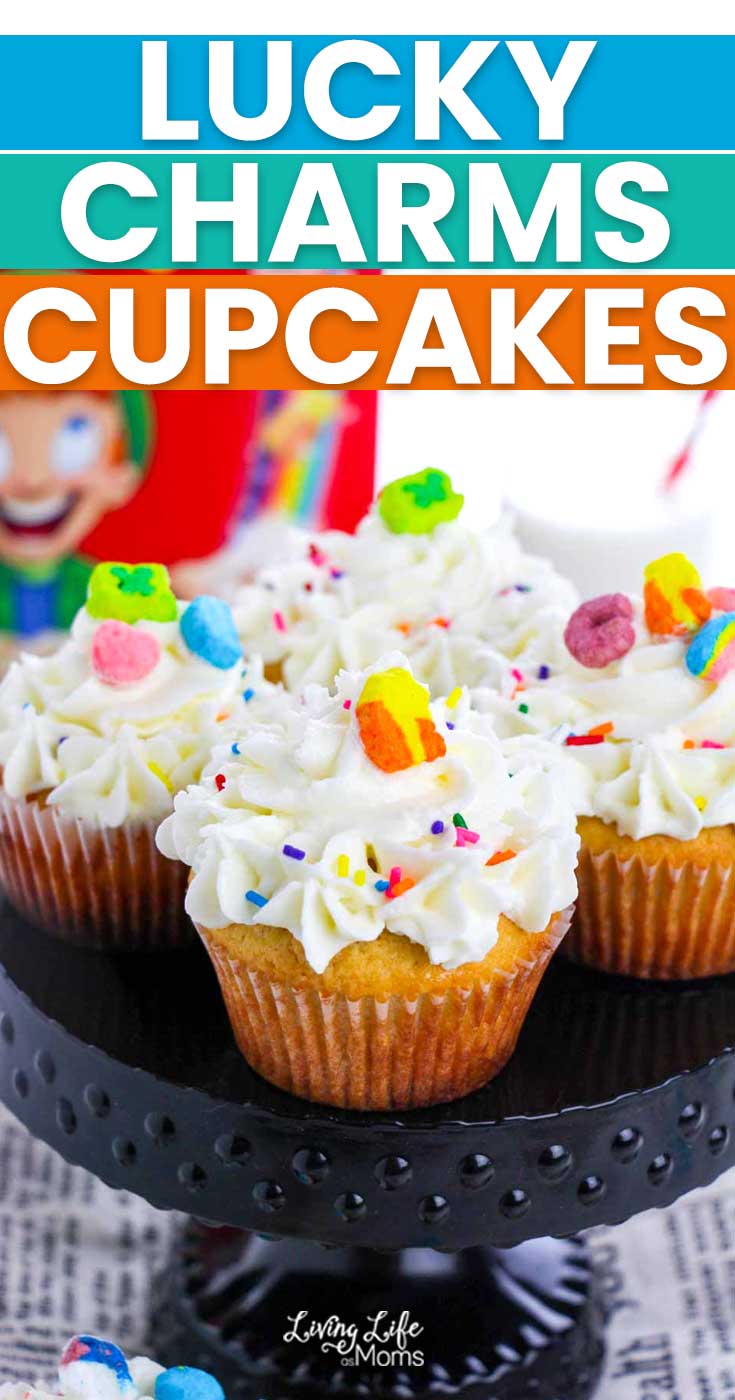 Lucky Charms Cupcakes
Anytime we can make a fun dessert, we're going to do it over and over again. This is because everyone loves a sweet treat and loves being able to dive in and make them. I LOVE how easy these are to make and they're always a hit. The kids love to help with the mixing and creating and I love being able to sit back and watch them join in on the cooking fun.
Creating together in the kitchen is one of my favorite ways to bond. It's not only fun to create tasty foods but then we all get to sit around and enjoy eating it as well! For me, that's a huge win! The kids love that the end results are cupcakes topped with lucky charms!
If you're ready to find out how to make these lucky cupcakes, you're in for a true treat!
Ingredients needed to make Lucky Charm Cupcakes
Milk
All-Purpose Flour
Baking Powder
Cornstarch
Salt
Butter
White Sugar
Eggs
Vanilla Extract
How to Make Homemade Frosting
Butter
Cereal Milk
Vanilla Extract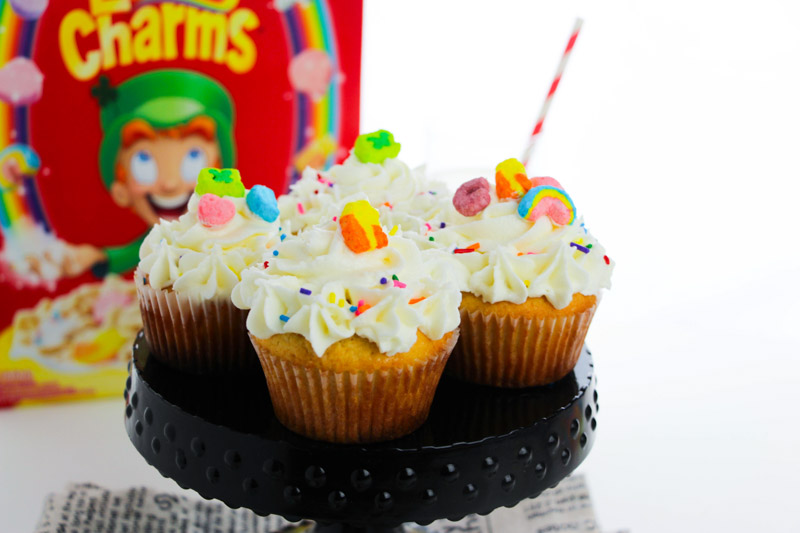 How to make homemade cupcakes with homemade frosting
Once you start making your own cupcakes from scratch, you're never going to want to buy them premade ever again. There's just something so delicious about freshly baked cupcakes straight from the oven!
The ingredients to make cupcakes are simple which is why people need to make them more! It's a fun recipe to make and even more fun to eat!
Once you've made the cupcakes and baked them, the cooling process is one of the most important parts. If you try and frost the cupcakes too early, all the frosting is going to slide right off, causing a huge mess.
Let the cupcakes completely cool down, then frost them. Since this recipe has you making your own frosting as well, you can use this time to make the frosting while the cupcakes are cooling down.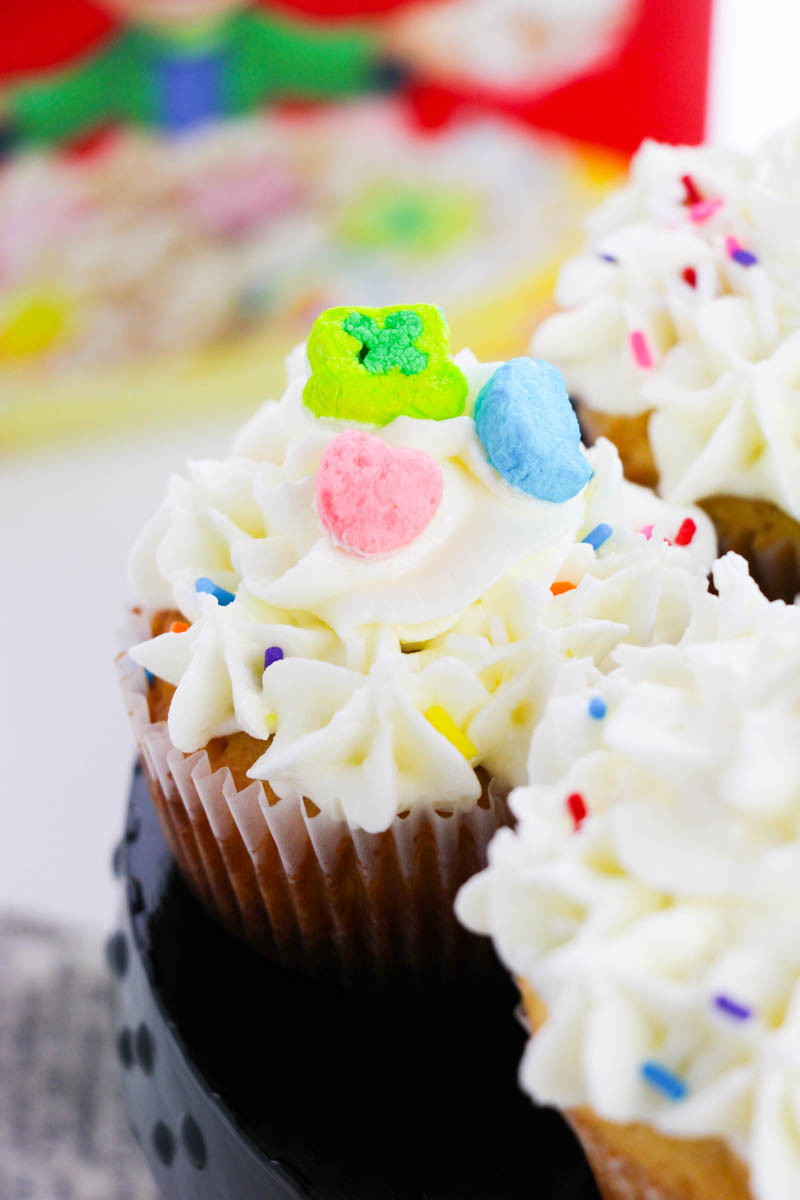 When you're frosting the cupcakes, you can either be fancy or not. Some people use a frosting bag and a tip to apply the frosting, which is totally up to you.
If you don't have those items, don't rush out and buy them. Instead, just use a knife and smooth on some frosting on top or let the kids take over and do this part!
Tips for making cupcakes
Making cupcakes isn't overly hard to do, but there are a few tips to keep in mind.
Be sure that you mix the ingredients well but not too well. You just want to have a smooth cupcake batter without any lumps.
Don't overfill the cupcake liners. I always fill mine about 3/4 full because they will raise a little bit once they're baking. If you fill them too full, they're going to overflow and cause a big mess. To avoid this, don't overfull.
If you happen to frost the cupcakes too early, the frosting is either going to melt off the cupcakes or melt into the cupcakes, either one. The good news is that you can just made and add more. The bad news is that this will take more time.
To store your cupcakes once they're decorated, you're going to want to keep them in an airtight container. I have a cupcake container that I like that has a high lid so that it doesn't mess up the frosting.
If you want to freeze cupcakes, you totally can! Just freeze the cupcakes WITHOUT the frosting on them for the best results. Once you're ready to eat them, you can then make the frosting homemade and add it to the top!
What other toppings go well with cupcakes?
Since these cupcakes are all about the lucky charms, that's always my go-to topping! You can always add on mini chocolate chips, chocolate shavings, whipped cream, and even a cherry on top, too!
A fun way to change up the toppings is to set out some options and let the kids make their own. They'll love being able to add what they want and then chow down!
Fun Ways To Share These Lucky Charms Cupcakes
Don't forget that when it comes to food, sharing is caring! The kids will love giving these to someone else to enjoy! Since this simple cupcake recipe makes 18 cupcakes, you can easily divvy up the bunch and hand it out to family and friends.
The more, the merrier when it comes to spreading good food!
Lucky Charms Cupcakes
This simple cupcake recipe makes 18 beautiful cupcakes!
Ingredients
3 cups of Lucky Charms, pick the marshmallows out of the cereal
2 cups of Milk (you'll only be using 3/4 cup in the actual cupcake batter)
1 1/4 cups of Flour
1 1/4 tsps of Baking Powder
1 T Cornstarch
1/4 tsps Salt
1/2 cup of soft butter
2 T oil (vegetable or coconut)
3/4 cups of Sugar
2 Eggs at room temp
2 tsps vanilla
How to Make Homemade Frosting
1/2 cup of soft butter
3-4 cups of Powdered Icing Sugar
2 T milk from the cereal
1 tsp of Vanilla Extract
Rainbow Sprinkles
Instructions
Preheat oven to 300 degrees. Spread the cereal (no marshmallows) on a baking sheet and cook for 15 minutes. Stir the mixture halfway through and then allow to cool.
Put the cereal and milk in a bowl and let the mixture soak together for 15 minutes.
Drain the cereal milk and save it and toss out the cereal. (or eat it!)
Preheat the oven to 350F.
Put cupcake liners in the pan.
Whish the baking powder, flour, cornstarch, and salt in a bowl. Set aside.
Grab a different bowl and beat the butter, sugar, and oil together for 2 minutes. Beat the eggs in as well as the vanilla and 3/4 cup of the cereal milk.
beat the dry ingredients from the bowl until just mixed.
Put the batter into the liners and bake for 24-28 minutes.
Let the cupcakes cool down before adding frosting.
Beat the butter, 2 T of cereal milk, vanilla extract, and 3 cups of powdered sugar together in a bowl.
Mix for about 2 minutes until you get a good frosting texture.
Put the frosting into a piping bag that has a star tip.
Put dollops on the edges of the cupcakes and then a swirl in the center.
Put the Lucky Charm marshmallows on top as well as the sprinkles!
More Delicious Recipes
Don't forget that I have a ton of other yummy recipes, too! What a fun way to treat your tastebuds and your tummy!
Do you love cupcakes? check out these cream soda cupcakes that you're certain to love! Full of so much flavor and taste and so delicious!
Keep a check on these cupcakes for the winter months! They're so much fun and simple to make!