PurpleTrail Planner Review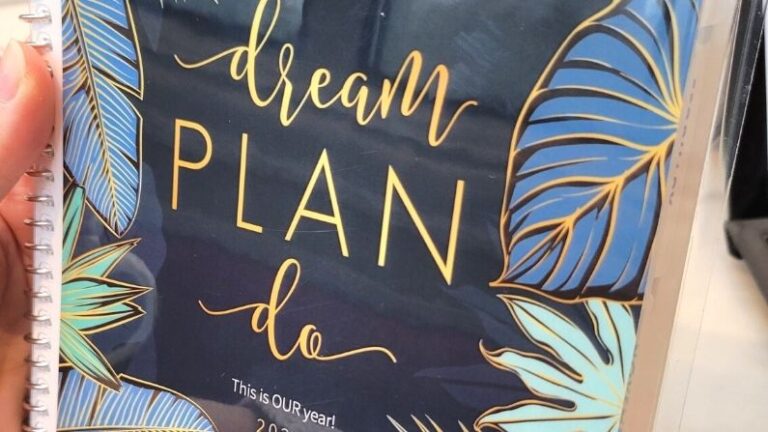 This is a VERY THOROUGH Purple Trail Planner review of their coiled Daily Planner, after using this planner for SIX months!
The PurpleTrail Planner is a great planner choice for moms who love keeping their to-do lists in their planners.  The Purpletrail Planner's ridiculous customization options and thought-out monthly & weekly spreads make it easy to create the best planner fit for you.
The Purpletrail Planner's Available Designs & Options:
Cover Options:
This planner has almost double the number of cover options of the Erin Condren planners. I counted and there are 504 covers to choose from!
There are THREE types of covers to choose from:
Laminated: perfect for wet-erase markers, sturdy yet flexible, very lightweight
Synthetic: flexible, waterproof & tear-proof
Hard Book Cover: exactly how it sounds, very sturdy (but also a bit heavier)
There are lots of cover themes to choose from, including:
Metallic
Floral
Abstract
Solid
Quotes and Affirmations
Nursing
Teaching
Wedding planning
Harry Potter, and many more
You can also custom-make your own cover with any picture you want!
I ordered the LAMINATED cover, in the Elegant Foliage Pattern:
Month Options
The absolute BEST feature of the PurpleTrail Planner collection is that you get to pick your starting month!
So for example, if you buy your planner in March, you can choose April as your start month.
You don't have to start it in January and waste three months of planner space.  This is a MAJOR benefit that saves money.
Planner Length Options
The PurpleTrail Daily/Weekly planners have FIVE length options:
6-month
9-month
12-month
15-month
18-month
Two Planner Size Options
PurpeTrail Planners have TWO size options:
6in x 8in, and
8.5in x 11in
My PurpleTrail Planner is 6x8in, and I feel like it's nice & compact, and not too small for me to write in. Here's a pic with my hand for reference: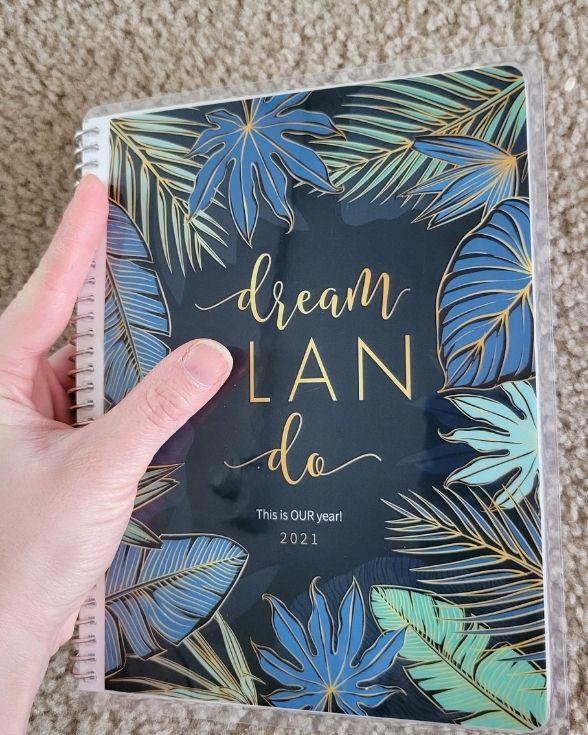 ALL the PurpleTrail Planner "Interior Layout" Options…
This planner has NINE layout options, PLUS an option to create your own custom layout:
Horizontal Weekly
Vertical Weekly
Vertical Hourly (1 hour increments)
Vertical Hourly (15 minute increments)
3 Section Weekly
Quad Weekly
1 page/day
2 pages/day
Monthly Grid
For the last six months, I have been using the Quad Weekly: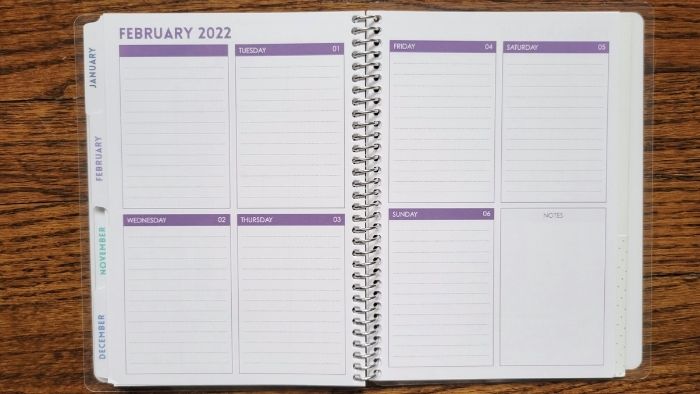 You can see all of the PurpleTrail Planner inside layout options here, about halfway down the page.
PurpleTrail Planner Coil Color
This planner has one coil color option, silver/platinum.
I really don't look at the coils at all on any of my planners, and this coil isn't a big, thick coil so it really doesn't stick out.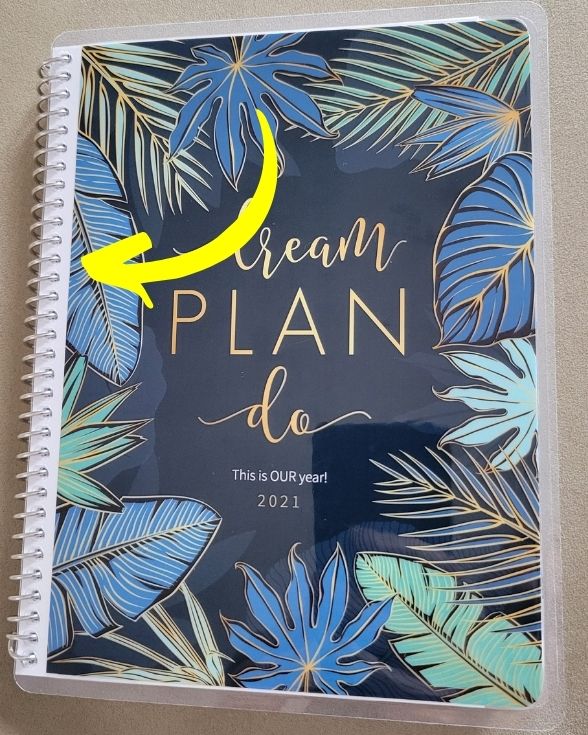 Interior Design Color Options
This planner has two color options, which are for the highlight colors on the planner pages:
Both interior options are minimal, and there is a lot of white space to decorate.
Planner Add-On Pages
Instead of having to figure out how to use a planner's random extra pages yourself, PurpleTrail Planner lets you pick out up to four of your own styles to add to your planner.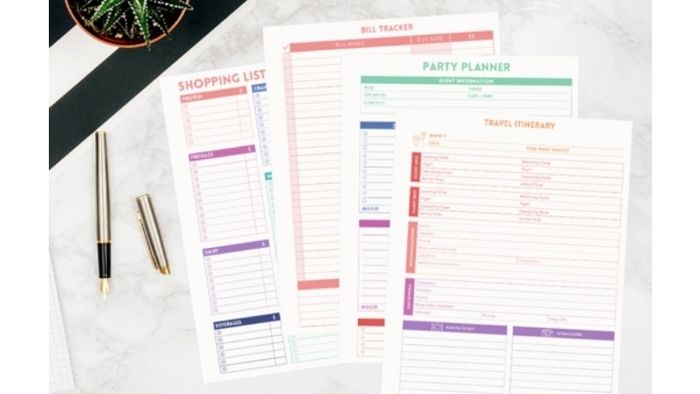 You can choose from over 30 page styles, and they let you have them all either at the back of your planner, or spread out at the end of each month.
I chose the to-do list page at the end of each month. It was fantastic for remembering random monthly home maintenance tasks, events and stuff like that: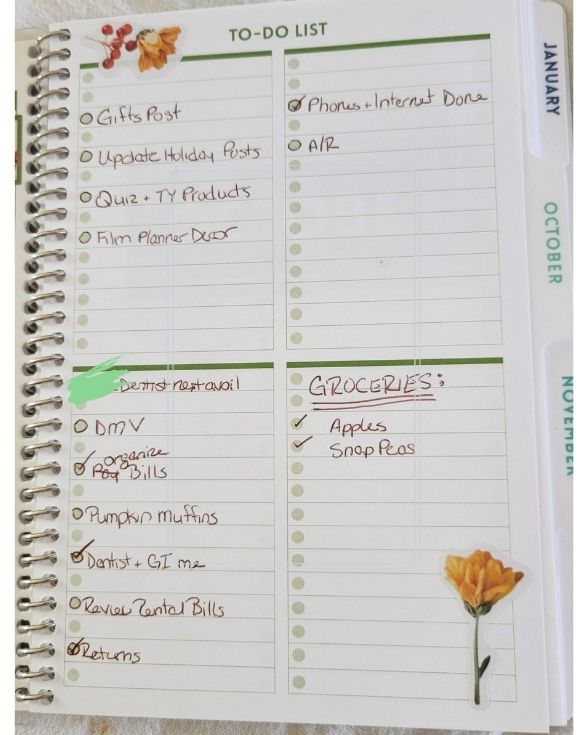 Learn more about how to customize the layout of your PurpleTrail Daily/Weekly Planner here.
Cover Customization Options
You are able to customize pretty much everything about the inside and outside of your PurpleTrail Planner covers.
Once you've picked out your cover, click on the green "personalize" button to customize/add text, images, stickers:
Inside the PurpleTrail Weekly Planner: Overview of Each Page
The Functional Pages at the Beginning of the PurpleTrail Planner
The first page is your standard "This Planner Belongs To" with space for your contact information: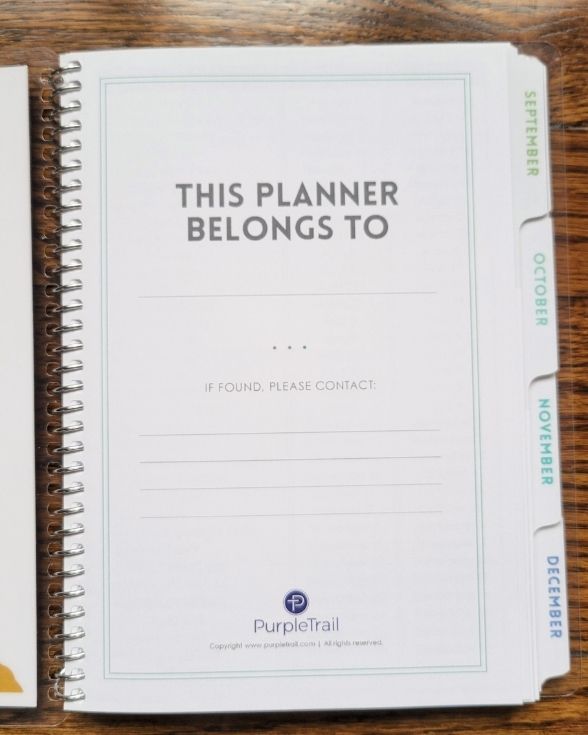 The next page is a list of American holidays for your start year plus the year after.  I started my planner in Sept 2021:
Then the year-at-a-glance pages for both your start year and the next year.  You can really see the colorful layout in action here – I really like the colors, they are bright and remind me of skittles: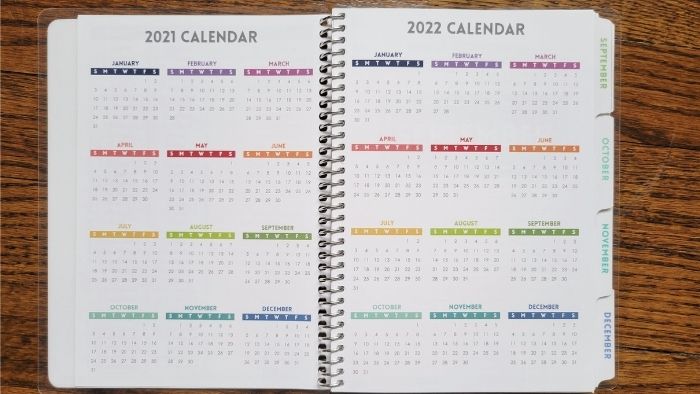 Then one lined note page, and the start of your first month.  Each month's page is tabbed and also dot-grid…
Pages Inside Each Monthly Tab
Between the tabs of each month are your:
Month Dashboard,
Month Layout,
Weekly or Daily Spread, and
Your extra add-ons pages, if you decided to add any on.
The Month Dashboard
The Month Dashboard includes a dot grid page on the left, and on the right is space for birthdays, events and things to remember:
The Month Layout
The squares of each month in my 6in x 8in planner are a compact 1 1/6" wide by 1 1/8″ tall.  I was intentional with my handwriting and was able to fit appointments, events and things into the squares, along with a few fun stickers here and there.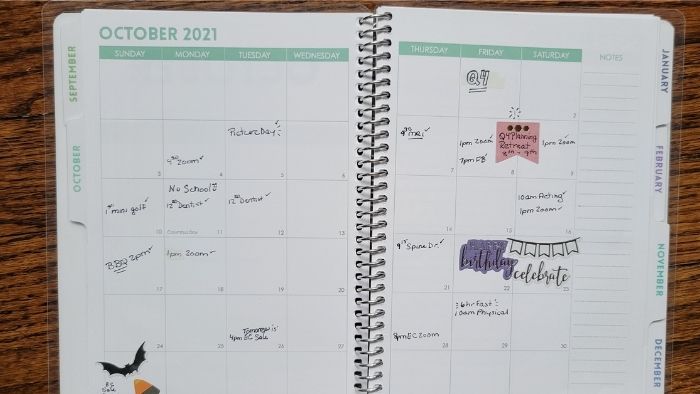 There is also a Notes section on the right side.
I am also happy that the page is white, so I can use white-out or a white jelly pen if needed for mistakes.
The Weekly Spread
My PurpleTrail Planner is a Quad Weekly spread. Each day has its own square, with 13 lines creating 14 spaces to write. There is also an extra Notes box on the right page:
This quad weekly layout worked so well for me for keeping "to-do" and "done" lists for each day.
My Planner Add-On: The To Do List
I chose the DIstributed To Do list as a planner add-on. That means I have a 1-page to do list (front and back) at the end of each month, instead of a bunch of to-do list pages at the back of my planner: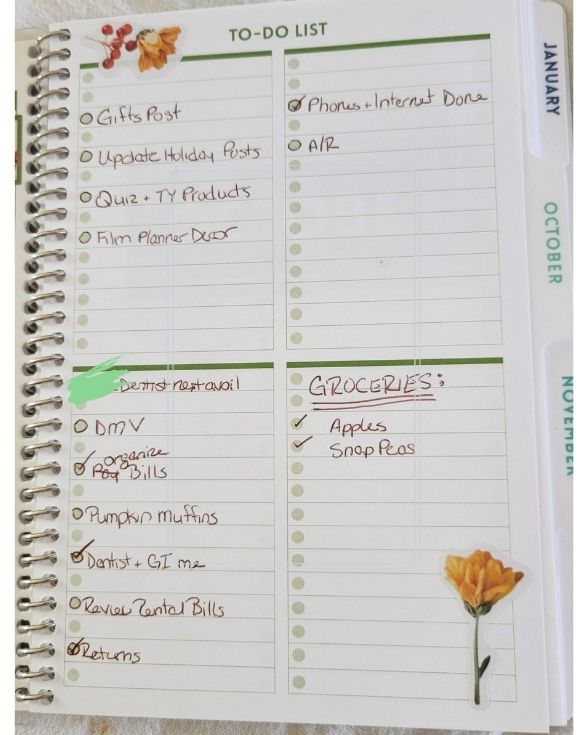 This page was great for keeping track of random things I needed to jot down, but not in any particular day. It was nice to have a little space to check things off as I did them, instead of writing the task down on a random day and then losing it once the weeks go by.
My Planner Add-On: The Back Pocket
I also added on a 2-sided pocket at the back of my planner. I keep appointment reminders, stickers, coupons, and any random smaller papers that I don't want to lose:
PurpleTrail Planner Accessories
PurpleTrail Planner gives you the option to add some planner accessories to your cart, like:
Bookmarks,
Pens, Pencils & Markers
Pen Pouches that fit onto your planner,
Sticky tabs,
Weekly notepads, and
Personalized Notepads
Stickers You Can Customize
A really great option from PurpleTrail is that they have a big selection of functional stickers that you can customize: 
You are able to change the words on each sticker to say anything you want: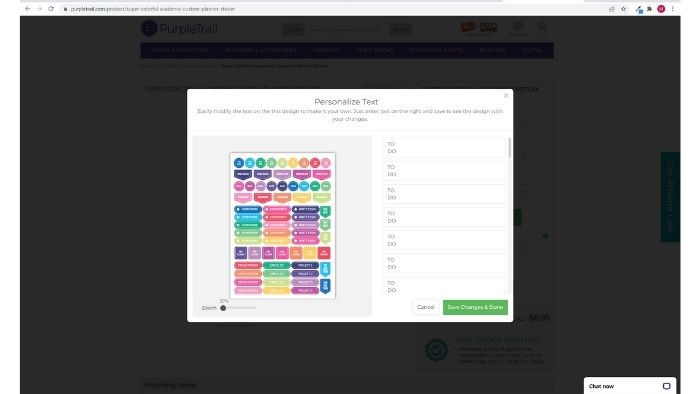 PurpleTrail Planner Pros & Cons
Pros:
The laminated cover is very lightweight.
The 6in x 8in planner size, although compact, still has enough room to write and use stickers.
It's made in the USA.
Their standard processing time for shipping is 2-3 business days, which is MUCH faster than other planner companies.
Cons:
The font is pretty standard/not decorative.
My thicker highlighters and markers both bled through the pages, so you should stick to using stickers, pens/pencils and thinner markers.
Why the PurpleTrail Planner's Quad Weekly Layout is a Great Choice for Moms
So I used this planner for about six months and the two things that I loved the most were the actual weekly layout, and the to-do list add-on.
The quad layout gave me the kind of structure I didn't know I needed – it limited the space I had for each day, so I ended up using the space really intentionally. I kept my list-making to the important stuff, and it helped me stay focused.
The To-Do List add-on was super-helpful in keeping track of those tasks that you don't want getting lost in the week pages.
Any Purpletrail Planner Coupons?
Right now, you can get 15% off of your purchase when you use their discount promo code "GET15OFF"
Also, you get 10% back in rewards points with every purchase, which never expire and can be used any time to discount future purchases.
PurpleTrail Planner Return Policy
This planner company generally does not accept returns or cancel orders, mainly because the planner is sooooooo customized.
However, if you have a problem or are unhappy with your order, you can call them and they will try their best to work with you to fix the problem.
You can find their return policy here.
Here are some more posts you may find useful: