How to Make Geode Bath Bombs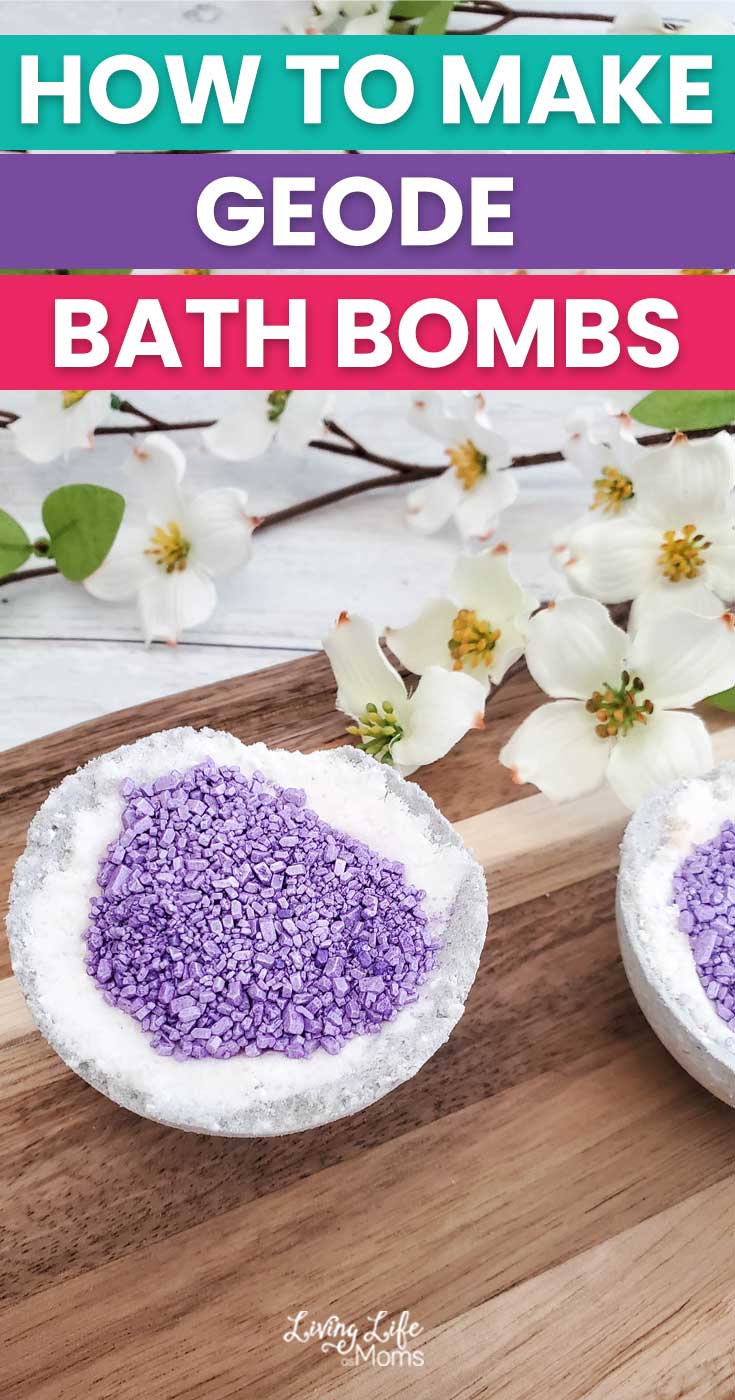 Learn how to make geode bath bombs with this easy step-by-step process! Who says that you have to spend a fortune on bath bombs with you can easily make your own affordable options right at home?!
I'm a huge fan of this geode bath bomb recipe because it's easy to make and looks really cool. It's perfect for a spa day at home or makes a great gift to share with family and friends.
The sooner that you make these DIY geode bath bombs, the better! There's nothing quite like treating yourself in the bath at the end of a long day!
Make sure to check out my Homemade Lavender and Eucalyptus Bath Bomb Recipe for another bath bomb recipe that smells amazing.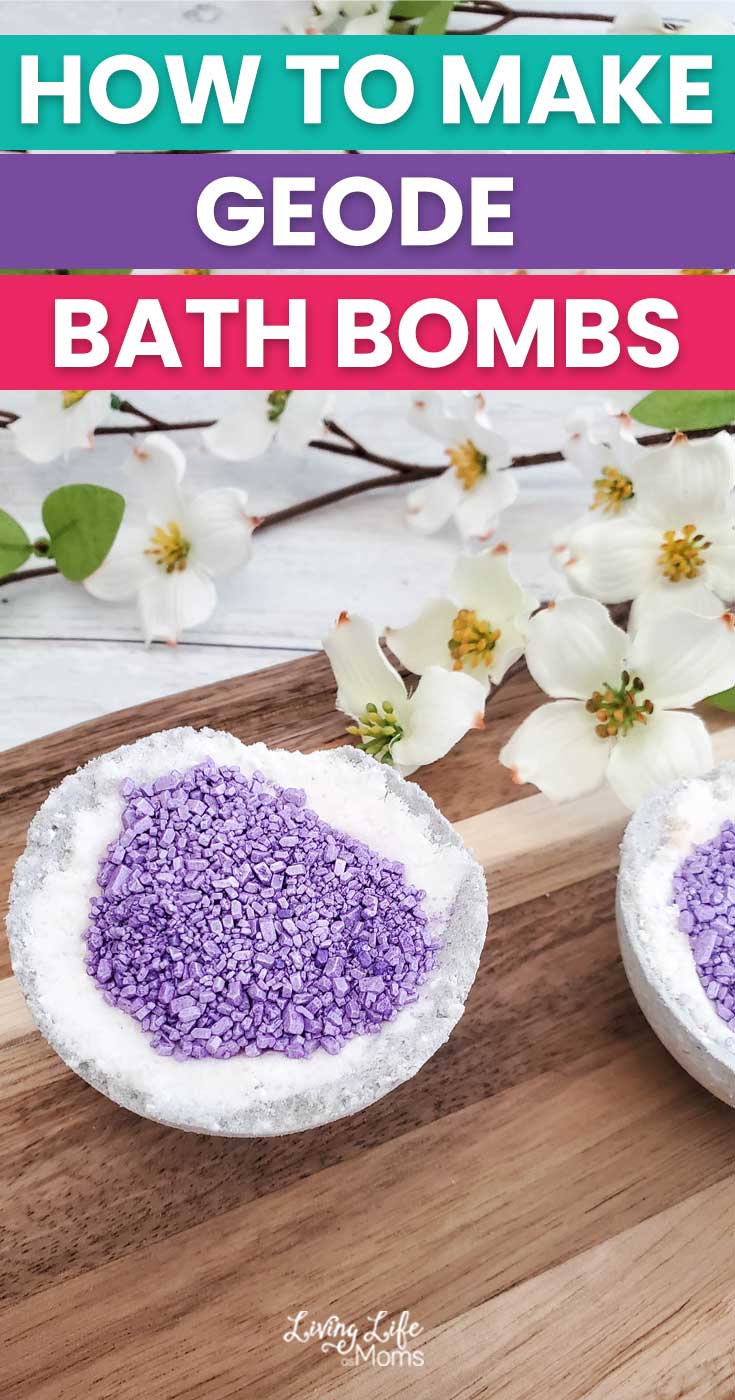 How to Make Geode Bath Bombs
People always talk about the want to make their own bath bombs, but then that's the furthest it goes. I'm here to tell you…making bath bombs isn't hard to do at all! Once you get started, you're going to be addicted as well – so be ready for that.
The first time that you make bath bombs you may have a bit of a learning curve but stick with it and amazing things will happen. After your first round you'll be an old pro and loving life in the DIY bath bomb world.
Supplies needed to make Geode Bath Bombs
Just gather up the following supplies to get started on making these bath bombs. The great thing about bath bomb recipes is that the majority of them will use the same supplies so keep the leftovers for your next batch.
Baking soda

Citric acid

Cornstarch

Epsom salts

Water

Whisk

Small jar with lid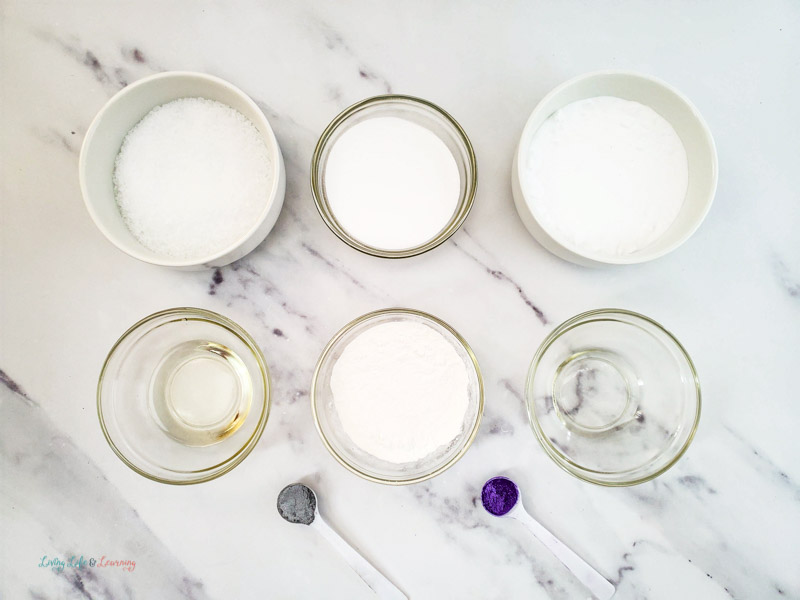 How to make DIY Geode Bath Bombs
Make sure to scroll down to the bottom of the post to get the full printable recipe with all the steps.
Once you make the bath bomb mixture, you'll be filling half of the mold with it. Packing it in there nice and tight is what will end up holding it together once it firms up and dries.
Depending on the amount of purple mica powder that is used is how dark the purple will be. Have fun with this as it can change up the look!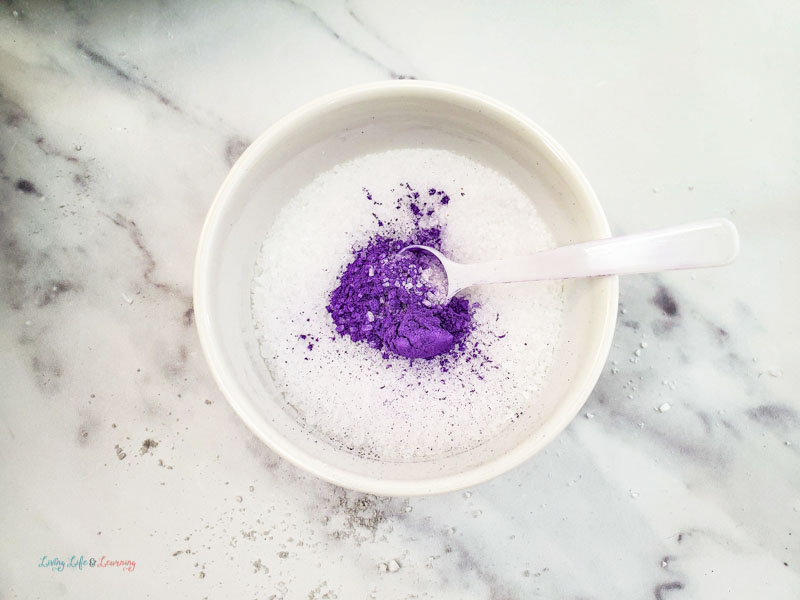 Scoop out some of the purple and then put it into the center of half of the bath bomb. This gives the bath bomb that geode look and will look super cool in the water.
The cool thing about these homemade bath bombs is that they're halved to look the geode rocks. The center is really quite stunning and looks really unique compared to other bath bomb recipes.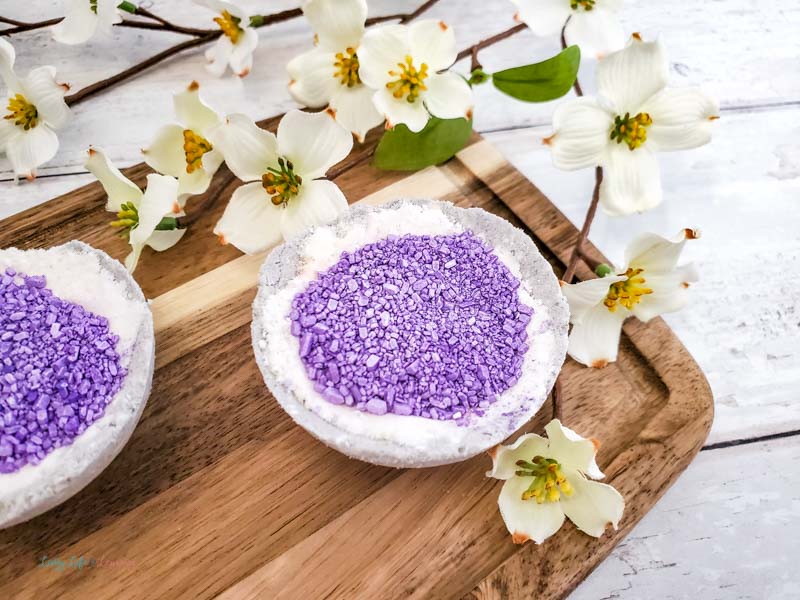 How long does it take bath bombs to harden?
I recommend letting them firm up for at least 24 hours. If you try and remove them too soon, there's a high probability that they crumble and fall apart and no one wants that! You can easily wait at least 24 hours to be sure that the bath bomb is set and ready.
What happens if my bath bomb crumbles?
Sadly, sometimes things like this happen. I'm a believer in not wasting things so this would be a time that I'd keep those crumbles for myself and still use them in my tub!
I totally understand not wanting to give anything that isn't perfect as a gift so try again until you get it right. Just a little bit of practice will pay off!
How do you store bath bombs?
This is the great thing about bath bombs. Once you make them, they're shelf stable as long as you store them in a dry place. I like to add mine to a jar with a lid and keep them sitting on my shelf.
You can also add them to an airtight container so that they're able to stay as fresh as possible for as long as possible.
Are bath bombs good gift ideas?
Absolutely. Giving bath bombs is a great way to show someone that you're thinking about them. Any gift idea that you're able to make homemade shows that you put in time and effort.
To give bath bombs as a gift, you can give one bath bomb, or multiple – it's really up to you. This recipe makes 8 bath bombs so you can easily keep a couple for yourself in the process!
If you're giving these bath bombs as a gift, put them in a cute little jar or box with a ribbon before giving them. This spruces the gift up and adds to it!
Do bath bombs expire or go bad?
I don't know if they're ever going to "expire" per se but they will lose some of their smell or scent if they get too old. I think that as long as you use them within 30 days of making them, you shouldn't have any issues at all with them.
How to Make Geode Bath Bombs
This unique bath bomb recipe is easy and beautiful to make!
Materials
½ cup of baking soda
¼ cup of citric acid
¼ cup of cornstarch
½ cup Epsom salt
1 tsp of silver grey mica powder
1 tsp of purple mica powder
1 T of sweet almond oil
½ T water
Large bath bomb molds
Whisk
Small jar with lid
Instructions
Put the citric acid, baking soda, 1/4 cup of the Epsom salt, and the cornstarch into a bowl and stir. Use a whisk to stir.
Add the oil and water to a jar with a lid and shake.
Slowly add the liquid to the dry mixture and use a whisk to stir the whole time.
Remove 1/3 cup of the newly mixed mixture and put it aside in a small bowl.
Put the silver mica in the larger bowl and stir.
Put one mold full halfway with the mixture and then press around the sides. This should coat the whole mold with silver. Repeat for all the molds.
Put a spoonful of the mixture that has no color in the middle and press down. You should still see the gray around the edges.
Let the bath bomb sit for a day, then remove from the mold by pushing on one side gently.
Put the purple powder with Epsom salts and stir.
Put a small spoonful into the center of each and make sure you can still see the white and gray edges.
Store in a flat container.
If you're looking for another super simple recipe, I've got more for you to check out like this DIY Unicorn Sugar Scrub Recipe that will make your skin feel more amazing!
More Bath Bomb Recipes
Once you make your first bath bomb, you're going to want to make more. The good news about bath bombs is that you can make a wide variety for kids, adults, friends, parties, and fun, too! Here are some other great recipes for bath bombs that you should try.
How to Make Rainbow Bath Bombs
These would be perfect for St. Patrick's Day, birthdays, or a fun craft for the kids to join in on as well. They're so easy to do!
DIY Mermaid Bath Bomb Tutorial
Do you have a mermaid party coming up? These Mermaid bath bombs are the best! They'd be great to have as a parting gift for the guests or to make during a slumber party for everyone to take home with them the next day.
DIY Unicorn Bath Bomb Tutorial
This is perfect for a unicorn party! Check out how you can easily make unicorn fun easily happen with this bath bomb recipe!