DIY Unicorn Bath Bomb Tutorial
You're not going to want to miss out on this DIY Unicorn Bath Bomb Tutorial. This simple activity will have everyone in the house loving to create their very own homemade bath bombs.
Because why spend money at the store on items that are full of chemicals when you can easily make your own at home? The difference between these bath bombs and others is that there are fun little sparkles that are hidden within.
See related: Best Homemade Bath Bombs
When the kids add these DIY bath bombs to their bath, they're going to love watching them dissolve to see all the bright and fun colors. Such a fun and easy way to create something useful that will help make bath time a lot more fun!
Recommended Unicorn Gift Set
Do you have a unicorn lover in your home? You can't go wrong with any of these fun unicorn gift ideas.
Beinou Unicorn Dream Catcher Colorful Feather Dream Catchers Handmade Flowers Dream Catchers Wall Hanging Dream Catcher for Girls Kids Nursery Bedroom Decoration Blessing Gift

Doctor Unicorn Soft Unicorn Hooded Stripe Bathrobe Sleepwear – Unicorn Gifts for Girls (Rainbow, 6 Years)

Drawstring Bag for Unicorn Gift for Girl Include Necklace Bracelet Hair Tie

Unicorn Gift Set – Includes Book, Stuffed Plush Toy, and Headband for Girls – If I were A Magical Unicorn – Great for Birthday, Christmas, Imaginative Play

2Pepers Make Your Own Unicorn Pillow Kit Arts and Crafts for Girls (No Sewing Needed), DIY Stuffed Plush Pillow Craft kit for Kids, Unicorn Gifts for Girls, Unicorn Doll Bedroom Decor Project

Mibasies Unicorn Gifts Kids Purse for Little Girls

DIY Unicorn Bath Bomb Tutorial
We're big fans of anything unicorn in our house. The bright colors, the magic, the excitement…it's all good. So I knew without a doubt that the kids were going to be over the moon happy once we made these simple bath bombs.
I also like that I can add in essential oils as well because that just takes the scent and smell up a notch to a whole other level.
As you can see from the picture below, these are pink with bright little "sprinkles" of color. As the bath bombs dissolve in the water, those sprinkles are certain to bring out some giggles.
It's fun to see the water changing color and hearing it fizzle a bit and then to see all those sprinkles floating around, doing their own thing, as well.
There's a good chance that the kids are actually going to WANT to take a bath once you make these simple bath bombs. (and this recipe isn't just for the kids – I use these too and they're totally relaxing and fun for an adult as well!)
And if you like bath bombs, check out these Rainbow Surprise Bath Bombs, too!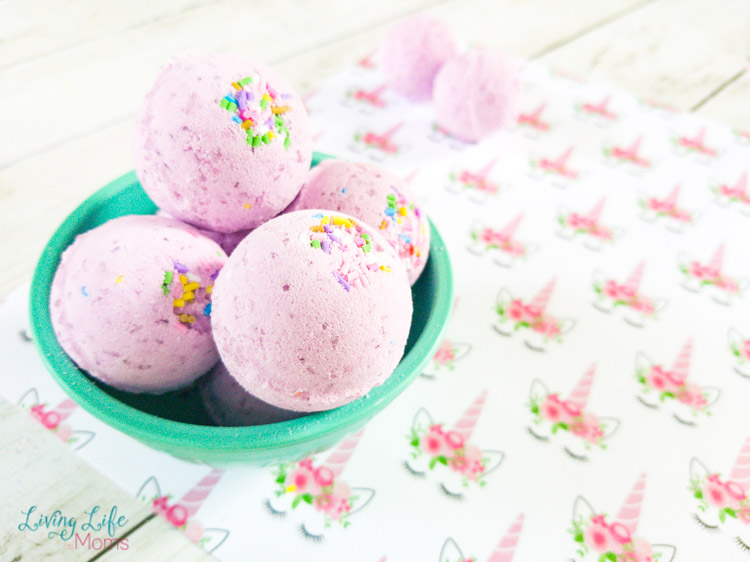 DIY Unicorn Bath Bomb Supplies
All you need to get started is listed below. This simple supply list will provide you with plenty of leftovers as well so you can make this simple bath bomb recipe over and over again.
Baking soda
Citric acid
Corn starch
Epsom salts
Water
Food coloring
Small sugar candies or sprinkles
Optional: 10 drops of essential oils of your choice
Bath bomb molds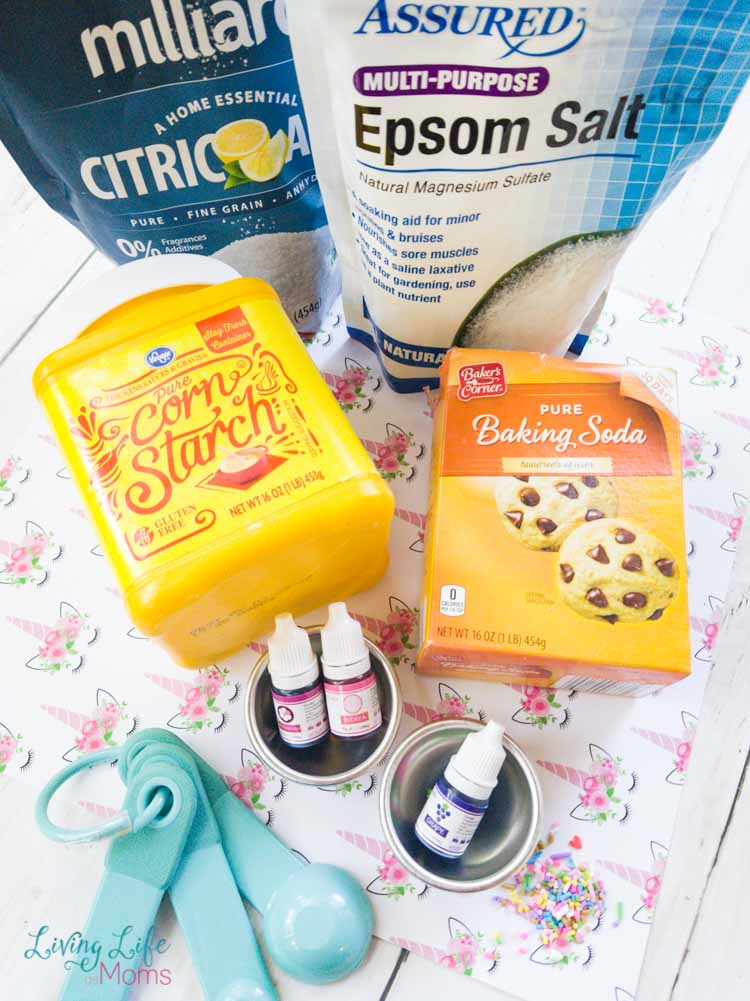 The kids will be able to help measure, mix, and read the directions to create these fun bath bombs.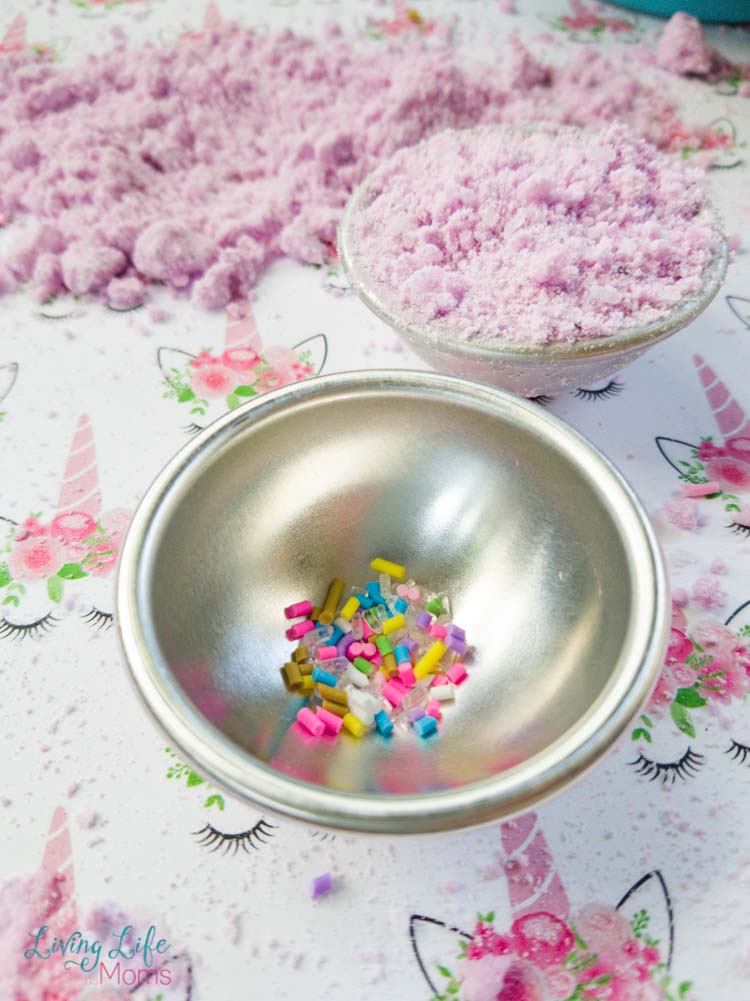 Once you have the supplies, it's time to get started. The entire printable recipe is listed below that will give you the exact measurements and steps.
Make certain that when you're adding the wet bath bomb mixture to the bath bomb mold that you're really packing it in there tight so that it forms a hard bond.
This tends to be the biggest "mistake" that people make when creating their own bath bombs…that the mold isn't pressed tightly enough and it then is too lose to form.
Tips For Making Homemade Bath Bombs

If your mixture continues to crumble during the process, try adding another teaspoon of water until a stiffer sand mixture develops. START SMALL and add only a teaspoon at a time.
If your bath bombs are crumbling after you take them from the mold, try leaving them in the mold for 10-15 minutes before removing. Always remove with great care.
How to Store Bath Bombs
Your bath bombs can be stored in an airtight jar or container until you are ready to use them. To use, just drop them into a warm bath and enjoy.
Ready to learn how to make your own bath bomb recipe? Just follow the simple directions below!
DIY Unicorn Bath Bomb Tutorial
Check out how simple this DIY Unicorn Bath Bomb Tutorial is!
Materials
1 cup baking soda
1/2 cup citric acid (this is what will cause the bombs to fizz)
1/2 cup corn starch
1/2 cup Epsom salts (for sore muscle relief) 1 teaspoon of water
food coloring (to get our pink hue, we mixed 3 drops pink and 2 drops purple food coloring) 
small sugar candies or sprinkles in choice of color/design. We used pastel candy sprinkles with lots of pinks and greens. 
optional: 10 drops of essential oils of your choice
bath bomb molds
Instructions
In a large bowl. mix your dry ingredients only. This includes the baking soda, citric acid, corn starch, and baking soda. Mix well.

In a separate bowl, mix the wet ingredients including the water, 5-7 drops of food coloring of your choice, and any 5-7 drops of any essential oils you might be using. Mix well.
Slowly mix the wet and dry ingredients together. Mix very slowly until a damp sand forms. You might see a small amount of fizzing, which is normal. NOTE: If you are not using any essential oils, you may need to add another 1/2-1 teaspoon of water to get this correct consistency.
Sprinkle a small amount of sugar sprinkles into the bath bomb.
Pack each half of the bath bomb with the mixture. You want each half to slightly over flow.
Press the two halves together tightly. Hold in place for 15-20 seconds.
GENTLY remove the bath bomb from the mold. Place it on a cookie sheet to dry overnight.
Notes
A note about ingredients:
- opt for high grade food coloring that bakers and candy makers use, as it not only looks amazing, but doesn't tend to stain like less expensive options.
- any candies you use for your bath bombs should be free of any hard candy coating
More Bath Bomb Recipes