Must-See Family Christmas Movies Bucket List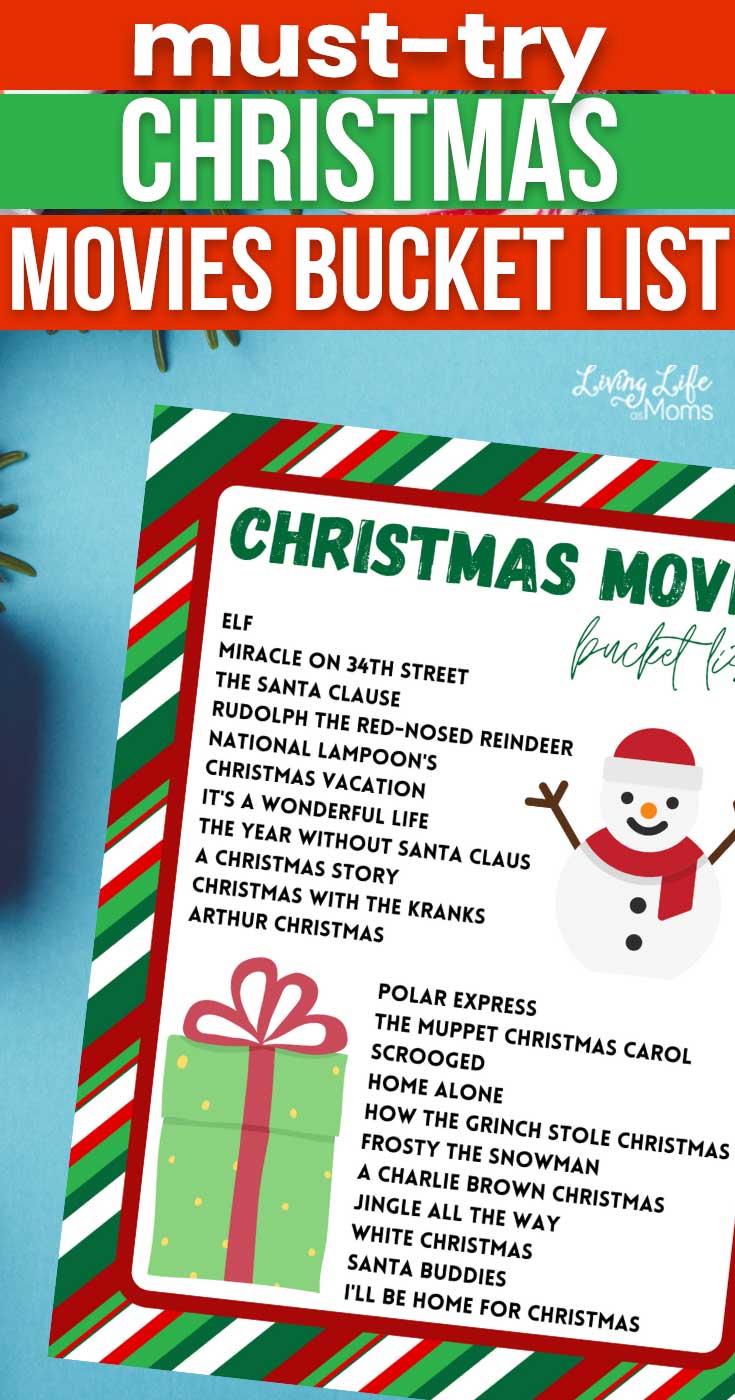 It's so hard to believe that Christmas is literally right around the corner! And if your house is anything like me, we're all ready for some awesome family movie nights. This holiday season, this is the must-see Family Christmas movies bucket list that need to be on your list.
Not only are they family-friendly, but they're full of hope, happiness, and joy as well. We've all had quite the year so ending it with the binging of these movies seem like just about perfect if you're asking me.
Don't forget to pop up some Christmas Peppermint Popcorn, deck the halls, put on your holiday-themed pajamas and just snuggle up with the kids. Everything else on your to-do list can wait because it's holiday movie time!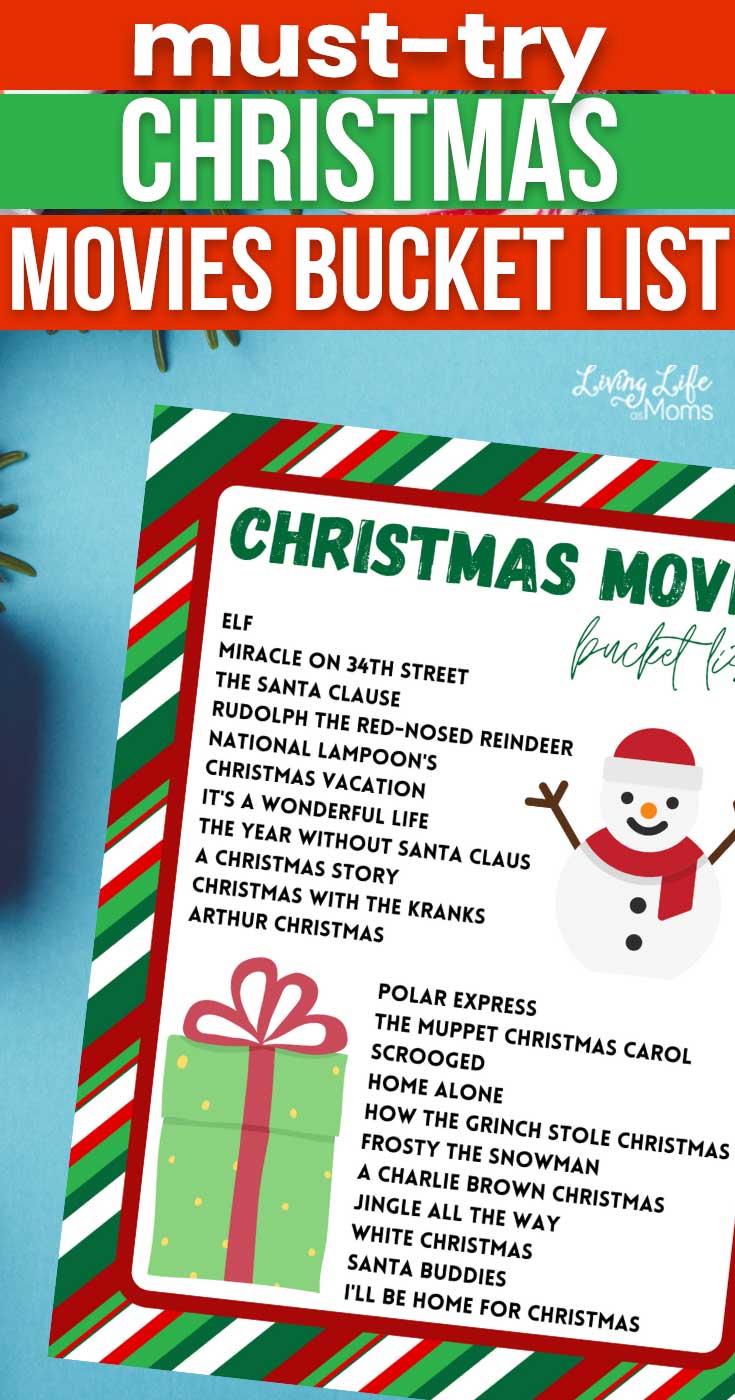 Family Christmas Movies Bucket List
More than likely, you've already watched the majority of these Christmas movies but that doesn't mean that the kids have. Cue them up, grab a blanket, and light the fireplace if you have one.
There's nothing better than the sharing of fun holiday movies!
Recommended Christmas Recipe Books
Making fun Christmas recipes is another great family fun activity as well. Here are some of our favorite holiday recipe books that you can easily draw cooking inspiration from.
The Cozy Christmas Movie Cookbook: Mouthwatering Food to Enjoy During Your Favorite Holiday Films

The Easy Christmas Cookie Cookbook: 60+ Recipes to Bake for the Holidays

Paperback – Features 250 Recipes CHRISTMAS CookBOOK: Betty Crocker Christmas Cookbook

The Christmas Cookie Cookbook: Over 100 Recipes to Celebrate the Season

Paperback – Taste of Home Christmas: 465 Recipes For a Merry Holiday

Christmas Cookie Cookbook: 100+ Recipes cookie Christmas Delicious

This Christmas movie is full of laughs. If you need some holiday cheer that is certain to warm the heart, I highly recommend starting here on the list. There's no denying that Buddy the Elf is just about the cutest elf, ever.
Grab the tissues because there's a reason that this is a holiday classic. It's a great family movie that shows that love and hope are truly part of the Christmas spirit.
I'm bundling these altogether because they're so much fun to watch in order. The kids will enjoy seeing the transformation of Santa in this movie and are certain to be adding a snow globe to their gift list.
RUDOLPH THE RED-NOSED REINDEER
We can't leave Rudolph off the list! He's the most important part of the holiday season because without him, Santa wouldn't be able to deliver all the gifts!
NATIONAL LAMPOON'S CHRISTMAS VACATION
This is a hilarious choice for older kids to watch, and possibly the younger ones as well. Due to some language here and there, you might want to preview it before hand to see what you think.
It is a wonderful life, isn't it? Snuggle up to enjoy this classic movie that is certain to have the kids asking questions and having meaningful conversations with you.
Ralphie is beyond adorable and his love for wanting a BB gun will have you fully entranced in his story. The way that this movie is narrated is top-notch.
A year without Santa? Is that even possible? The kids and you will have to watch this holiday movie to find out!
Sometimes, we all need a break from the chaos of the holidays. Find out how this movie plays out and see what their holiday celebration entails.
We love Arthur! So it makes sense that we want to follow along with his Christmas celebration and journey.
The Polar Express movie offers wonderful graphics and I also highly recommend reading the book as well.
The muppets are the best! This is one Christmas carol that shows them singing, laughing, being a bit crazy, and warming your heart more than they already have.
Who has time for Scrooge? He's definitely part of the holiday season but that doesn't mean that negative outlook has to overpower!
Just because the parents forgot their son at home doesn't mean that he doesn't know how to have a bit of fun. Suspense is also a big part of this movie, too.
HOW THE GRINCH STOLE CHRISTMAS

This is always a must see in our house. We can't get enough of the Grinch, even though his heart might be two sizes too small.
This is another super fun version of the Grinch that we always watch as well.
We like to watch this once the snow falls because it gears us up to head outside and build our own snowman.

We all have a spot in our heart for Charlie Brown, right? He's at little wishy-washy but still adorable.
The characters in this movie made it a really fun and engaging show to sit down and watch.

Dreaming of a White Christmas? You're not going to want to miss this!
Calling all puppy fans! This movie is just too cute to pass up and is "paws"itively perfect!
Will he make it home in time for Christmas? You'll have to watch it to find out!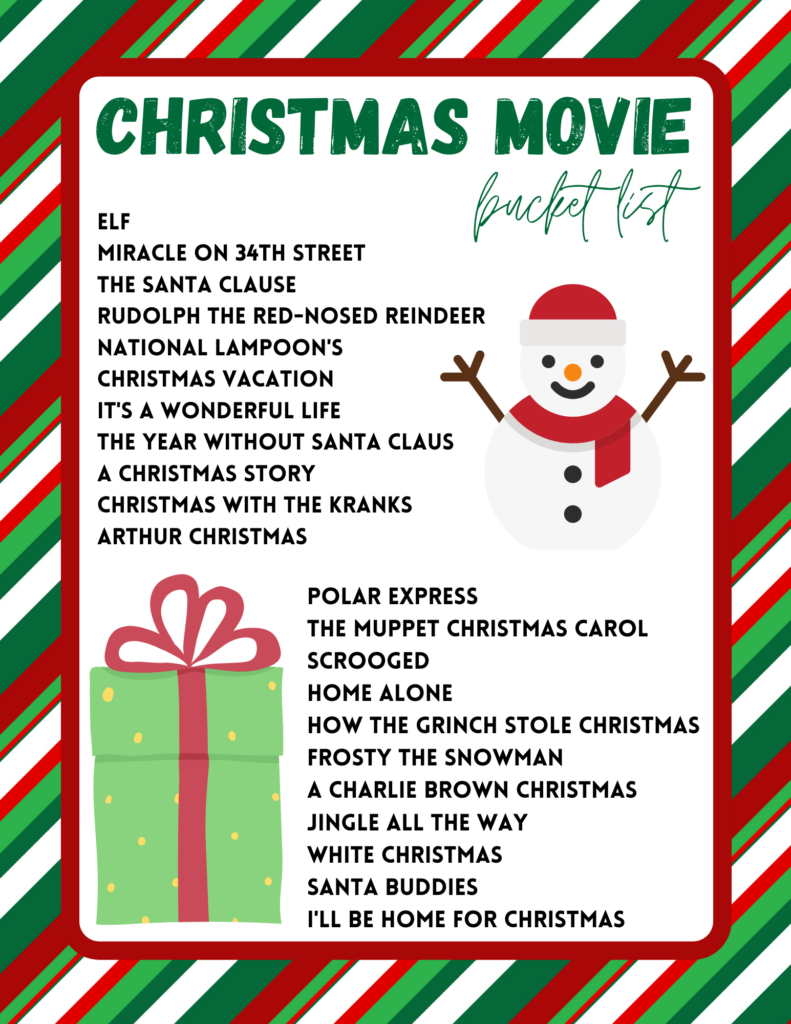 And don't worry, I've created a printable for you that you can check out all the movies as you watch them. That way you won't miss any of them!
Get the Christmas Movie Printable below!
Once you click on the link, the file will automatically save to the downloads folder on your device.
More Christmas Fun
Are you in charge of this year's Christmas Party decorations? Don't worry, I have these Christmas Party Printables to make your preparation hassle-free!
Christmas Wreath Rice Krispie Treats