Christmas Peppermint Popcorn Recipe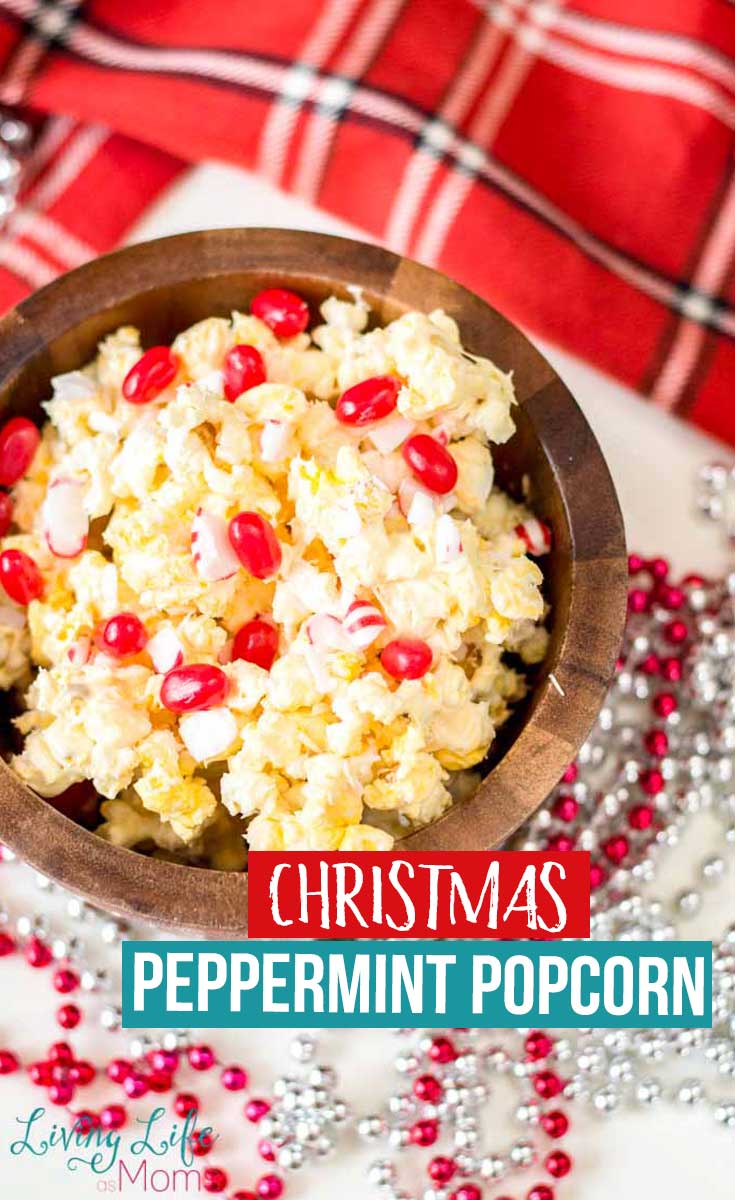 This Christmas Peppermint Popcorn recipe just might become your new favorite holiday or late-night snack. All you need are a few ingredients and you and the family will be snacking away in no time at all.
I'm guilty of just grabbing handful after handful of popcorn when it's in front of me. I just love the taste of the stuff. But what brings me back time and time again to this delicious recipe is that it's got such a fun flavor combination that I haven't been able to find anywhere else.
And you know what they say…when you can't find it, make it! I'm so glad that we did and I'm excited to share this recipe with you as well.
This is a fun recipe to snuggle up with and watch Christmas movies or to make and share with your family and friends. The flavor of this Christmas Peppermint Popcorn is going to have you loving every single bite!
Related: Mouth-Watering Popcorn Recipes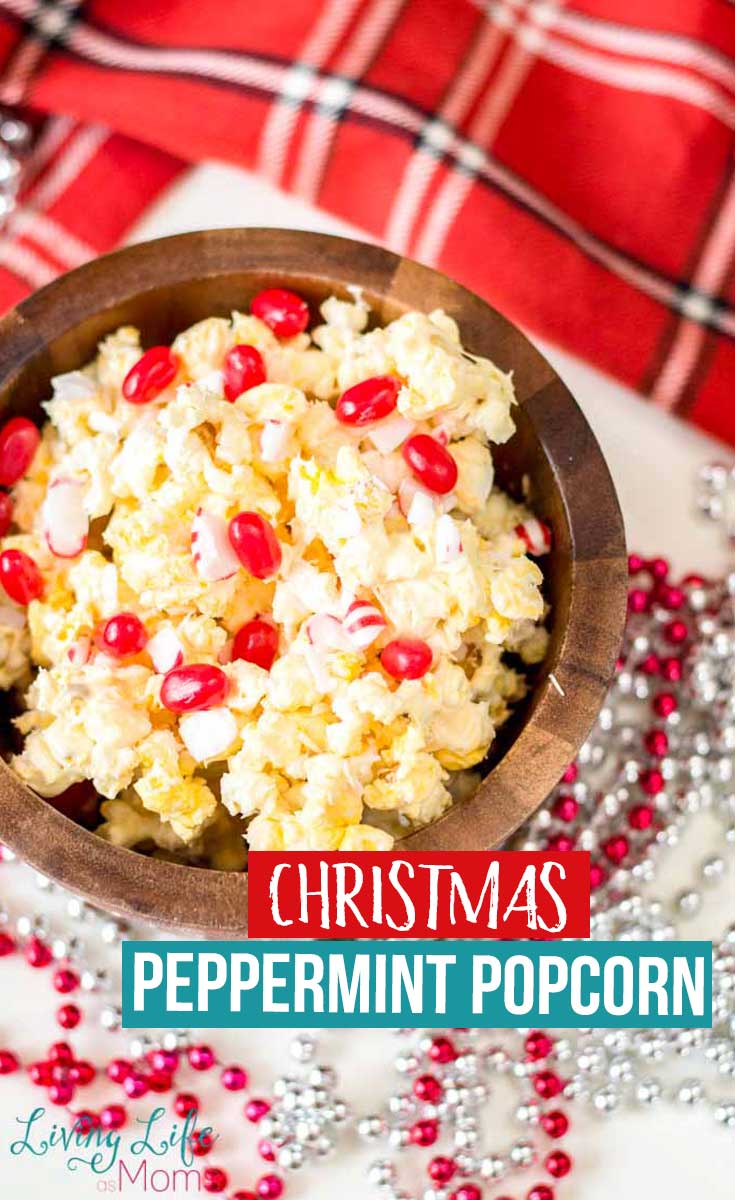 Christmas Peppermint Popcorn Recipe
If you're looking for a recipe that can create an epic holiday movie night, I think you're going to find it with this one. Not only is it packed full of flavor, but it's really, really easy to make as well.
And if you don't happen to like the taste of peppermint or don't want to have it every time, you can easily pick around them, too!
We're big popcorn fans so we're all about changing up the flavors to try new things. You can easily make a giant batch of this tasty dish just by changing out a few different things. Seriously – you're going to love how simple it is to make!
All you need to get started are the simple ingredients listed below. Trust me on this one – you're gonna love it!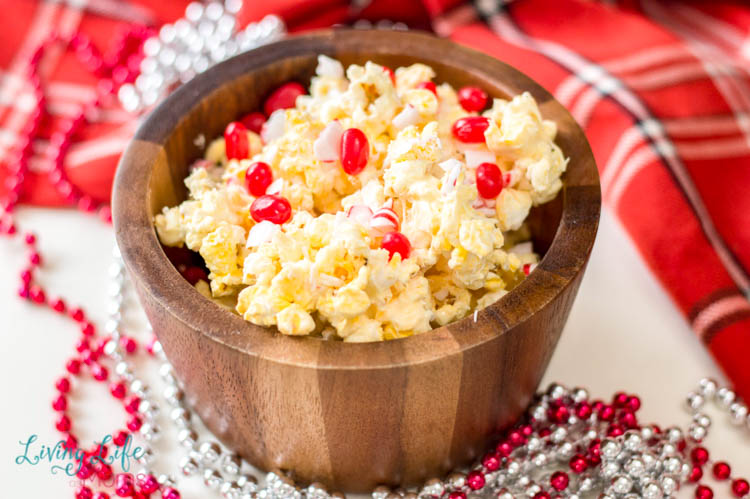 Ingredients needed to make Christmas Peppermint Popcorn
I told you that you hardly need any ingredients! This is all you need to get started right away!
Popcorn, popped
White chocolate chips
Peppermint candies
Red jellybeans
See?! All it takes are 4 ingredients to create this delicious beauty. Who doesn't have time for that?! I like to use my air popper for the popcorn but you can use the stovetop as well.
There is also a simple hack for popping popcorn as well that I recently learned. If you have a paper bag (like the type that you'd pack a child's school lunch in) you can add about 1/4 cup of popcorn kernels right to it and pop it in the microwave for about 2.5 minutes or so.
Make sure you close the bag just by folding over the top so that the hot air starts to steam the kernels. This will start to pop the popcorn perfectly every time.
You might have to adjust the time that you use because all microwaves have a different strength level to them as far as power.
I love this method because it's fast and simple and doesn't take any oil or anything to do!
And if your family likes to go out and about and look at all the Christmas lights, load up a bag of this yummy popcorn and take it with you on your outing.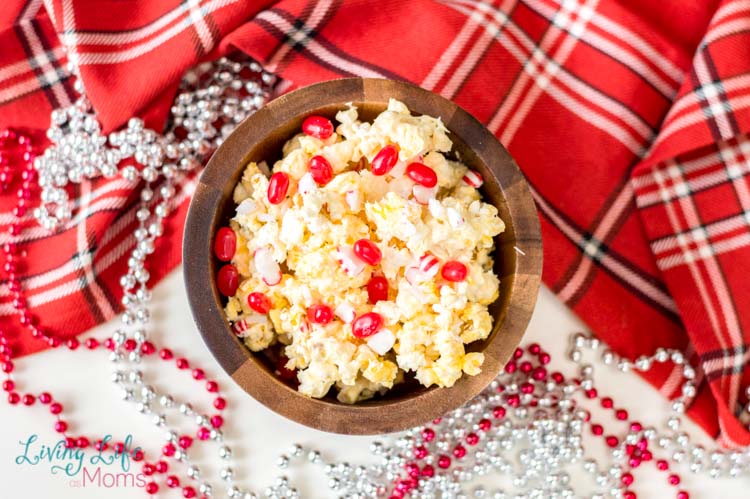 How to Make Christmas Peppermint Popcorn
The good news is that this popcorn recipe is so simple and easy to make. There's literally nothing to cook besides popping up the popcorn. And one thing is for certain, you're going to love how well the white chocolate and peppermint taste perfectly together!
There are so many fun parts to this recipe that everyone in the family can help out on. The only real part that needs close supervision is the microwaving of the chocolate. It's going to be very hot when it's done and you don't want anyone to get burnt.
One of the funniest "jobs" of this entire recipe is being able to crush up the peppermints into small pieces. In fact, if you have more than one child, you can put a few in a couple of bags and let them both have fun doing this!
As long as they get them all crushed up well and have fun doing it, there's nothing wrong with letting everyone have a turn.
The biggest thing to remember with this simple peppermint popcorn recipe is that you're going to want to store any leftovers in an airtight container. This will keep the popcorn and other added ingredients as fresh as possible for as long as possible. (but more than likely, you're really not going to have to worry about leftovers because it's just that good!)
Tips for Making Peppermint Popcorn
Even though this simple popcorn recipe is pretty simple, there are a few tips to keep in mind.
Make sure to let the kids join in on the tasty fun! They'll love being able to help make this tasty popcorn creation and have a blast doing so. They can easily help to add in the ingredients and be a part of the process.
You can also use this recipe as a fun way to think of new popcorn recipes, too. As you can see, it isn't hard to add flavors to your popcorn so why not have fun with it?
Enjoy this popcorn! It's such a fun flavor! Who would have thought that popcorn could actually taste this way!
Christmas Peppermint Popcorn
Get ready to fall in love with the ease of this Christmas Peppermint Popcorn recipe!
Ingredients
One bag popcorn, popped
2 cups white chocolate chips
15 peppermint candies
Red jellybeans for garnishing
Instructions
Start by lining a baking sheet with wax paper. Set it aside for later.

Next, take the chocolate chips and melt them in a micrwave-safe container in the microwave in 30-second timeframes. Mix after every 30 seconds.

Once done, put your popped popcorn in a large bowl and combine the melted chocolate with it. Fold together carefully.

Once it's all mixed, lay the coated popcorn out on the baking sheet.

Take your peppermint candies and crush them up using a rolling pin. I put them in a bag first and seal it to avoid having a mess.

Once they're all crushed, sprinkle it over the popcorn and let it set for about 30 minutes before eating.

Give everyone their own bowl and don't forget to top with red jellybeans!




More fun popcorn recipes to try
If you're a fan of popcorn, why not try to make up these simple popcorn recipes, too? You can never have too many delicious popcorn treats!
I'm all about trying new recipes for popcorn and these are a few that we like. They're simple and fast and so delicious! We make these for family movie night as well as for a fun and simple treat at home. They're also super fun for birthday party treats, too! The kids tend to request a popcorn treat at least once a week so I'm always making them and snacking right along with them.