How to Make Colored Popcorn
Not sure how to make colored popcorn? This recipe is about to make you forget everything that you ever thought you loved about traditional popcorn! It's just that good!
It's no secret that sitting and eating popcorn is actually a lot of fun. First off, it's delicious. And the fun part comes into play if you're like my family and try to toss it up in the air to catch it in your mouth…sometimes we fail, but sometimes we win!
While having traditional popcorn is great, it's time to take it up a level and give yourself the treat of colored popcorn as well. This recipe is so simple, you'll love how it can be made up in a jiffy!
It's time to make your colored popcorn the star of the show!
>> See more mouth-watering popcorn recipes
How to Make Colored Popcorn
This is one of those recipes that is so simple, you'll wonder why you've never done it before.
And while I like to think of this recipe as family-friendly, it does require some cooking over a hot stove so make certain all little ones are careful and aware of being safe.
But as long as you're there supervising and making certain that all goes okay, let the kiddos help out in the kitchen if at all possible. They'll love the outcome of this recipe and love watching the colored popcorn take effect.
As you can see from the image below, one of the biggest components of this recipe is making certain that everything gets melted together nice and smoothly on the stovetop.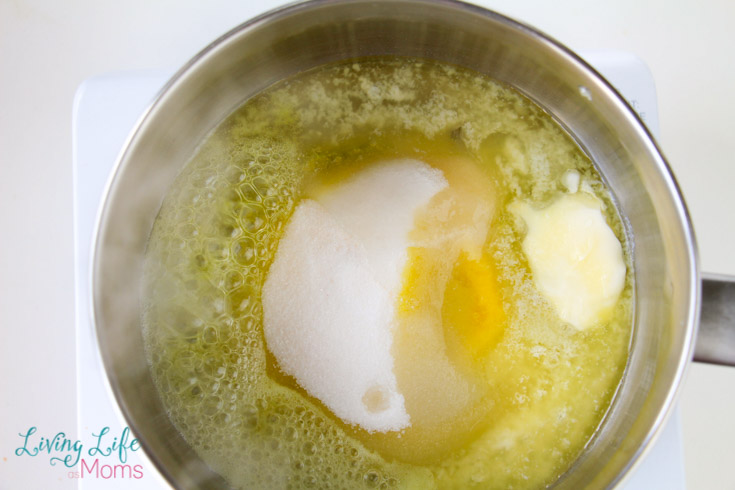 Once that mixture is done, you're going to follow the recipe steps listed in the recipe card below and start adding it to your already cooked popcorn. (don't worry, this is still a perfect time to sneak in a few bites of the pre-colored popcorn! It's just so good and sitting right there in front of you…how can you resist?!)
Once you start sectioning out the areas for adding in the color, it's going to be up to you to see which color you think is the best. This could be a fun time to take a family vote and see what everyone chooses!
In my opinion, the yellow-colored popcorn just tends to look a little bit like buttery popcorn…but when you taste it, your taste buds are in for a true treat! While it may look that way, it definitely doesn't taste like it!
(This would also be a fun way to trick their tastebuds, too! While they think that they're getting just butter popcorn, they're going to be in for a shock!)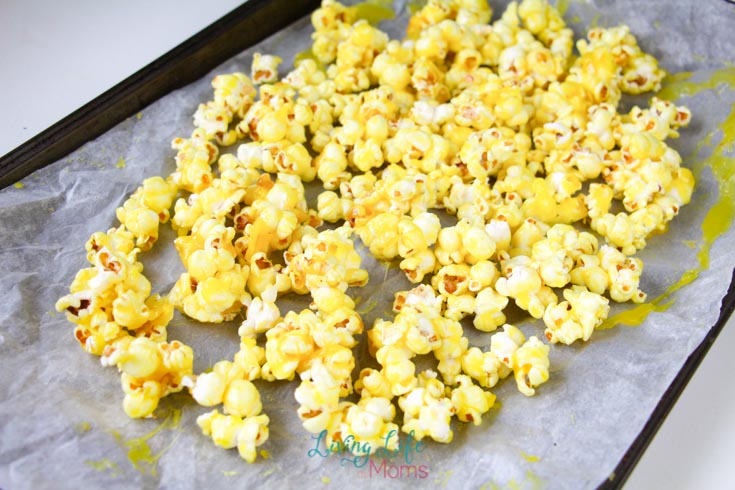 This homemade popcorn recipe is fun for movie nights or just as a way to get in the kitchen and cook together. And the great part about this recipe? You can easily make it over and over again! (which I'm certain that you will since it's simple and easy to do!)
If you happen to have any leftover popcorn, don't toss it out! Store it in an airtight container and eat it the next day, too.
As long as you have it stored and sealed tightly, it will still taste amazing, even when it's a day old.
See how simple and fun this recipe is? You'll be eating it by the handful in no time at all!
Have the kids eat one color at a time or mix them all together and see how the flavors taste. You can even blindfold the kids and have a taste test to see if they know which flavors are which!
Recommended Party Popcorn Boxes
Making colored popcorn for a party? Or just want to have a festive night in? Use any of these fun popcorn boxes so everyone can have their own servings for a fun filled snack.
Movie Night Decorations, Popcorn Boxes (3 x 3.9 x 3 In, 100-Pack)

Fun Express Block Party Popcorn Boxes (24pc) for Birthday – Party Supplies – Containers & Boxes – Paper Boxes – Birthday – 24 Pieces

30 Pcs LOL Party Popcorn Boxes,Candy Container for Birthday Theater Themed for Kids LOL Themed Party

Big Dot of Happiness Red Carpet Hollywood – Movie Night Party Favor Popcorn Treat Boxes – Set of 12

Game Zone – Pixel Video Game Party or Birthday Party Favor Popcorn Treat Boxes – Set of 12

24Pcs Unicorn Birthday Party Supplies Unicorn Popcorn Box Snack Treat Box Candy Cookie Container For Baby Shower, Bridal Shower, Unicorn Theme Party Favors Decoration

Colored Popcorn
Check out this simple recipe for colored popcorn!
Ingredients
9 Cups popcorn, popped
9 Tablespoons butter
3 Cups sugar
2-3 Tablespoons each: red Jell-O, purple Jell-O, yellow Jell-O
3 Tablespoons water, as needed
3 Tablespoons white corn syrup
Food dye, as needed
Instructions
Take your 3 cookie sheets and line them with parchment paper. Preheat your oven to 300F.


Once your popcorn is cooked, take and spread 3 cups of popcorn out in an even layer on each cookie sheet. Take and sit to the side until ready to use again.


Using a medium saucepan, place it over medium heat and start combining the 3 Tablespoons butter, the cup of sugar, and also adding in the 1 Tablespoon white corn syrup and one color of the Jell-O powder. (your choice) Bring to a boil, adding water or food dye, as needed. (Your only going to add in the water if the mixture starts to get too thick.)
Once everything is added, boil for 3-4 minutes. Once done, take and pour the candy mixture over one cookie sheet of popcorn.


Place that cookie sheet in the oven and bake the popcorn for 10 minutes, making certain to stir about halfway through.


Important! Let cool before handling. Once you're done with one, go ahead and repeat with each color of the Jell-O.
More popcorn recipes for you to consider