Mouth-Watering Popcorn Recipes You Have to Try
We normally think of popcorn on movie nights, right? The smell of sweet buttery popcorn and the thrill of a good movie go together like peanut butter and jelly. And at my house, we LOVE popcorn. We love it so much, we have a variety of mouth-watering popcorn recipes you have to try, for every occasion.
Popcorn can be a healthy snack, especially if you make it at home, where you can control the type of oil, kernels and flavoring you put on your popcorn. For a snack food, popcorn is remarkably low in calories, and it's big on fiber, meaning that you have to work to get those few carbs. That can make popcorn a guilt-free snack — perfect for family movie nights and board game afternoons.
Recommended Popcorn Makers
It all starts with the right popcorn maker. So try one of our favorite makers:
Dash DAPP150V2AQ04 Hot Air Popcorn Popper Maker with with Measuring Cup to Portion Popping Corn Kernels + Melt Butter, Makes 16C, Aqua

West Bend 82505 Stir Crazy Electric Hot Oil Popcorn Popper Machine with Stirring Rod Offers Large Lid for Serving Bowl and Convenient Storage, 6-Quart, Red

Nostalgia SP660SS 6-Quart Stainless Steel Stirring Speed Popcorn Popper

Wabash Valley Farms – Stovetop Popcorn Popper – Whirly Pop with Popping Kit – Silver – Perfect Popcorn in 3 Minutes

Popcorn Supplies
Then you have to get the right supplies. There's just something about the bowl you put the popcorn in that adds to the whole experience. Try these popcorn-making supplies. Then scroll on for our favorite recipes.
Orville Redenbacher's Gourmet Popcorn Kernels, Original Yellow, 8 lb

Plastic Popcorn Containers – Set of 4

The Original Popco Silicone Microwave Popcorn Popper with Handles, Silicone Popcorn Maker, Collapsible Bowl Bpa Free and Dishwasher Safe (Blue)

Wabash Valley Farms Stainless Steel Popcorn Bowl Perfect for Movie Nights, Parties and More and More, 8 Quarts, Silver

This Unicorn Popcorn Recipe is perfect for a kids' movie night or birthday party. This is more dessert than snack, but it's soo good! Better than cupcakes, your kids and their friends will beg you for more.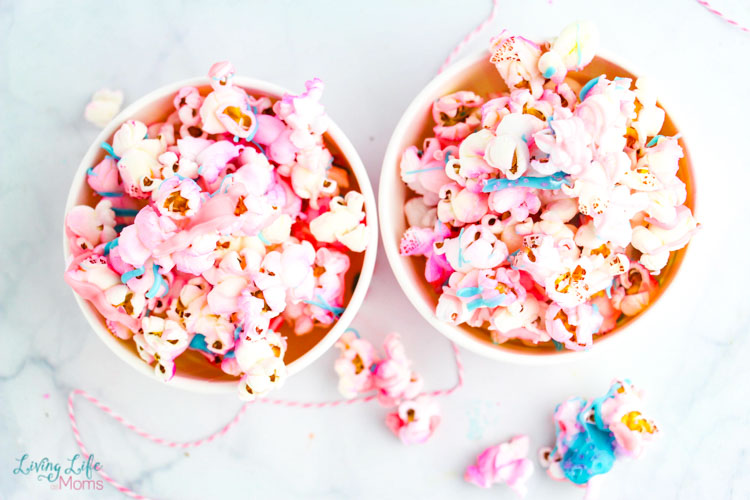 For another dessert take on popcorn, check out this Neapolitan Popcorn Recipe. If you like Neapolitan ice cream, you're sure to love the popcorn version. And this makes a great snack gift, for any holiday occasion, too.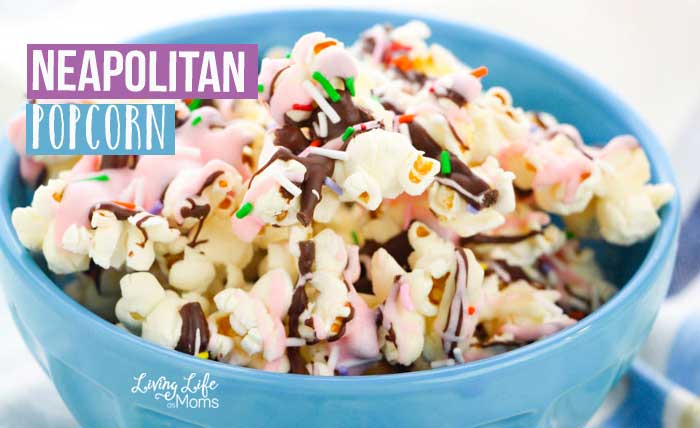 And for a different take on the caramel popcorn, try this Nutella Popcorn Recipe. Something about the nutella and popcorn combination just makes this recipe one that your mouth waters over. This is one of those recipes where you aren't going to want to share the end result!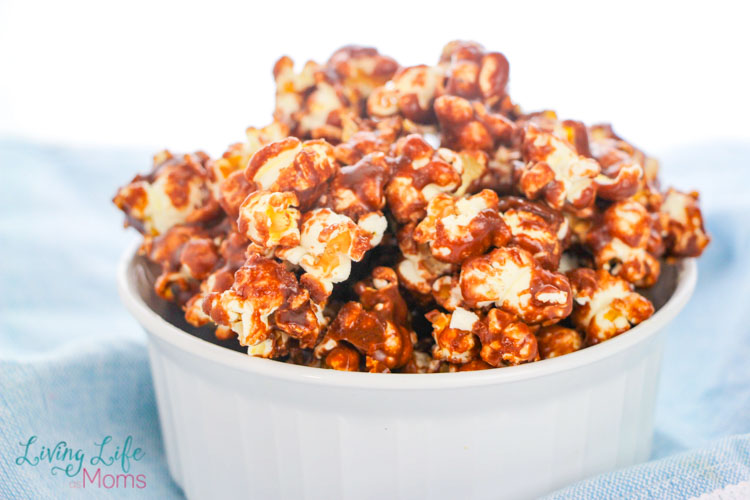 Another great popcorn version is this Cinnamon Popcorn Recipe. Cinnamon sugar and popcorn is an absolutely amazing combination! It's just another one of our mouth-watering popcorn recipes you have to try.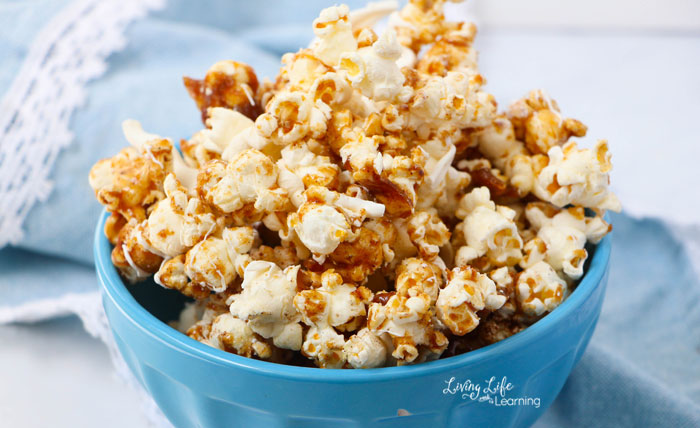 Take your popcorn up a notch with this Apple Cinnamon Popcorn Recipe! If you loved the cinnamon popcorn recipe above, this apple cinnamon version is even better, if that's even possible. Try both and let us know in the comments which one you like better.
Want the perfect holiday popcorn recipe? Try these Christmas Peppermint Popcorn, it will leave you with warm fuzzies inside as you watch your favorite Christmas movies during the holiday season.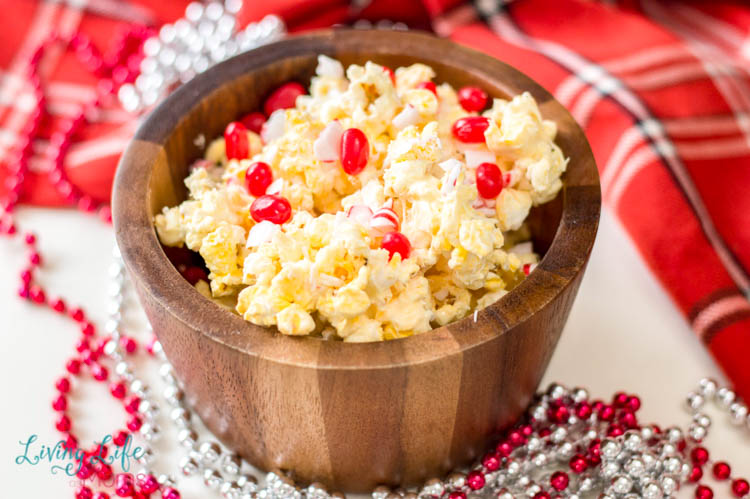 Celebrate your favorite people with this festive Valentine's Day Popcorn recipe that will delight your family's taste buds.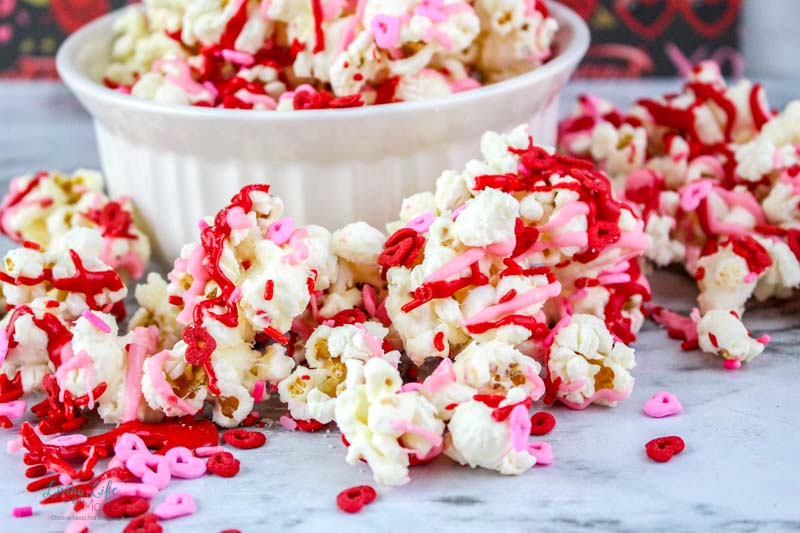 Recommended Popcorn Seasoning
For more flavorings and seasonings, get one of our recommended popcorn seasoning kits. Not in the mood for dessert? Try a little spice or a little cheese. There's tons to choose from!
Urban Accents MOVIE NIGHT Popcorn Kernels and Popcorn Seasoning Variety Pack (set of 8) – 3 Non-GMO Popcorn Kernal Packs and 5 Gourmet Popcorn Snack Seasoning- Perfect Gift for any Occasion

Kernel Season's Popcorn Seasoning Mini Jars Variety Pack, 8 Count

Kernel Season's COMPLETE SEASONING KIT (Variety Pack Bundle of ALL 12 Flavors)

More Popcorn Recipes
We're not the only ones who love popcorn treats. Some of our friends around the web also have some fantastic popcorn recipes.
First up, there's this S'mores Popcorn recipe from Almost Supermom. I mean, what's there to say. It's s'mores. It's popcorn. So it's perfect!
And this Mexican Churro Popcorn Recipe from A Simple Pantry. The flavors of Mexico, the sweetness of churros, and popcorn make an incredible popcorn treat, perfect for a rainy Saturday afternoon of cartoons.
Finally, we have Candy Flavored Sugar Popcorn from Jamie Cooks it Up. Who needs to go buy gourmet popcorn, when you can just make it at home? Jamie shows you how! Go check it out now.
Popcorn is one of those versatile snacks that you can dress up or dress down. Make it sweet, spicy, salty or cheesy, or just enjoy it for it's own healthier -snack self. On your next family game night, test taste multiple versions, and see who likes what! These popcorn recipes are just mouth-watering and you've got to try them all.