This apple cinnamon popcorn recipe is so good, you're going to be grabbing handful after handful. While it has a unique look about it with the added dry apples, it's one of the easiest and most simple recipes you'll ever try.
I'm all about finding new snacks that we can dive into in our house. We're an active family and enjoy being outdoors and on the go so sometimes that means that we don't have a ton of time left at the end of the day to create a snack that takes a while…this is where we love this popcorn recipe.
It's so quick and simple and has such an amazing taste! Who knew that the flavors of popcorn and apple were just meant to be?
For more popcorn recipes, check out these mouth-watering popcorn recipes you've got to try.
Simple Apple Cinnamon Popcorn
So many people tend to think that creating a snack has to be a ton of work and effort. I'm here to prove that theory wrong.
We love the taste of popcorn in our house and are here to prove that popcorn can be versatile and not just for movie nights any longer.
Just by adding in a bit of cinnamon and sugar, you've taken the taste and flavor to a whole other level. Every single bite is so good, and the added apple bits will have you coming back for more!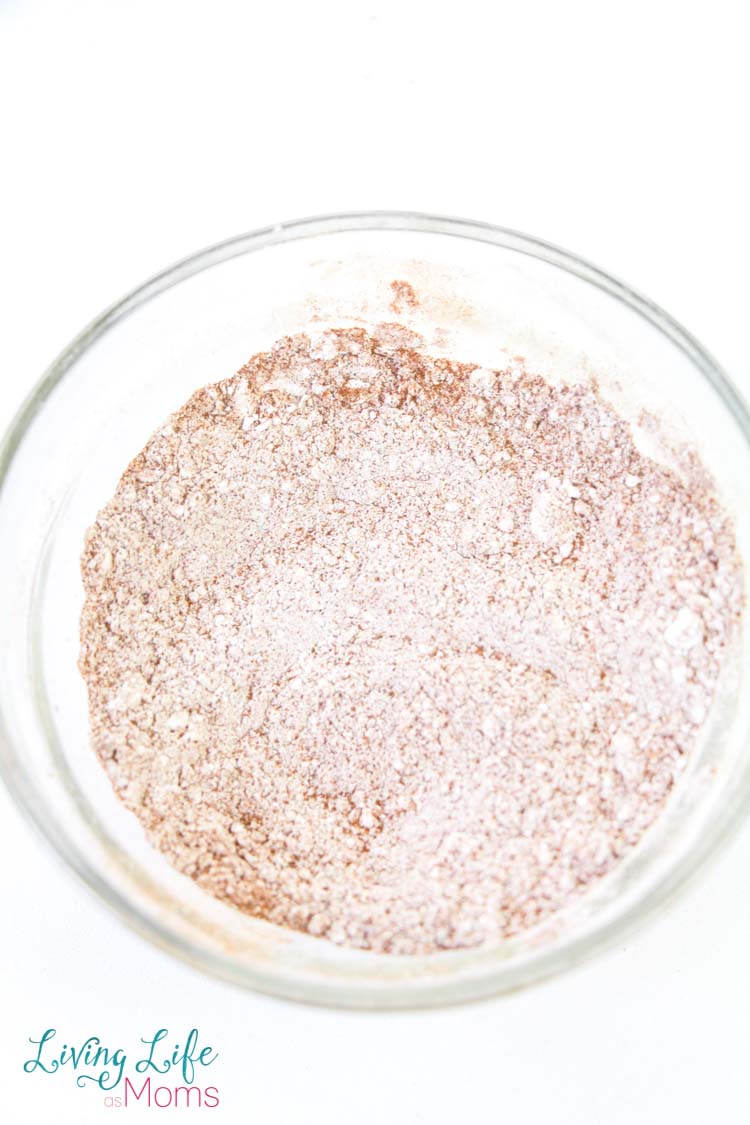 Let the children help out with creating this delicious recipe as well. They can easily stir together the ingredients, and pour and help to create a solid foundation for this delicious recipe.
Look at how delicious it looks once it's all coated? Each piece of popcorn will have loads of taste and flavor!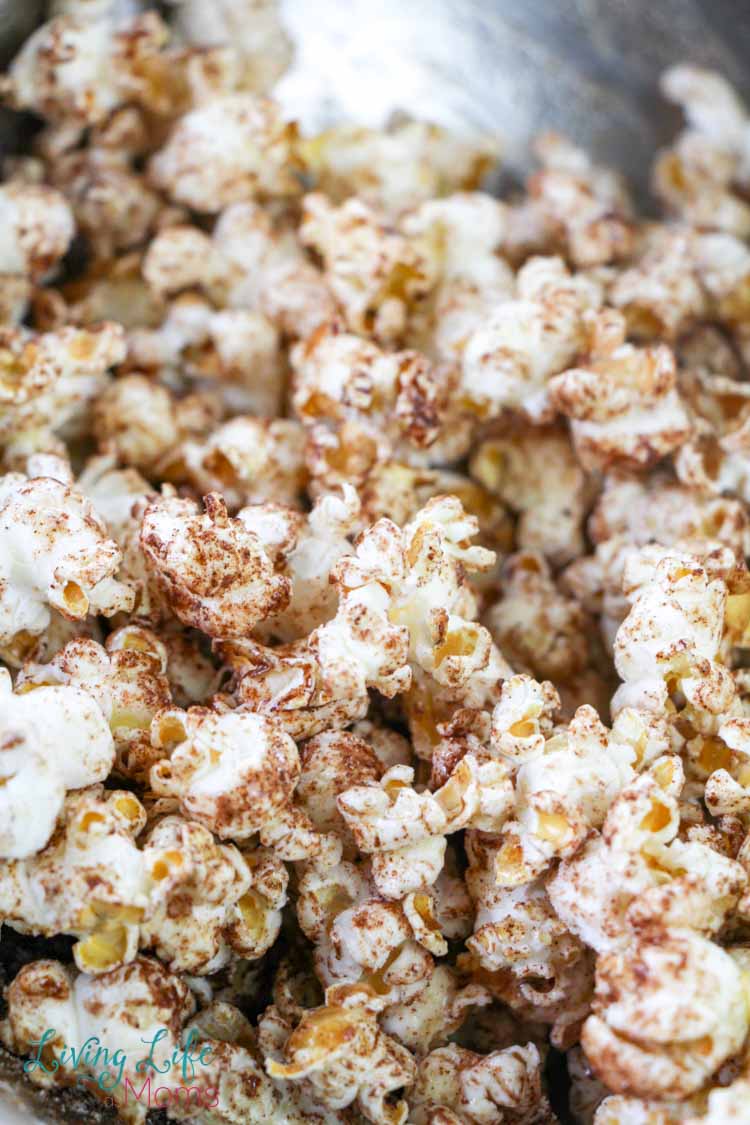 And as you can see, the added apple bites really create a fun look as well. Plus, a little bit of added crunch, too! Just be certain to make them into more bite-sized pieces so they're easy to pop in your mouth as well.
As you can see, this is a fun fall or winter recipe that you can whip up in no time at all.
And I love the fact that we can make it a family effort. It's also a great snack that you can bag up and take with you on the go. We've taken this on simple hikes and car rides and have had no issues whatsoever.
Don't miss out on this tasty treat! It's so good and filling and flavorful!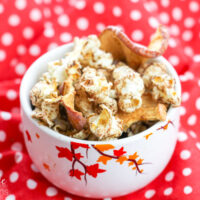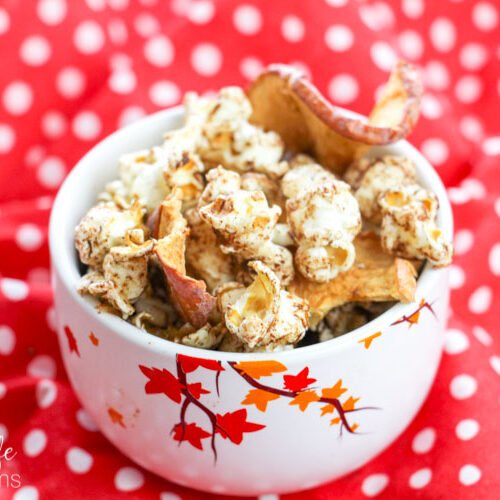 Apple Cinnamon Popcorn
You're going to love the taste and flavor of this apple cinnamon popcorn recipe!
Ingredients
6 Cups air-popped​ popcorn
1/4 Cup butter, melted
1 Tablespoon cinnamon
4-5 Tablespoons powdered icing sugar, to taste
1 Cup apple chip
Instructions
Start by placing the popcorn in a large bowl.

Next, you're going to want to melt the butter, once melted, pour over the popcorn.

Make certain to coat the popcorn entirely by tossing it all. Set aside.
Grab a small bowl and combine the powdered icing sugar and cinnamon.
Using half of the cinnamon mixture, sprinkle it onto the popcorn and toss around. Once tossed, add the rest of the mixture and toss again.
You can also lay it out on a baking sheet if you want to let it dry.
Once it's all dry, add in the apple chips and enjoy!
More popcorn recipes to consider
Get Weekly Updates
Taming the chaos of motherhood -
Subscribe and get a daily schedule printable