Simple Apple Cinnamon Popcorn
This apple cinnamon popcorn recipe is so good, you're going to be grabbing handful after handful. While it has a unique look about it with the added dry apples, it's one of the easiest and most simple recipes you'll ever try.
I'm all about finding new snacks that we can dive into in our house. We're an active family and enjoy being outdoors and on the go so sometimes that means that we don't have a ton of time left at the end of the day to create a snack that takes a while…this is where we love this popcorn recipe.
It's so quick and simple and has such an amazing taste! Who knew that the flavors of popcorn and apple were just meant to be? I can't tell you how much we love the flavor of this simple popcorn recipe!
For more popcorn recipes, check out these mouth-watering popcorn recipes you've got to try.
Simple Apple Cinnamon Popcorn
So many people tend to think that creating a snack has to be a ton of work and effort. I'm here to prove that theory wrong.
We love the taste of popcorn in our house and are here to prove that popcorn can be versatile and not just for movie nights any longer.
Just by adding in a bit of cinnamon and sugar, you've taken the taste and flavor to a whole other level. Every single bite is so good, and the added apple bits will have you coming back for more!
I was shocked at how much we love this popcorn recipe. It's one of those flavors that has us making up this recipe all year long!
Tips for making Apple Cinnamon Popcorn
The great part about this recipe is that it's really simple and easy to do. It's one of those snack recipes that will have everyone running and trying to get the very last bite. The more that you can make of this recipe, do so.
It's going to be gobbled up quickly and enjoyed by all. I've made this for a fun fall treat or a great way to have a surprise snack for the kids when they get home from school.
If you're looking for a simple and easy recipe, popcorn should always be at the top of your list. How you add ingredients to it is up to you but I highly recommend adding in these fun ingredients!
For the full recipe, make sure to check out the printable recipe below. You're going to love how fast and easy the steps are to make this popcorn.
The best way to keep popcorn fresh
I might be the odd ball out here but I actually enjoy eating stale popcorn. If you're not a fan of that, you're going to want to make a plan on how to store popcorn so that you can enjoy it the next day without it being stale and chewy.
As long as you put it in a sealable bag or jar, it should stay fresh to eat and enjoy without issues. If you find that it's not staying fresh that way, this just means that you need to eat it as quickly as possible!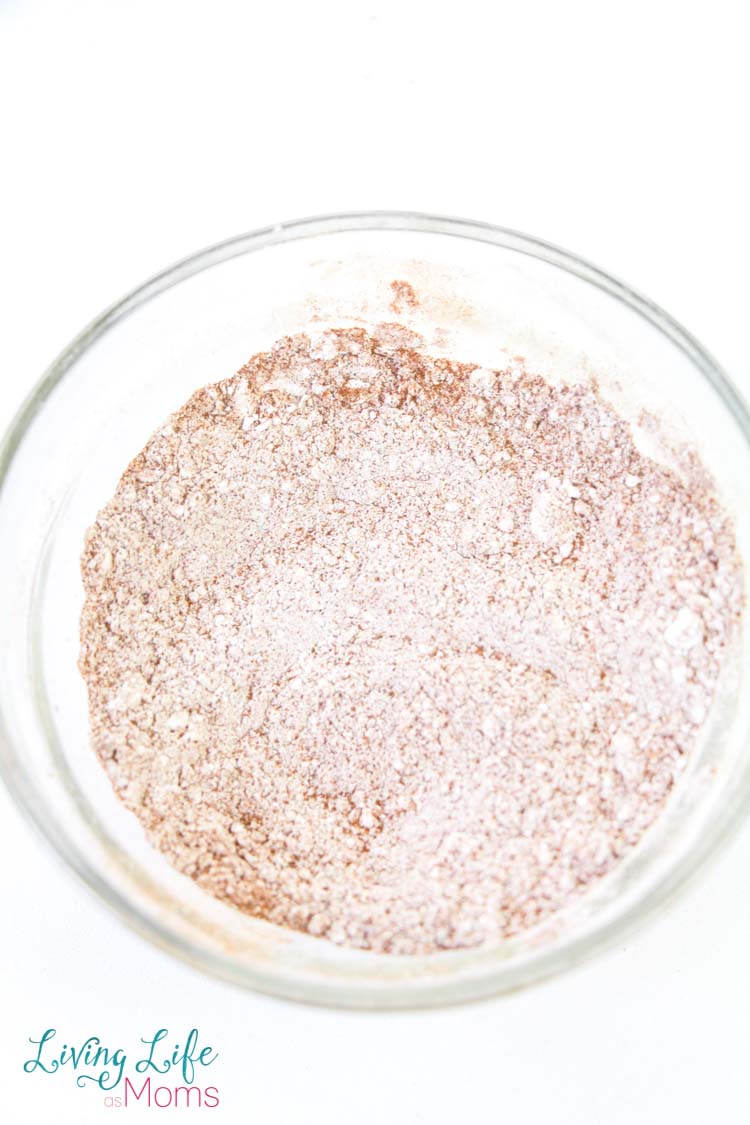 Let the children help out with creating this delicious recipe as well. They can easily stir together the ingredients, and pour and help to create a solid foundation for this delicious recipe.
Look at how delicious it looks once it's all coated? Each piece of popcorn will have loads of taste and flavor! You can also kind of play with the ingredients of this recipe as well. The cinnamon and sugar can be altered to whatever taste and flavor combination that you'd like.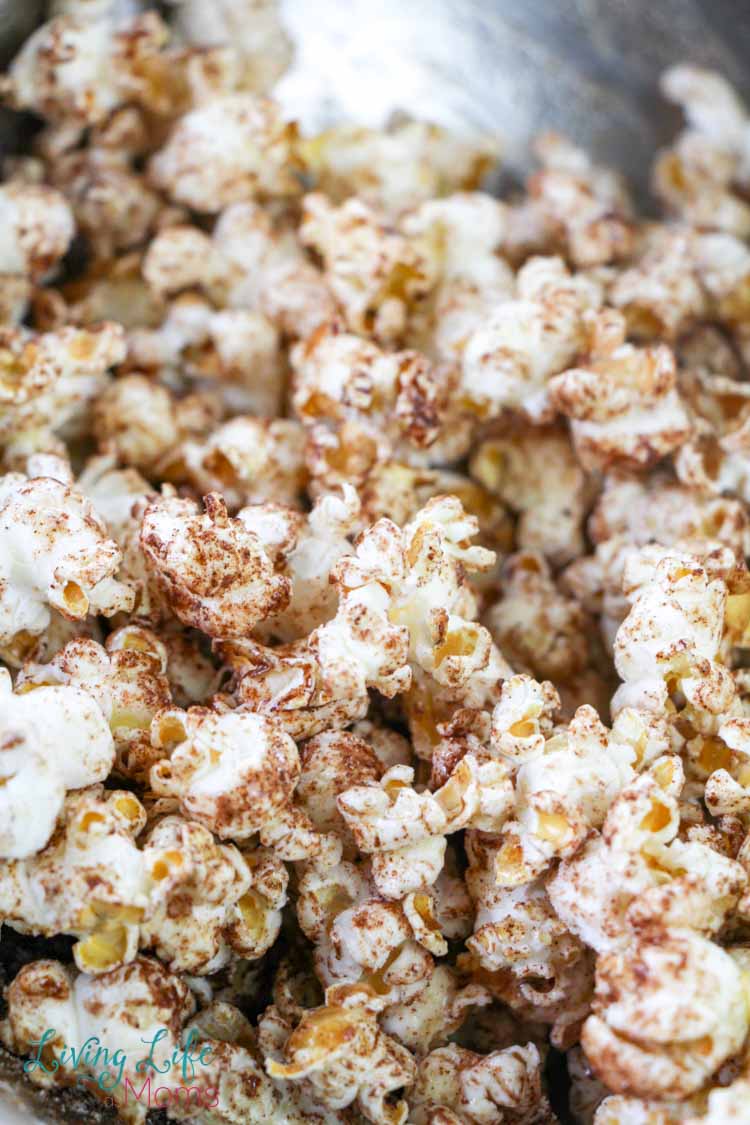 And as you can see, the added apple bites really create a fun look as well. Plus, a little bit of added crunch, too! Just be certain to make them into more bite-sized pieces so they're easy to pop in your mouth as well.
How do you store this Simple Apple Cinnamon Popcorn?
If you're lucky enough to have any leftover, you just need to add it to a container or a bag and keep the air out of it. Leftover popcorn is already one of my favorite tastes and flavors in the world but paired up with these fun ingredients, they're awesome!
Giving Popcorn as a Homemade Gift
Don't forget that popcorn recipes make for great gift ideas as well. When you're wanting to whip up something to share with someone, flavored popcorn is the perfect idea. The more that you can make homemade gifts, that more that you'll have fun gifting them to others!
This type of popcorn recipe is perfect for holiday gifts, birthday gifts, or just a fun "I'm thinking of you gift" as well. There are very few people who don't enjoy waking up and getting homemade popcorn delivered right to their front door. Just put it in a cute bag or box and add a bow!
As you can see, this is a fun fall or winter recipe that you can whip up in no time at all. This is especially good on a chilly weekend at home or a fun snack for movie night, too. The kids loved having their own bowl full of Apple Cinnamon popcorn. (they didn't even offer me a bite at all!)
And I love the fact that we can make it a family effort. It's also a great snack that you can bag up and take with you on the go. We've taken this on simple hikes and car rides and have had no issues whatsoever.
Don't miss out on this tasty treat! It's so good and filling and flavorful!
Apple Cinnamon Popcorn
You're going to love the taste and flavor of this apple cinnamon popcorn recipe!
Ingredients
6 Cups air-popped​ popcorn
1/4 Cup butter, melted
1 Tablespoon cinnamon
4-5 Tablespoons powdered icing sugar, to taste
1 Cup apple chip
Instructions
Start by placing the popcorn in a large bowl.
Next, you're going to want to melt the butter, once melted, pour over the popcorn.
Make certain to coat the popcorn entirely by tossing it all. Set aside.
Grab a small bowl and combine the powdered icing sugar and cinnamon.
Using half of the cinnamon mixture, sprinkle it onto the popcorn and toss around. Once tossed, add the rest of the mixture and toss again.
You can also lay it out on a baking sheet if you want to let it dry.
Once it's all dry, add in the apple chips and enjoy!
More popcorn recipes to consider
If you love this homemade popcorn recipe, here are some other tasty treats to consider. You just can't go wrong with having a night full of flavorful popcorn fun!
Irresistible Chocolate Peanut Butter Popcorn Recipe
Christmas Peppermint Popcorn Recipe