This Neapolitan Popcorn is about to become your new favorite dessert. It's so good, you'll be hard pressed to stop at just one bite.
There's just something extremely tasty about popcorn. Maybe it's the crunch or maybe it's the texture, but there is one thing that keeps people coming back for handful after handful. The ease of eating it without worry.
Popcorn is just one of those foods that can make a mess but doesn't really have to. This Neapolitan popcorn is like that as well. Not only is it delicious but it's super simple as well. Get ready to take your taste buds to popcorn heaven with this simple treat!
For more popcorn recipes, check out these mouth-watering popcorn recipes you've got to try.
Recommended Popcorn Boxes and Cups
If you're like me, you'll probably want to eat popcorn in pretty containers rather than on a plain plate. Eating popcorn in cups or boxes makes us feel like we're watching a movie in a cozy movie theater even if we're at home.
So grab these popcorn boxes and cups to make your ordinary night into an awesome one.
Popcorn Cups Plastic – Movie Theater Popcorn Bucket Bowl – Popcorn Tube For Movie Night – Popcorn Tubes For Carnival – Popcorn Cups 7×4.5 Inches – Set of (6)
30 Popcorn Boxes 7.75 Inches Tall & Holds 46 Oz. Old Fashion Vintage Retro Design Red & White Colored Nostalgic Carnival Stripes like Popcorn Bags & Popcorn Tubs [various quantities] Salbree
Stock Your Home 32 Oz Kraft Popcorn Buckets (25 Count) – Greaseproof Vintage Style Popcorn Cups – Disposable Popcorn Containers for Movie Theaters, Amusement Parks, Concession Stands & Themed Parties
AimtoHome Black Popcorn Boxes Mini Paper Popcorn Box Cardboard Popcorn Container for Party, Pack of 24
Leakproof, Super Durable 32oz Popcorn Cups 200 Pack. Grease-Proof Disposable Pop Corn Tubs With Cool Design Are the Ultimate Movie Theater Accessory. Large Containers Great for Any Party or Event
60-Pack Mini Popcorn Boxes – 16oz Small Paper Popcorn and Candy Favor Boxes, Gold Foil Polka Dots, Stripes, Confetti Designs, Baby Shower, Wedding, Birthday Party Supplies, 3 x 4 x 2.8 Inches
Neapolitan Popcorn
More than likely, you've snacked on Neapolitan ice cream a time or two in your life. And that taste and flavor is pretty delicious, right? So when there's a chance to have that same taste and flavor in your popcorn, why wouldn't you?
And this is exactly how this dessert recipe was born.
We like to make this while we're snuggled up watching a movie together as a family because to us, that's the best time to share snacks and spend some quality time together.
But in all honesty? This popcorn treat can be made at any time of the day, for any and all occasions.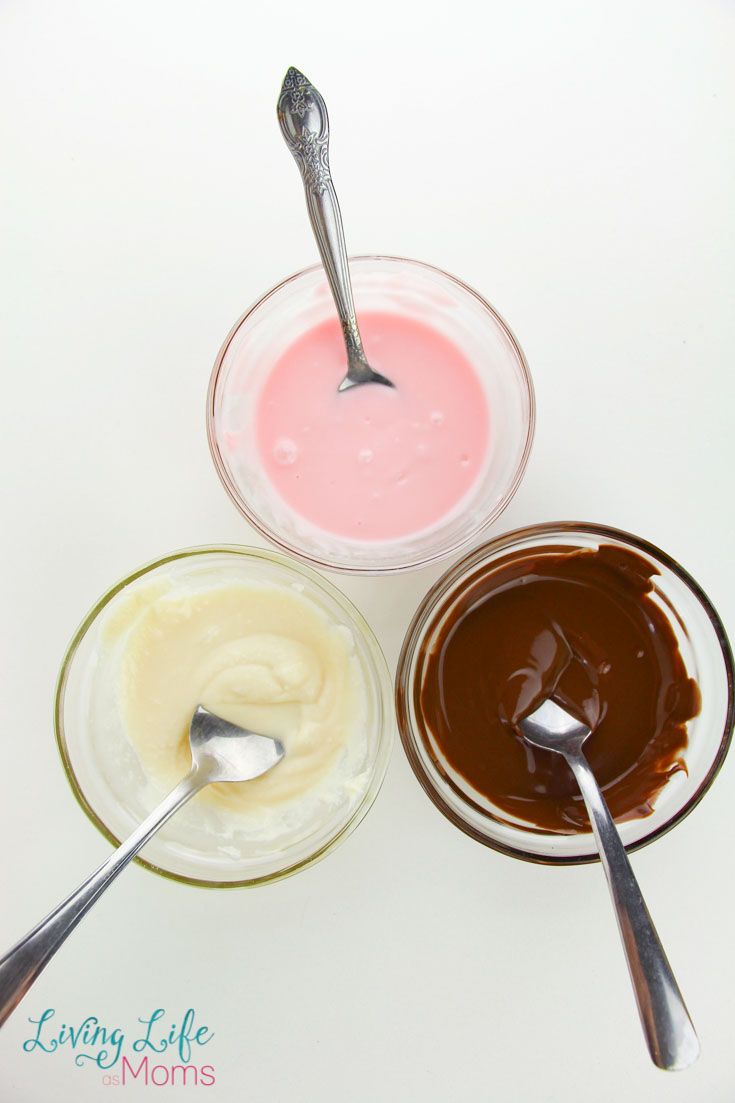 Just make certain that you melt the chocolate completely as you want it to be as smooth as possible.
The reason for this is because once it's melted entirely, you're going to be slowly drizzling it over the top of the popcorn. Light drizzles are the best so that you get the flavor of all the chocolates rather than having to deal with and worry about big globs.
Drizzling the chocolate over the popcorn is actually something that the kids can help with as well! You can use a spoon or a fork and just let them drizzle away!
It's actually pretty therapeutic to do!
Once you've added all the chocolate, it's time to dump on those sprinkles! Again, another super simple job that the kids will love.
And just plan on cleaning up a bit after this recipe is made. It's a bit of a messy process but that just adds in on the fun!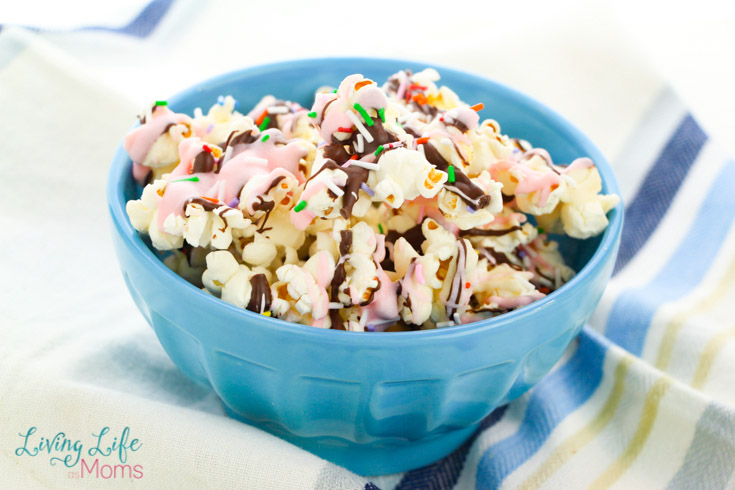 Are you ready to find out how to make this delicious popcorn dessert? It's easier than you may have thought!
Recommended Personalized Popcorn Bags and Buckets
Do you want your family movie night to be extra special? Grab the Personalized Popcorn Bucket that is reusable or the disposable Family Movie Night Popcorn Bags which are perfect for a larger group.
Neapolitan Popcorn
Total Time:
1 hour
20 minutes
Ingredients
5 cups popcorn (airpopped if possible)
1/2 cup chocolate almond bark/chocolate chips
2 tablespoons mini marshmallows
1/2 cup strawberry candy melts
1/2 cup vanilla almond bark or white candy melts
2 tablespoons sprinkles
Instructions
Grab a cookie sheet and line with parchment paper or a silicone baking mat. Then, spread the popcorn on and make certain it's an even layer on the cookie sheet.
Melt the chocolates and candy melts in 25-second increments in the microwave. After each round, stir between each reheating until completely melted.
Drizzle the melted chocolates on the popcorn. Cover generously. Next, add on the sprinkles and mini marshmallows but make certain you do so while the chocolate is still wet.
Allow drying for at least 1 hour before eating!
See? Now that you know the recipe, you have no reason not to make it!
More Popcorn Recipes to Consider
Colorful Easter Popcorn Recipe You Have to Try
White Chocolate Covered Popcorn by Inside Bru Crew Life