Raise your hand if you like popcorn! Do you like it salty, buttery, or sweet? If you're like me and my kids, we love it any way possible. Popcorn is a universal and versatile treat that can take on many different flavors without skipping a beat.  It's purely delicious.
Our must-have is during movies, you can't watch a movie without popcorn, right? We also like to use it as a treat to give to friends, family, teachers, neighbors and more. We include flavored popcorn in gift bags or even give flavored popcorn as the gift on its own. No one I know would complain! Especially with this Cinnamon Popcorn Recipe.
It is beyond delicious and one of the best-flavored popcorns I have ever made or tried for that matter. It is sweet yet not too overwhelming. Plus, it is outrageously easy to make. Like seriously easy to make!
For more popcorn recipes, check out these mouth-watering popcorn recipes you've got to try.

Cinnamon Popcorn Ingredients
1/2 cup butter
1/2 cup brown sugar packed
1/2 cup granulated sugar
1/4 cup light corn syrup, optional
1/2 teaspoon salt
2 tablespoons ground cinnamon
6 cups airpopped popcorn
1 cup vanilla white chocolate or candy melts
1/2 Tablespoon coconut milk
Orville Redenbacher's Gourmet Popcorn Kernels, Original Yellow, 5 lb, 12 oz
Green & Black's Organic White Chocolate Bar, Vanilla, 3.5 Ounce
Wilton White Candy Melts, 12-Ounce
Wabash Valley Farms Yellow Fun Time Popcorn Bowl – Perfect for Family Night
Serving Bowl, [Small Size, 5.51 Inches Diameter], Newness Polished Stainless Steel Slant Cut Serving Bowl for Serving Salad, Snacks, Candies, Fruits or More, Modern Design

Directions
1. Preheat the oven to 250 F.
2. Line a baking sheet with parchment paper or a silicone baking mat.
3. Spread the popcorn all over the baking sheet and set aside.
4. In a large, heavy pot, melt butter, then add white sugar, brown sugar, corn syrup, and salt.
5. Stir together over medium heat and let it come to a boil. Boil for 2-3 minutes until starting to thicken then take off the heat.
6. Stir, and continue cooking over medium heat until mixture comes to a boil.3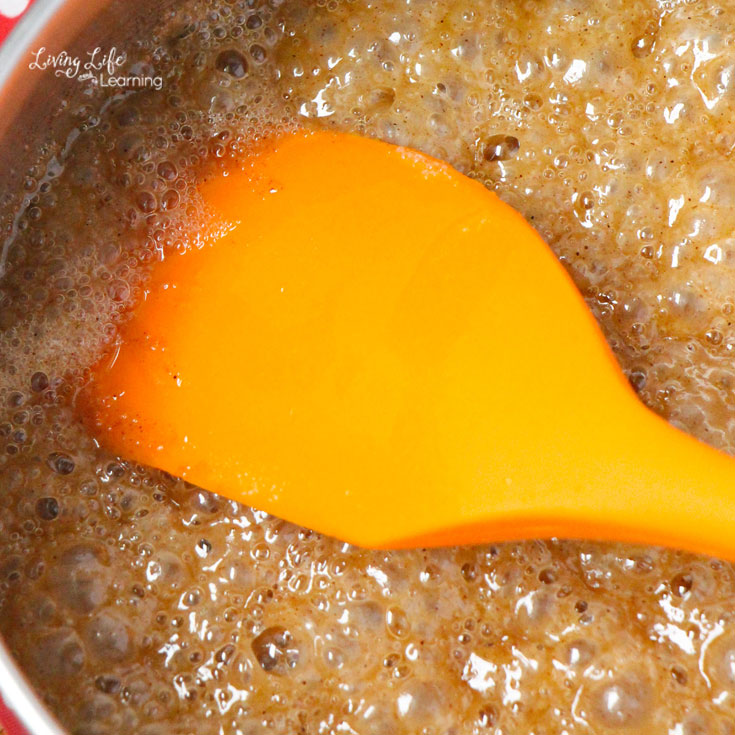 7. Once at a boil, stop stirring, and let it cook for 5 minutes.
8. Remove sauce from the heat, add cinnamon, and then pour evenly over the popcorn mixture.
9. You can either let the popcorn absorb the syrup slowly, or bake it to harden the syrup. You can bake it for 5-10 minutes until the syrup is fully absorbed. Take it out after 5-minutes and stir it to determine if it needs more baking time.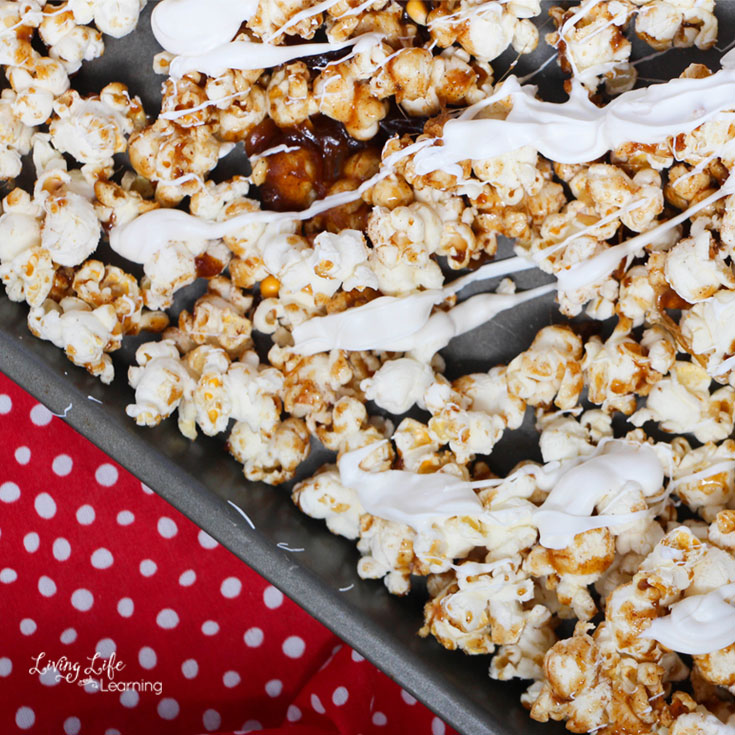 10. Remove the popcorn from the oven and while it is cooling, place the white chocolate in a small microwave-safe bowl and heat for 35 seconds. Stir well, and reheat as needed to melt completely.
11. Stir the coconut oil into the melted chocolate to make it nice and smooth and drizzle over the popcorn.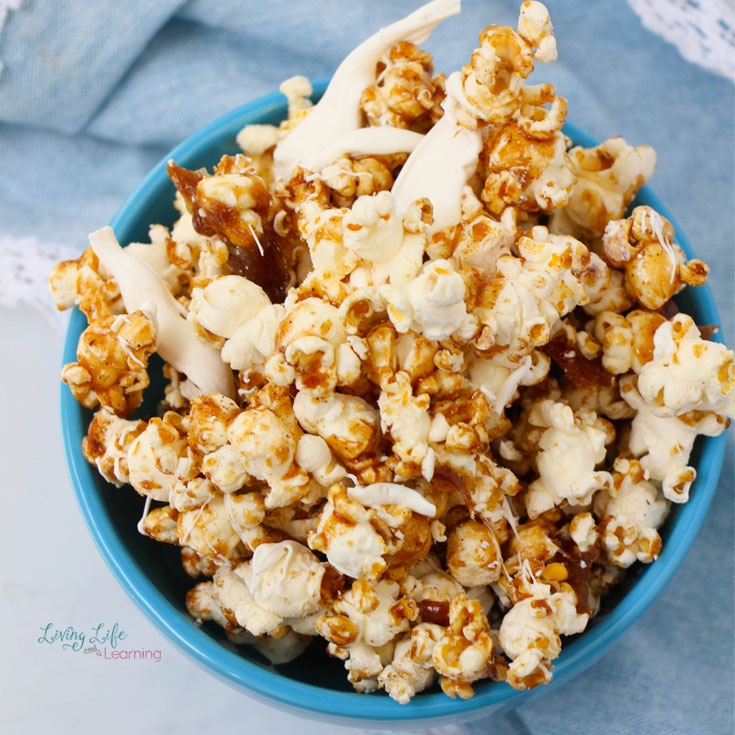 Let the chocolate sauce dry and then break the popcorn up and place in your serving bowl or individual servings bags.
I mean seriously, how simple was that? I wish you could smell it through the screen because my house smells absolutely delicious!
More Popcorn Recipes
Get Weekly Updates
Taming the chaos of motherhood -
Subscribe and get a daily schedule printable