Unicorn Oreo Pretzel Bark Recipe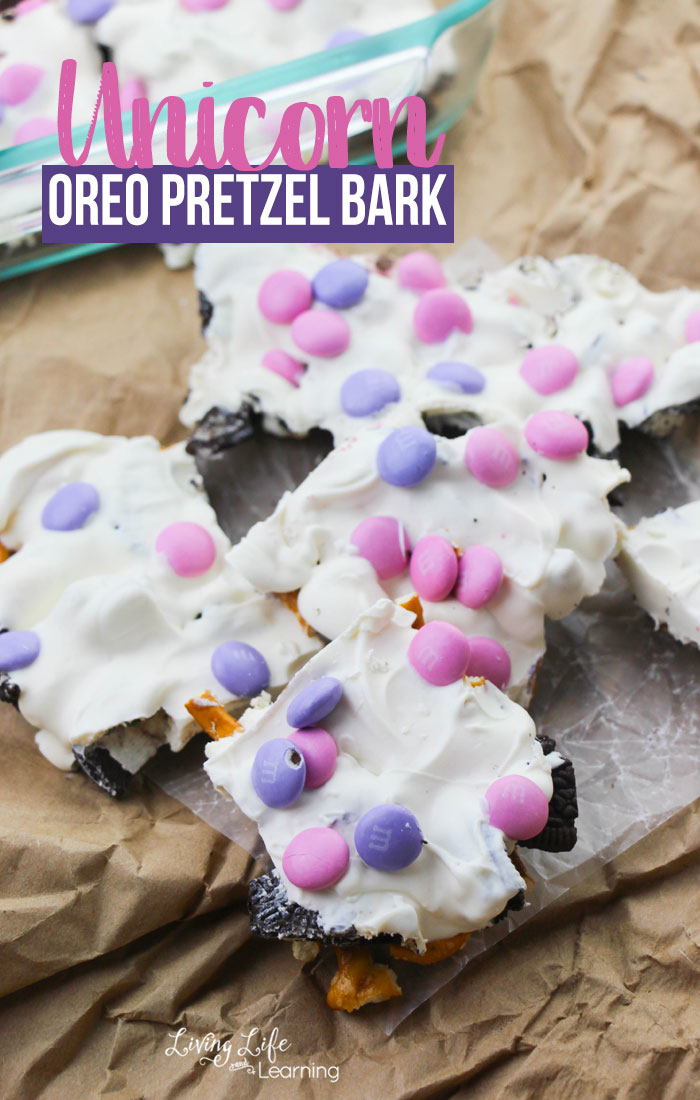 Have you and your kids fallen in love with unicorns as we have? Unicorns are so magical and innocent; how can they not be popular? They are usually fluffy looking, multi-colored, each unicorn horn is full of magic nothing else can compare to. In today's world, there aren't many stores that don't carry something that incorporates unicorns somehow. Snacks, stationery, clothing, accessories, etc.
Unicorns are everywhere, and my kids eat it up! We also eat up this absolutely delicious Unicorn Oreo Pretzel Bark recipe. I mean doesn't that just sound yummy?
These aren't quite as innocent as unicorns are but the magic and love are in every bite! Each bite has a variety of flavors and textures that mesh together better than many treats I have had lately.
There's the smooth candy melt, crunchy pretzels and cookie pieces, and the melty M&Ms. If you are a sucker for a sweet indulgence, you're going to want this Unicorn Bark in your life pronto!
And don't forget to check out more pretzel snacks you have to try!
>> See more unicorn snacks to make at home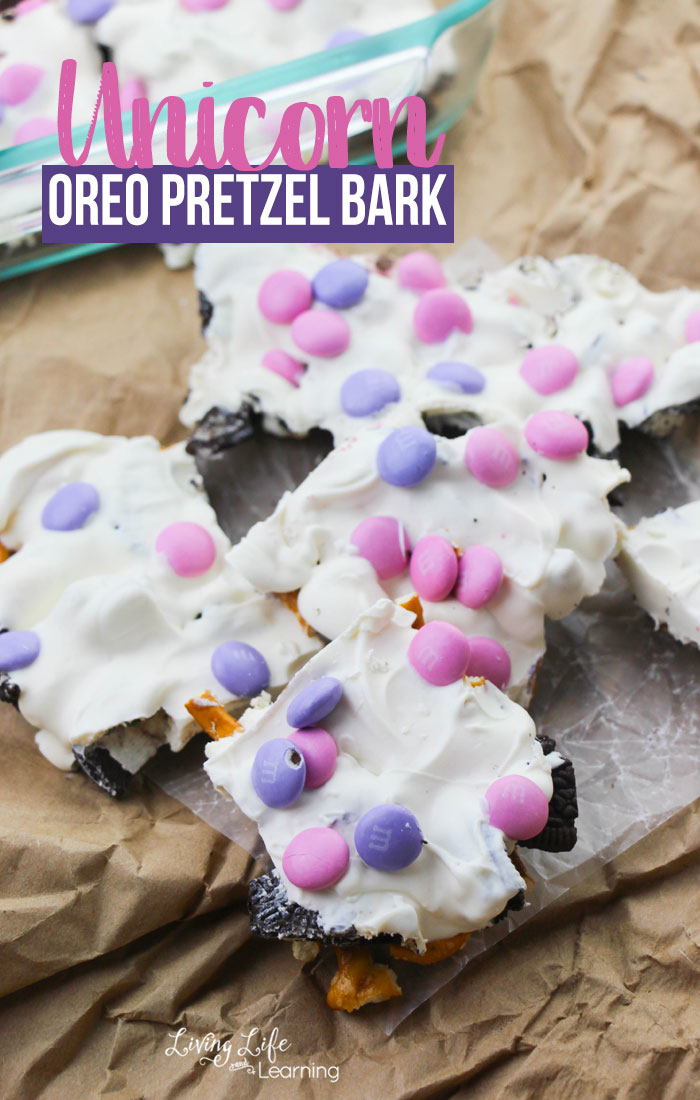 Unicorn Oreo Pretzel Bark Recipe
I'm a big fan of this recipe because it's so crazy simple to make. It's one of those super easy desserts that you just know everyone is going to love.
I mean, what's not to love? This recipe is literally packed full of candy flavor and crunchy texture in every single bite.
When you have Oreo's in any recipe, you know it's going to be good!
Unicorn Oreo Pretzel Bark Ingredients
All you need to get started are the simple ingredients listed below. The great thing about this simple pretzel bark recipe is that you can add in and change up the recipe to whatever sweets and treats you'd like.
Wilton 1911-1300 Candy Melts, Bright White
Oreo Chocolate Sandwich Cookies – Family Size, 19.1 Ounce
M&M'S Easter Milk Chocolate Candy Party Size 42-Ounce Bag
M&M'S Valentine's Milk Chocolate Fun Size Candy 14.0-Ounce Bag
You will love this M&M Oreo pretzel bark recipe and there's so many ways you can dress this up.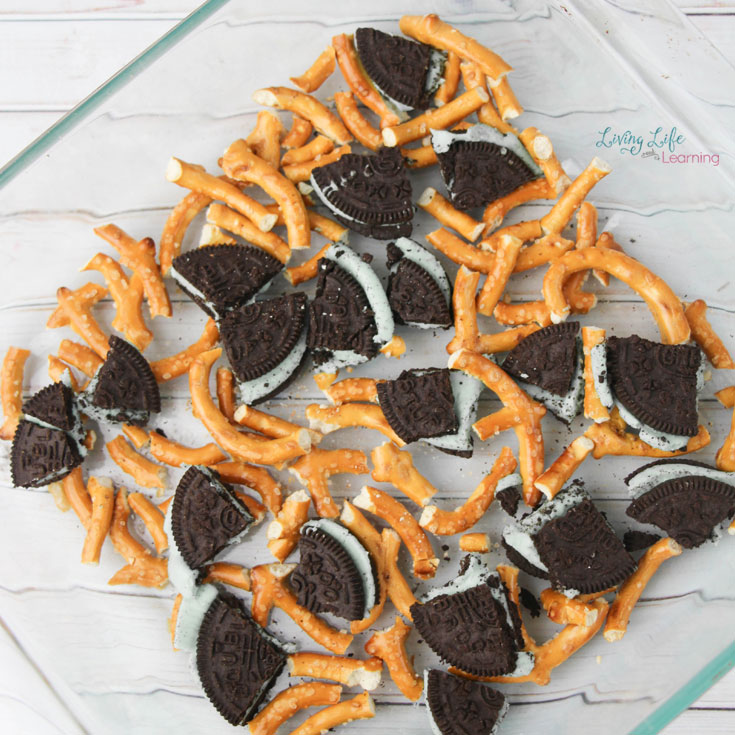 Doesn't this just look delicious? It is worth every minute that it takes to make. Which surprisingly, for as delicious as it is – doesn't take that long!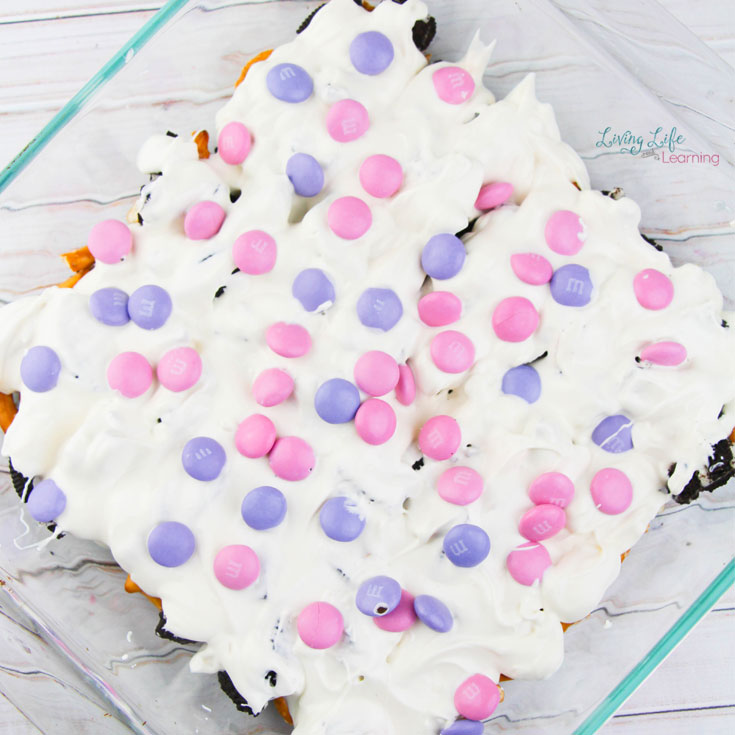 I also think that the colors of the M&M's remind me of a fun Easter dessert, too. There's just something about the pastels that do that!
If you wanted to make this look "seasonal", you could add orange and brown M&M's for Halloween, red M&M's for Valentine's Day, and red and green M&M's for Christmas! See how much fun this bark recipe can be?
Fun Ways to Enjoy These Unicorn Oreo Pretzel Bark Recipe
I can see our family taking this tasty unicorn oreo pretzel bark all over town. Since it's so simple to make and literally the easiest treat to pack up in bags or containers, it just makes sense that this treat would be great for travel, too. It would be perfect for:
Play Dates
School Party
Park, Zoo or Road Trips
Birthday Party Favors
Baby Shower
A Random Monday or Tuesday or Wednesday… you get the point.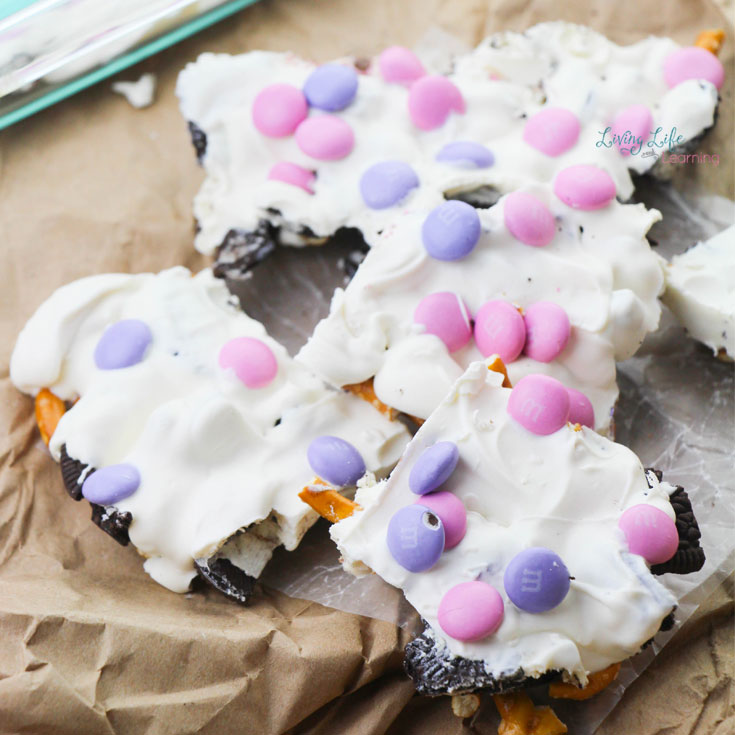 Alternative Unicorn Candy Bark Mix-Ins:
Since I am familiar with picky eaters, I thought of some alternatives that would be just as good mixed in. (but really – you can use whatever you want and whatever candy or food item you're craving.)
Golden Oreos
Chips Ahoy Cookies
Mini Marshmallows
Sprinkles
Nuts
Dried Fruit
You could also add color to the candy melts and include or exclude the M&Ms.
Time to give your Rice Krispies a new magical purpose with these unicorn rice Krispies ice cream cups!
More unicorn recipes
Unicorn Oreo Pretzel Bark Recipe
Total Time:
1 hour
15 minutes
Ingredients
2 cups White candy melts
8 Oreo cookies
2 cups Pretzels
1/4 cup M&Ms
Instructions
Crush pretzels and Oreos into 1″ bite-size pieces.
Arrange the Oreos and pretzels in the bottom of an 8″x8″ casserole dish in an even layer.
Place the candy melts in a microwave-safe bowl and heat in 25-second increments, stirring well in between each heating.
Once the candy melts are completely smooth and melted, pour evenly over the candy melts and smooth with an offset spatula.
Cover and let the pretzel bark set up on the counter – if you refrigerate, the candy melts will "sweat."
Once completely set, break into small squares.