St. Patrick's Day Pretzel Rods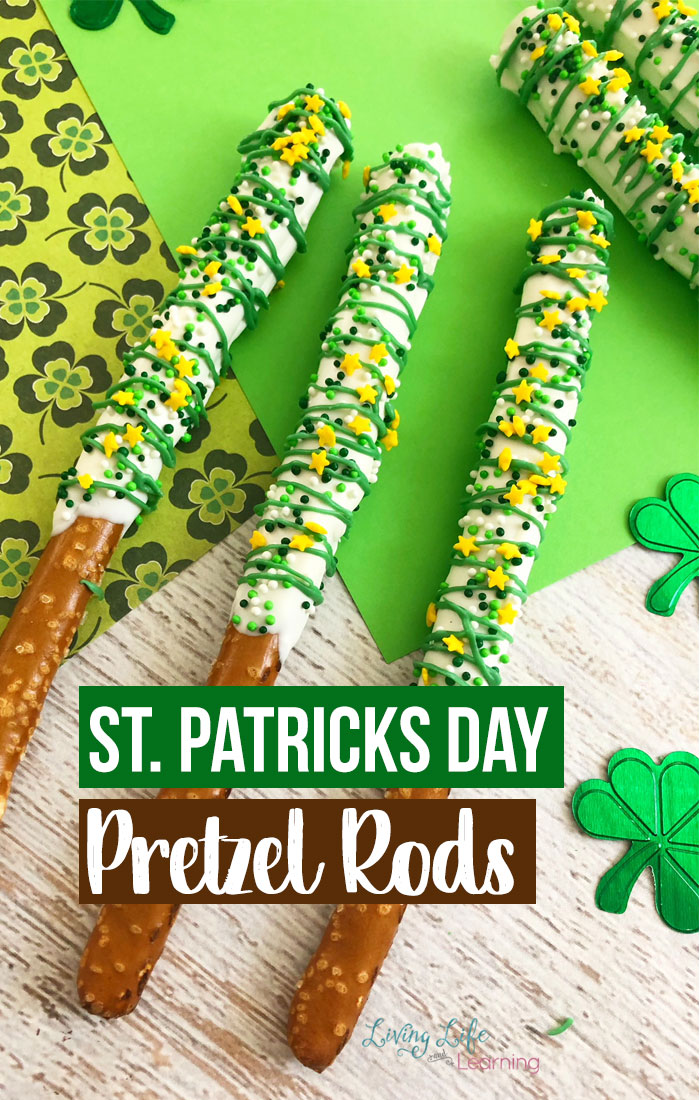 You're going to love the ease of these St. Patrick's Day Pretzel Rods! Such a fun and tasty treat for the family!
Well hello, March! When March comes around, we start thinking about the warmer weather, rainbows, and showers. But we can't forget about the very lucky holiday, St. Patrick's Day. Everything is green, clovers, leprechauns, and pots of gold. It is not necessarily a holiday that many people go crazy over celebrating but it is super extra fun with kids around! I mean, when you have kids any excuse to dress up fun, decorate and make extra special treats is reason enough! These St. Patrick's Day Pretzel Rods are where it's at!
And don't forget to check out more pretzel snacks you have to try!
This St. Patrick's Day treat is easy to make and are a delicious to snack on. I also love these because they make a great treat to give to friends, take to the classroom or give as a 'we are lucky to have your gift for teachers. They are easily made with delicious melted chocolate, festive sprinkles and of course a green drizzle.
These are perfect for a quick snack or a fun and easy treat to make together in the kitchen. The kids will love jumping in and helping out with this easy treat!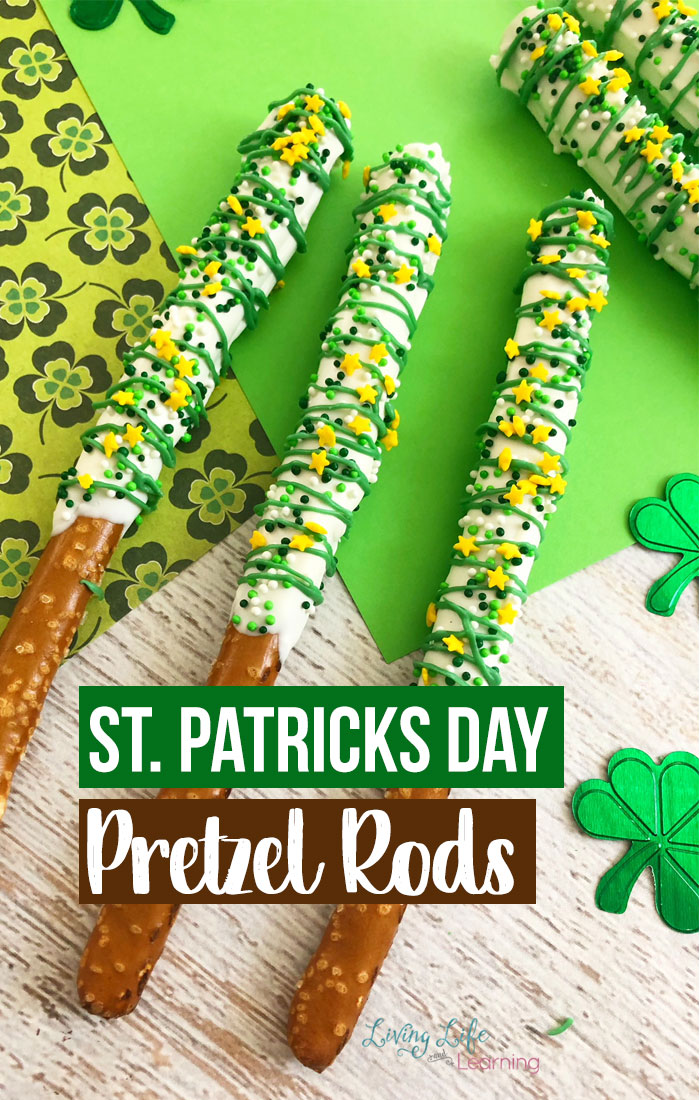 St. Patrick's Day Pretzel Rods
If you're looking for a super simple and easy treat for St. Patrick's Day, you really are going to love this simple recipe. It's one that takes just a few minutes to make and is really quite festive and fun! The kids will be able to help as well and decorating with sprinkles is going to be right up their alley!
Pretzel Rods Ingredients
Below are the simple ingredients that you need to get started.

Directions
1. In a small microwave-safe bowl, melt your white candy melts on 50% power for 3 to 4 minutes, stirring every 30 seconds until melted.
2. Pour your white chocolate into a tall glass, dip each pretzel rod into the tall glass and place the white chocolate covered pretzel rods onto a piece of parchment paper.
3. Top your pretzel rods with your green sprinkles and let harden.
4. In another small microwave-safe bowl, melt your green candy melts on 50% power for 3 to 4 minutes, stirring every 30 seconds until melted. And pour into a decorating bag.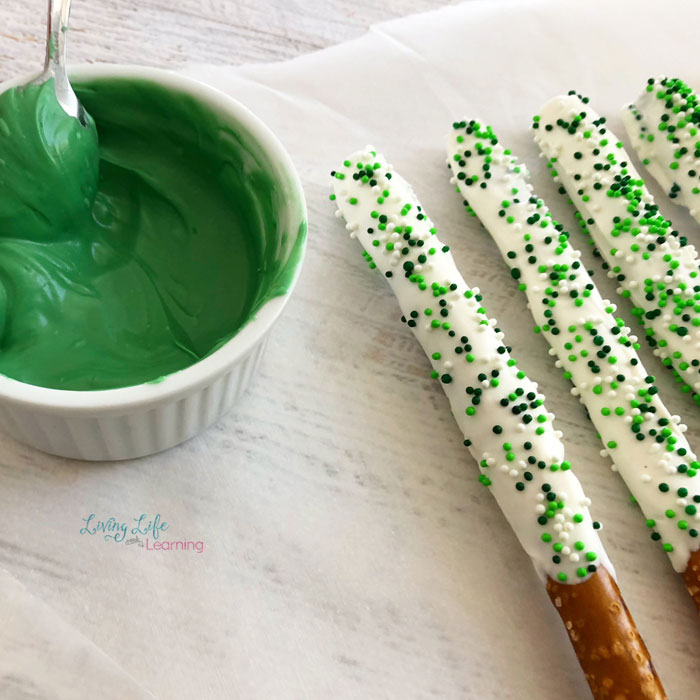 4. Cut the tip off the decorating bag and drizzle the green chocolate over the pretzels.
5. Sprinkle with yellow stars and transfer to a clean piece of parchment paper to harden fully.
This is a perfect treat for the kids for St. Patrick's day or any green themed event in your life. I've made these up every single year and they're always a hit.
Tips for Making Dessert Pretzel Rods
The biggest thing to remember is that you're going to need to give them time to set up. The chocolate will take a bit to harden so everyone will have to practice some patience during this time!
We like to try to occupy ourselves a bit and play games, go on a walk, or just put our attention on something else while this is happening. Because we've found out that if you stop and stare at them, they're never going to harden in the amount of time that you want!
Don't forget that to keep them fresh, you need to keep them stored in an airtight container as well. If not, the pretzels will lose their crispness that they have to them.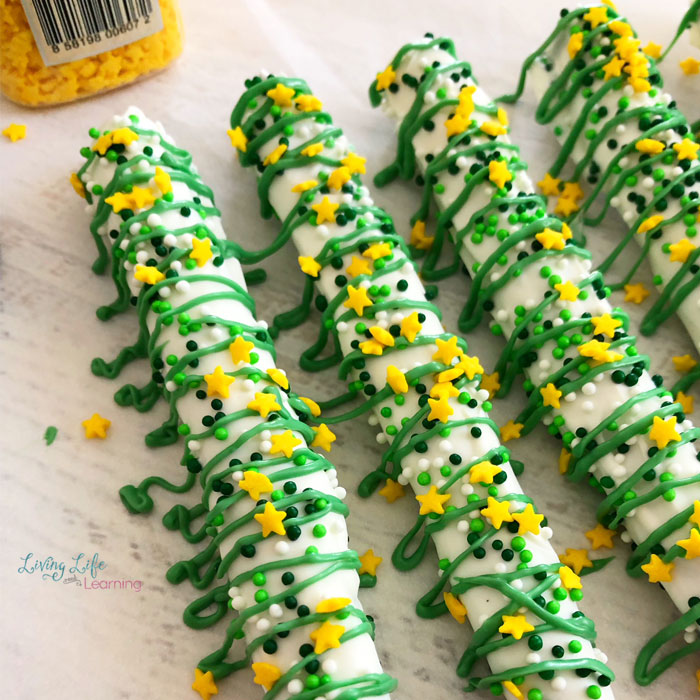 More dessert ideas
Looking for even more simple desserts? Try these out!