Unicorn S'mores – The Perfect Indoor Treat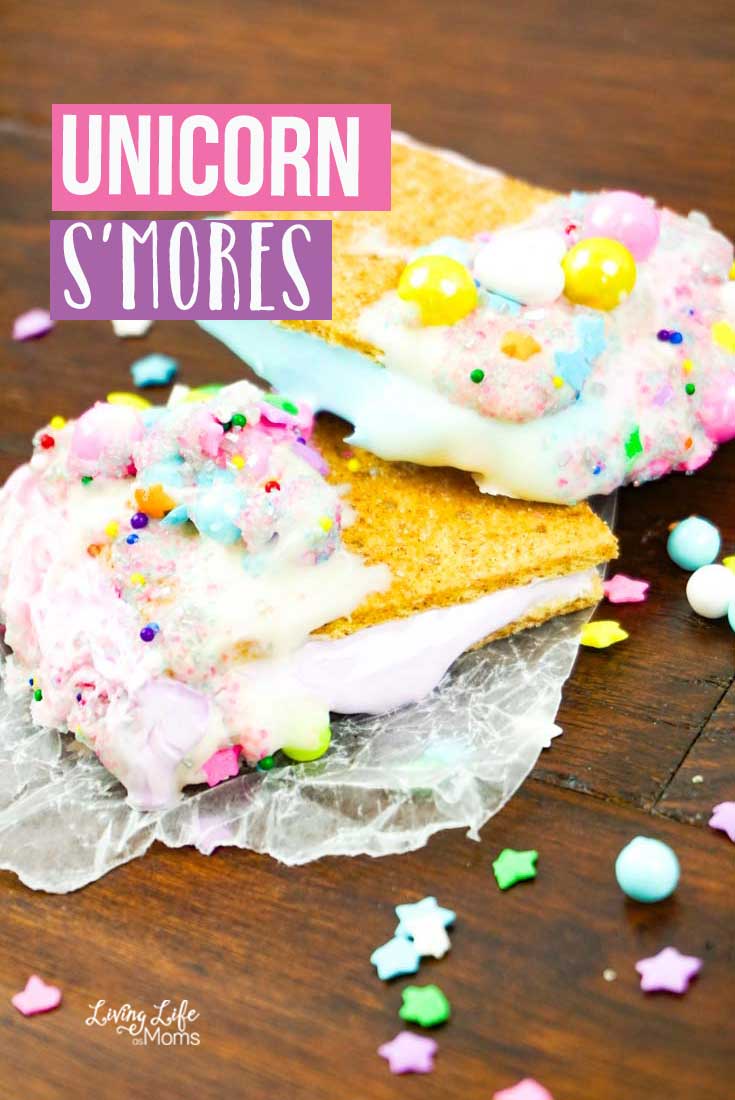 When summer arrives, outdoor time means s'mores, fun and exploration….and usually in that order. But what happens when you're craving that s'mores taste but you don't want to go outside, set up a campfire and do all that song and dance that comes along with it?
You make these unicorn s'mores, that's what! Not only are they a fun treat for the kids and funny but they're also perfect if you have a unicorn-themed birthday party coming up as well!
They're almost too beautiful to eat…almost!
>> More Unicorn Snacks you have to try!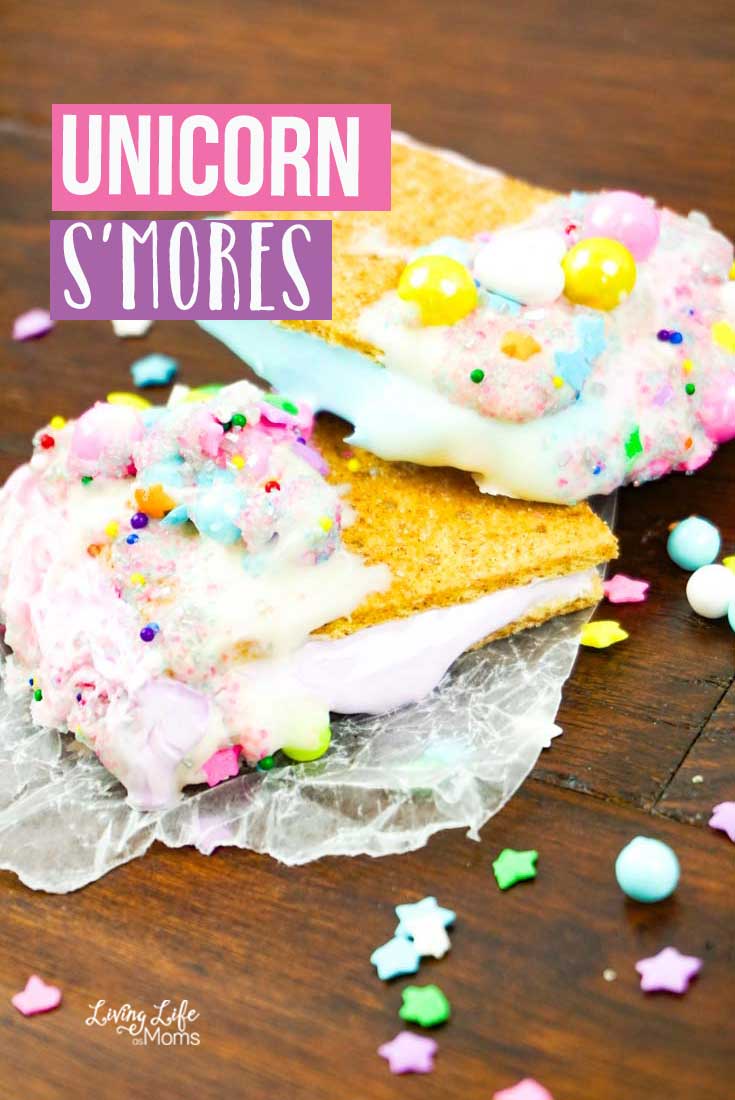 Unicorn S'mores
Let's just start out by saying that I'm a big fan of s'mores. What's not to love? Chocolate? Check. Marshmallows? Check. And now unicorn sprinkles and fun? Count me in.
Even though this "technically" might be a treat for the kids, it's one that adults can enjoy as well. Plus, it's much less stressful than sitting around a blazing campfire and trying not to burn your own marshmallow.
Within moments, you'll be enjoying a delicious s'more in the comfort of your own home!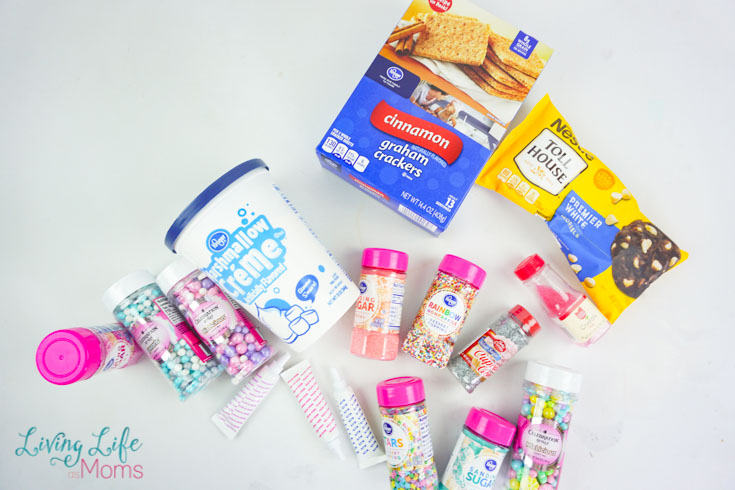 Once you gather up your ingredients, you get to start making all the fun colors. We used pink, purple, and blue because…well, unicorns. But you could really incorporate any type of colors in there that you wanted honestly.
These are your unicorn s'mores so have fun with them!
Just be prepared that there's a high chance that it's gonna get messy. But that's okay. That's all part of the process in making them.
Part of the fun of s'mores is that you're going to have some on your fingers, your lips, your shirt and probably everywhere else as well. Accept that fact now so you can concentrate on the fun aspect!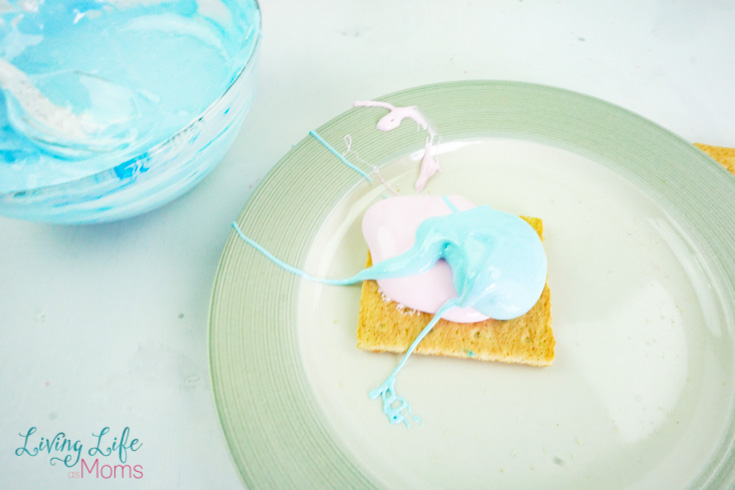 Once you get the fluff and all that goodness in the middle and on the outside, it's time to dip in the sprinkles! Can one ever have too many sprinkles? My answer is no! (and trust me, we've tried this over the years and have found that to be true!)
With this being such a user-friendly recipe, make certain to let the kids have fun with it as well. There are no parts that they shouldn't be able to help with so let their cooking creativity shine brightly!
Unicorn S'mores
Inactive Time:
20 minutes
Ingredients
1 Container marshmallow cream
6 Graham crackers
Tons of sprinkles, all different kinds!
1 Package white chocolate
Blue GEL Food Coloring
Purple GEL Food Coloring
Pink GEL Food Coloring
Instructions
Start by breaking the graham crackers in half.
Take and separate the marshmallow cream into 3 different bowls.
Grab your different food colorings and stir one color food coloring into each bowl of marshmallow cream.
Using a spoon, take and place one spoonful of each color marshmallow cream onto a square of graham cracker.
Take the other half of the graham cracker and place it on top, creating a sandwich look.
Do this with all the crackers and once done, place them all in the freezer for about 10 minutes.
While they are in the freezer, get your sprinkles ready to use! Pour them out on a plate.
Take your white chocolate and put in a microwave-safe bowl.
Heat for 1 minute and stir. Repeat this until melted but start stirring every 30 seconds after the first initial minute.
Once melted, take your crackers out of the freezer and dip half of each sandwich into the melted chocolate.
Once you do that you need to Immediately dab each sandwich into the sprinkles.
When they are covered in sprinkles, place the sandwiches back into the freezer for 10 minutes.
Once that time is up, enjoy!
See how simple this unicorn s'mores recipe is?! It's going to be a family favorite for sure!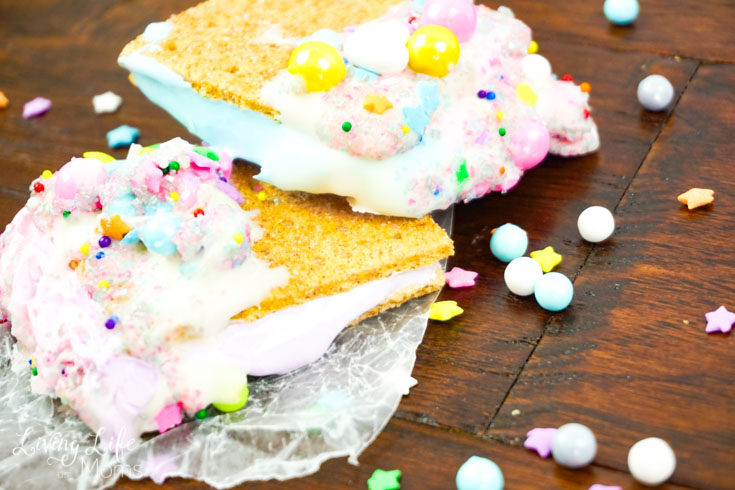 More unicorn recipes you might enjoy
Simple Unicorn Rice Krispies Treats