Valentine's Day Popcorn Recipe
Don't miss out on this Valentine's Day Popcorn Recipe! If you're looking for a tasty treat, this holiday popcorn recipe is perfect! When it comes to tasty recipes for Valentine's Day, you really can't beat this!
We're HUGE popcorn fans. Like crazy for it. It's just such a simple snack that you can eat salty, or sweet. Or a combination of both.
For this reason, we make and eat a lot of popcorn in our house. The kids love it, I love it, and it's always something that we have in the house. It's a great way to feed our bellies in a super short amount of time.
Make sure to check out my Mouth-Watering Popcorn Recipes for even more tasty ideas!
Valentine's Day Popcorn Recipe
It seems that most people are either "team sweet" or "team salty" when it comes to popcorn. In our house, we're team popcorn, no matter what. We'll eat it sweet, we'll eat it salty, and we'll eat it all.
Since Valentine's Day is one of our favorite holidays of the year, it makes sense that we wanted to make Valentine's Day popcorn. All it took to make this yummy treat was a few simple ingredients in the color of red and pink.
It doesn't get much more festive than that!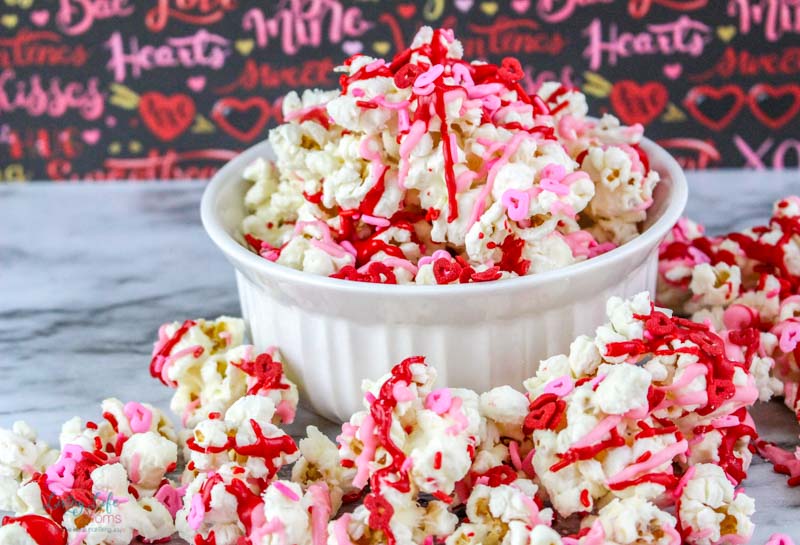 Ingredients needed to make Valentine's Day Popcorn
Popped popcorn
White baking chips
Coconut oil
Pink candy melts
Red candy melts
Valentine's Day sprinkles
Once you gather up the easy ingredients, it's time to get started on making this tasty treat!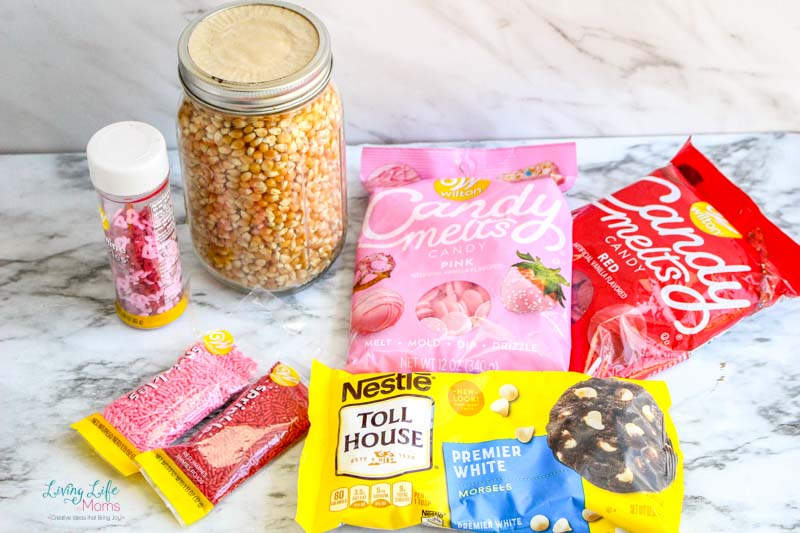 How To Make Valentine's Day Popcorn
You need to start by popping the popcorn. I like to use an air popper for this but you can easily pop it on the stove as well.
You can even use microwave popcorn in a pinch, although I don't care for the flavor and taste as much that way.
Some people like to add butter and salt to the popcorn at this point, but that's totally up to you and your preference. If you like the salty-sweet taste, it might be something that you want to try!
You can always make two batches and make it two different ways, too.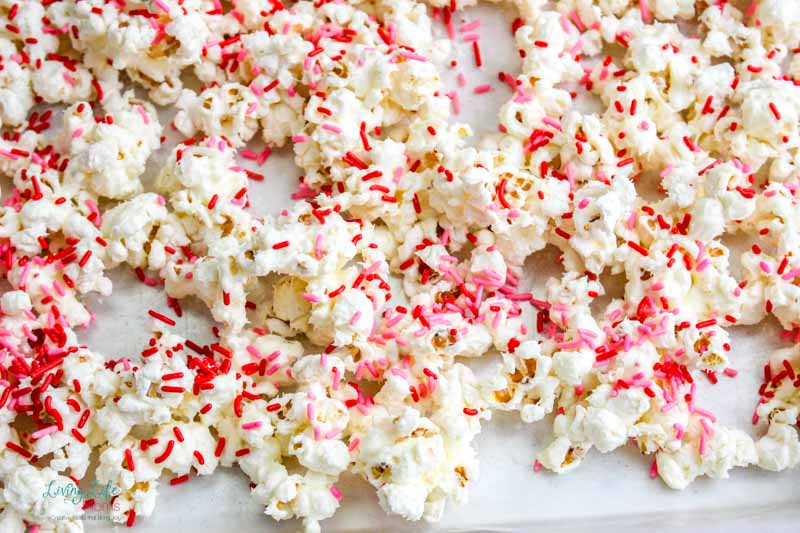 Once you have the popcorn made, you can then drizzle on the chocolate and then add the sprinkles.
Try and do a light drizzle over the popcorn and then add the sprinkles on pretty quickly afterward so that they'll stick.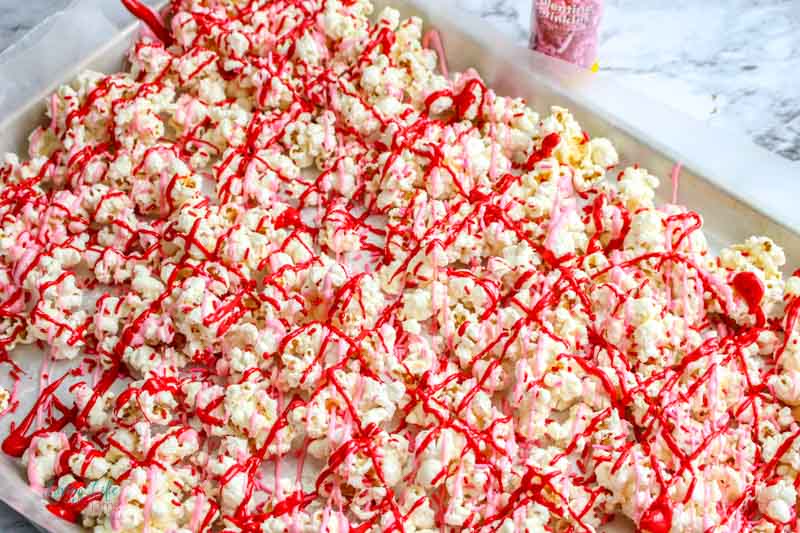 Once it hardens up a bit, dish up a serving in a bowl and enjoy!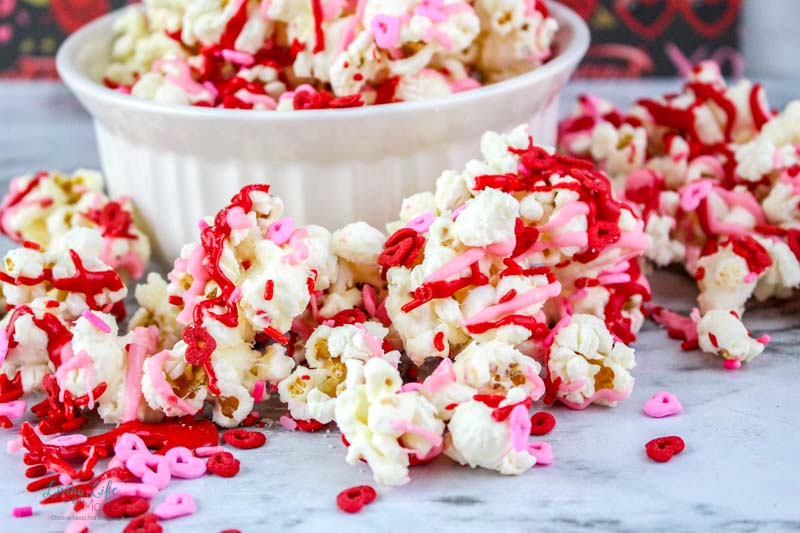 How do you know if you've burnt the chocolate wafers?
You have to be really careful with this. Make sure that you're following the directions on the bag well. Most times, you'll be microwaving in 15 to 30-second spurts and stirring in between each time.
If you overcook and burn any of it, you do need to toss the whole thing out. You can't get rid of that burnt flavor no matter what you try.
You'll know that you burnt it if it actually looks burnt or has a burnt smell.
What is the easiest way to thin out chocolate as you're melting it?
You want the chocolate to be thin enough so that you can drizzle it over the top. If you're worried that it's too thick, add in a little bit of vegetable oil or coconut oil and stir.
Make sure that you do this in little spurts. If you add too much at once, it's going to be too thin to stick.
How do you store popcorn?
If you're lucky enough to have popcorn leftover, you're going to want to make sure that you store it properly so that it doesn't get stale. The best way to store leftover popcorn is to add it to an airtight container or bag.
This doesn't need to be stored in the fridge so having it in a bag or container on the counter is totally fine. This will also have it be eaten quickly since it's out in the open to remind everyone to eat it!
What else can you add to this popcorn recipe?
I think that it's pretty perfect as is but if you want to add in other ingredients, do so! More chocolate chips can't hurt, right? Also, adding in other sprinkles is a fun idea, too.
Don't forget that you can easily make this popcorn recipe for other holidays and seasons, too. Just change up the sprinkles and the color of chocolate melts and that's all that it takes!
Green and red for Christmas, green and purple for Mardi Gras, Black and orange for Halloween, and the list go on and on!
Don't forget to share these treats with others! I think that this would be a super cute homemade gift idea for family and friends! All you need is a fun treat bag or box to put it into and share with those that you love! They'll love having popcorn delivered right to their door!
Follow the simple directions below to get started. The process for making this simple popcorn recipe is fast and easy and takes hardly any time at all.
Valentine's Day Popcorn Recipe
This simple popcorn recipe is perfect for Valentine's Day!
Ingredients
6 - 8 cups popped popcorn
12 ounces of white baking chips
1 T and 2 tsp coconut oil
½ cup of pink candy melts
½ cup of red candy melts
Valentine's Day sprinkles
Instructions
Put wax paper on the two baking sheets and spread out the popcorn.
Melt the white chocolate and 1 T of coconut oil in a microwave-safe bowl for 1 minute. Stir after that to melt the chocolate. Put the bowl back in the microwave and heat in 15-second intervals. Make sure to stir between each one.
Pour the melted chocolate on top of the popcorn and toss it to cover it well. Once it is covered, spread the popcorn out on an even layer and let it firm up.
Melt the pink candy melts the same way that you melted the white candy melts. You may need to add less oil or more depending on the thickness that you're looking for.
Put the pink melted candy in a freezer bag and set it off to the side.
Melt the red candy melts the same way as the other two melts and put that into a different freezer bag.
Cut the corners of the freezer bags and drizzle the chocolate over the popcorn. You can then add sprinkles while it's still wet. Let the chocolate firm up and break into pieces.
More Delicious Desserts
Irresistible Chocolate Peanut Butter Popcorn Recipe
If you're a fan of chocolate and popcorn, you have to make this! It's perfect for any time of the year and proves that popcorn really is a dessert all on its own!
Christmas Peppermint Popcorn Recipe
I love that this recipe has the flavors of peppermint. It's perfect for the holidays and a fun and festive treat. Making this during Christmas could easily become a holiday family tradition that you do over and over again.
If you're looking for a fall popcorn recipe, this is one that you want to try! The flavors of apple and cinnamon pair perfectly with every bite!