Delicious Snickers Popcorn Recipe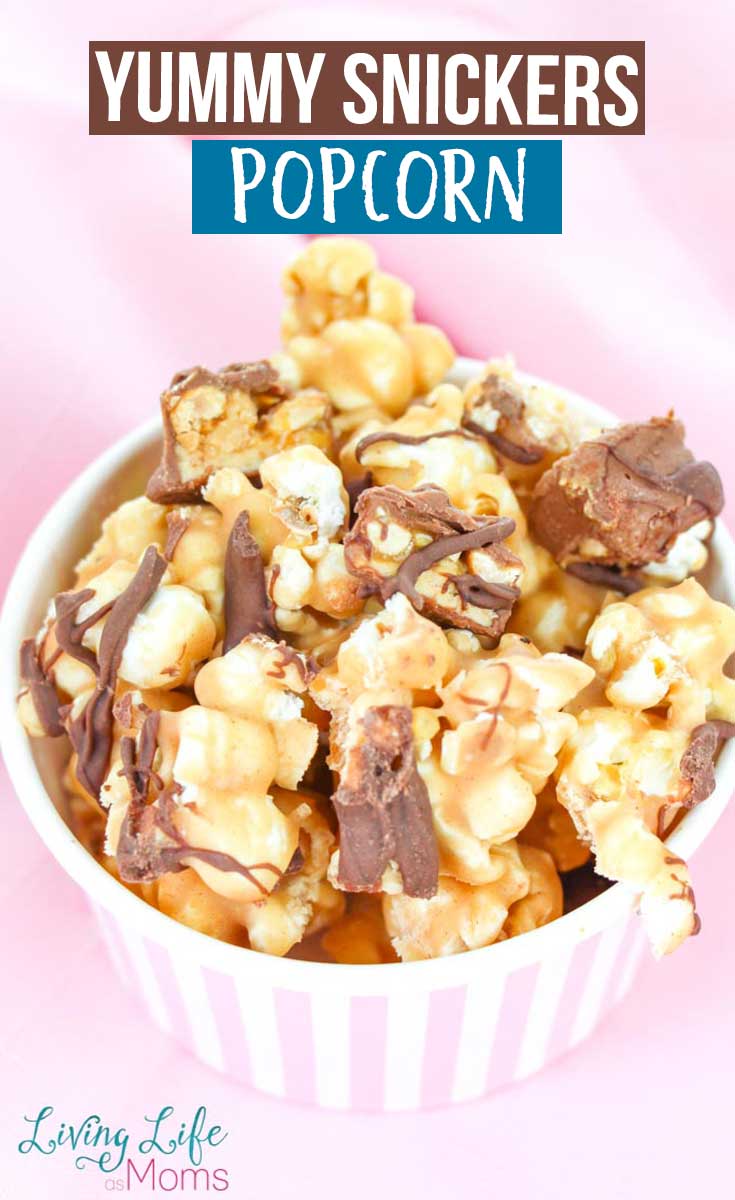 Is there anything better than popcorn? While I might have said "no" before, that was prior to my discovering and eating this delicious recipe. If you're looking for a great treat for a night in or movie night, you're going to love the taste and flavor of this Delicious Snickers Popcorn Recipe
While we do try to eat healthily as often as possible in our home, there's no denying that a bowlful of delicious popcorn is a must. But when you can take that popcorn and combine it with the taste and flavor of Snickers, you're about to fall head over heels for this amazing recipe just like I did.
We've made this a million times in our house and it hasn't gotten old yet…and with how delicious it is, I have a feeling it's not going to anytime soon!
>> See the other amazing popcorn recipes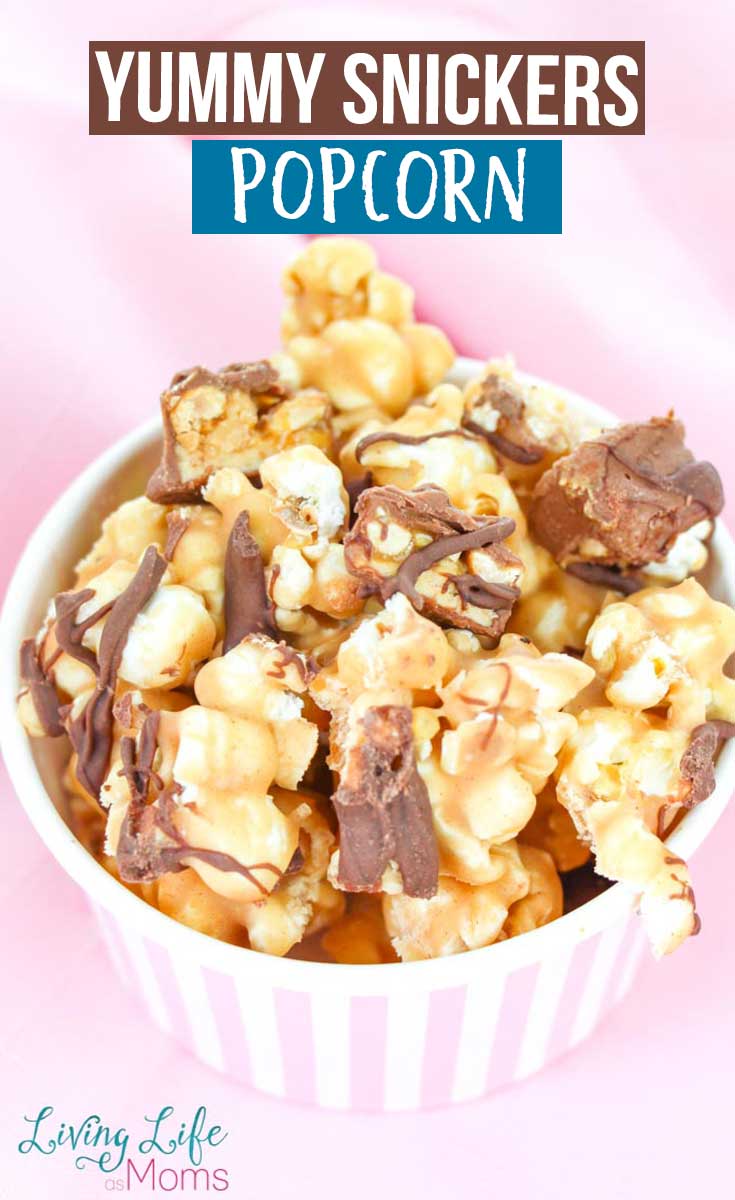 Recommended Dessert Recipe Books
Do you want more dessert ideas? Grab these recipe books and start making your tasty desserts.
Dessert Boards: 50 Beautifully Sweet Platters and Boards for Family, Friends, Holidays, and Any Occasion
Le Cordon Bleu Pastry School: 101 Step-by-Step Recipes
Tasty Dessert: All the Sweet You Can Eat (An Official Tasty Cookbook)
Dessert Person: Recipes and Guidance for Baking with Confidence: A Baking Book
How to Cook That: Crazy Sweet Creations (Chocolate Baking, Pie Baking, Confectionary Desserts, and More)
FitWaffle's Baking It Easy: All My Best 3-Ingredient Recipes and Most-Loved Sweets and Desserts
Recommended Personalized Popcorn Bags and Buckets
Do you want your family movie night to be extra special?
Grab this adorable and reusable personalized popcorn bucket. Totally awesome!
Family Movie Night Popcorn Bags
You may choose this family movie night popcorn bags that are disposable and are perfect for a larger group.
Delicious Snickers Popcorn Recipe
The only thing wrong with this recipe is that it's going to be gone before you even realize what happened. This is why I think it's a great idea to make up a second batch and have it on "reserve", just in case.
Not only does this recipe have Snickers in it, but it also has peanut butter and even more chocolate as well. It's like having your dessert over and over again.
If anyone in your house has a sweet tooth, they're going to be very happy with this popcorn recipe.
Make certain when you're making this delicious dessert that you follow the directions below well. The last thing that you want to do is take the chance of overheating or burning one of the main ingredients!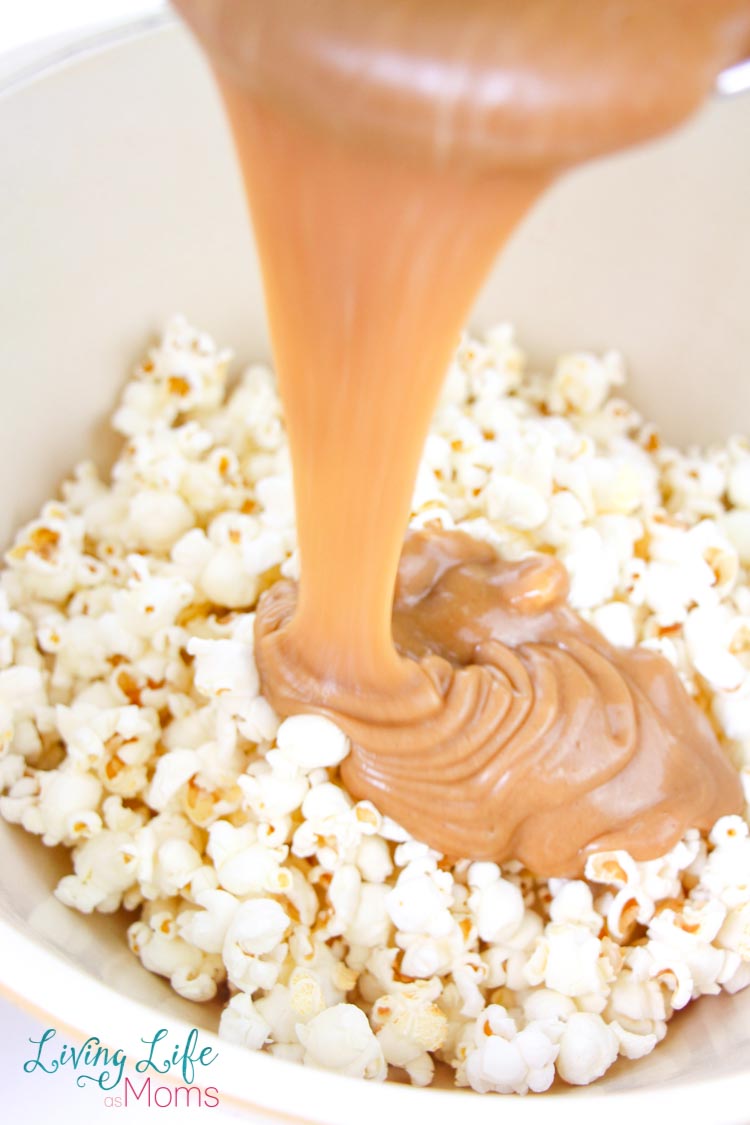 I'm also just going to forewarn you that this is one of those recipes that make it really hard to not snack. But, if you're the one that's making it and doing all the work, who says that you shouldn't get to have a few bites and enjoy it along the way?
After all…doesn't a chef need to taste their dish before serving it up to others?!
If you have younger children that are wanting to help make this delicious treat, just be certain that they're aware that some of the ingredients are going to be very hot.
It's important to make certain that everything is cooled off entirely before anyone tries to grab a handful! They'll get a hot surprise for sure!
If you happen to have any of this dessert leftover, make certain that you store it in an airtight container so that it keeps for a few days. While it's best eaten fresh, it still tastes amazing for a couple of days after as well.
Are you excited to make this popcorn recipe? Get the full recipe and directions below!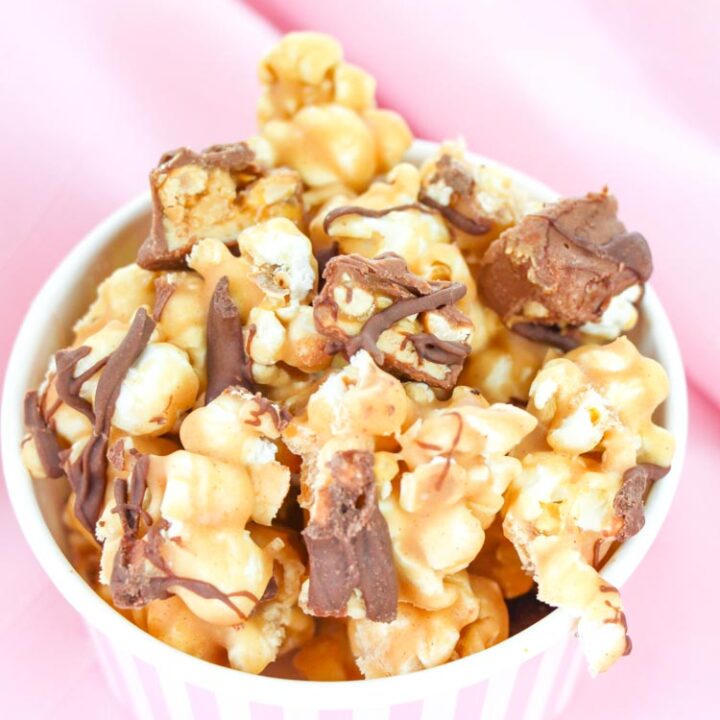 Delicious Snickers Popcorn Recipe
You're going to love the taste of this Snickers Popcorn.
Ingredients
6 Cups of popcorn
1/2 Cup of corn syrup
1/2 Cup of peanut butter
1/2 Cup of white sugar
1/2 Cup Snickers Bites
1/4 Cup chocolate chips or chocolate almond bark
Instructions
Start by popping up your popcorn. You can either do this air-popped or find some butter-free microwave popcorn as well. Once the popcorn is popped, take a cookie sheet and spray it with cooking oil, and set it aside.
Grab your white sugar and corn syrup and put them in a small pan over medium heat. Stir the whole time until the sugar dissolves and the mixture looks caramel in color. This will take about 3-4 minutes.
Once it's turned color, it's time to add in the peanut butter. You'll need to stir the entire time and mix it in and cook for one minute before taking the pan off the heat.
Right after you take the pan off the heat, you're going to pour the mixture over the popped popcorn and gently store it to mix it all together.
Once you have it mixed, take and spread it out on the cookie sheet in a single layer. You'll then take the Snickers Bites and cut them in half, sprinkling them all over the popcorn.
Next, melt the chocolate in a microwave-safe bowl for about 25 seconds or so. Stir and then continue to reheat until the chocolate is smooth and free of lumps. You'll then take the chocolate and drizzle it over the popcorn.
You'll need to let it set for up to 4 hours until it's no longer sticky when touched.
Recommended Products
As an Amazon Associate and member of other affiliate programs, I earn from qualifying purchases.
More Popcorn Recipes to Consider
Colorful Easter Popcorn Recipe You Have to Try
White Chocolate Covered Popcorn by Inside Bru Crew Life