Christmas Wreath Rice Krispies Treats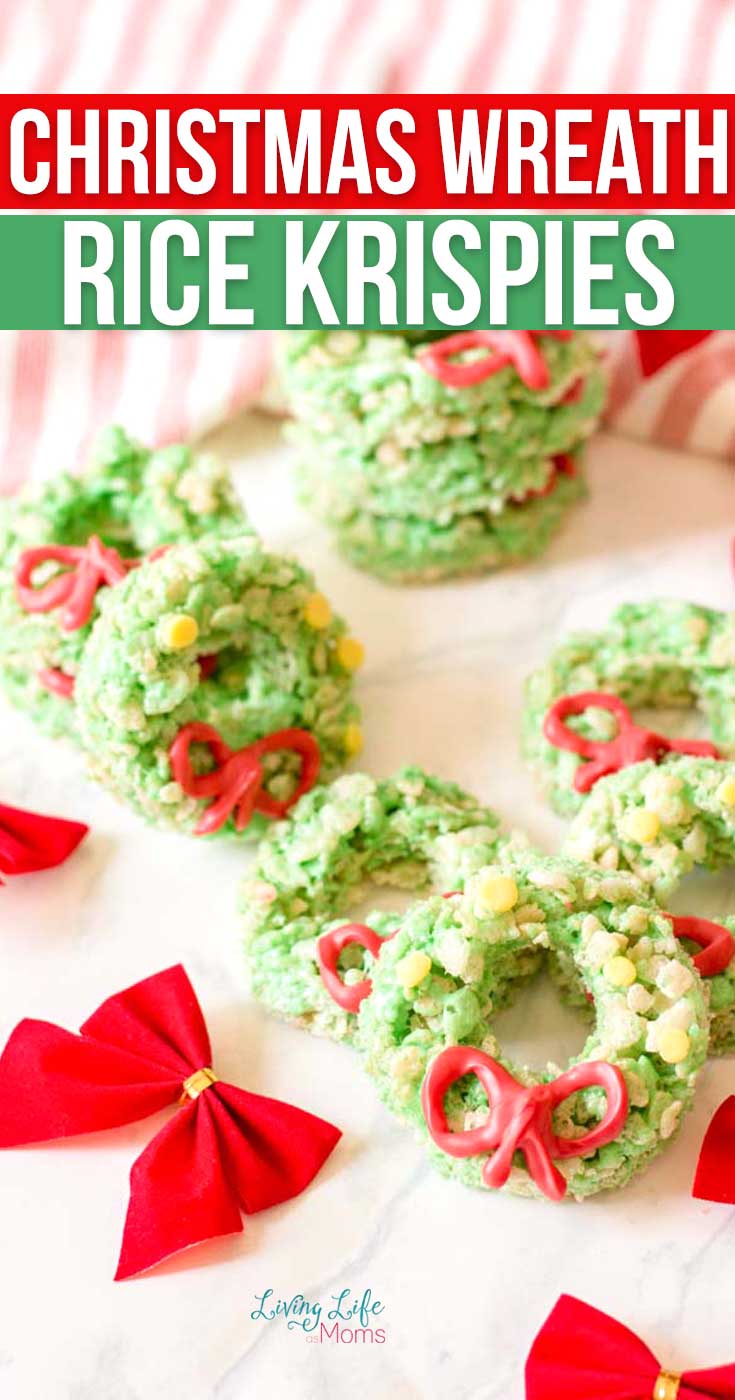 These Christmas Wreath Rice Krispies treats are such a fun holiday treat. Not only are they delicious, but they really do look like holiday wreaths. They're so much fun to make, the kids are going to have a blast helping out in the kitchen.
We love to start thinking about holiday baking once Halloween has passed and we can fill that slight chill in the air. For us, cooking together in the kitchen is a fun bonding moment that brings a lot of happy memories to our core.
And since we're huge fans of Christmas, it just makes sense that we make up these fun holiday treats as well. Because anything that is a homemade rice Krispy is certain to be a hit!
Make certain to check out our Gingerbread Cookies as well. They're another great treat full of taste!
>> See more delicious Rice Krispies Treats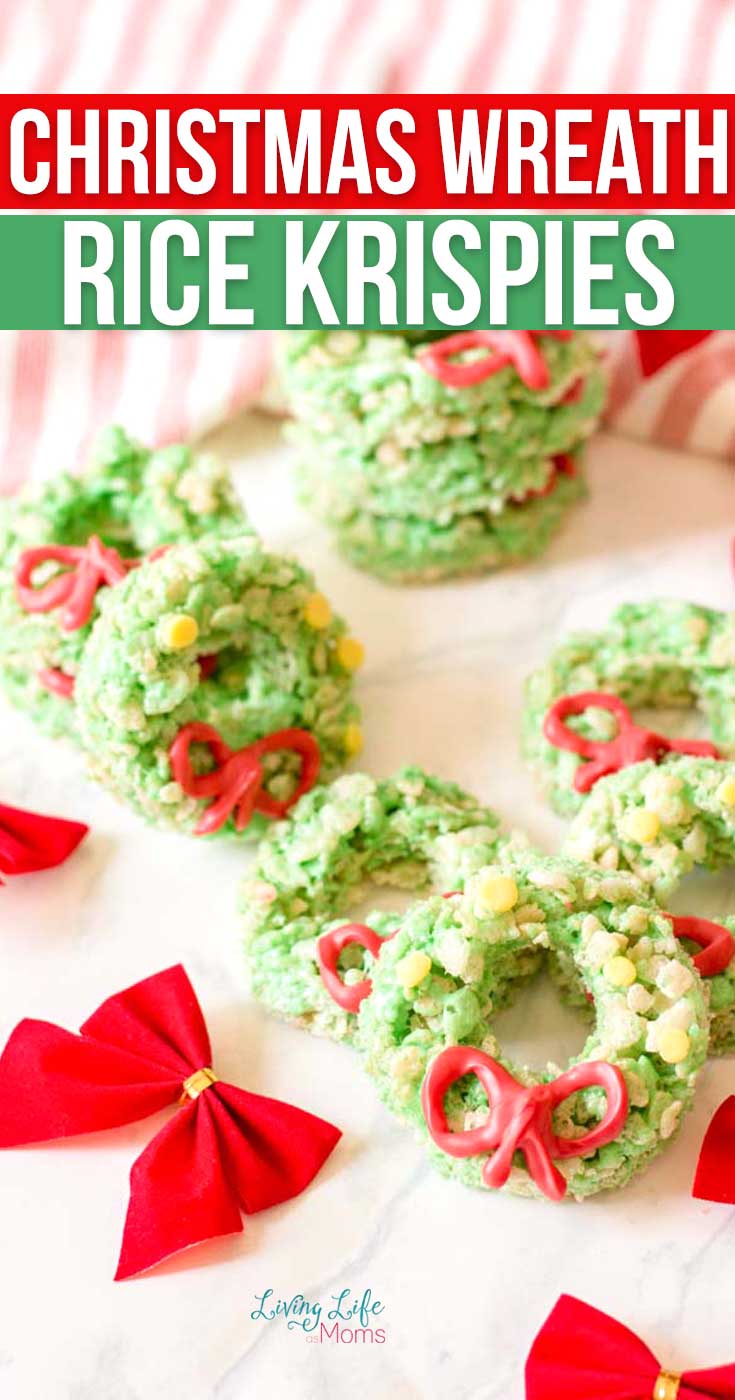 Christmas Wreath Rice Krispies Treats
What I love about this simple recipe is that there are only 6 ingredients added. To me, that's a mom win! The less stuff that I have to have on hand, the easier I can make up this dessert.
The kids are also crazy over them because look how cute they are. They're dainty and sweet but pack a huge amount of flavor!
They really are a super fun holiday treat to eat and enjoy. We even make up a few extras and share it with our family and friends. Because during the holidays, sharing truly is caring!
A fun decorative treat that is fun to make with the family.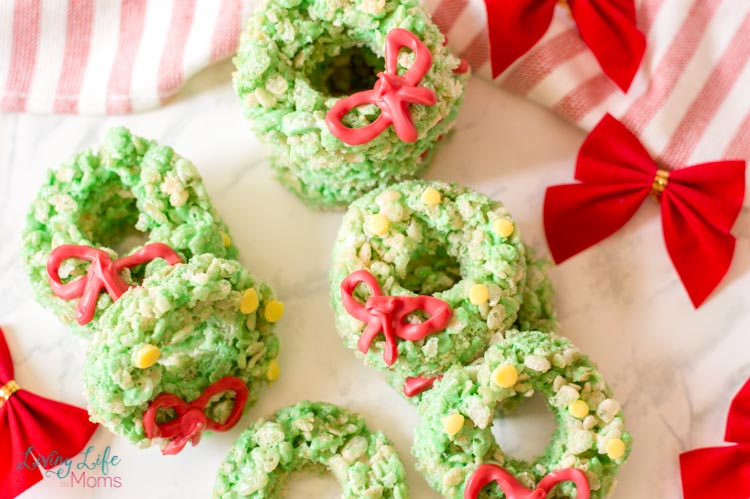 Ingredients needed to make these Christmas Rice Krispie Treats
Just gather up the short list of simple ingredients to get started.
Butter
Marshmallows
Green gel food coloring
Rice cereal
Red candy melts
Yellow candy melts
I told you this was super simple, right? You're going to be chowing down on this simple cookie recipe in no time at all!
And as you can see from the processed photos below, it's not a hard recipe to make at all. In fact, dare I say that it's one of the easiest holiday treat recipes, ever?
Little hands are great for this treat because they love to pat down the Rice Krispies and use the cookie cutter to make out the circles for the wreath.
We count out 40 marshmallows as the directions call for but we always have to have extras on hand because they tend to "disappear" as we're making this dessert.
Keep in mind that the wreaths are going to show some uncolored Rice Krispies on them and that's totally fine. There isn't really a way to get it entirely green so that's just something to be aware of.
Are you ready to learn how to make these simple holiday wreaths? Check out how easy the recipe is to do!
Don't forget to make these up a few times before the holiday hits because it's such a fun holiday recipe for the kids and you to do together. And since this is so simple, there's really no reason not to make it up at all!
Store the leftovers in a covered container so that you keep it as fresh as possible to enjoy for several days.
Tips for making these simple Rice Krispie treats
Making these treats aren't hard to do at all but keep in mind these simple tips.
As you're melting in the marshmallows, be stirring so that they don't burn. I've had this happen to me a few times and dealing with burnt marshmallows isn't fun at all.
When you're putting the treats out onto the parchment paper be certain to press down and really put it down. This will make certain that it sticks together and is easy to hold its shape.
You also want to make certain that you clean the pots and pans and all the dishes right away. It's no joke to say that hardened marshmallows and rice Krispies are just like cement! If you don't clean the dishes right away, just make a plan to let them soak and come back to them later.
Storage Tips
To keep these as fresh as possible, you need to store these treats in an airtight container. This way, they'll still be crunchy and crispy and fresh.
I prefer to store them in an airtight container but you can also use a sealable bag, too. I don't recommend freezing these treats as they won't unthaw well.
The other thing to keep in mind is that you don't have to keep these stored in the fridge. You can leave them sitting on the counter or at room temperature without issue.
Fun Ways to Combine Cooking and Learning
Since I'm always thinking of ways to combine cooking and learning, this recipe is actually great for that! You can work on counting skills by having the kids count the number of marshmallows that they're going to use in the recipe.
You can also have them work on talking about how to make different shades of green if they were to use two dyes together. Can they make a dark green and a lighter green? This would be a good time to challenge that and find out.
These are just a few simple examples of how you can combine some learning and cooking fun. The kids are always excited to help out in the kitchen and I think it's a fun way to bond as well. If I can work on a learning lesson or two, why not?! They'll be so happy to be a part of the process that they might not even know that they're doing math or counting!
Christmas Wreath Rice Krispie Treats
Inactive Time:
10 minutes
Ingredients
3 tablespoons of butter
40 marshmallows
¼ teaspoon of green gel food coloring
6 cups of Rice Krispie cereal
½ cup of red candy melts
½ cup of yellow candy melts
Instructions
Start by taking wax paper and lining a baking sheet.
Next, melt the butter in a small pan on the stove on medium heat.
Add the marshmallows and stir until melted. Take off heat.
Put in the gel coloring to the melted marshmallow mixture and stir.
Pour in the rice cereal and fold until combined.
Spread the mixture onto the lined pan using a spatula. Share the Rice Krispies into 8 inches by 10 inches.
Let sit for about 10 minutes to firm up.
Take the circular cookie cutter and cut out the treats. (this cookie cutter should be 2 1/2 inches in diameter) Using another cookie cutter, cut out circles in the center of the treat. (this cookie cutter should be about 3/4 inch in diameter)
Add red melts to microwave-safe bowl and microwave in 30-second intervals, mixing between.
Put it into a bag once melted. Pipe out a red bow on the treat wreath. You can do this by forming two circles attached and then putting two lines in the center.
Melt the yellow candy the same way. Scoop into another piping bag and pipe out yellow dots on the wreath - about 6.
Set and serve.
More Holiday Desserts
If you like this simple holiday dessert, you're going to love these! These are just a few of my other favorite holiday sweet treats that I think you're going to love as well! Add them to your holiday baking list to get started!
Christmas Chocolate Reindeer Bark
Christmas Tree Rice Krispies Treats