Holiday Self-care Bingo Printable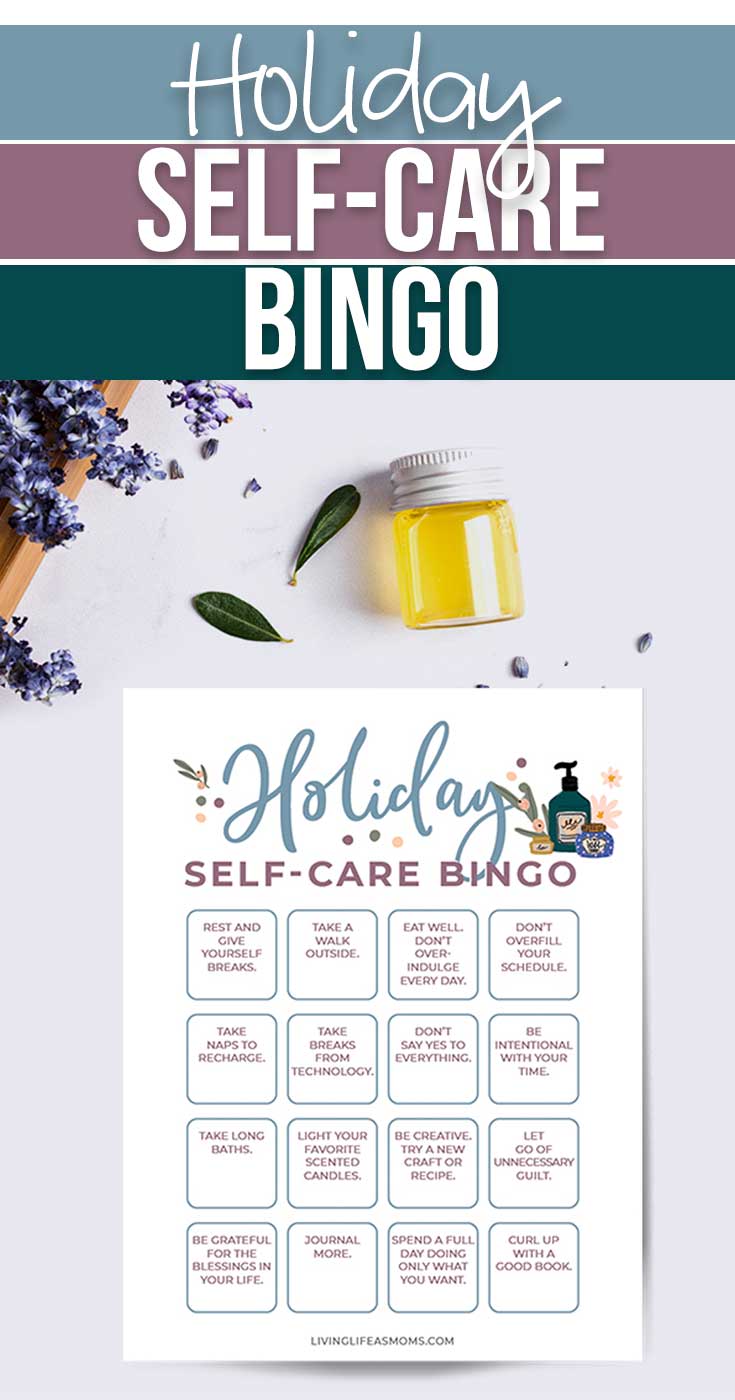 With the holidays coming up quickly, it's time to talk about taking care of yourself, too. It can be hard to prioritize your own sanity but it's important to do during this time. The easiest way to force yourself to slow down is to use this Holiday Self-Care Bingo Printable. Not only is it fun, but it's a reminder to take it easy, too.
We can all get wrapped up in the holidays so fast and quickly that it can easily overwhelm and take over everything else. For this reason, having a self-care plan is key.
But if you're anything like me, it's just really hard to want to slow down. This isn't because you don't want to, but it's because you just don't see how you'll get it all done.
Relax…trust me. You need to have some time for yourself to give yourself that boost. It actually can help you be more productive when you allow yourself to rest.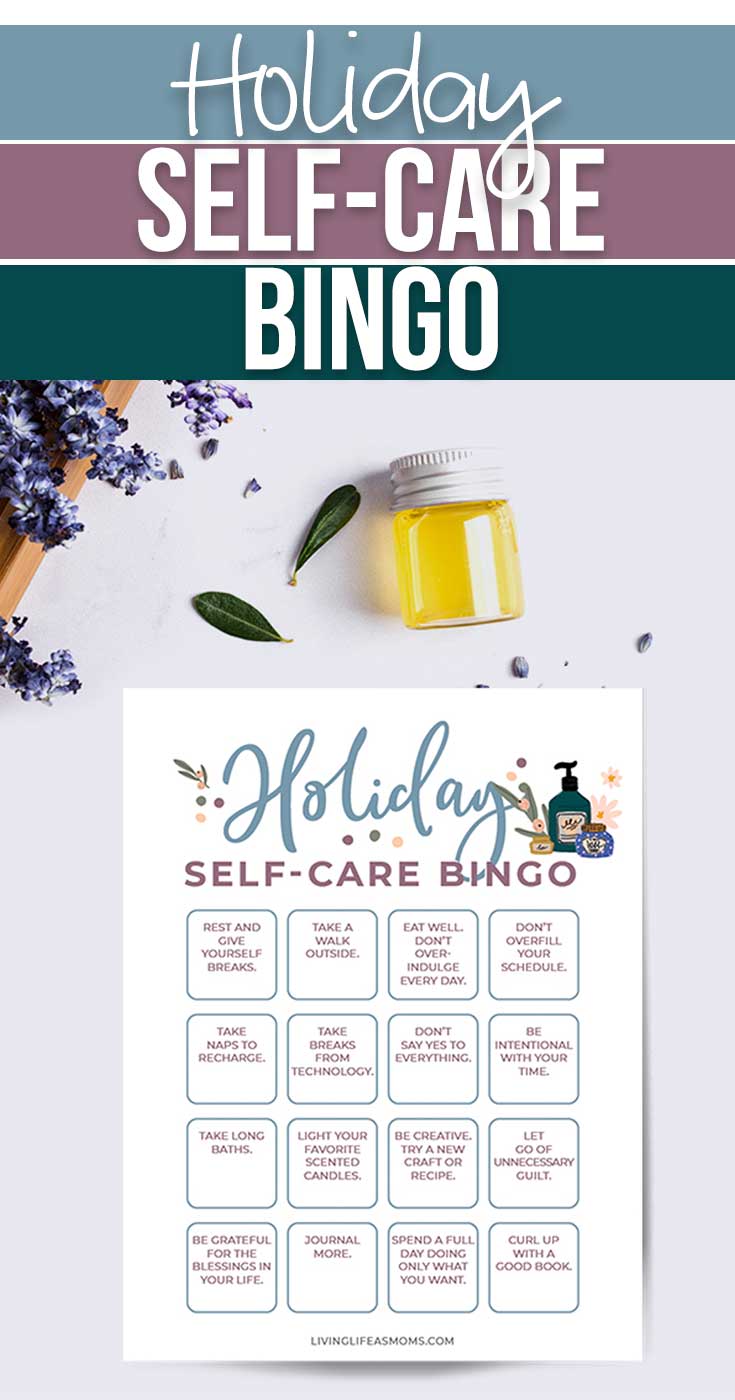 Holiday Self-Care Bingo Printable
To me, this printable Bingo isn't really a "game" but more of a lifestyle that you have to be ready to live. And while you're going to strive to get a Bingo as fast as possible, you'll probably end up doing everything listed on this printable as well.
Make certain that you take the time to really appreciate yourself and all the self-help things on this Bingo card. They're not only meant to bring you inner peace and joy but they're meant to help you slow down and appreciate the day, too. You can easily find a way to get a Bingo on this card any way that you cut it but take the path that you know is going to be the best for you.
What is on the Holiday Self-Care Bingo card?
On this card, you'll find:
Take a walk outside
Be intentional with your time
Take breaks from technology
Don't say "yes" to everything
Take naps to recharge
Take long baths
Be creative – try a new craft or recipe
Journal more
Curl up with a good book
Be grateful for the blessings in your life
And more. These are just a few of the items on the Self-Help Bingo printable that are easy to accomplish and do.
You can then add to it as you want to get in even more self-care! Because once you realize the benefits of self-care and how you can truly relax and focus in on what matters more, you're going to want to do this Self-Care Bingo over and over again.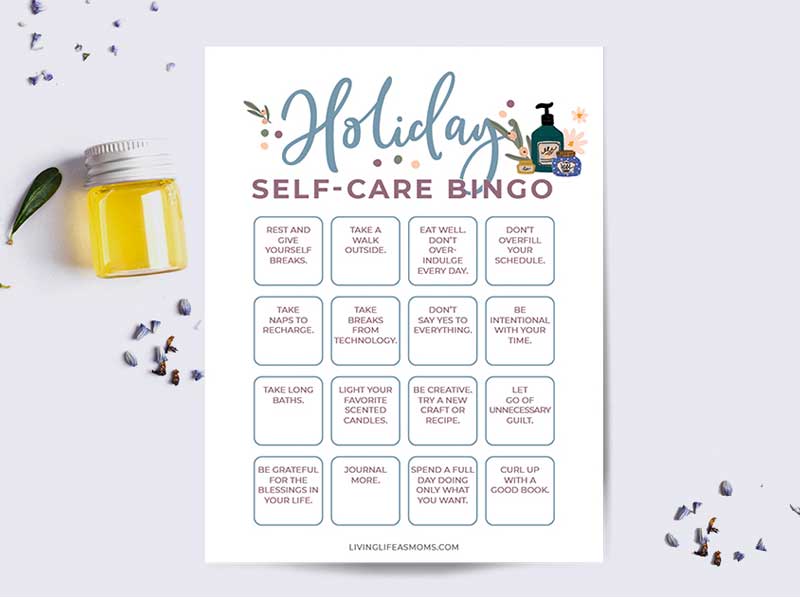 Recommended Self-care Products
Don't feel like it has to be a special occasion or your birthday, you can get self-care products all year long. It's okay to treat yourself to something nice that's just for you every once in awhile.
Self Care Gift Basket, Quarantine Birthday Gifts for Women, Self Care Set for Women, She Believed She Could, So She Did Gift Set, Organic Spa Care Package, Handmade in USA
SHE FEELS LOVED Self Care Gifts Basket for Women, 7-in-1 Relaxation Gift for Women, Surgery Recovery Gift Box, Get Well Gift Basket for Women, Cancer Care Package, Self-Care Kit
I DEW CARE Let's Get Sheet Faced Face Sheet Mask Pack | 14 Days Intense Skin Makeover | Self Care Gift Collection | Collagen, Acai Berry, Tea Tree Oil, Eucalyptus| Korean Skincare, Cruelty-Free, Paraben-Free
Self-Love Workbook for Women: Release Self-Doubt, Build Self-Compassion, and Embrace Who You Are (Self-Help Workbooks for Women)
A Year of Self-Care: Daily Practices and Inspiration for Caring for Yourself (A Year of Daily Reflections)
Clay Mask by Plantifique 100% Vegan with Avocado & Superfoods – Dermatologist Tested, Hydrating Dead Sea Mud Mask – Face Mask – Face Masks Skincare – 100ml/3.4 Oz Face Mask Skin Care for Acne
Why is Self-Care Important?
Self-care is actually extremely important. You've heard about people needing to "refill" their cup, right? Basically what that means is that they've drained themselves to the point that they're running on empty.
Don't let this happen to you. And if it has already happened to you, don't give up. You can still step back, take care of yourself, and mend yourself back to mental health.
Just a few simple things per day can easily give you peace of mind and a clear head to go about the holidays with a lot less stress and worry.
Plus, this is one Bingo game that you can easily play yourself! All you have to do is download the printable PDF below to get started!
If you like this simple Bingo printable, make certain to check out our other printables that can help you out in other areas, too!
More Self-Help Printables
Healthy Habits Tracker Printable
Floral Gratitude Journal Printable
More Christmas Ideas
Are you in charge of this year's Christmas Party decorations? Don't worry, I have these Christmas Party Printables to make your preparation hassle-free!
Black and Gold Printable Christmas Planner