Healthy Habits Tracker Printable
Do you have a healthy habit you need to start like yesterday? I know we could all drink more water or exercise daily but what are you going to do about it? How much do you really want to do this? Use this healthy habit tracker printable to keep track of your progress so that you can reach your goals.
Everyone says they want to lose weight or start eating more veggies but it's not going to happen unless you commit to making a conscious effort.
For me, I need to drink more water and add exercise to my day. I don't always get exercise in on a daily basis but when I see that I've missed a few days then I know I need to pick up the slack.
I need more water, not tea, coffee or juice but more water. I was able to go a week drinking only water and it felt great. But since then my cravings for tea and coffee have been winning so it's time to get out this healthy habit printable.
I read that it takes 6 weeks to form a new habit so if you're making lifestyle changes, it's not going to happen overnight. Old habits are hard to kick and making changes means you need to put in a great amount of effort to achieve it.
Recommended Books on Health Habits
Whenever we start a new year, it's the perfect time to read any of the habit forming books. I really enjoyed Atomic Habits and have on in audiobook form on Audible.
Atomic Habits: an Easy & Proven Way to Build Good Habits and Break Bad Ones

The Power of Habit: Why We Do What We Do in Life and Business

Tiny Habits: The Small Changes That Change Everything

High Performance Habits: How Extraordinary People Become That Way

Why use a Healthy Habits Tracker Printable?
Doing something every single day will help you turn it into a new habit.
Write down your goals and get moving. Not tomorrow or the next week or the next month, start today. No more excuses. No one's going to take care of you, you don't have parents telling you what to do. This needs to be all about you and what you'd like to do for yourself.
And don't just print this out and use it for 4 days and then hide it away and forget about your goals.
If you really want to do this, you will get it done.
You will find the time and you'll see wonderful results from it.
Hang this printable somewhere you'll always see it to remind you of the goal you're working towards like on your desk, fridge or bathroom mirror.
Make doing the habit super easy.
If you want to drink more water, make sure you always have a water bottle with you.
If you want to work out every morning, set out your exercise clothes and shoes so you see them as soon as you wake up.
Make it hard for you to fail and easy for you to succeed.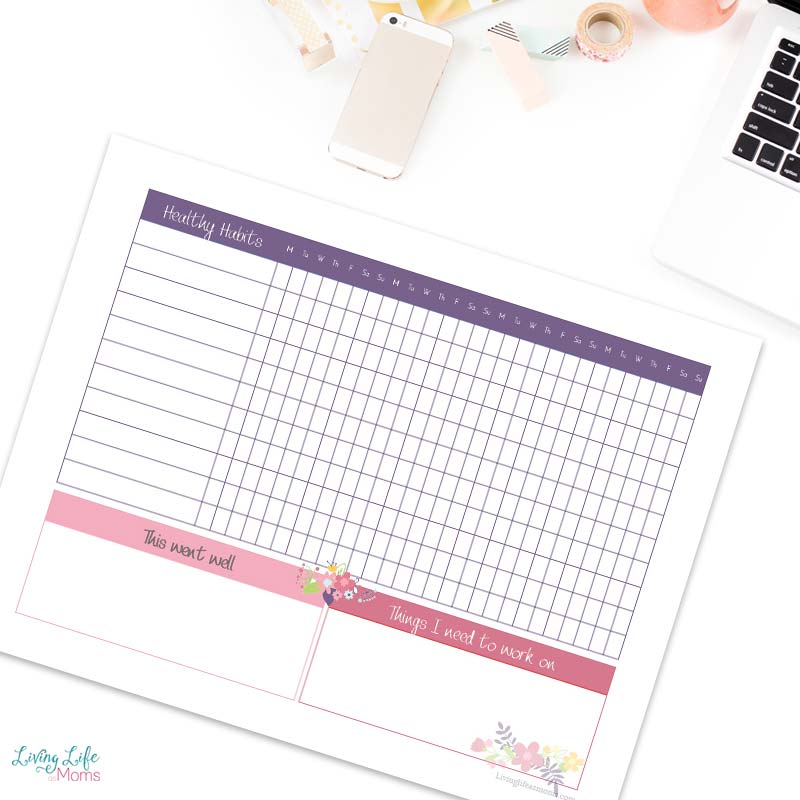 Recommended Health Journals
Need to kick it up a notch? Dedicate yourself to becoming a better you and record your progress with one of these health journals.
HEALTHMINDER Personal Wellness Journal Health Diary and Symptoms Log

Food Journal & Fitness Diary with Daily Gratitude and Meal Planner for Healthy Living and Weight Loss Diet

Hello New Me: A Daily Food and Exercise Journal to Help You Become the Best Version of Yourself, (90 Days Meal and Activity Tracker)

Today is the Day: A 90 Day Food + Fitness Journal: Daily Activity and Fitness Tracker to Cultivate a Better You

Unstoppable Food & Fitness Journal | Made In USA: Meal Planner + Exercise Journal for Weight Loss & Diet Plans

Daily Wellness Journal: A Daily Mood, Fitness, & Health Tracker

If you'd like to keep track of your healthy habit, then print out these printables to keep track of your progress.
The Free Organization Printables for Busy Moms series is packed with free printables to get your home organized, take a look at the rest.
More Planning Printables