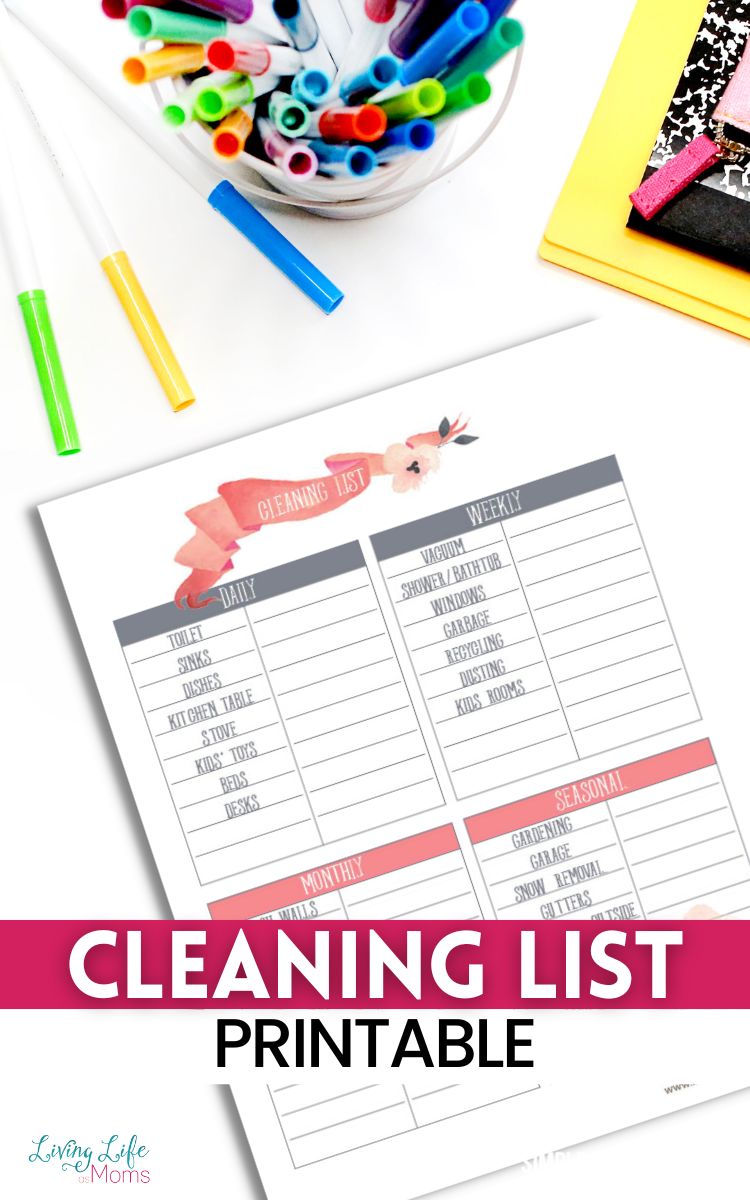 Who loves cleaning? Yeah, me neither. I devote the least amount of time I can to cleaning to get the job done. My house is always clean at the end of the night but the whole process is dreaded and put off until I absolutely have to.
Wouldn't it be great if you had a cleaning list printable to use?
I have a daily and weekly routine that I stick to so that I don't fall behind. I dedicated one day a week to do all of my weekly chores so that I can get it done and over with to enjoy my weekend. My kids have a lighter homeschool day on Friday so I spend it mopping the floors and doing a deeper cleaning of the kitchen, living room, and washrooms.
My boys are each responsible for the daily cleaning of one of the bathrooms. I have to say the monthly tasks are my least favorite because they take so long. But again I dedicate one day just to get it all done. I'll leave one day for the second floor, one day for the main floor and then another for the basement.
See the shopping list printable to ensure you grab all of your needed cleaning supplies.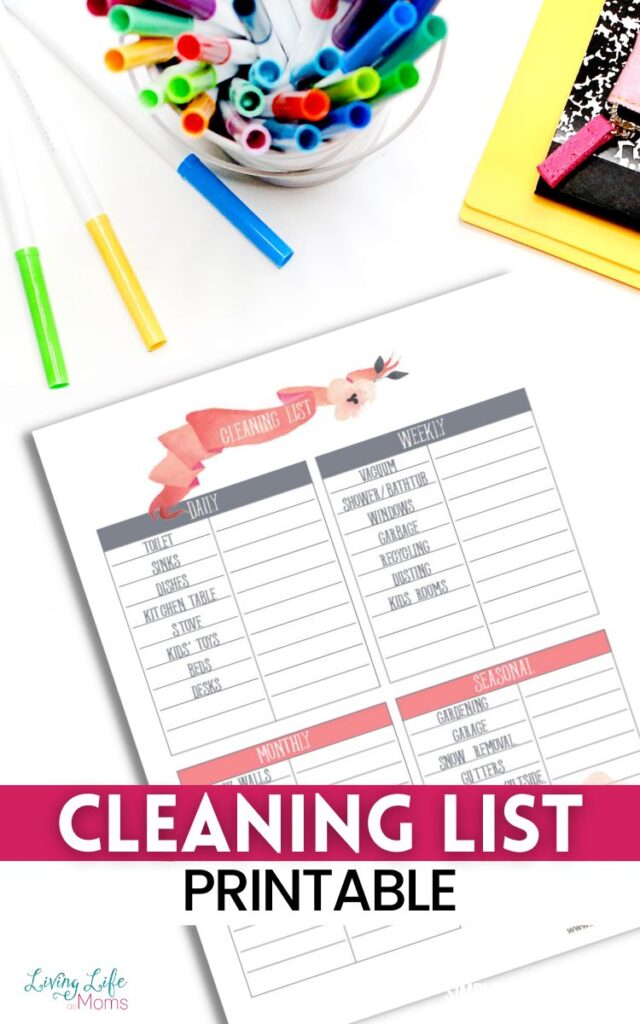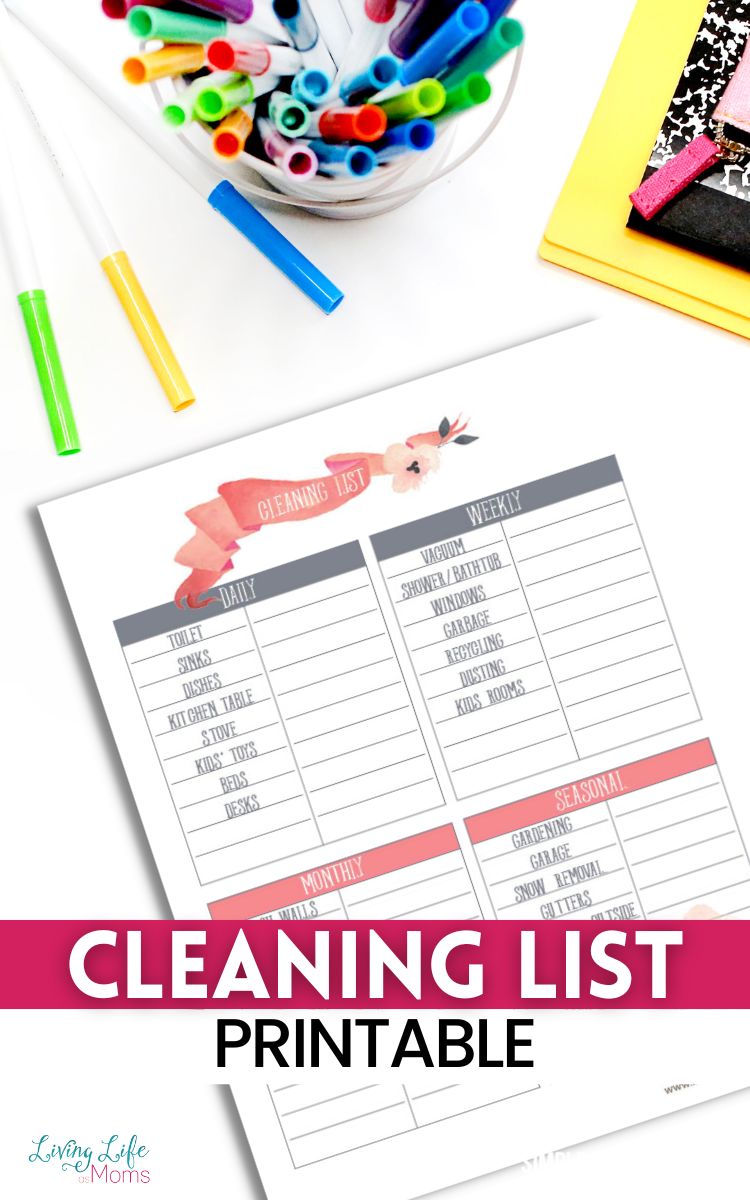 Recommended Cleaning Supplies
Need help keeping your cleaning supplies organized? Try one of these cleaning caddies so that you can easily lug it around whereever you need to clean.
Makes it a breeze so you don't have to look all over for your supplies.
Rubbermaid Deluxe Carry Caddy for Cleaning Products, Spray Bottles, Sports/Water Bottles, and Postmates/Uber Eats Drivers, Black (FG315488BLA)
Casabella Rectangular Storage Caddy, Graphite, 4 gallons – 62441
MR.SIGA Microfiber Cleaning Cloth,Pack of 12,Size:12.6
Magnetic Dry Erase Weekly Calendar for Fridge: with Stain Resistant Technology – 17×12
6 Pack Household Deep Cleaning Brush Set
10Pcs Mop Slippers for Floor Cleaning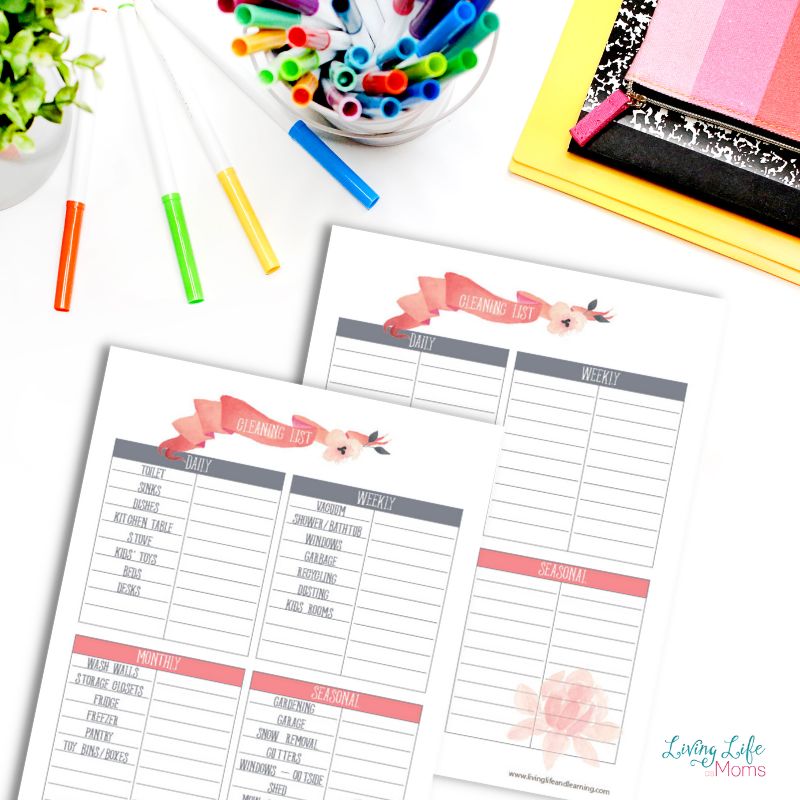 Cleaning List Printable
When it comes to cleaning, I really do think that it comes down to your personality type. The reason that I love a good cleaning list printable is that it holds me accountable and keeps me on task.
It's not that I HATE cleaning, it's just that I find it tedious and a bit hard to concentrate on and stay focused. And this is why I'm pretty much obsessed with having a printable that will keep me focused and on track with my cleaning goals.
I also really like how this printable breaks it down to make it more manageable as well. Because to be honest, when I'm staring at a huge list of things that I need to clean, I tend to get overwhelmed and just shut down.
Recommended Cleaning Printables
Home Management Printables Pack
If you want your home to be clean and organized, this printable pack is what you need! It includes Weekly Cleaning Tracker, Home Maintenance Tracker, and more!
Room by Room: Home Cleaning Checklist
This cleaning checklist will help you clean your house one room at a time.
I've included a printable that is filled in with items I have on my list to complete and I left room for you to add your own, and there's also a blank one as well. The first two pages are printable while the last two are editable.
Make certain to make this printable work for you! The entire point of having a cleaning list printable like this is so that you can know the areas of your home that need to be cleaned and be as efficient and effective as possible. With just a few tweaks and a little bit of organization, you can easily clean through your entire house with ease!
Use this printable cleaning list to make sure you stay on top of your home and keep things organized without feeling overwhelmed. I like to print this and hang it somewhere that I can see it like the fridge or even taped right to my computer monitor as a reminder!
Grab the other printables in my series – Planning Printables for Moms.
More Planning Printables
Daily Planning Page by Day Designer