Heart Strawberry Cupcakes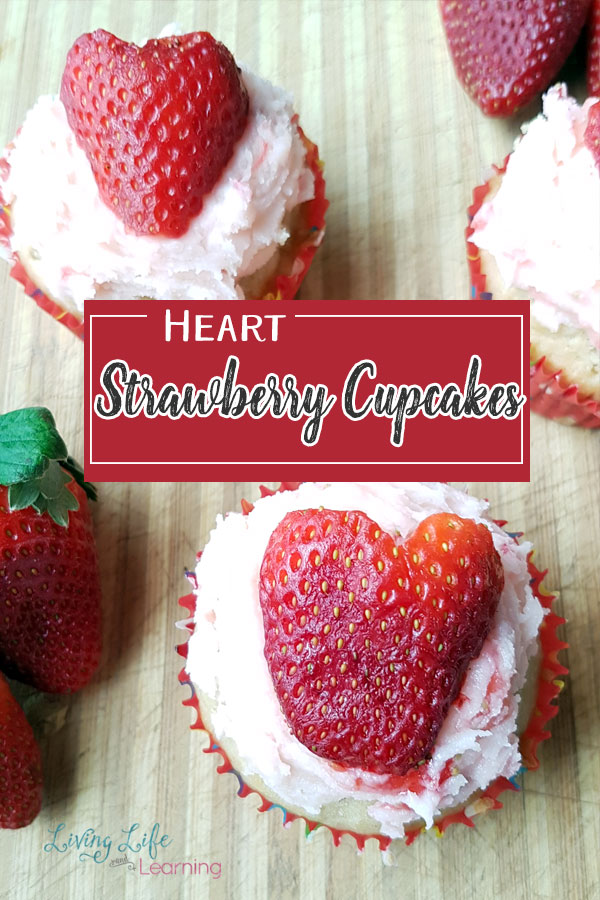 Strawberries are a favorite fruit in our house so imagine when they are paired with dessert, it's an instant hit. These heart strawberry cupcakes are great way to bake with your kids.
And if you need more cupcakes, we've got more creative cupcake decorating ideas here. Be sure to check them out! You can never have too many good cupcake recipes.
I know I always get tiny helpers when I'm baking treats, cooking vegetables? No, but dessert? Of course.
These strawberry cupcakes are moist and topped with a creamy strawberry icing and garnished with a juicy strawberry, a kid's perfect treat. I try to bake healthy but there are days when those scrumptious taste buds desire something deliciously mouth-watering and that may not be made with whole grain anything.
I had strawberries, flour, and butter and figured hey, I might as well bake some cupcakes because the fun is in decorating them and eating the icing as well.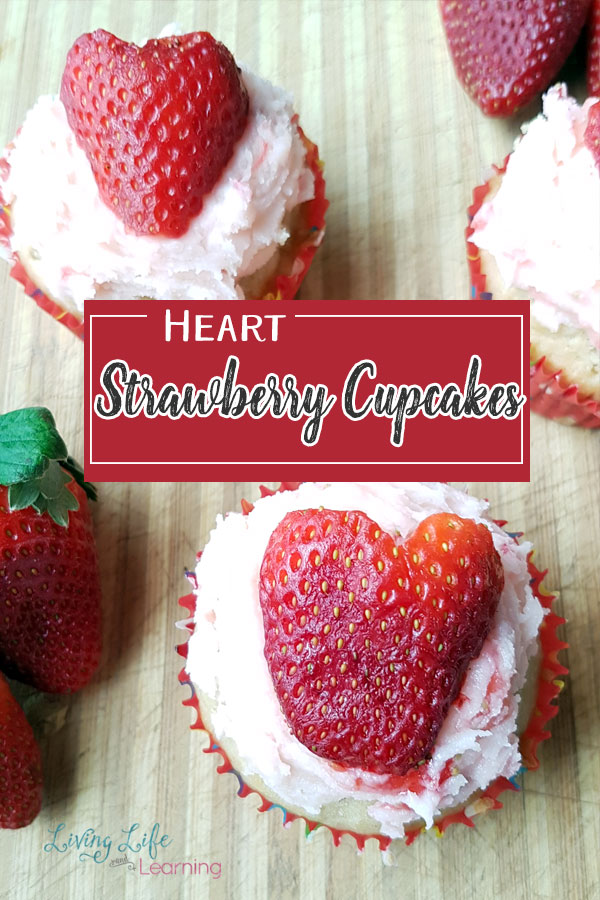 Heart Strawberry Cupcakes
It doesn't take a ton of time to make homemade cupcakes and these ones are super easy to decorate but look so cute afterward. And this is one cupcake recipe that the kids are always so eager to help make! We make this every year for Valentine's Day but you can easily cook it up and enjoy it at any point in time throughout the year.
Although you'll notice a huge taste difference if you're able to use fresh strawberries from the garden…or if they're in season. Such great flavor! This is also a great way to use fresh strawberries to get an extra boost of flavor. The natural sweetness of strawberries adds an amazing flavor on top.
I could have blended the strawberries together for a more consistent texture but I didn't want to clean another appliance so I minced up the strawberries and then mashed them down with my knife, slow but still worked and mixed in nicely with the icing giving it a pink color.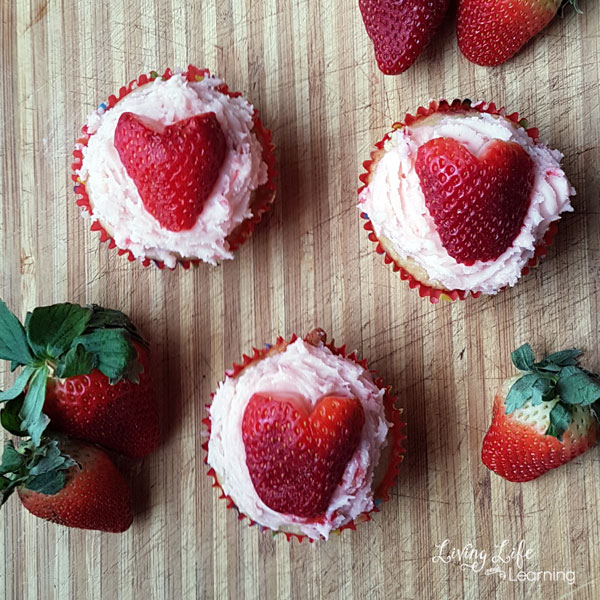 These heart cupcakes were a huge hit in our house. It's the perfect dessert to treat your family to when strawberries are in season. You can also get the kids involved in making these cupcakes with you.
Seriously, look how good these look!
We even did our best to make the strawberries look like hearts – but some totally looked better than others. I let the kids help by using a butter knife to cut out the shapes and it helps them work on their cutting skills, too.
It's also a safer way for them to decorate the strawberries to look as close to hearts as possible. You can also change up the shape of the strawberries as well on these heart strawberry cupcakes. Ask the kids to make strips of strawberries, a circle with the strawberries or even just dice up the strawberries into small pieces and scatter them on top.
As long as you have that fresh strawberry taste on top of the frosting, you can't go wrong with the taste and flavor!
Can you use frozen strawberries for this recipe?
I wouldn't. I think that fresh strawberries are the best. Frozen strawberries are going to release a lot of liquid which will cause your cupcakes to be soggy. This isn't good – no one likes soggy cupcakes.
I highly recommend that you use fresh strawberries because they're not going to release as much liquid. Yes, they'll release juice but not as much juice as frozen strawberries. This is because they'll hold water and then that water will freeze and then it will be released once it starts to thaw.
What is the best way to store leftover cupcakes?
You want to always make sure that you store them in an airtight container. The key to this is that you need to let them cool down all the way before storing them.
If you store them while they're still warm, they'll release steam that will then turn to moisture and cause the cupcakes to become soggy. Nobody wants that!
I also think that you should store cupcakes without any frosting or strawberries if possible. That way, they stay totally fresh and delicious. This is also a simple way that you can freeze baked cupcakes, too. Yes, you can freeze baked cupcakes!
Why not bake a few in advance and then pop them in the freezer for later? What a great way to meal plan and get ahead of the game?
Strawberry Heart Cupcakes
Cook Time:
18 minutes
14 seconds
Total Time:
43 minutes
14 seconds
Ingredients
1 3/4 cup Flour
1/4 cup Sugar
1/2 cup Brown sugar
3/4 cup Softened butter
1/2 tsp Baking soda
1/4 tsp Salt
1/2 cup Strawberry yogurt
2 Eggs
Strawberries for garnish, chopped in halves
Strawberry Icing
1/2 cup Softened butter
2 cups Icing sugar
1/2 cup Mashed Strawberries
1 tbsp Milk
Instructions
Pre-heat the oven to 350F.
In a large bowl, cream together the butter and sugar first then add the milk, eggs, and yogurt.
In a separate bowl mix the flour, salt, baking soda, and baking powder.
Add the wet ingredients to the dry ingredients and mix.
Fold in the strawberries.
Line the muffin tin with cupcake liners and then fill a bit more than half.
Bake at 350F for in muffin tins for 14-18 min until an inserted toothpick comes out clean.
While the cupcakes are in the oven you can prepare the icing, mix all of the icing ingredients together.
After the cupcakes have cooled, spread the icing on top and then add one half of a strawberry to garnish.
There definitely will not be any leftovers with these, my kids are capable of finishing all of these in one sitting if I let them. They're such a simple dessert recipe that everyone will love them. I think that we can easily eat an entire batch and not think twice about it.
They're a great treat for Valentine's day or to give as a gift for loved ones or surprise someone to show them that you love them. Just get a cute little box or package and give them one or two of these delicious Heart Strawberries Cupcakes. Literally the perfect treat for all!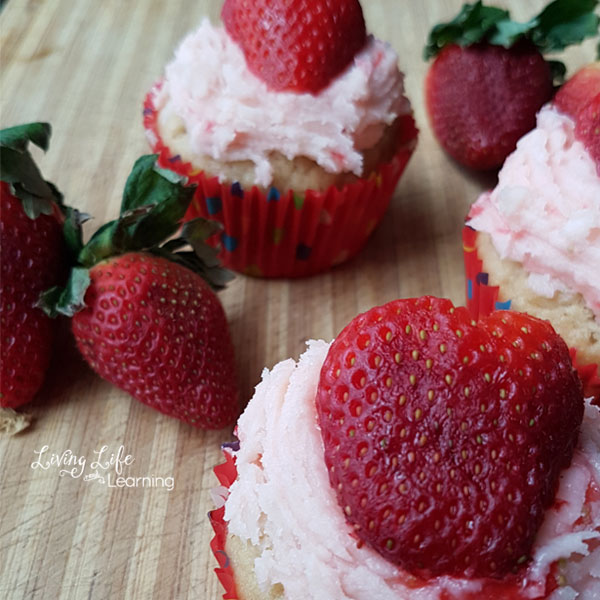 You can't go wrong with adorable cupcakes, a huge crowd pleaser. Will you give these a try?
Disclosure: I am part of the PTPA Brand Ambassador Program with Gay Lea and I received Compensation as part of my affiliation with this group. The opinions on this blog are my own.
More Cupcake Recipes
Once you start making easy cupcake recipes, why stop there? You should make them all and then have a taste-test on which ones you like best.
Cupcakes are great for family gatherings, birthday parties, classroom parties, and more. The reason that cupcakes are so popular is that they're a fun grab-and-go treat. I also like making them because I don't have to make a mess with plates! The kids just use the cupcake liners and peel them off and throw them in the trash! Saves me dishes and time every time!
Cute Snowman Marshmallow Cupcakes
If you want an easy but delicious cupcake recipe, these yummy funfetti cupcakes are what you need!