Daily To Do List Printable
Forgot that thing you were supposed to do today? Missed the dentist appoint you forgot you had? Which child is supposed to go where tonight? Let's face it, we all are juggling way too many balls in the air with our family. And it's likely that you're the one responsible for it all or at least for putting a plan to get everyone where they should be.
For me, I need to write everything down or else it is forgotten. I don't care if you told me last week, yesterday or even earlier that day, my brain processes tons of information and things slip by until it's too late. I'm sure I'm not alone.
This means I need a daily to-do list printable. You may be an app person, I like to use Asana for this for my blogs and business. But for my daily tasks, I like to write them down. The physical act of checking things off of my list is very satisfying. It does work for me so maybe give it a go for you.
I made this printable editable so you if you have Adobe reader you can write in the list on the computer.
Personally, I prefer to print it out and write in it with a pen. The physical act of writing drills it in and make sure I remember it and I just hate wasting time typing it all out.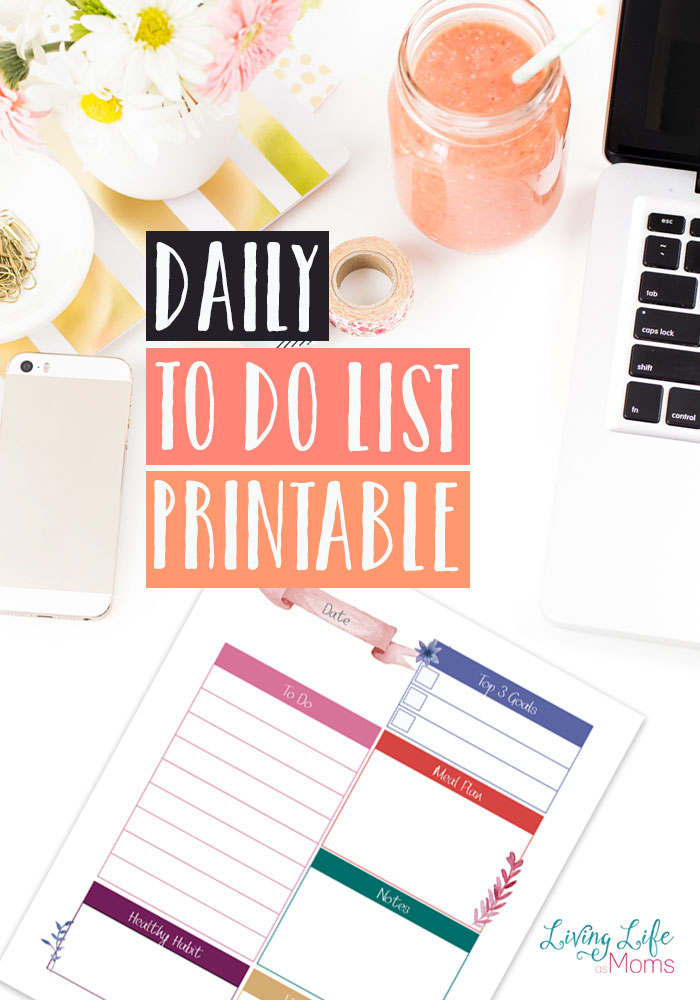 Recommended Paper Planners
Need a full planner instead? Try one of these complete paper planners to keep your schedule organized.
Well Planned Day, Family Homeschool Planner, July 2017 – June 2018
Well Planned Prayer, July 2017 – June 2018
Day Designer for Blue Sky 2017-2018 Academic Year Weekly & Monthly Planner, Twin-Wire Bound, 5
Magnetic Weekly Meal Planner and Grocery List Notepad. Perforated Shopping List Pad. Organized Mom Big Shop & Menu Planner. Large Refrigerator menu planner pad with pencil. Pocket for coupons.
Want more Free Organization Printables for Busy Moms? Grab them to get a hold of your home and get more organized.
More Planning Printables
Pretty Weekly Schedule Printable