Floral Meal Planning Printables
Tired of struggling to come up with new ideas for dinner? Do you have to run out to the store multiple times during the week? Do you keep forgetting the one thing you need for your dinner recipe?
If so, we're the same. Or at least we used to be. I know use this Floral Meal Planner Printable to help me with my shopping needs and I can assure you…it's a game-changer.
I now no longer forget what I want from the store and I never leave with more than I came for. I can't tell you how much money this has saved me and my family and I'm so excited to share this simple planner with each and every one of you.
The bottom line is…
You need a plan. Plain and simple. The sooner that you can use this printable to get you organized in your shopping trip, the better off you'll be.
Floral Meal Planning Printable
If you're not used to meal planning, you may need to get into the habit of writing it all down before you head to the store. I like to base our meals on what is on sale at the store when I get there. But if you know what sales are happening ahead of time, you could do this beforehand.
This means that you don't deviate from your plan and you can create a budget and stick to it. Because when you shop on a whim, you will waste money and forget the stuff you really need. How many times have you gone to the store for paper towels and come out $100 later with stuff you're not sure you really need.
This can definitely happen if you shop on an empty stomach. I've had a ton of impulse purchases where I've regretted them afterward like that quick salad or frozen dinner that did not turn out the way I wanted it to.
Had I just grabbed an apple beforehand, I'm sure I could have calmed my hungry shopper demons.
Make a plan, write down all of the groceries that you need, then stick to it. You won't forget a thing and your budget will thank you.
Is meal planning hard to do?
It's actually not..but for some, it's a process to learn. In the beginning, you might feel as though you want to give up, but dno't.
The thing about meal planning is the more that you do it, the better you're going to get. And just like anything in life, the more that you do something, the more that it turns into a habit as well.
What might feel difficult at first will prove to be worth it later on down the road. This is because meal planning can help free up time and money, too.
Stress-Free Family Meal Planning: Easy, Healthy Recipes for Busy Homes
Cook Once, Eat All Week: 26 Weeks of Gluten-Free, Affordable Meal Prep to Preserve Your Time & Sanity
Taste of Home Meal Planning: The 500+ Recipes, Secrets & Tips that Busy Meal Planners Rely on Most
The Healthy Meal Prep Cookbook: Easy and Wholesome Meals to Cook, Prep, Grab, and Go
Sweetzer & Orange Gold Meal Planner and Grocery List Magnetic Notepad. 7×10" Meal Planning Pad with Tear Off Shopping List. Plan Weekly Menu Food for Weight Loss or Dinner List for Family!
Magnetic Chalkboard Monthly Calendar – Weekly Meal Planning Blackboard Combo Set with Neon Bright Liquid Chalk Markers – Bonus Grocery List and Notepad Blackboard for Refrigerator Included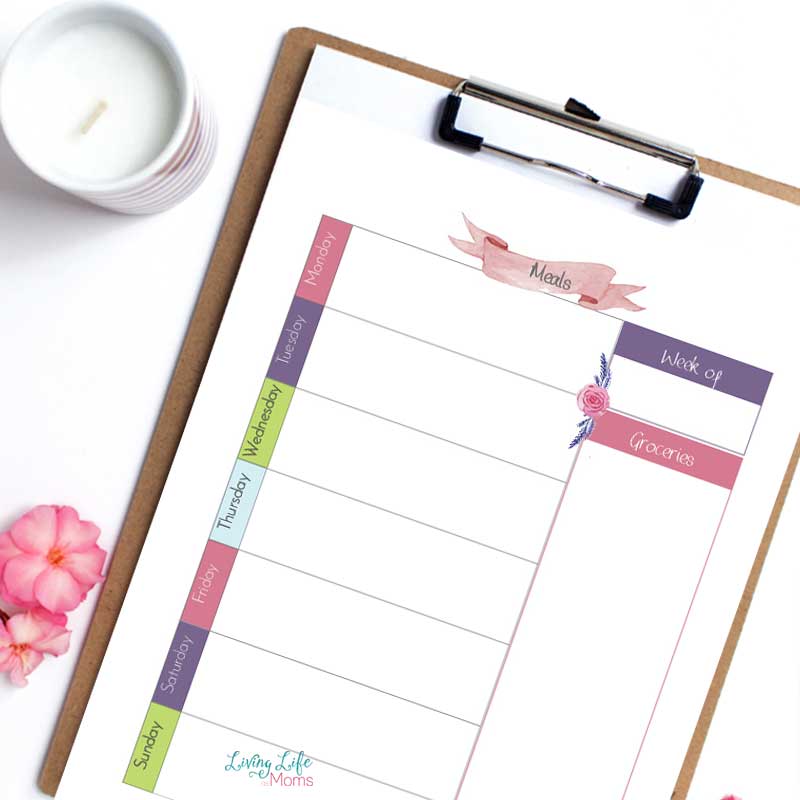 Make the most of these printables by printing them out and filling them in with your meal plan for the week. They're also editable if you prefer to fill them out on the computer then print them out.
I've actually printed these out and then make a binder of them so that I always have some available. Where there's a will to meal plan, there's a way to make it happen!
Once the kids see how fun and effective meal planning can be, they just might be ready to join in on the fun as well. You can actually make it a fun family event to have everyone in the family meal planning right along with you!
Grab your free floral meal planning printable below!
More Meal Planning Ideas