Pretty Weekly Schedule Printable
You know you have a full week ahead but you know you must be forgetting something. Imagine if you had a pretty weekly schedule printable, how much more organized you'd be.
You just can't place your finger on it. The phone rings and your daughter calls from soccer practice because she was supposed to bring the snack for break time and you had forgotten.
You have to drop what you're doing to run to the store to find something to feed 20 kids in the hot weather and you go to pay. Except your credit card is missing, you can't even remember when you used it last. Right, the toddler had your wallet earlier that day and you vaguely remember him jamming your card into his ride on toy thinking you'd remember to grab it later.
If you sound like a mess than you sound like me. That has totally happened to me. I just had to order a new credit card because I forgot it when I was at the vet. I had the dog and my son walked in and I was all distracted and there goes my card. Luckily they had it but it was a Friday and I wouldn't be able to get confirmation until Monday so I closed it.
What happens when you miss or forget things? It throws you off of your game. If there's something important our family has to do, I have to write it down. I like the weekly schedule because I can see an overview of my week and see where I'll have pockets of time or where I'm packed full.
If there's something I need to send in or email, I write those down, because I always seem to think that I replied but then a week goes by and I didn't, only in my head. Seriously, who does that?
Recommended Paper Planners
If you're looking for a full planner take a look at these to keep your home organized.
The Happy Planner BIG Sized 18 Month Planner – Pressed Florals Theme – July 2021-December 2022 – Vertical Layout – Monthly & Weekly Disc Bound Pages – 10.12
The Happy Planner Undated Journal & Planner by Day, Week or Month. 68 Pages for Notetaking. Perfect Organizer to Increase Productivity & Achieve Your Goals – Customizable with 4 Dividers & 6 Sticker Sheets Big Ideas Theme- Classic – 7
Color Password Tracker for 9-Disc Classic Happy Planner, Classic Happy Planner Password Log, Pre-punched Happy Planner Inserts, Password List
The Happy Planner Daily 18 Month Planner – July 2022 – December 2023 – Daily, Weekly & Monthly Disc-Bound Pages – Dashboard Layout – Mixed Media Theme – Classic Planner 9.75" x 8.75"
Black Page Notebook/Journal with Lined and Blank Pages: 7 x 10 Inch Notebook with 100 Pages (Alternating between Ruled and Blank) for Blackout … Other Gifts for Adult Women and Teen Girls)
2022 Planner – 2022 Weekly & Monthly Planner with Tabs, 6.3
Recommended Pretty Planner Stickers
If you're looking for budget-friendly planner stickers, these options are the best for you. Try the Neutral Color Planner Stickers (left) or the Everyday Life Icon Stickers (right) that will make your planner neat and pretty.
This schedule is editable so if you open it up on Adobe reader on your computer, you can edit it yourself and add in anything you'd like. If it's a list of to do items, I like to keep my list to 3 things so I know it's doable and I'm not stressing myself out with 20 items on the list.
Take a look at the Free Organization Printables for Busy Moms series, it's filled with even more free printables.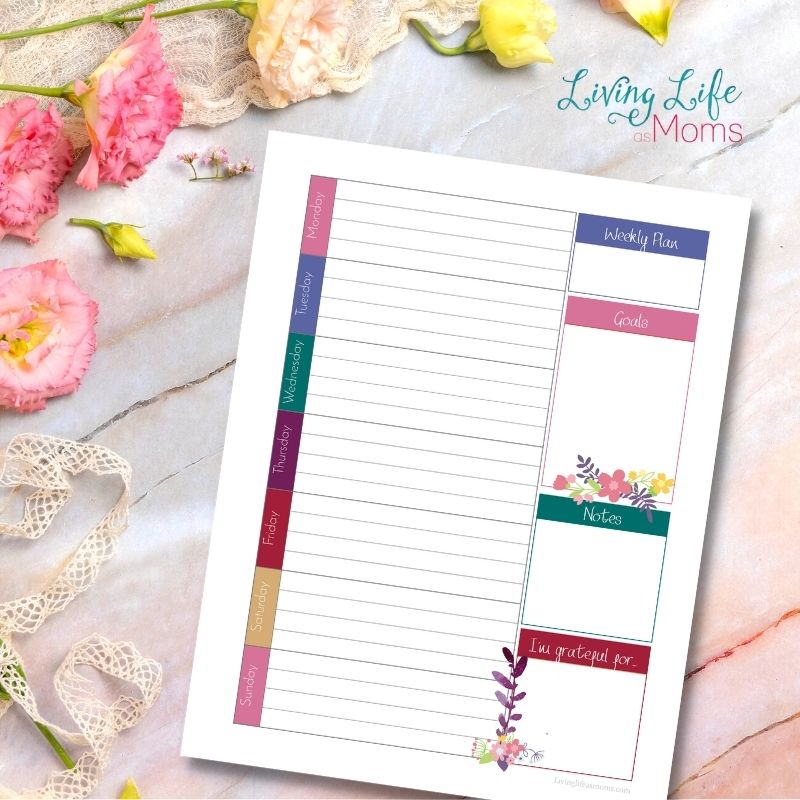 Download the pretty weekly schedule printable below
More Planner Printables
Weekly Meal Planning Printables
Daily Planning Page by Day Designer