Daily Planning Printables
Needing a little bit of help getting your days scheduled and under control? These Daily Planning Printables might be perfect for what you need!
We are living in a time that is truly chaotic. From active kids to running around and trying to keep up with errands and other commitments, our days can literallly pass by in a moment of time.
Luckily, having a daily planner is something that gives you confidence and control over your day. And since every day is not the same, it just makes sense to have a planner that you can easily edit and change as your needs and responsbilities change as well.
Since this planner includes a breakdown that helps you schedule in your commitments and things that you need to do, you just might find that being organized can be so much more easier than you ever thought possible!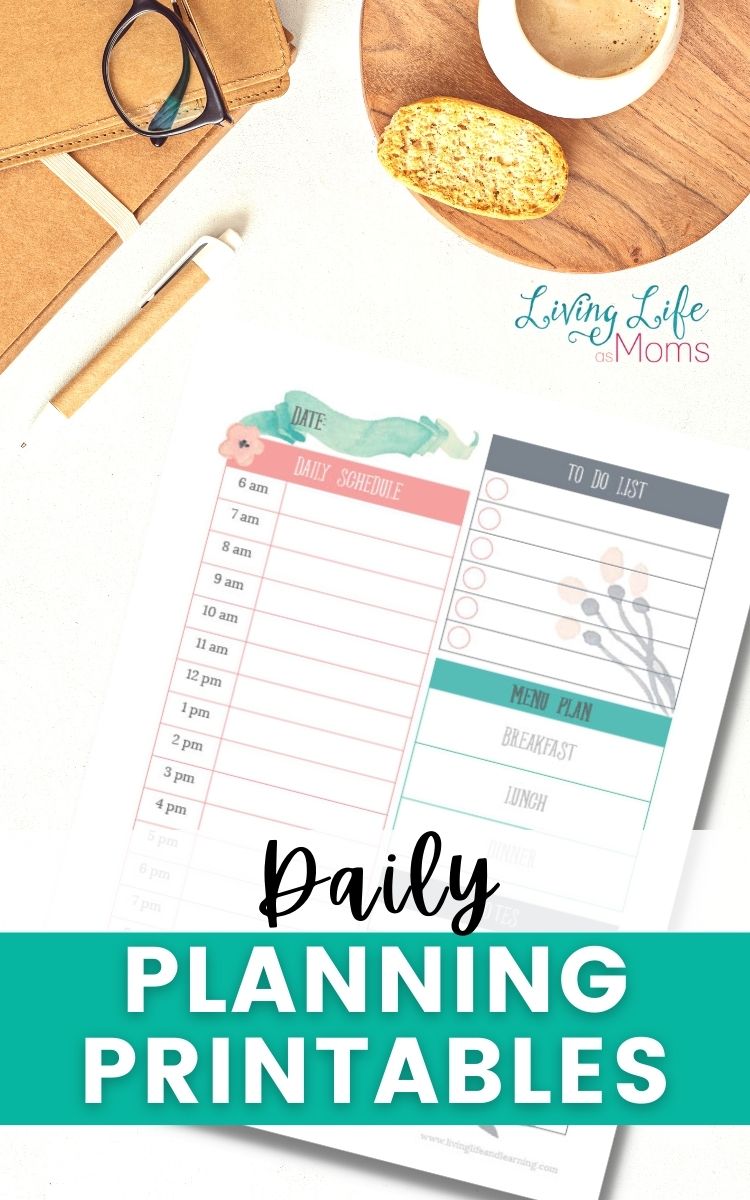 Now that you have your week planned out, break those tasks down further and plan out when you can get them done during your day. Now that you have a good handle on what you need to do for the month ahead with my monthly calendar printable, I like seeing a list of daily tasks to complete each day so I stay on track.
Recommended Daily Planners
If you want some planner recommendations, these daily planners are on the top of my list. Grab one of these and start organizing the tasks that you need to accomplish.
Happy Planner 12-Month Academic Planner, Back-to-School Planner for August 2022 to July 2023, Disc-Bound Daily Weekly Monthly Planner for Teachers and Students, 7" x 9 ¼ "
The Happy Planner Daily 18 Month Planner – July 2022 – December 2023 – Daily, Weekly & Monthly Disc-Bound Pages – Horizontal Layout – Cosmic Watercolor Theme – Big Planner 11.5" x 10.2"
Simplified Greenery To Do List Notebook – Beautiful Daily Planner Easily Organizes Your Daily Tasks And Boosts Productivity – The Perfect Journal And Undated Office Supplies Notepad For Women
Daily Planner Hourly Schedules Appointment Planner Undated with To-Do List,Meals,Notes 10
HARDCOVER Academic Year 2022-2023 Planner: (June 2022 Through July 2023) 5.5
Daily Planner
Why use a daily planner?
Use this daily planning printable to schedule important tasks for your day that you need to complete like a major organization project in your homeschool, a list of your appointments and errands you need to accomplish or when you'll need to pick up and drop off your children from school with everything in between.
I know if I don't write things down, they would never get done because they're always forgotten. It's a habit that I'm wanting to break and using a daily planner helps me do just that.
Plus, knowing that I can wake up each morning and look at what i have to do for that day only is also a nice stress-reliever as well. So many times people look at all the things that need to get done for the week or the mouth and the list is giant and never-ending.
Taking it day by day is a great way to achieve a goal without feeling like you're overwhelming yourself.
Recommended Planner Add-ons
Pretty planners rock! Grab these printable planner pages and turn your simple planner into a pretty one. Do you love cute unicorns? These Unicorn Planning Pages are for you.
If you want to improve your dashboard, get this neat and simple Dashboard Layout.
Daily Planning Printables
Wondering what comes with the daily planning printables? You'll get the following:
You'll get two pages to print double-sided or the last two pages are editable so you can type in your daily plans and then print them out. (I enjoy checking off boxes so I prefer to do those by hand.)
It's just as simple as that, right?
Why delay or wait any longer? Now is the time to take the steps to start getting organized so you can stop stressing out over what you're figuring to get done during the day and just looking at your planner for guidance instead.
Print off the Daily Planning Printables and give them a try for a few days. See what you like about them and put in a real effort for trying to be organized and aware.
You might just find that these planning printables helpy you be more efficient and productive as well since you're not spending your time trying to remember all the things that you've forgotten to do.
Don't forget to get your free printables below!
Grab the other planning printables for moms. When it comes to preparing and planning, you can never have to many printables!
More Planning Printables
Black and Gold Christmas Planner
Floral Meal Planning Printables
Planner Printables by Scattered Squirrel