Instant Pot Broccoli Cheese Soup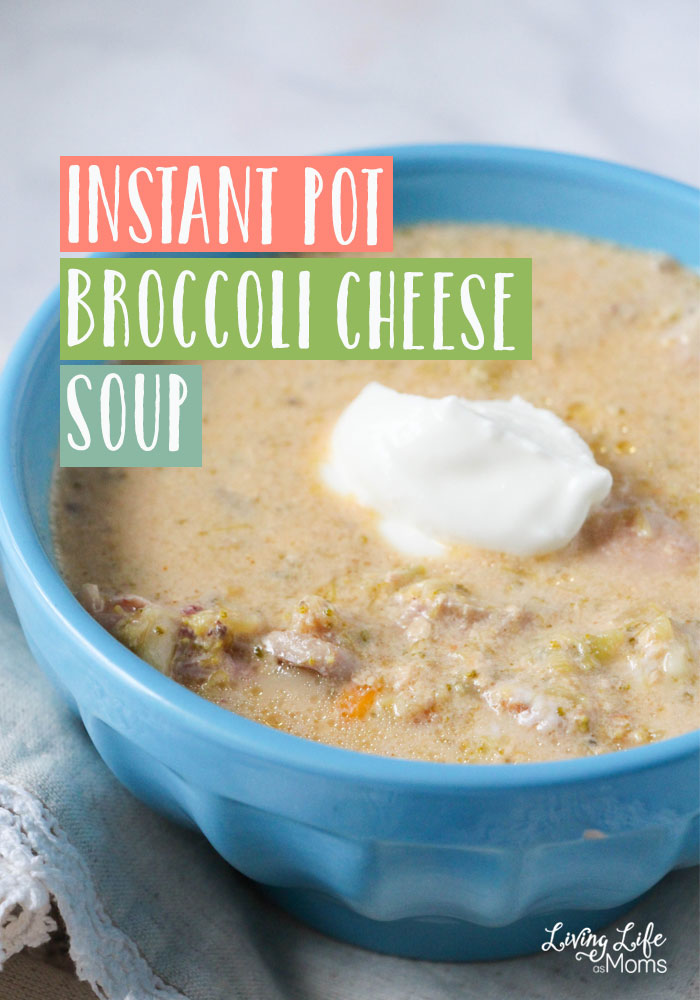 Do you have this time-saver in your kitchen? The Instant Pot is a wonderful way to prepare quick one-pot meals and set it and forget about it. I love having Instant Pot Broccoli Cheese Soup on those cool days when it's rainy outside. It's so rich and definitely comfort food.
It's one soup that the kids don't complain about either. What's not to love chicken, broccoli, and cheese, you can't go wrong. Yes, my kids will willingly eat broccoli with no questions asked which is lovely.
If you're ready to have a hearty soup on the dinner table fast, this is a great option to have. Check out the easy soup recipe below and taste test it for yourself.
Be sure to check out my Chicken Curry with Cashew Milk Recipe as another tasty treat!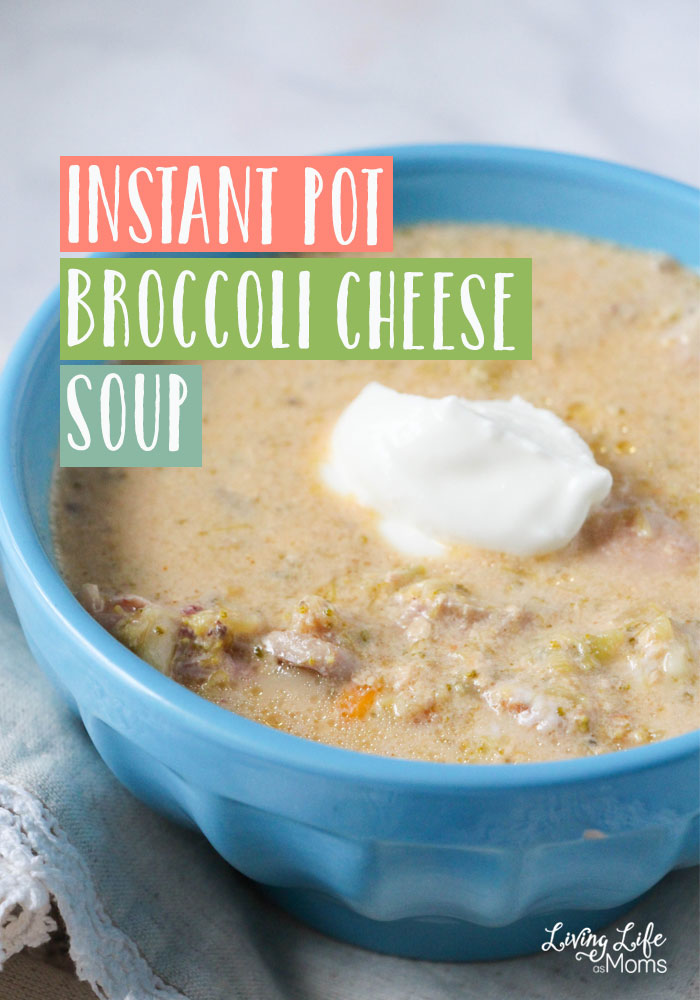 Instant Pot Broccoli Cheese Soup
If you don't have an Instant Pot, you can save a huge amount of counter space with this appliance. It's a slow cooker, pressure cooker, yogurt maker, steamer, rice cook, and sautees. Seriously, you can do so much with this, it's amazing. Cut down your cooking time when making roasts and see what I'm talking about.
The great thing about cooking in an Instant Pot is that you can always rely on it. It's the perfect way to make a yummy dinner in very few moments of time. It's my go-to when I know that I need something fast to feed the kids.
The reason that I make this soup recipe over and over again is that it's always a hit in our house. We love it, the kids love it, and everyone pretty much always asks for seconds.
If you're soup fans, you need to have this on your radar. It's yummy, it's fast, and it's so good and easy to make!
Recommended Soup Bowls
Part of the fun of making soup is having really fun soup bowls to eat the soup out of. The following bowls are some of our favorites that I think you'll like as well.
I opt for bright and colorful bowls because they just add a fun look to the table. The kids tend to have their favorite soup bowls as well, and I do too honestly.
To find a good soup bowl, have it be light enough to hold. I also think it's important to have bowls that can be put into the microwave and the dishwasher as well.
Annovero Cereal Bowls – Set of 6 Porcelain Bowls for Soup, Salad, Rice, or Pasta, 6.25 Inch Diameter, 23 Fluid Ounce (2.75 Cup) Capacity

Sweese 106.103 Porcelain Fluted Bowls – 26 Ounce for Cereal, Soup and Fruit – Set of 4, Navy

Soup Crocks with Handles, Ceramic Make, Soup, Chilli, by KooK, 22oz, Set of 4 (Red)

Sweese 106.002 Porcelain Fluted Bowl Set – 26 Ounce for Cereal, Soup – Set of 6, Hot Assorted Colors

Tips For Making Broccoli Soup In The Instant Pot
This isn't a hard recipe to make but there are a few tips to keep in mind.
I chop up my broccoli into bite sized pieces but you can really have them be any size that you want. Some people like them small, some people like them bigger. I also think that in a pinch, you could use frozen broccoli and put it into the Instant Pot, too.
If you're not a fan of onions, leave them out. There is no hard set rule that you have to have them in the recipe at all. I just like them because they're flavorful.
If you're using chicken broth, make sure to pay attention to the chicken stock. It can be high in sodium so read the labels before buying.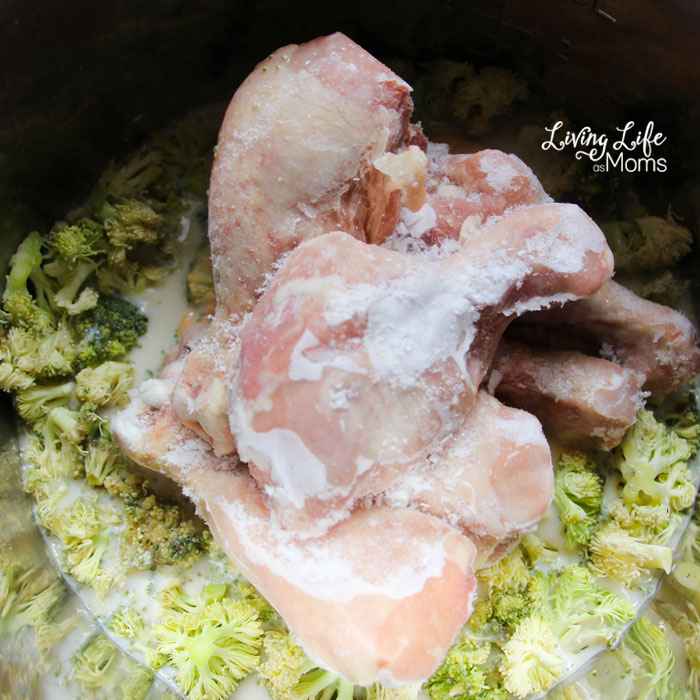 Using Frozen Chicken in the Instant Pot
I like using legs for soups because I don't have to worry about them drying out as opposed to using breasts.
I do prefer to remove the skin before freezing as it makes it easier to cook with when I thaw them out.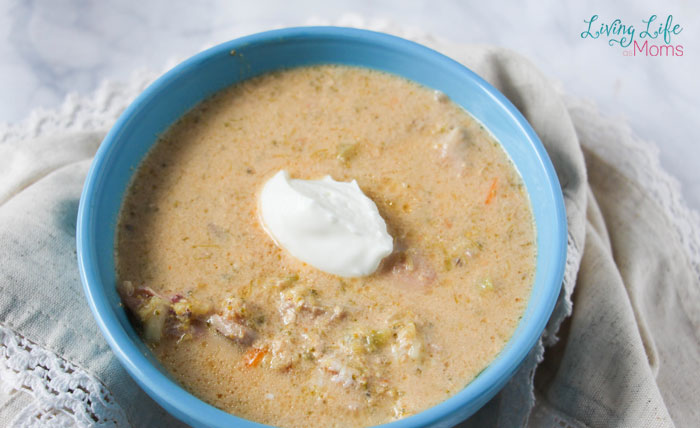 My kids love eating this soup with extra cheese because you can't go wrong with extra cheese and crackers.
Fun Soup Toppings
I'm also a huge fan of soup toppings. There is a lot that you can choose from but some of my favorites are listed below.
Crushed crackers – Saltines are the best but oyster crackers are good, too. I've even crushed up and used Ritz crackers in a pinch also.
Shredded cheese – More cheese, please! I love that there are so many ways that you can add different flavors of cheese.
Bacon – Cook up some bacon, chop it up, and add it to the top! This adds a salty goodness and an extra dose of protein.
Diced jalapenos – Do you like spice in your soup? Chop up a fresh jalapeno and add it right on top.
When it comes to soup toppings, add what you want and have fun making the bowl your very own. This is such an easy way to get the awesome flavor and make each bowl taste unique.
How to store leftover soup
More than likely, you're going to have some soup leftover. This just means that you'll have another chance to enjoy this soup over and over again! To store it, let it cool down all the way.
Place it in the fridge in a container with a lid. A mason jar with a lid is also a great choice. When you're ready to eat, you can reheat in the microwave.
Now that you know how simple it is to make this cheesy broccoli soup, what are you waiting for? This is perfect for the cold weather months and a great way to get a hearty meal on the table fast. Everyone in the family will love the flavor and taste of this simple soup recipe.
Instant Pot Broccoli Cheese Soup
This soup recipe is fast and easy to make! 1 head broccoli
1/4 small onion, minced or pureed
4 chicken drumsticks, fresh or frozen (remove 5 minutes from cook time if fresh) 
1 can of cheese soup or make your own with 1/2 cup sour cream and 1 cup of shredded cheese
1 cup milk
2 cups chicken broth or water
1 tsp oregano
Salt and pepper to taste
Shredded cheese to garnish
Ingredients
1 head broccoli
1/4 small onion, minced or pureed
4 chicken drumsticks, fresh or frozen (remove 5 minutes from cook time if fresh)
1 can of cheese soup or make your own with 1/2 cup sour cream and 1 cup of shredded cheese
1 cup milk
2 cups chicken broth or water
1 tsp oregano
Salt and pepper to taste
Shredded cheese to garnish
Instructions
Place all ingredients in Instant Pot and give it all a good stir.
Place the lid on the IP and select the "Soup/Chili" setting for 12 minutes.
Seal and cook, then natural release.
Check the chicken with a meat thermometer for an internal temperature of 165F. Shred the chicken using two forks and discard bones (if using legs).
Taste and adjust seasoning.
Serve with an optional garnish of additional cheese and a dollop of sour cream.
More Family Recipes
If you're looking for more easy weeknight recipe ideas, check out these! There are so many other great recipes that you can easily make at home!