Printable Christmas Gift Tags
Don't miss out on these Printable Christmas Gift Tags! They're the perfect way to give gifts to everyone on your holiday list! Why run out to the store and spend money when you don't have to? These simple printable gift tags are just what your holiday gifts need!
I'm all about giving fun and cute gifts for the holidays but I can't stand paying money for gift tags. I want to print them out from the comfort of my home and start using them right away! This is why
These gift tags are practical and cute and perfect for anyone on your holiday gift list! Now once you get done wrapping your gifts, you'll be able to add on the tag and be done and move on to the next!
Check out my Black and Gold Printable Christmas Planner to help you stay organized during the holiday months.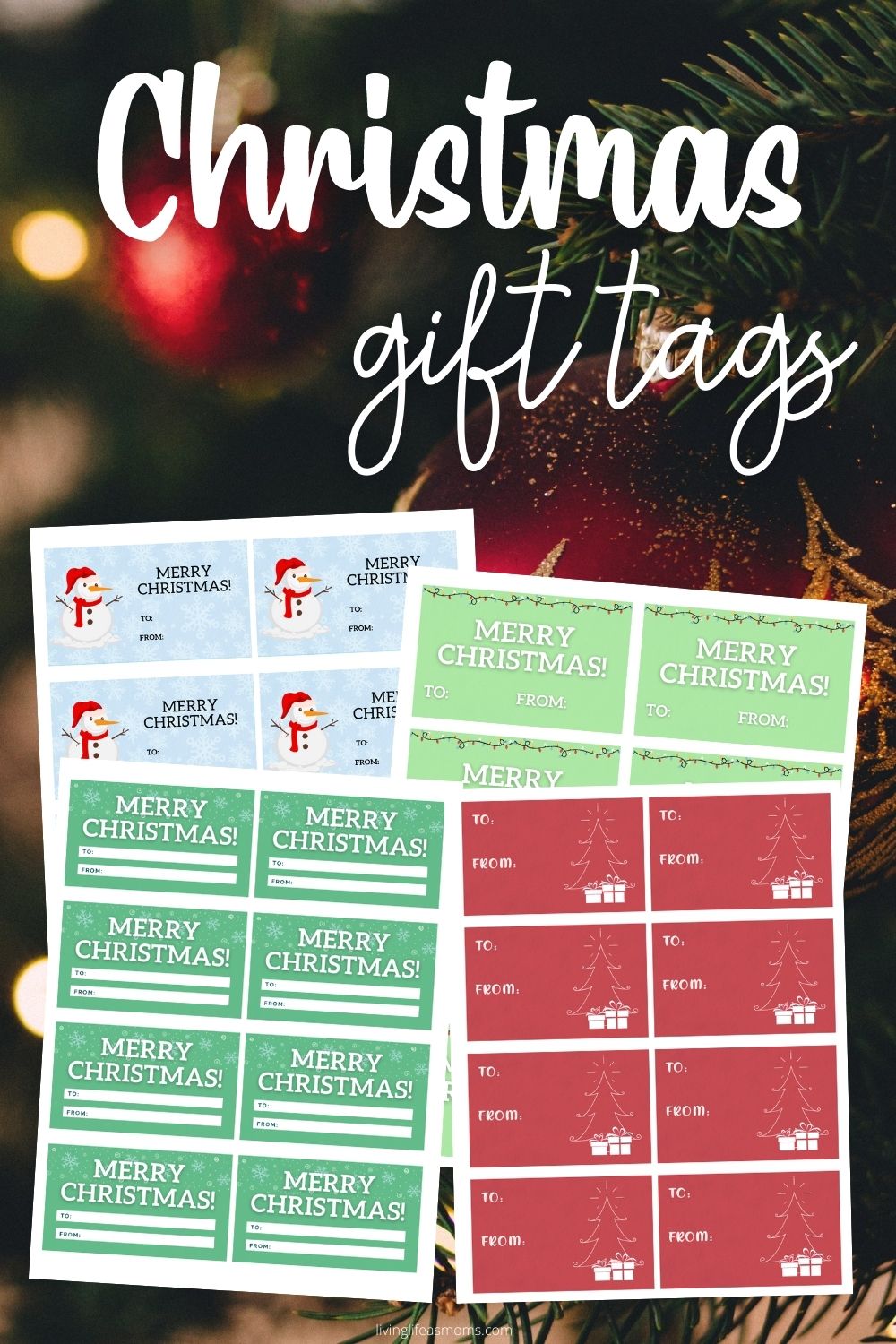 Printable Christmas Gift Tags
Do you enjoy wrapping gifts? I go back and forth on this. Some years I'm ahead of the game and ready for all things holiday and other years, I feel like I can never keep up. For this reasoning, sometimes I just want to take a bit of a break.
I think that this is where I feel like gift tags really do come in quite handy. Not only are they cute but they're just simple and quite lovely as well.
The whole point of gift tags is to just let the person know who their gift is from. These printable gift tags keep it simple and do just that!
Recommended Christmas Supplies
I'm a huge fan of the holiday season. In fact, I get pretty excited and love to start decorating. Christmas is such a happy time of the year, so why not enjoy it and decorate whenever you want?
If you're like me and love to decorate your home, you're going to love adding some of these fun holiday decor items as well. You can use them to make your home merry or to decorate your Christmas tree, too.
I literally have most of these in my house, and they might already be out on display!
Hallmark Christmas Reversible Wrapping Paper, Classic Santa (Pack of 3, 120 sq. ft. ttl) Red and Gold Snowflakes, Stripes, Plaid, Santa's Sleigh
Best Choice Products 3-Piece Lighted Christmas Deer Family Set Outdoor Yard Decoration with 360 LED Lights, Stakes, Zip Ties – Gold
Shan-S Christmas Night Light,Christmas Atmosphere Decorative Props Plastic Glowing Lighthouse Night Lights House for Patio, Garden, Gate, Yard, Home Bar,Christmas Decoration Xmas
National Tree Company Pre-lit Artificial Mini Christmas Tree | Includes Small Lights and Cloth Bag Base | for Tabletop or Desk | Burlap-4 ft, 4′, Green
Christmas Storage Basket,Charming Christmas Candy Storage Basket Decoration Santa Claus Storage Basket Gift (Multicolor -A)
ISULIFE 87ct Christmas Ball Ornaments Set Shatterproof Seasonal Hanging Decorations with Reusable Hand-held Gift Package for Xmas Tree Holiday Party and Home Decor, Airy Blue
Fun Thoughts and Ideas for Using Gift Tags
I have quite a funny story for you and it's one of the reasons that holiday gift tags are a must. I grew in the era of writing names on presents with a marker or a pen. But guess what sometimes happens? Those names wipe off and then you're stuck with a gift that no one has any clue who it's for.
This has happened so many different times. So many times. In times like this, it's best to laugh it off and make a mental note to add gift tags to your presents from here on out. It's really as simple as that.
Free Printable Holiday Gift Tags
Looking at the options for gift tags means that you have great options to choose from and can mix and match!
I also love the idea of using one type of gift tag per kid, just to keep it even more organized and straightforward. If you want to take extra precaution in not having and present mix-ups use the same kind of gift tag for one person in the family.
This is a simple way to add the names to the presents while also using your gift tags at the same time.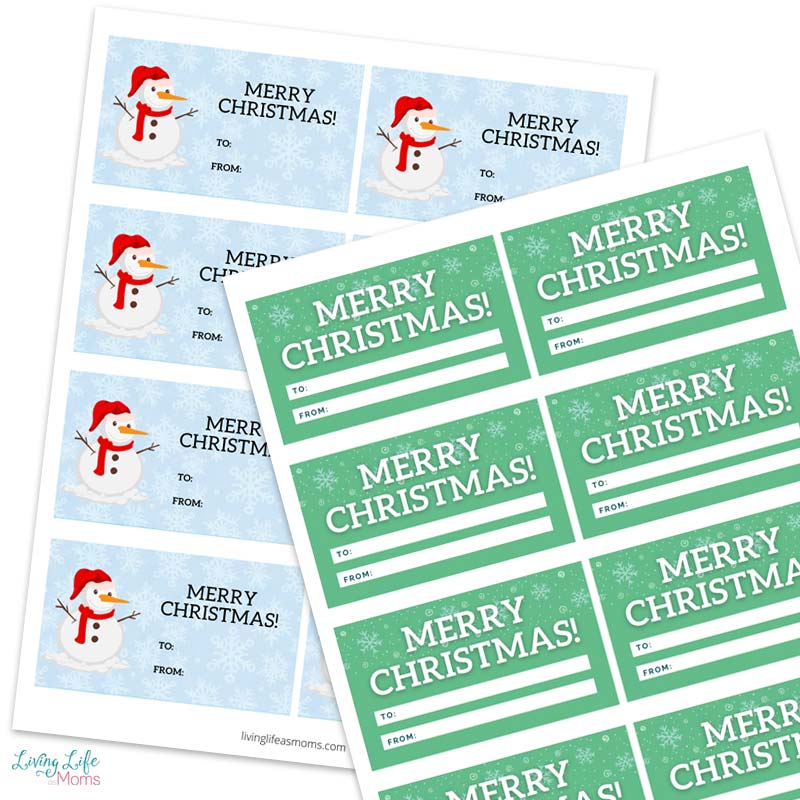 More Fun Ways To Use Christmas Gift Tags
Even though the most obvious ways to use these gift tags might be to add them to your holiday gifts, think outside the box and use them in other fun ways, too.
One fun way to use these gift tags is to make sweets and treats and add a gift tag right to the top of the plastic wrap. This is a simple way to treat someone to treats while letting them know who they're from.
You can also use these gift tags as a fun way to decorate your Christmas cards, too. Instead of licking the envelope to seal your Christmas cards, stick one of these on to hold your letter closed.
I also love the idea of using these to put on letters, donated meals, and anything else that you give to someone else during the holiday season! They're the perfect way to label any and every gift.
The great part about using these gift tags is that you can use them in any way that you want. Once you get them, they're yours to do as you please!
Grab your holiday gift tags below
Share this with your family and friends so that they can save some money and use these printable tags instead. Wouldn't it be funny for everyone to have the same gift tags during the holiday season, making your holiday gathering that much more fun and possibly chaotic?
More Holiday Fun
Are you looking for even more holiday fun? I've got you covered! Since I'm such a huge fan of the holiday season, you're going to love these other fun ideas for Christmas as well!
Christmas Bark Recipe with M&M
DIY Christmas Brownie Mix Mason Jar
Must-See Family Christmas Movies Bucket List
Christmas Wreath Rice Krispies Treats