DIY Christmas Brownie Mix Mason Jar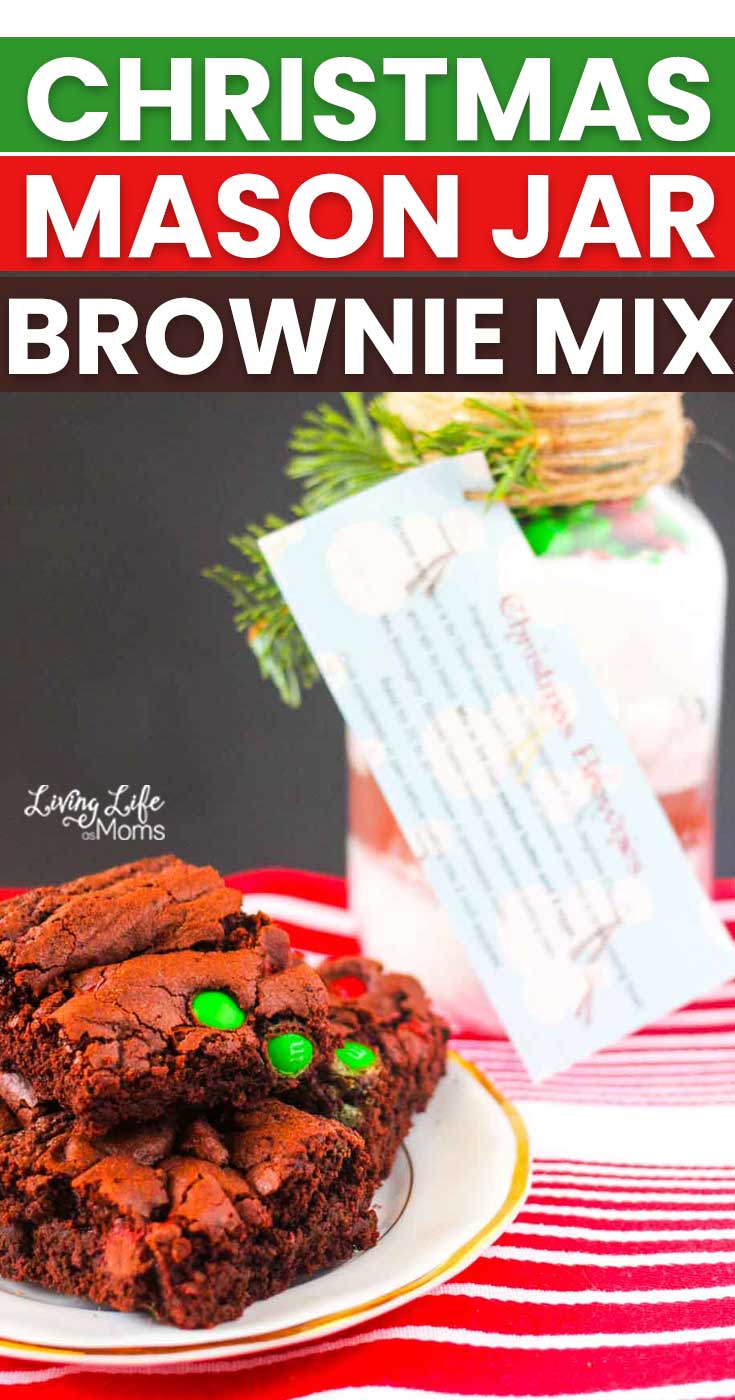 Don't miss out on this DIY Christmas Brownie Mix Mason Jar! This simple holiday gift idea is also a delicious dessert that will have everyone loving the holiday season!
Mason jar gifts are super popular during the holidays because they're just so fast and easy to do! You provide everything that someone needs to bake the brownies inside and leave the actual planning up to them!
Giving the gift of food during the holiday months is always so much fun! This is a super simple way to feed someone and share the love of food at the same time. Who knows – they might just share one of the baked brownies with you!
Make sure to check out my 30+ Best Christmas Cookies Recipes for even more delicious holiday desserts and sweets.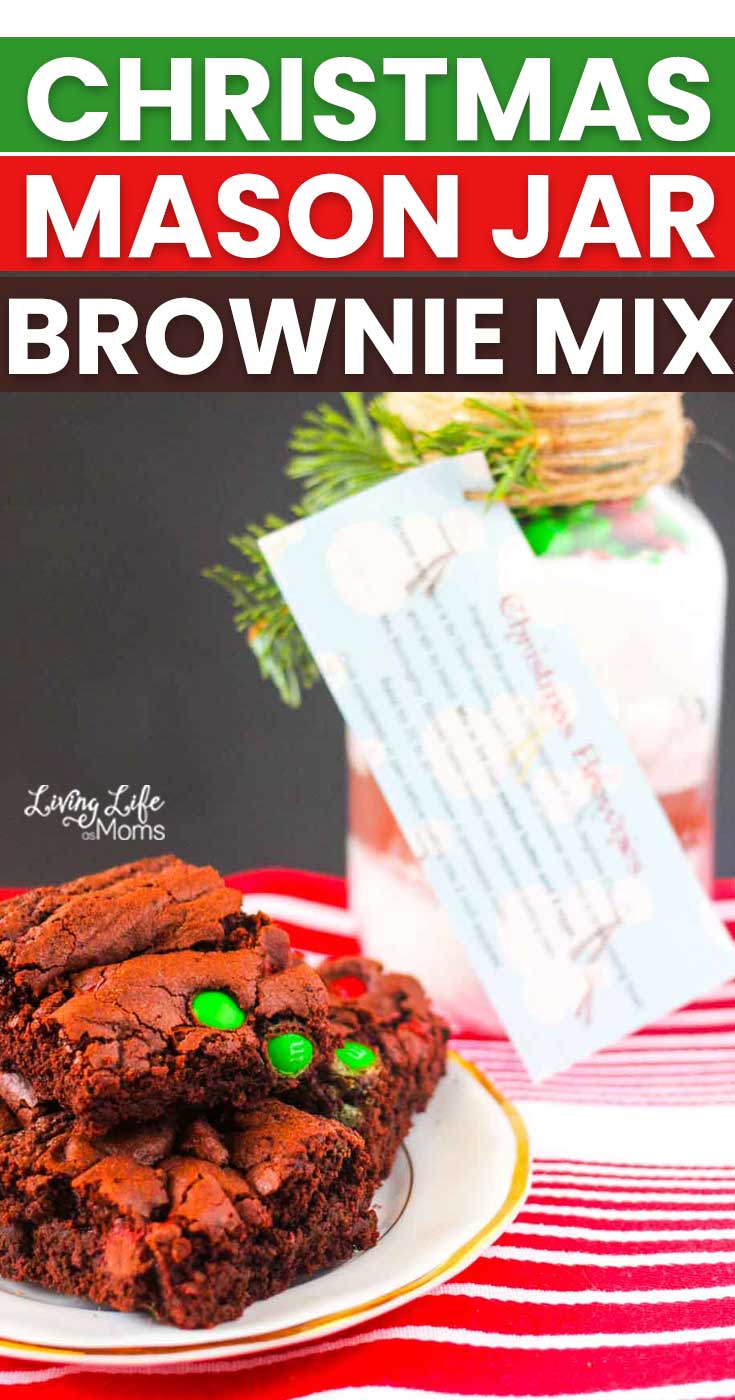 DIY Christmas Brownie Mix Mason Jar
The best part of giving mason jar gifts is that they're adorable and simple to do. This is a fun way to give a homemade gift that won't break the bank and not be too time-consuming at the same time.
People love DIY gifts and this one just might be at the top of their list! It's true that most people enjoy baking desserts at some point in time but they may have a reason for not wanting to do it right then and there. This mason jar brownie gift gives them the ability to have the ingredients ready to make whenever they're ready to.
Ingredients Needed To Make Brownie Mix in a Jar
Once you buy the ingredients to make this simple gift idea, you can make quite a few at once and hand out multiple gifts to the ones that you love!
1 1/4 cups of all-purpose flour
1 tsp of baking powder
1 tsp salt
2/3 cups of unsweetened cocoa powder
2 1/4 cups of sugar
1 cup of M&Ms
How to Make DIY Christmas Brownie Mix in a Jar
Once you mix together the flour, baking soda, and salt in a bowl, you're going to then later the other ingredients in the jar.
You can really add in the rest of the ingredients in any order that you want.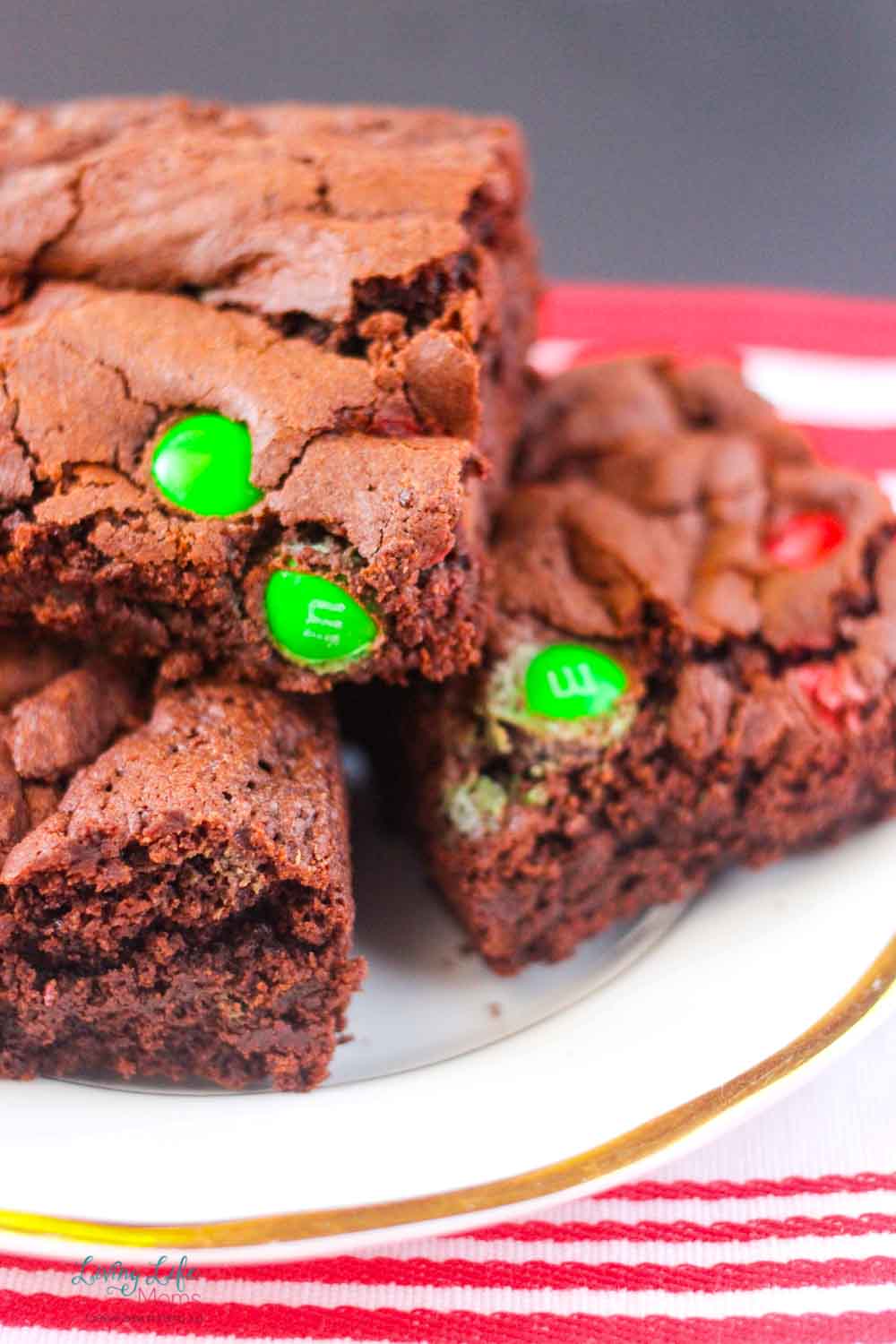 Fun Holiday Gift Tag Idea
If you'd like to use my gift tag label – you can download here. Once you click on the link, the file will automatically save to the downloads' folder on your device.
Brownie in a Jar Label
Make sure that you give the directions on how they're supposed to make the brownies! Even though you're giving them the full ingredients to get started, they need to know the other important steps to this simple brownie recipe.
Include a card or label with the following instructions:
Brownie Mix in a Jar
1. Preheat the oven to 350 degrees F (175 degrees C). Grease and flour a 9x13inch baking pan.
2. Empty jar of brownie mix into a large mixing bowl, and stir to blend. Mix in 3/4 cup melted butter and 4 eggs. Mix thoroughly. Spread batter evenly into prepared baking pan.
3. Bake for 25 to 30 minutes in preheated oven. Cool completely in pan before cutting into 2-inch squares.
For the jar decoration, add a small dab of hot glue at the top of the mason jar and attach one end of the twine. Wrap the twine several times around the top of the jar. Tie in a small piece of tree trimmings and add another dab of hot glue to keep the trimming from sagging.
Sharing this brownie mix recipe with family and friends
The reason that I love this gift idea so much for the holidays is that it's a fun and easy way to show someone that you're thinking of them.
Sometimes, people don't take the time to spoil themselves as they should – and this is where this gift idea comes into play!
When you can give them the ingredients that they need to make homemade brownies, they'll get to make a pan of brownies whenever they want!
What are the best toppings for brownies?
Even though you may be making this for other people, there are still toppings to have! Some of my favorite toppings for brownies are more candy, chocolate chips, shredded coconut, more M&M's, or even crushed-up candy canes or peppermint.
When you're wanting to add toppings to your brownies, you can have fun and pick and choose!
How do you know when brownies are done baking in the oven?
You need to pay attention to the edges! Once the edges start to brown or even pull away from the pan, this is your cue that the brownies are done and ready to be pulled.
The other rest is the toothpick test. Insert a clean toothpick into the center of the brownies. If it comes out clean and clear of batter, the brownies are done and ready to be removed.
Make sure to let them cool down before diving in because they're going to be piping hot!
What is the most popular brownie piece?
This is a household debate! Some people love the corner piece while others love the center! It's always fun to see how a pan of brownies gets eaten in the house!
I don't look for any particular piece as long as I get one. I am fine with the middle, edge, corner, and even the crumbs. I'll literally be fine with any of it.
DIY Christmas Brownie Mix Mason Jar
This brownie mix gift idea is perfect for the holidays.
Ingredients
1 1/4 cups of all-purpose flour
1 teaspoon of baking powder
1 teaspoon of salt
2/3 cup of unsweetened cocoa powder
2 1/4 cups of white sugar
1 cup of M&Ms
Instructions
Mix together flour, baking powder, and salt in the jar. Layer the rest of the ingredients as they're listed.
Make sure to press down the layer before adding the next.

More Easy Dessert Recipes
Since you're going to be making and sharing this with family and friends, don't forget to bake up some other fun desserts to keep at home. I love having desserts on hand during the holiday season because they're just easy to do and snack on.
Even though we tend to not eat a ton of sweets all the time, I can always find room for chocolate and other homemade desserts. These are a few recipes that I love and look forward to and can't wait to hear what you think.
Christmas Tree Rice Krispies Treats