Christmas Bark Recipe with M&M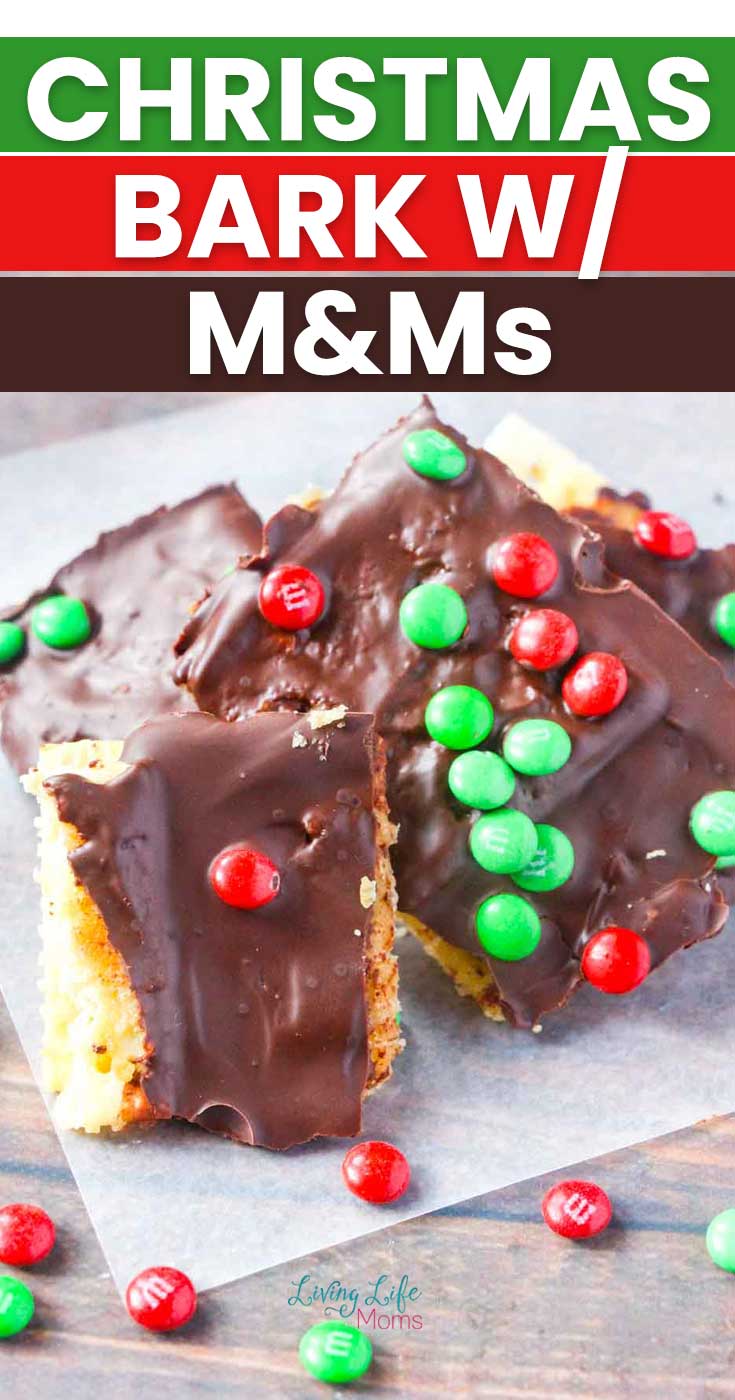 This Christmas Bark Recipe with M&M is such a delicious holiday treat. If you're ready to start holiday baking, start here! I love the flavor of this holiday bark recipe and I'm sure that you will, too.
I also think that spending all day in the kitchen baking up holiday sweets is crazy! Who really has time for that? I need something fast and easy – and this recipe nails that!
My kids love when I make this recipe, too because they love the added flavor of M&M's. Chocolate with more chocolate? Yes, please! The next time that you're craving something sweet, give this simple bark recipe a try! You won't be sorry, I promise!
Make sure to check out my Christmas Tree Gingerbread Cookies Recipe for even more holiday fun.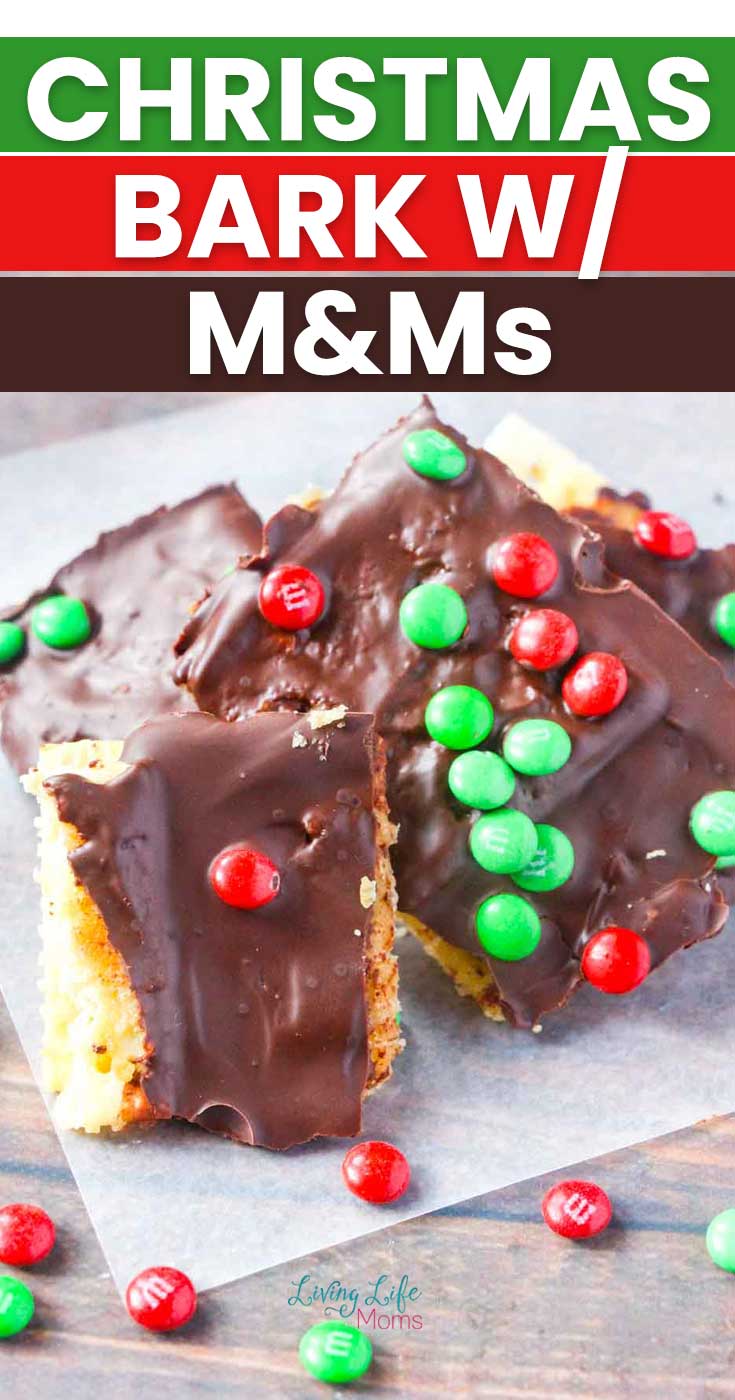 Christmas Bark Recipe with M&M
There's no doubt that one of the best parts of the holiday season is the sweets and treats. This is why we like to get started early in our house.
While I do my best to limit sugar during other times of the year, I just can't say no to chocolate and candy during the holiday months.
The kids can easily hop in and help out with this recipe, too. Use this recipe as a way to make new holiday baking traditions in your life. With just 5 easy ingredients, you're going to love how ready this recipe really is!
Ingredients Needed To Make Christmas Bark
I told you that this recipe was simple! All you need to get started is listed below!
Wholesome, Organic Light Brown Sugar, 24 Ounce
Premium Original Saltine Crackers, 16 oz – PACK OF 3
M&M'S Milk Chocolate Candy, 38-Ounce Party Size Bag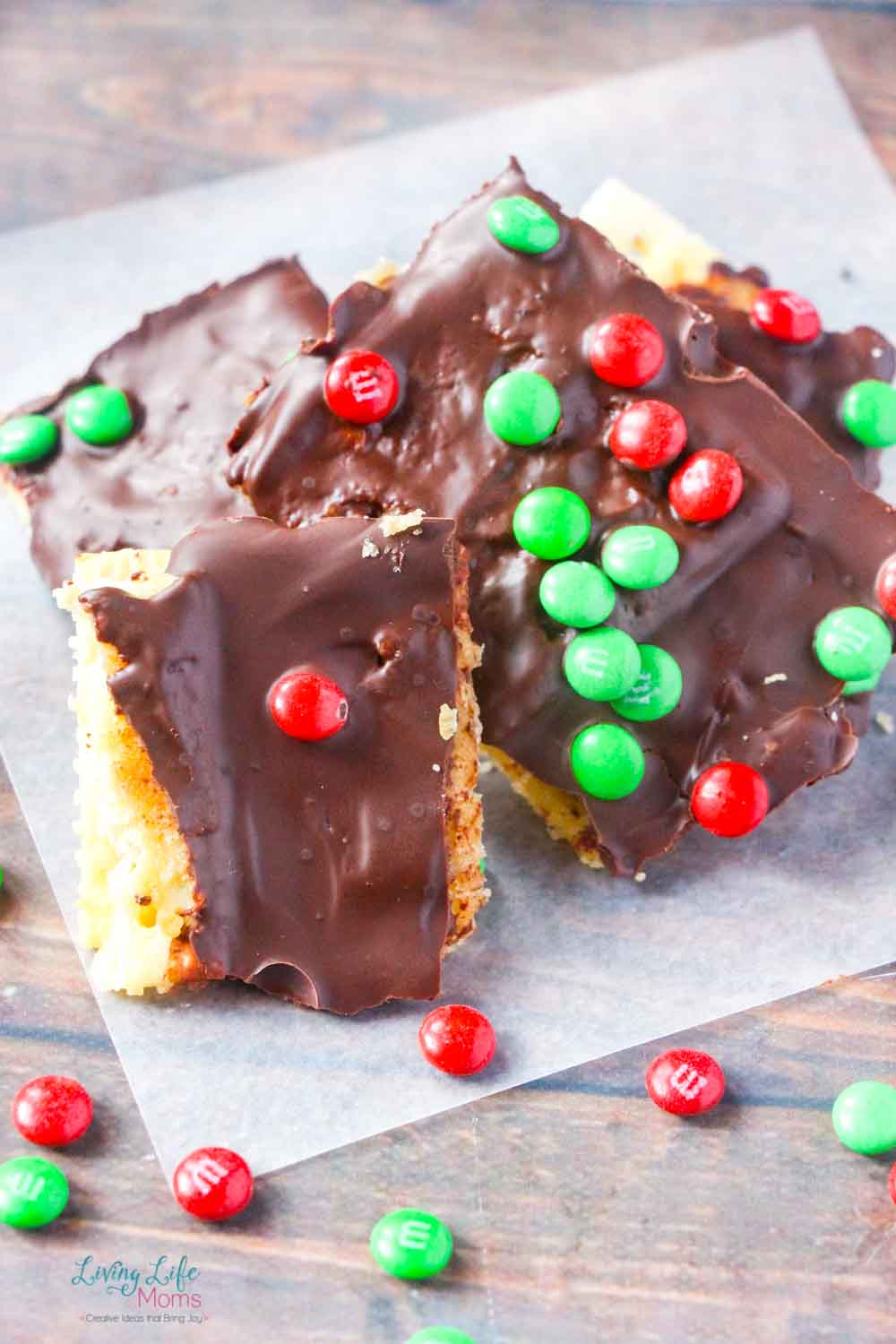 Recommended Dessert Recipe Books
Do you want more dessert ideas? Grab these recipe books and start making your tasty desserts.
Dessert Boards: 50 Beautifully Sweet Platters and Boards for Family, Friends, Holidays, and Any Occasion
Le Cordon Bleu Pastry School: 101 Step-by-Step Recipes
Tasty Dessert: All the Sweet You Can Eat (An Official Tasty Cookbook)
Dessert Person: Recipes and Guidance for Baking with Confidence: A Baking Book
How to Cook That: Crazy Sweet Creations (Chocolate Baking, Pie Baking, Confectionary Desserts, and More)
FitWaffle's Baking It Easy: All My Best 3-Ingredient Recipes and Most-Loved Sweets and Desserts
How To Make Saltine Cracker Christmas Bark
Since there aren't many ingredients, there aren't a lot of steps to this recipe, either! I love that I can make this M&M bark recipe once and have it memorized for the next time!
People always scratch their heads when they hear that this recipe is used with saltine crackers but I swear – it's so good! The crackers add a tiny bit of salt with the sweet and add the perfect crunch to the texture.
Once you layer the crackers on the baking sheet, you're literally almost done with the recipe. Melting the butter and the brown sugar on the stove is key to making the sweet mixture that holds the crackers together.
When you add the mixture to the crackers and it does its thing, adding the chocolate chips and the M&M's on top can be the perfect job for the kids.
Have them be super careful since it will be hot but they'll love to be a part of this recipe.
Can you use pretzels in this bark recipe?
I love the texture of the saltine and I love that it adds basically a crust for this bark. If you did decide to want to use pretzels, it's going to have some crunch with it but not as much as when you're using a saltine.
Recommended Baking Tools
This baking mat turns the ordinary baking sheet into a reusable non-stick and easy-to-clean baking surface.
Grab this cute silicone spatula for personal use or as a gift for your closest baking buddy.
Variations for making chocolate bark
Even though this recipe is crazy easy, there are ways that you can totally make it differently, too.
One simple way is to change up the flavor of chocolate chips. I used milk chocolate chips for this recipe but you can also use white chocolate chips and butterscotch chocolate chips as well.
Another fun way to vary this chocolate bark is to use different colors of M&M's or even opt for using Sixlets or other candies like that.
Saltine crackers have always been my go-to but I think that a good butter cracker would be a great choice, too. Even using some cinnamon sugar graham crackers as the crust might be a fun option as well.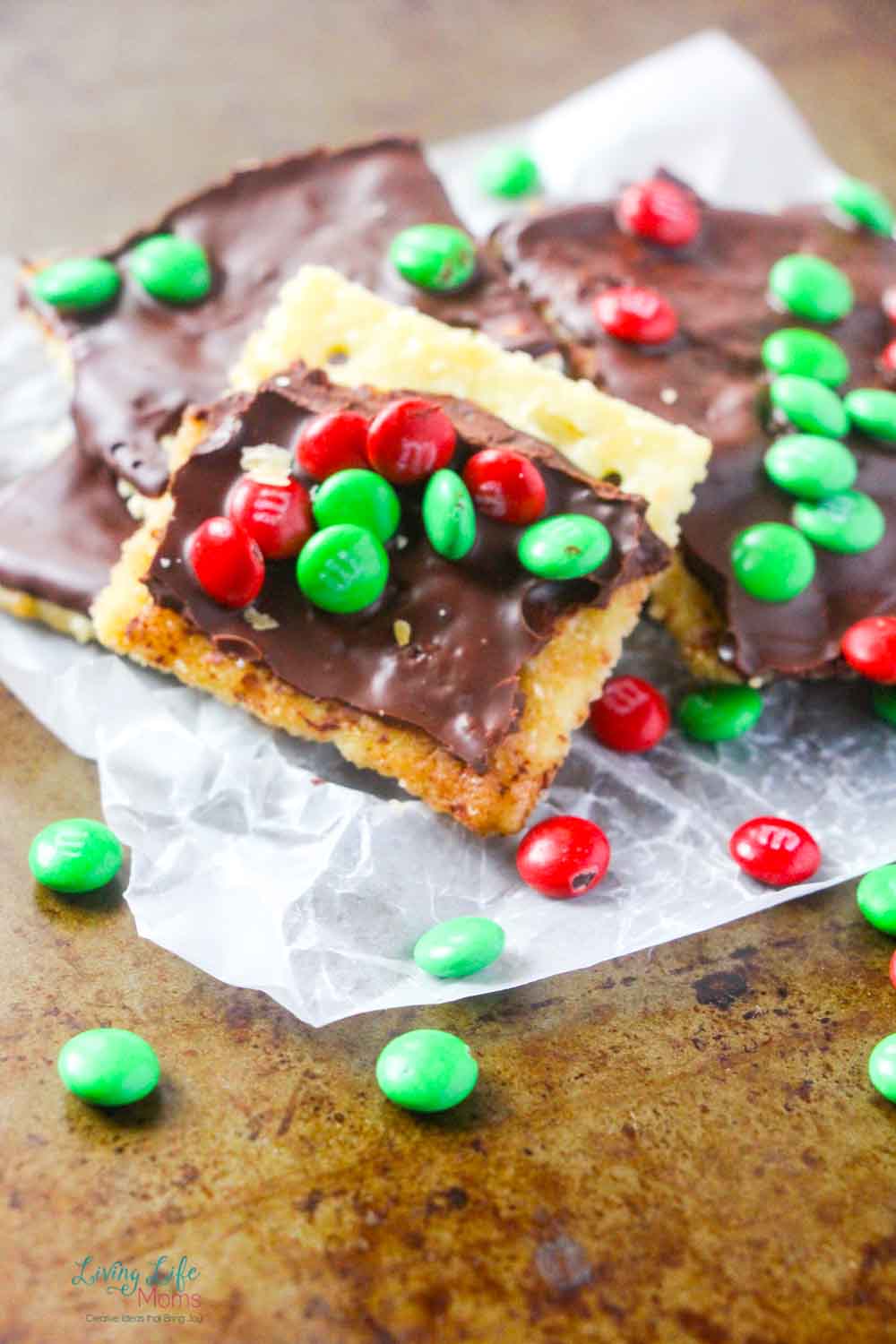 How long does it take for chocolate bark to get firm?
Once you set it in the fridge and let it cool down, it will take anywhere from 60 minutes – 2 hours for this to be set up and firm and ready to eat.
Can you freeze chocolate bark?
You can. This is what I love about this simple holiday dessert. If you make up a batch and want to save some for later, why not freeze some? It just makes sense!
All you need to do is make sure that you store the bark in an airtight container or bag. One tip that I love to do is freeze desserts or food in serving sizes.
This means that I put just a few pieces in a bag or container and can just pull out a small serving when I'm craving a bite or two.
How to share holiday bark with others
Not only does this make a great treat to eat at home, but this is a really great gift idea, too. Who doesn't love the idea of getting a homemade treat?
Most people love to eat and almost everyone loves desserts! If you can make another batch and share it with family and friends, why wouldn't you?
All you need is a cute box or gift jar that you can store the chocolate bark in. This makes an amazing holiday gift for family and friends.
Sharing the love of cooking with your kids
When it comes to baking in the kitchen, it's such a perfect way to bond with your kids. It teaches them how to cook, patience, and the ability to want to make something with ingredients in your cupboard.
I have such fond memories of making treats when I was younger and it's a tradition that I'm so happy to share with our kids now. They love that baking entails and ends with yummy foods and I'm so happy that they're active with me in the kitchen as well.
Christmas Bark with M&M Candy
Have so much fun making this simple holiday bark!
Ingredients
1/2 cup butter
1/2 cup brown sugar
9-12 saltine crackers
1 cup chocolate chips
Package of M&M candy
Instructions
Preheat your oven to 325 degrees.
Line a baking sheet with parchment paper and lay down a layer of crackers. Break them up if needed to fill in the gaps.
Put the brown sugar and butter in a pan and bring them to a boil on the stove.
Let the mixture melt well and take off the heat.
Pour it over the top of the crackers in as even a layer as possible. Put the pan in the oven for 10 minutes until the caramel has been absorbed into the crackers. You'll know when the crackers have a glossy look to them.
`Sprinkle the chocolate chips on the crackers while they are hot so they melt. Spread the melted chocolate with a spatula and sprinkle it on the candy.

Put this in the fridge to set.
More Holiday Recipes
Make sure to keep going with the holiday sweets and treats. When you have the chance to make recipes that are yummy to eat, keep going with it and feed yourself and your family, too!
Christmas Tree Gingerbread Cookies Recipe
Christmas Wreath Rice Krispies Treats